Eyeglasses trends 2022—the must-have styles, as seen on celebrities and influencers
See the hottest eyeglasses trends 2022 has to offer. Our guide will give you a stylish outlook when it comes to prescription spectacles.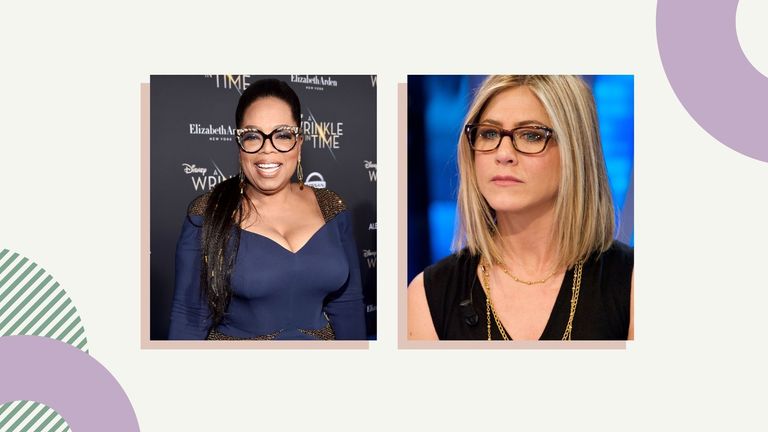 (Image credit: Getty Images)
We reveal the coolest eyeglasses trends 2022 has to offer. Opticals might be the one trend you haven't thought about, but similarly, with fashion, there are trends when it comes to spectacles too. Once the most neglected accessory of them all, eyeglasses are having a moment right now.
After thousands of virtual meetings and shoulders up dressing—prescription eyeglasses trends have come to the fore of fashion as an accessory to accentuate your face. A great finishing detail, you should think about your glasses in the same context as you think about a great pair of earrings or the best necklaces. A tool to accessorize your outfit, you can even consider investing in more than one pair, something for smart occasions, such as what to wear to an interview and something more directional for weekend attire.
After all, if eyes are the windows to the soul, eyeglasses should be seen as complementary curtains to enhance your natural assets. Pick the right eyeglasses and not only will you see better, but your facial features could also be defined and enhanced.
So, after you've wondered why your eyesight is getting worse, your next question is probably what are the most stylish eyeglasses trends for women this year? And which one will suit your face? Our fashion expert gives you the lowdown.
Eyeglasses trends 2022—our expert predictions
Just as we eagerly anticipate the latest fashion trends 2022 has to offer, each season new eyeglasses trends emerge too. Often taking notes from what's happening on the runway and changing sunglasses trends, we're seeing plenty of bold styles hitting the shops as we all embrace getting dressed up and investing in our wardrobes once again.
1. Classic Cat-Eyes
A retro classic, the cat's eye is one of the most timeless eyeglasses trends that will suit virtually all faces, regardless of shape. And the experts agree that it's one of the key looks this year both for eyeglasses and sunglasses trends 2022.
Natasha Luthra, Resident Optometrist at David Clulow (who stock the most sought-after eyeglasses brands and some of the best sunglasses in the world) explained, "cat-eye opticals are having a moment for women's styles. Brands have homed in on classics shapes and colors—blacks, tortoiseshell, demure light blues and red—likely an impact of the times".
This trend isn't just for designer frames though. Biana Swan, Specsavers frame stylist adds, "The cat-eye style is a statement look that wins every time so I'm very pleased to see this style back as a fashion go-to for 2022. The triangular tips compliments the majority of face shapes, especially those with a defined jawline. Cat-eye glasses highlight your brow arch, drawing attention to your face's high points and is a great way to inject some fun into your everyday style."
Style tip
When selecting your style, make sure to pay attention to the width of frames—they should extend to the same width as your face or just beyond. For added interest, try a cat's eye eyeglass style with interesting wingtip details such as diamanté or an exaggerated point. This vintage-inspired style would work really well with any of your best midi dresses, which also have a retro vibe.
Our fashion expert recommends
---
2. Thick rim dark frame glasses
Thick rimmed glasses might've once carried connotations of bookish nerds but these days they're one of the most popular frames amongst celebrity spectacle wearers with Julia Roberts, Elizabeth Banks and Gwyneth Paltrow all rocking geek chic. Their rise in popularity is also partially due to lockdown as noted by Marie Wilkinson, Style Director Cutler & Gross:
"Some crave more angular frames as they can sharpen profiles that have become a little softer over lockdown."
Style tip
If you're worried that a traditional black frame may wash you out, look for thick-framed eyeglasses in softer shades such as navy, dark red or opt for an alternative such as colored or clear frames in the same shape.
Our fashion expert recommends
3. Wire Frame Glasses
The most delicate of styles, wire frame glasses aren't as visible to the naked eye, particularly when worn in a classic light metallic color such as yellow or rose gold, creating the illusion that the wearer's face is in fact 'naked'.
Luthra shares reveals that this is one of the top eyeglasses trends 2022 with many of the top brands endorsing the look, "metal frames are having a big moment—almost every brand has released a distinctive metal double bridge frame to soft round frames".
Style tip
Wire frames aren't for every prescription as the delicate frames can't hold thicker lenses. Those with varifocals or stronger eyeglasses prescriptions might need to avoid this style. Ask your optician for advice.
Our fashion expert recommends
Great price!
Ace & Tate Octagonal Frames
RRP: $125 / £100 | These octagonal frames are a fun update on a classic wire style. While you might think this look is hard to pull off, it'll actually suit most face shapes.
Prada Enamel Framed glasses
RRP: £145 | Want your frames to be more visible? Look for eyeglasses styles in pastels such as this pretty Prada alabaster pair—a great nod to the fashion color trends 2022 too.
Gucci Gold Framed Glasses
RRP: $290 / £245 | Gold-hued frames will add subtle warmth to your face, giving a light glow, while also being one of the most delicate styles out there.
Polette Black and Gold Glasses
RRP: $50 / £50 | With a subtle cat-eye, these rounded, black, wire frame glasses offer two trends in one. Ideal for smart occasions, we love the hint of gold on the winged tips.
Ray-Ban Rose Gold Glasses
RRP: $142 / £104 | Ray-Ban really can do it all. These wire frame glasses with a slightly hexagonal shape are a safe but stylish bet.
4. Clear and pastel colored acetate frames
The eyeglasses trend for invisible frames has been gathering pace as a fashionable alternative for several years. Frames in clear acetate and soft pastels are particularly on-trend right now. Luthra explains the progression of this look has it roots in another trend:
"2022 is an evolution on dainty eyewear but in oversize shapes, as seen at Prada, but what's a little surprising is the transparent theme, Arnette, Emporio Armani, Oliver Peoples and Tiffany & Co have really added a refreshing take to opticals [with this trend]".
Simon Jablon, Creative Director of luxury glasses brand Linda Farrow, adds that they expect soft hues to be the most popular this year, 'for 2022 we focussed on a soft pastel trend for our hero acetate styles leading with a lavender, peach and sky blue colour palette'.
Style tip
Wilkinson advises that for truly on-trend frames, opt for 'ice blue, pink and Granny chic. Deeper transparents like warm Rhubarb and cool aviator blue and colors that fade like the honey burst fade and grey fade are popular'.
Our fashion expert recommends
Great price!
Ace & Tate Saul Glasses in Smoke
RRP: $125 / £100 | These clear acetate glasses will go with pretty much anything in your wardrobe and they're an affordable price too.
Celine D-Frame Acetate Glasses
RRP: $400 / £310 | Celine's angular take on acetate designs has a vintage feel, ticking two trend boxes. We love the soft color of these.
Cutler & Gross 9101 collection
RRP: £550 (international shipping available) | These limited edition Cutler & Gross's 9101 frames will likely become a collector's item.
Prada Rectangle Glasses
RRP: $235 / £195 | With subtle branding, these are ideal for those who like to give a nod to designer lines. The grey/silver hue will ensure these will pair well with everything.
Mister Spex Benji Glasses
RRP: £74 (international shipping available) | A great price point these clear frames in a rounded shape show that style doesn't have to break the bank.
5. Vintage-style aviators
A clear sign that vintage-style aviators are going to be a key style this year, ex-J Crew Queen Jenna Lyons has even swapped out her previous signature chunky frames for cool '70s-inspired aviators. While Sarah Jessica Parker also chose a similar pair for read-throughs for the new series of Just Like That, meaning that you too can master how to dress like Carrie Bradshaw—starting with this just one nifty accessory.
Style tip
Go oversized, for a statement, retro look. Wilkinson suggests opting for an on-trend oversized pair of prescription glasses: "Oversized frames can be a refreshing wear as they offer wide uninterrupted fields of view."
Our fashion expert recommends
6. Round frames
Quirky and cool, circular and round frames are once again a key prescription glasses trend for 2022 and look brilliant on women of all ages.
Style tip
While it may seem that they will only suit those with angular features, they also work if your face is a longer oblong or oval shape. Those with prominent facial features will also find them complemented by a round frame.
Our fashion expert recommends
7. Colorful frames
This is an eyeglasses trend for those who are willing to be bold. If you've already dipped your toe into wearing bright color clothing, then you need to make sure your accessories are up to scratch and British Cooking Show (aka Bake Off) host Prue Leith is proof that you're never too old to rock the colorful eyeglasses trend. Prue is such a fan of the style that she even teamed up with US eyewear brand Ronit Furst to create her own collection of colorful glasses in a variety of shapes.
Style tip
Bold framed glasses are really youthful and this season, there is a rainbow abundance of color to choose from. The great thing about this trend is that the frame shapes, vary dipping into a number of other trends mentioned in this piece, so you can embrace some color and still stick to a shape that you're already well-acquainted with.
Try teaming bright frames with a colorful cashmere sweater or top for an eye-catching look.
Our fashion expert recommends
Specscart Light Blue Eyeglasses
RRP: £59.99 (International shipping available) | You can never go wrong with baby blue, and this elegant pair of glasses is a great way to get in the summer mood.
Persol Yellow Glasses Frames
RRP: $280 / £175 | Bring some sunshine to your face with yellow frames, great for adding a pop of color. They'll look great with olive and pink-based complexions.
KIMEZE Remi Red Glasses
RRP: $349 / £245 | Kimeze's frames are designed with black and brown faces in mind but also work if you have a wider nose bridge. We love the color too!
Prada Pink Cat-Eye Glasses
RRP: $260 / £220 | These thin Prada eyeglasses with subtle cat-eye will add a gorgeous pop of color to your wardrobe. Adding brightness to your look, they'll team well with a floral midi.
Gucci Pink Oval Glasses
RRP: $182 / £186 | Gucci is known for making stylish opticals and these pink acetate frames won't disappoint. The rich hue will work all year through.
8. Oversized Frames
When it comes to this trend, the bigger the better. As we ease out of lockdown we're seeing real statement pieces when it comes to eyeglasses trends 2022. Perhaps borrowing from some of the best sunglasses trends, where maximum coverage has been in for several seasons, statement frames have made a real comeback. This trend also leans on existing styles listed above, such as wire, thick-frame and colorful frame trends to help solidify its impact.
Style tip
"In 2022, it's the bigger the better! We are seeing bigger, bolder and louder glasses as we enter in 2022 and I think they will be at the forefront of eyewear trends this spring," says Bianca.
This look does command attention, so keep the rest of your look fairly neutral and opt for classic tailored pieces such as sharp tailoring and an oversized, androgynous shirt, for a look that is sleek and workwear ready but still very fashion-forward.
Our fashion expert recommends
Liberty London Large Frames
RRP: £129 (UK only) | Drawing on Liberty's British clothing brand heritage, these pastel pink frames are part of a special collaborative collection.
Gucci Over Sized Glasses
RRP: $565 / £480 | If you love a big statement pair of frames, then you'll adore these Gucci glasses. We particularly love the side gold detailing.
Kirk & Kirk Thor Frames
RRP: £420 (UK only) | If you really want to make an impact, these transparent pink and red oversized thick frames are certainly attention grabbers.
Chloé Square Gold Glasses
RRP: $364 / £270 | Chloé is a master when it comes to oversized frames. These gold-tone glasses with scalloped pink arms offer a quirky update to a classic shape.
Tom Ford Thin Frame Eyeglasses
RRP: £282.95 (International shipping available) | With three trends in one, these wire frames tick a lot of fashion boxes. With a very subtle cat-eye shape, these really do pack a stylish punch.
9. Tortoiseshell Frames
Tortoiseshell has been popular in the realm of sunglasses for years now, so much so, that it's basically a wardrobe essential when it comes to sun protection. However, we're increasingly seeing sunglasses trends filter into prescription glasses trends, as consumers gain confidence in opting for more fashion-forward aesthetics for their eyeglasses too.
Stylist tip
If you've already integrated tortoiseshell into your sunglass selection, you'll need no help here at all, but if you've yet to dip your toe in, what are you waiting for? Tortoiseshell is universally flattering and this trend comes in all glasses shapes, so just pick your fave frame shape and away you go.
Our fashion expert recommends
Great Price!
Polette Tortoiseshell Square Glasses
RRP: $40 / £40 | With a thick rim, these tortoiseshell glasses make for a statement piece and the price is very impressive too. We love the thicker frames.
Cubitts Herbrand Round Glasses
RRP: $165 / £125 | These chic frames, tap into both the tortoiseshell and round glasses trends, nailing two styles in one.