Eyeglasses trends 2022: The must-have styles to invest in this season
See the hottest eyeglasses trends 2022 has to offer. Our guide will give you a stylish outlook when it comes to prescription spectacles.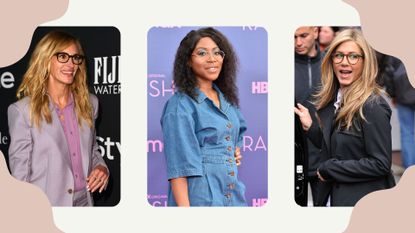 (Image credit: Future / Getty)
woman&home newsletter
Sign up to our free daily email for the latest royal and entertainment news, interesting opinion, expert advice on styling and beauty trends, and no-nonsense guides to the health and wellness questions you want answered.
Thank you for signing up to . You will receive a verification email shortly.
There was a problem. Please refresh the page and try again.
The best eyeglasses trends 2022 offer something for every face shape and budget. The one trend you may not have thought about, optical styles also go through trend cycles and as designer frames grow in popularity, so to, does the emphasis on eyeglasses trends.
Now that we're in a new year, it's time to think about the eyeglasses trends 2023. While you might be au fait with the latest sunglasses trends 2022 has to offer, when it comes to eyewear, it's not just sunnies that are making waves in the fashion world. Prescription eyeglasses are having a big moment too. An easy way to switch up your look, the eyeglasses trends are all about accentuating your face. A finishing detail, rather than just a practical piece, your eyeglasses should be an extension of your style and personality, with many designers and stylists suggesting you should build a capsule wardrobe of glasses for different occasions, making it as much of an accessory as investing in the best jewelry brands.
Just as we eagerly anticipate the latest fashion trends 2023, each season new eyeglasses trends emerge too. Often taking notes from what's happening on the runway, including the jewelry trends, we're seeing plenty of bold styles hitting the shops as we all embrace getting dressed up and investing in our wardrobes once again. And if eyes are the windows to the soul, eyeglasses should be seen as complementary curtains to enhance your natural assets. Pick the right eyeglasses and not only will you see better, but your facial features could also be defined and enhanced. When considering the best eyeglasses trends 2022 has to offer, think about how and when you wear your glasses. You may want a sharper and more angular pair for work - to show you mean business, as well as glasses that are perhaps, more elegant, embellished or directional for weekend wear.
Eyeglasses trends 2022 - our expert predictions
There are 10 eyeglasses trends 2022 to consider if you're in the market for a frames update this season. Many of these trends will cross over with the best sunglasses, so if you're already a collector of the best designer sunglasses, then lean on your favorite sunglasses shapes to help you navigate these upgraded glasses silhouettes.
1. Classic Cat-Eyes
A retro classic, a cat-eye frame shape is one of the most timeless eyeglasses trends that will suit virtually all faces, regardless of shape. And when it comes to the eyeglasses trends 2022, experts agree that it's one of the key looks this year.
Natasha Luthra, Resident Optometrist at David Clulow explained, "cat-eye opticals are having a moment for women's styles. Brands have homed in on classics shapes and colors - blacks, tortoiseshell, demure light blues and red - likely an impact of the times".
This trend isn't just for designer frames though. Bianca Swan, Specsavers frame stylist adds, "The cat-eye style is a statement look that wins every time so I'm very pleased to see this style back as a fashion go-to for 2022. The triangular tips compliments the majority of face shapes, especially those with a defined jawline. Cat-eye glasses highlight your brow arch, drawing attention to your face's high points and is a great way to inject some fun into your everyday style."
Style tip
When selecting your style, make sure to pay attention to the width of frames:
"To add width to the narrower top half of your face, choose frames with a strong brow-line, such as a full-rim cat-eye shape." - says, Perry Moore, managing director, Silhouette UK Ltd
For added interest, try a cat's eye eyeglass style with interesting wingtip details such as diamanté or an exaggerated point. This vintage-inspired style would work really well with any of your best midi dresses, which also have a retro vibe. Offering a more dressed up finish, while they can easily be worn as you're everyday pair, a chic design would also work as part of capsule wardrobe of glasses and be ideal for what to wear to the races or what to wear to Wimbledon in the summer months.
Our fashion expert recommends
---
2. Thick rim dark frame glasses
Thick rimmed glasses might've once carried connotations of bookish nerds but these days they're one of the most popular frames amongst celebrity spectacle wearers with Julia Roberts, Elizabeth Banks and Gwyneth Paltrow all rocking geek chic. Their rise in popularity is also partially due to lockdown as noted by Marie Wilkinson, Style Director Cutler & Gross:
"Some crave more angular frames as they can sharpen profiles that have become a little softer over lockdown."
Style tip
If you're worried that a traditional black frame may wash you out, look for thick-framed eyeglasses in softer shades such as navy, dark red or opt for an alternative such as colored or clear frames in the same shape. When choosing thick rimmed frames, think about your face shape too. More angular styles can add sharpness to rounder faces.
Given a striking and strong look, this style is ideal when you need a little confidence boost - so make these your go to for important work days, meetings and presentations.
Our fashion expert recommends
3. Wire Frame Glasses
The most delicate of styles, wire frame glasses aren't as visible to the naked eye, particularly when worn in a classic light metallic color such as yellow or rose gold, creating the illusion that the wearer's face is in fact 'naked'.
Luthra shares reveals that this is one of the top eyeglasses trends 2022 with many of the top brands endorsing the look, "metal frames are having a big moment - almost every brand has released a distinctive metal double bridge frame to soft round frames".
Style tip
Wire frames aren't for every prescription as the delicate frames can't hold thicker lenses. Those with varifocals or stronger eyeglasses prescriptions might need to avoid this style. Ask your optician for advice.
Our fashion expert recommends
4. Clear and pastel colored acetate frames
The eyeglasses trend for invisible frames has been gathering pace as a fashionable alternative for several years. Frames in clear acetate and soft pastels are particularly on-trend right now. Luthra explains the progression of this look has it roots in another trend:
"2022 is an evolution on dainty eyewear but in oversize shapes, as seen at Prada, but what's a little surprising is the transparent theme, Arnette, Emporio Armani, Oliver Peoples and Tiffany & Co have really added a refreshing take to opticals [with this trend]".
Simon Jablon, Creative Director of luxury glasses brand Linda Farrow, adds that they expect soft hues to be the most popular this year, 'for 2022 we focussed on a soft pastel trend for our hero acetate styles leading with a lavender, peach and sky blue colour palette'.
Style tip
Wilkinson advises that for truly on-trend frames, opt for 'ice blue, pink and Granny chic. Deeper transparents like warm Rhubarb and cool aviator blue and colors that fade like the honey burst fade and grey fade are popular'.
Lighter frames are ideal for summer occasions, so whether you're looking for an update to team with the best mother of the groom dresses or some stylish frames to pair with the best mother of the bride outfits, a pastel or clear acetate offers a dressy but modern finish.
Our fashion expert recommends
5. Vintage-style aviators
A clear sign that vintage-style aviators are going to be a key style this year, ex-J Crew Queen Jenna Lyons has even swapped out her previous signature chunky frames for cool '70s-inspired aviators. While Sarah Jessica Parker also chose a similar pair for read-throughs for the new series of Just Like That, meaning that you too can master how to dress like Carrie Bradshaw - starting with this just one nifty accessory.
Style tip
Go oversized, for a statement, retro look. Wilkinson suggests opting for an on-trend oversized pair of prescription glasses: "Oversized frames can be a refreshing wear as they offer wide uninterrupted fields of view."
With a naturally '70s vintage feel, this look is ideal for those wondering 'what is boho style?' and working out how to inject the bohemian vibe into a modern wardrobe.
Our fashion expert recommends
6. Round frames
Quirky and cool, circular and round frames are once again a key prescription glasses trend for 2022 and look brilliant on women of all ages. Not one for the faint hearted, a rounded frame definitely offers a more directional feel to your look, but wear them with confidence and you'll easily pull the look off. While they can be worn for everyday or smarter occasions, the slightly edgier feel does make them ideal for dressed down weekends.
"Just as square frames suit rounded faces, round or oval frames balance out and add softness to a squarer face. Opt for frames that are narrower than they are wide to soften strong, angular features. Neutral colours will also help to elongate the face. Rounded or oval-shaped frames, and those with decorative details along the top line, are an excellent choice for heart-shaped faces to balance out a narrower chin," says Perry.
Style tip
"Just as square frames suit rounded faces, round or oval frames balance out and add softness to a squarer face. Opt for frames that are narrower than they are wide to soften strong, angular features. Neutral colours will also help to elongate the face. Rounded or oval-shaped frames, and those with decorative details along the top line, are an excellent choice for heart-shaped faces to balance out a narrower chin," says Perry.
Our fashion expert recommends
7. Colorful frames
This is an eyeglasses trend for those who are willing to be bold. If you've already dipped your toe into wearing bright color clothing, then you need to make sure your accessories are up to scratch and British Cooking Show (aka Bake Off) host Prue Leith is proof that you're never too old to rock the colorful eyeglasses trend. Prue is such a fan of the style that she even teamed up with US eyewear brand Ronit Furst to create her own collection of colorful glasses in a variety of shapes.
Style tip
Bold framed glasses are really youthful and this season, there is a rainbow abundance of color to choose from. The great thing about this trend is that the frame shapes, vary dipping into a number of other trends mentioned in this piece, so you can embrace some color and still stick to a shape that you're already well-acquainted with.
Try teaming bright frames with a colorful cashmere sweater or top for an eye-catching look.
Our fashion expert recommends
Specscart Light Blue Eyeglasses
RRP: £59.99 (International shipping available) | You can never go wrong with baby blue, and this elegant pair of glasses is a great way to get in the summer mood. Pair with one of the best denim jackets, in a faded blue wash and white tee for a tonal look.
(opens in new tab)
Persol Yellow Glasses Frames
RRP: $280 / £175 | A statement pair of eyeglasses. These are ideal for those with olive and pink-based complexions, and perfectly playout the dopamine dressing trend for bright, mood-boosting hues that has taken over fashion this season.
RRP: $349 / £245 | Great for wider nose bridges, Kimeze's bold red frames are great for getting you noticed. Eyeglasses should be an extension of your wardrobe and personality and these certainly do the trick when it comes to creating a look.
Cutler and Gross Green Square Glasses
RRP: £495 (International Delivery) | Go bold this summer with these green square glasses. Adding brightness to your look, they'll team well with a floral midi or add personality to a tailored work look. We love the use of acetate for a lighter finish.
(opens in new tab)
Balenciaga Eyewear Square Frames
RRP: $255 / £255 | Don't be intimated by the color, these angular glasses are made to stand out. So whether you go for a tonal look or clash and contrast your outfit with your frames, these should be the key piece in your ensemble. A guaranteed head turner, for all the right reasons.
(opens in new tab)
Vision Express Light Blue Glasses
RRP: £85 (International Delivery) | If bold colors aren't your first choice, that doesn't mean you have to bypass adding color altogether. Start with subtle pastels, like these light color frames. Their round shape will never date whilst the light hue adds a feminine touch.
8. Oversized Frames
When it comes to this trend, the bigger the better. Perhaps borrowing from some of the best sunglasses trends, where maximum coverage has been in for several seasons, the eyeglasses trend 2022 for statement frames have made a real comeback. This trend also leans on existing styles listed above, such as wire, thick-frame and colorful frame trends to help solidify its impact.
Style tip
"In 2022, it's the bigger the better! We are seeing bigger, bolder and louder glasses as we enter in 2022 and I think they will be at the forefront of eyewear trends this spring," says Bianca.
This look does command attention, so keep the rest of your look fairly neutral and opt for classic tailored pieces such as sharp tailoring and an oversized, androgynous shirt, for a look that is sleek and workwear ready but still very fashion-forward.
When it comes to face shape, Perry gives this advice:
"If you're not sure about rounded panto-shaped lenses, try a square frame for a striking look. Angular, squared frames are the best choice if you have a round face, giving it a longer, narrower appearance as their sharp angles balance out the face's roundness. For the most flattering look, try a pair that are wider than they are tall."
Our fashion expert recommends
Liberty London Large Frames
RRP: £129 (UK only) | Drawing on Liberty's British clothing brand heritage, these pastel pink frames are part of a special collaborative collection between Specsavers and the department store brand.
(opens in new tab)
RRP: $565 / £480 | If you love a big statement pair of frames, then you'll adore these thick-rimmed Gucci glasses. We particularly love the side gold detailing for added luxe factor, contrasted with the bold black hue.
RRP: £420 (UK only) | If you really want to make an impact, these transparent pink and red oversized frames are certainly attention grabbers. We love the clashing colors for a fun and fashionable look.
Paul Smith Fairfax Rectangle Glasses
RRP: £235 (International Delivery) | With a more structured frame, these glasses boast a more androgynous style. Offering split-color acetate to add a subtle feminine edge, these glasses are smart for work or play.
(opens in new tab)
Tom Ford Wired Cat-Eye Glasses
RRP: £282.95 (International shipping available) | With three trends in one, these wire frames tick a lot of fashion boxes. With a subtle, oversized cat-eye, wire frame, these literally nail the eyeglasses trends 2022.
9. Tortoiseshell Frames
Tortoiseshell has been popular in the realm of sunglasses for years now, so much so, that it's basically a wardrobe essential when it comes to sun protection. However, we're increasingly seeing sunglasses trends filter into prescription glasses trends, as consumers gain confidence in opting for more fashion-forward aesthetics for their eyeglasses too.
Stylist tip
If you've already integrated tortoiseshell into your sunglass selection, you'll need no help here at all, but if you've yet to dip your toe in, what are you waiting for? Tortoiseshell is universally flattering and this trend comes in all glasses shapes, so just pick your fave frame shape and away you go.
Our fashion expert recommends
10. Wooden Frames
Yes, you read that right, wooden frames. Influenced by a growing ethical fashion movement, wooden frames are stating claim as one of the top eyeglasses trends 2022 to look out for. From walnut to black and even tortoiseshell-like colors and textures, wooden frames are set to become the latest material to get your specs in.
Stylist tip
This isn't hugely different coloring-wise to the tortoiseshell trend, making them universally flattering. As they come in a range of silhouettes, again it's simply about working out what frames suit your face and then shopping accordingly. It's a great choice if you're looking to have less plastic in your life too.
Our fashion expert recommends