Cyber Monday jewelry deals 2021—save over 60% on designer pieces
This year's Cyber Monday jewelry deals are previous years, with over 60% off designer brands. Last chance to pick up a huge saving...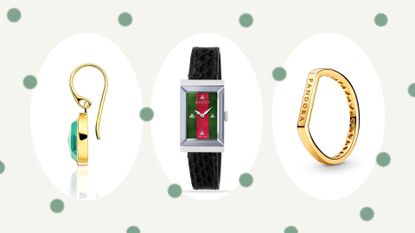 (Image credit: Future)
Cyber Monday jewelry deals present a unique opportunity to shop top-quality gold, silver, and designer pieces for half their usual price (or less).
The Cyber Monday jewelry sales in 2021 have been even better than we expected, with pieces reduced by half price, and more brands providing sales than ever before. Head over to Saks, Bloomingdales, and Nordstrom in the US where you can still shop the best Cyber Monday jewelry deals while stocks last this weekend, or in the UK, Goldsmith's, Beaverbrooks, Abbott Lyon, Selfridges, and Carrie Elizabeth are all offering discounts that could save you hundreds of pounds per piece. Use the links on the left and above to jump to Cyber Monday jewelry deals by region.
Shipping delays and supply chain issues are scheduled to wreak havoc on Christmas shopping and stock levels this year, so if you see a piece you love at a price you can't resist, don't delay purchasing. Sale pieces are only available while stocks last—and there's a limited supply this year—especially after the Black Friday shopping frenzy last weekend.
Where can you find the best Cyber Monday jewelry deals?
Where to find the best Cyber Monday jewelry deals in the US
Best early Cyber Monday jewelry deals to shop now in the US
Where to find the best Cyber Monday jewelry deals in the UK
Best early Cyber Monday jewelry deals to shop now in the UK
Shopping Cyber Monday jewelry deals: Top tips
Shop fast: With supply chain issues meaning stock is running low, you'll have to be quick off the mark to bag the bargains today. So, if you see a sale price on a piece you like, don't wait to buy it on Monday thinking you'll get a better price. Get it now whilst it's available.
Fill your virtual baskets: Instead of impulse panic buying as soon as you see the word 'sale', head to your top sites and add items you've loved for a while to your online wish lists. This way, you know that when you shop you'll be buying pieces that you really want. Plus, you'll be quicker to check out when those discounts do drop, too.
Know your measurements: Whether you're shopping for yourself or a loved one, you don't want to miss out on amazing Cyber Monday jewelry deals because you don't know your sizes. Some necklaces come in different chain lengths and rings are all different sizes so make sure you know the measurements you need. Some sale items are also non-refundable (check the small print on sites) so you don't want to end up with items you can't wear.