"Self tan, we need to talk. You never stick around like you used to" - Why menopause might be affecting your self tan and what to do about it
Our 40-something Beauty Contributor Lynne Hyland wants to know what's going on with her fake tan, and so she set out to discover if self tan can really be affected by the hormonal changes of your 40s and 50s, and if so how and why?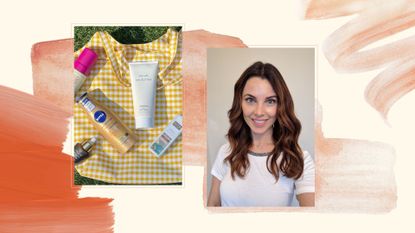 (Image credit: Lynne Hyland / Canva)
woman&home newsletter
Sign up to our free daily email for the latest royal and entertainment news, interesting opinion, expert advice on styling and beauty trends, and no-nonsense guides to the health and wellness questions you want answered.
Thank you for signing up to Woman & Home. You will receive a verification email shortly.
There was a problem. Please refresh the page and try again.
Friendships change as we get older. It's inevitable. But one thing I never expected was to be ghosted by my beauty BFF: self tan. It's been my ride or die ever since I accepted that sunbathing on tin foil with my pale flesh smothered in olive oil was never going to end well.
Since then, we've been together for all the big moments: graduation, wedding, honeymoon, big birthday parties, the lot. Heck, I even did a vanity application before going to the hospital to give birth.
But now, in my 40s, there's been a shift. And frankly, self tan, we need to talk. You never stick around like you used to, even when I've put in my best prep to make you feel welcome. What's going on?
A typical self tan used to last a good week, but now it's four days if I'm lucky. It doesn't streak or make a fuss, it just fades and exits. It's as if my skin is devouring the stuff. The only good thing is that I no longer have to endure the dreaded 'tiger bread day' with embarrassing grainy patches in need of a good sloughing.
It's not just me that's had a fall-out with even the best instant tans either. Other 40-something friends have their complaints too. "It hardly lasts," one told me. "It makes me wonder if it's even worth the effort." Another raised the M word. "The color doesn't develop as deeply and then I seem to sweat it off at night. Is it a menopause thing?" she asked.
So, what's going on? Could self tan really be affected by the hormonal changes of our 40s and 50s, and if so how and why? To find out, I asked tanning and skin experts.
Do hormones impact how self tan interacts with the skin?
If anyone is going to spot any fluctuations in self tan performance, it's the people who apply it day in, day out for a living. People like celebrity self-tan guru James Harknett, who has been hailed "the Tom Ford of tanning" for his bespoke bronzing talents. He is in no doubt that hormones have a very real impact on his craft.
"Your skin is your body's biggest organ, so as a tanning artist you're working with a living canvas," says James, who is the global creative artist for Australian tan brand Three Warriors. "From my experience, hormonal changes definitely affect how self tan interacts with the skin. I've worked with some clients for many years and some do find that self tan doesn't last as well now they are older, or the color doesn't develop in the same way that it did before."
Jules Von Hep, founder of tan brand Isle of Paradise, saw the full impact of hormonal fluctuations during his time as head tanner on Strictly Come Dancing (the UK's version of Dancing With The Stars).
"I was doing the same bodies with the same solutions every week, and I noticed that some weeks the tan was taking them and some weeks it wasn't," he recalls. "Hormones affect the amino acids in the skin, and that's what the tan is working with. So I wouldn't be surprised if the perimenopause and the menopause had an effect too."
To dig deeper into the science, I approached award-winning aesthetics expert Dr Sophie Shotter, founder of Illuminate Clinic. Dr Shotter echoed Jules' observations and provided more detail on the science behind fake tan and hormones: "Self tanning products are dependent on amino acids within the skin to give you their effect, particularly arginine, lysine and histidine. These react with the ingredients in the self tan to form brown compounds called melanoidins. However, as we age, levels of all of these amino acids decrease, meaning your skin will not be able to form as abundant levels of melanoidins and therefore your glow may not be as intense."
Curious to see what my own hormone levels might be doing, and how that might fit into my tanning troubles, I underwent a comprehensive hormone profile blood test at Sophie's clinic. The results showed I hadn't hit menopause but my estrogen and progesterone were on the slide. Bingo.
Sophie told me: 'Your dropping levels of estrogen and progesterone mean that almost certainly the levels of these crucial amino acids have declined compared with where they were 5-10 years ago. This could certainly mean you're not tanning as deeply as you once did when using self tan."
So yes, I'm not imagining it; self tan really can go off the boil when you hit mid-life. "Tan often doesn't always last as well, and this can happen with a product people have used for years," says James.
How to achieve a better self tan on mid-life skin, according to the experts
Dear self tan. It's not me, it's you. Sometimes you might have to accept that a product that's always worked well no longer cuts it. "Sometimes changing the brand really does make all the difference," agrees James. "However older skins aren't all identical and so there is no 'one size fits all' approach to self tanning."
As a starting point, all the experts I spoke to agreed that it's worth spending a little more to get a better quality of DHA, the active ingredient in tans. "I wouldn't go near the very cheap end of the scale where you're more likely to get poor quality DHA that gives an orange result," says Jules. "I always believe that expert-led brands deliver great results because somebody behind them has worked with these formulations forever. But I don't think they need to be overly expensive. Mid-range is good. If you're going to use something frequently it shouldn't cost the earth."
It's worth rethinking your prep too. I've always assumed the more scrubbing and frequent exfoliation, the better. However, James warns it won't give me a deep, long-lasting tan. "Everyone comes to me and says 'I've been scrubbing all week' and I'm like, 'Great, you're lovely and smooth. However, your tan might go as deep as you want it to.' Fake tan binds with our skin cells, and they're constantly renewing. If you've taken off too much, there's less for it to bind to." So to fake tan like a pro, ease up on the exfoliation, and make light use of an exfoliating glove or rough, dry towel for a longer-lasting tan. Beware oily scrubs which can form a tan-blocking barrier too.
Tanning with skincare benefits is another common theme for older skin. While fake tan isn't bad for your skin, everyone I spoke to stressed the importance of added ingredients such as hyaluronic acid and oils. These help to counter the drying effect of DHA, for a more even, long-lasting tan. "There are a host of wonderful tanning products for mature skin that can really help with concerns like dehydration, and give you a glow at the same time," says James.
Jules is a big fan of tanning drops to mix with moisturizer or your best smelling body lotion. "It's easy, and just a good way to keep the glow topped up rather than waiting for it to fade," he explains. "If your tan really isn't taking as well or not lasting, I'd recommend using a gradual tan and adding tanning drops to that 2-3 times a week. You'll get a deeper, longer lasting color that way," and it's also a good solution if you're looking for the best self tan for your face, as you can mix the drops with your regular moisturizer. "Sometimes I'll do a 'gradual tan plus drops' to lift up a mousse tan or the best fake tan for pale skin I did three days ago."
Lynne and the expert's ultimate menopausal tanning kit recommendations
The Body Shop Hemp Body Mitt
A 100% hemp fibre mitt recommended by James as a great way to prep skin for a tan without sloughing off too much.
Isle of Paradise Self-Tanning Body Drops
Available in three shades, these tanning drops make it easy to build and maintain a glow by just mixing with your body cream.
Collistar Magic Drops Self Tanning Concentrate
If your face tan fades faster than anything else, these drops go on neat and deliver a non-drying glow in record time.
St. Tropez Tan Luxe Whipped Crème Mousse
A mousse with skin care ingredients such as niacinamide and hyaluronic acid, plus erythrulose for a second burst of color.
TAN-LUXE The Butter Illuminating Tanning Butte
A slow-building tan with a glowy instant finish and a raft of skin conditioners such as cocoa butter, shea butter, coconut oil and oat oil.
Vita Liberata Heavenly Tanning Elixir Tinted
One of the longest lasting tans I've tried, with a lovely silky feel, non-scary guide color and great cocoa scent.
Sign up to our free daily email for the latest royal and entertainment news, interesting opinion, expert advice on styling and beauty trends, and no-nonsense guides to the health and wellness questions you want answered.
Lynne has spent over two decades as a beauty journalist, trying out every possible treatment from top to toe. (Quite literally: she once had stem cells injected into her feet to regrow her cartilage.)
She's written for a host of titles, including Notebook, S, OK!, new!, Heat, the Mirror and the Express, and interviewed all sorts of famous folk about their beauty regime, from Joan Collins and Eva Longoria, to Sarah Michelle Gellar and David Beckham. Lynne spends her professional life testing out products designed to compensate for her genetic shortcomings: skinny hair, weak nails and ghostly skin being top of her complaints. Aesthetics is another of her passions. When she's not trialling treatments in a bid to hold back the years, you'll find her rolling her eyes at celebrities who claim their ageless skin is down to olive oil and early nights. Sure it is.