How often should you exfoliate your body? We ask the experts
It's the key to revealing brighter, healthier skin – but just how often should you exfoliate your body to get it right?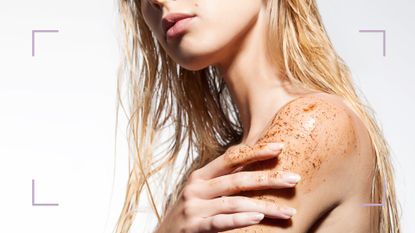 (Image credit: Getty)
Exfoliation is key for maintaining smooth skin – but how often should you exfoliate your body to reap the rewards? According to the experts, there is indeed a sweet spot.
Too much can cause irritation while too little can lead to dull, lackluster limbs. But pick the best body exfoliator and get the frequency right and you'll soon notice the skin smoothing and brightening benefits. "The skin naturally sheds dead cells every 30 days, so that new skin cells can form the top layers of your skin," explains Dr Catharine Denning, advanced aesthetic doctor. This process, however, slows down with age. "Exfoliating will help to remove dead skin cells by breaking the bonds that glue them together, allowing new cells to surface," continues Denning. The results? A smooth, glowing skin surface.
As well as removing dead skin cells, pollutants, and any dirt sitting on top of the skin's surface, "exfoliating can also create a more receptive platform for any topical ingredients applied after," says Dr Maryam Zamani, oculoplastic surgeon, facial aesthetics doctor and founder of MZ Skin. But, just as knowing how to exfoliate your face properly is crucial for skin health, learning how often should you exfoliate your body is the key to healthy, happy skin all over. Here, the experts explain what you need to know.
How often should you exfoliate your body? The experts reveal all
To avoid aggravating skin, the experts agree that one-to-two times a week is plenty. "By maintaining a twice-weekly exfoliating regime, you can keep dry, dull skin at bay without stripping away those necessary natural oils," adds Dr Denning. And while many see skincare on the face as taking priority, keeping up regular body exfoliation can make a huge difference.
"Often, we neglect our body skin in comparison to our face, but of course, the skin is the largest organ of the body and we should pay attention to the health of all of it," points out Dr Sophie Shotter, aesthetic doctor. "Exfoliating the body will help to keep skin smooth and even, both to the eye and to touch. It will also help to encourage healthy cellular turnover so that the skin behaves more youthfully," she continues.
Can I exfoliate my body every day?
While it may be tempting to incorporate a body exfoliator into your everyday skincare routine, it can in fact cause more harm than good. "It's important to buff away dead skin cells but you don't want to over-exfoliate and strip the skin of its natural oils and protective lipids," says Dr Denning. This rule applies to the skin on our face, too. So, if you're wondering 'how often should you exfoliate your face?' the answer is not every day.
"I find that some people can overdo exfoliation," says Dr Zamani, "which only results in inflammation rather than healthy, radiant skin." Dr Shotter notes that it's important to consider skin type, too. "For example, a condition like ichthyosis will need very regular exfoliation (even twice per day), whereas a sensitive and dry skin type will need exfoliation less often, maybe only once per week," she says.
What happens if you don't exfoliate your body?
As we mentioned before, our skin naturally sheds itself – but this process can slow down over time. "If those dead cells don't shed, it can result in dull, dry and flaky patches," says Dr Denning. "It can also clog the pores," adds Dr Maryam Zamani. Some of us are more prone to clogged pores which can lead to skin breaking out if exfoliation isn't performed regularly. "Others need to exfoliate to keep skin conditions such as keratosis pilaris (otherwise known as chicken skin) at bay," says Dr Denning.
Physical vs chemical exfoliation
There are two main ways to exfoliate your body - using chemical exfoliants or physical exfoliants. "Physical exfoliants use a grain or micro-bead to slough away dead skin, whereas chemical exfoliants use alpha- or beta-hydroxy acids (usually a choice between lactic acid vs glycolic acid)," says Dr Shotter. "Most skin types will do well with a chemical exfoliant, as these are usually formulated to be gentle on body skin which is less sebaceous than facial skin," she continues. Of course, which method you go for is largely down to personal preference - but most experts agree that chemical exfoliants reign supreme.
"I do not advocate physical exfoliation as it can cause micro-tears in the skin and increase sensitivity," says Dr Maryam Zamani. Dr Denning seconds this and adds that "there are skincare acids appropriate for most skin types. These can be used by anyone in the knowledge that skin will be smooth and the barrier remains hydrated and un-impaired." One way to physically exfoliate without worrying about micro-tears would be body brushing, which gives satisfying 'scrub' without being overly aggressive. And how often should you dry brush? Most experts recommend a few times a week.
Following a skincare routine for sensitive skin? Consider opting for a lactic acid-based product. "Lactic acid is a mild alpha-hydroxy acid (or AHA) which provides gentle exfoliation with the added benefit of skin hydration," says Dr Zamani. "It weakens the bonds between the outer layer of skin cells, revealing younger, fresher skin cells below," she continues. Shotter notes that "physical exfoliants can also be good for a more sensitive skin, so long as they are not overused."
Should you exfoliate before or after shaving your legs?
Aside from how often should you exfoliate your body, many common questions about body exfoliation tie in with shaving. The best practice is to exfoliate before shaving, rather than after. "This will help release any hairs trapped under dead skin cells so that your shaving results are as smooth as possible," says Dr Denning. What's more, we all know even the best razors for women can still case nicks even now and then, "if shaving causes any cuts or tears – these will burn if an acid exfoliant is placed on top – causing further inflammation," adds Dr Zamani. So, repeat after us: exfoliate first, then shave.
Our beauty editor's favorite body exfoliators
Now you know how often to exfoliate your body (twice weekly), it's time to pick the perfect product for the job. These are our top body scrubs and acids that deliver brighter, healthier-looking limbs.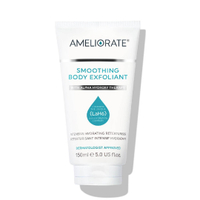 AMELIORATE Smoothing Body Exfoliant | RRP: $12/£18
A cult classic, this formula combines the power of a chemical exfoliator with the benefits of a physical exfoliator – using both AHAs and bamboo granules. As well as removing dead skin cells, it also replenishes moisture thanks to shea and cocoa butter. To use, massage onto dry skin before showering.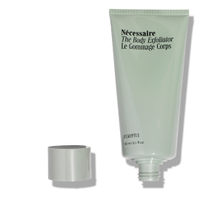 Nécessaire The Body Exfoliator - Eucalyptus | RRP: $30/£30
Laced with bamboo charcoal, pumice, glycolic acid, lactic acid, and salicylic acid, this powerful body exfoliator also provides chemical and physical exfoliation to sweep away dead skin cells and address uneven texture. Apply all over your body, massaging it into a foam, before rinsing off.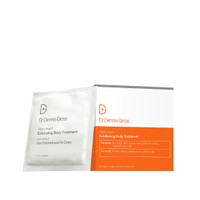 Dr Dennis Gross Skincare Alpha Beta Exfoliating Body Treatment | RRP: $58/£58 for a pack of 8
Totally foolproof, these exfoliating peeling pads, specifically designed for the body, are drenched in AHAs and BHAs (think glycolic, lactic and salicylic acid) to encourage cell turnover and collagen production for smoother, brighter skin. Simply swipe all over the body in one easy step.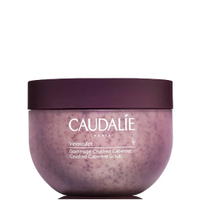 Caudalie Vinosculpt Crushed Cabernet Scrub | RRP: $38/£27
If you prefer physical over chemical exfoliators, consider this luxurious body scrub from French skincare brand Caudalie. Blended with brown sugar, honey, and grape-seed oil, this spa-like concoction gently polishes skin, leaving limbs soft, supple, and silky smooth. Work into damp skin, using circular motions, before rinsing off.
Sign up to our free daily email for the latest royal and entertainment news, interesting opinion, expert advice on styling and beauty trends, and no-nonsense guides to the health and wellness questions you want answered.
Emma Stoddart is a freelance beauty journalist and self-confessed skincare aficionado with over five years' industry experience. Emma has worked for some of the UK's top women's titles including Net-A-Porter, Stylist and Grazia. Her experience spans online and print as well as producing editorial shoots with some of the industry's biggest artists, including Val Garland. Asides from working with them behind the scenes, she's also had the chance to interview the likes of Patrick Ta, Pat McGrath, and Sam McKnight for all their insider tips and tricks.