The Best Styles For 'Day Two' Hair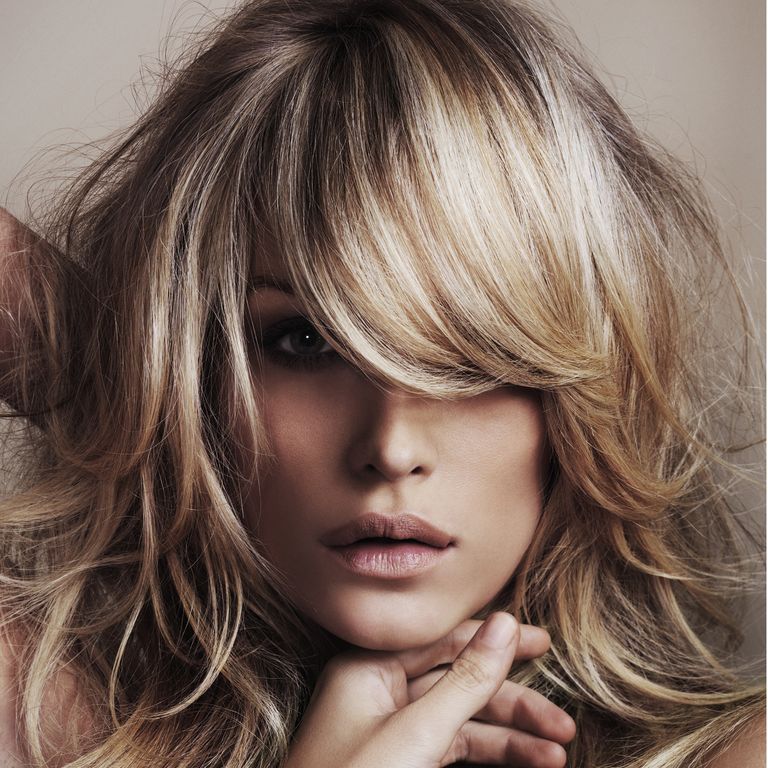 The five on-trend hairstyles that look even better on unwashed hair.
It's one thing knowing that your hair benefits from being washed less, but it's quite another going about your day with greasy roots, lank lengths and hair that just feels a bit, well, sad.
But, as the experts know, 'day two hair' is actually perfect for experimenting with. Your natural oils add bags of texture and grip, helping you hold on to a new 'do' for longer.
Click through to learn the styles that not only disguise the grease, but actually benefit from it too, and get ready to turn your next bad hair day on its head.
Try a side sweep
We couldn't be happier that the side parting is making a comeback - it's feminine, flattering and fabulous at 'breaking up' flat or weighed-down roots. Lightly backcomb around your hairline, then create a parting a few inches to the left or right of centre - go as low as you dare. Sprinkle a light dusting of volumising powder into your fingers then massage into roots to add extra volume (Try Bumble & Bumble Pret a Powder or V05 Give Me Texture Instant Oomph). Now use your hands to smooth over the front section so it sweeps past your eyes.
Make the most of matte texture
Heavy-handed dry shampoo use can give hair a 'cakey' quality, but as luck would have it, matte, product-filled locks are very much on-trend and can still look polished with a few simple tricks. 'To stay fresh and modern, it's all about incorporating a windswept, undone feeling to the hair,' says hairdresser Richard Phillipart (It List Awards' It Guy 2014) 'This can work on all hair lengths and types and is incredibly wearable for everyday. 'Use L'Oreal Professionell Scruff Me to give hair substance or Next Day Hair for a matte effect and body boost.' If you're worried about looking scruffy, keep the product to the mid-lengths and ends, and use Ojon Tamer Wand to tidy up flyaways up top.
The messy up-do
Up-dos are made for unwashed hair as your natural oils will keep it in for longer, and stop grips and clips slipping out. This style is great for an everyday look as you can do it in about five minutes flat, and it looks great when it's a little messy. Divide your hair in two as if you were going to put it in pigtails then loosely twist each side, pulling it backwards and securing with kirby grips as you go. Now grab the hair as it meets at the nape of your neck, twist together into a messy knot shape and pop in a smattering of grips to hold. Gently massage hair around your temples and the back of your head to loosen it up, pulling out tiny sections, and finish with a spritz of good old Elnett Satin Hairspray.
Va-va-voom volume
Big backcombed hair is always a glamorous look, and your 'day two' do is perfectly placed to hold in volume, while still looking a little bit cool and dishevelled . 'The anti blow-dry is one of the biggest looks to come out of New York Fashion Week, it's more self-done and complimentary to the face,' says stylist Darren Ambrose (Creative Talent at the Most Wanted Awards 2014.) Try lifting sections towards the crown, teasing gently with a slim comb and spraying liberally with Kerastase V.I.P Volume In Powder.
The dirty blow dry
If you have short hair, keeping it away from your face is probably priority number one on a greasy hair day. You can achieve this by spraying hair lightly with product then going hands-on with the hairdryer. 'Shorter hair cuts can be liberating, bringing out the character of your face,' says hairdresser Jonathan de Francesco (It List Awards 2014, The Visionary.) 'The best product would be a styling spritz, which should be applied all over in an even manner, then tousling with the fingers whilst drying. Shorter styles should only be dried using the hands, not a hairbrush because this will maximise the texture.' Try Milk Shake Sensorial Mint Spray, which will invigorate your scalp too, or Dove Oxygen Moisture Spray.