The most beautiful Oscars red carpet hairstyles to copy for your next event
Pro stylists explain how to achieve glam Oscars red carpet hairstyles—it's easier than you think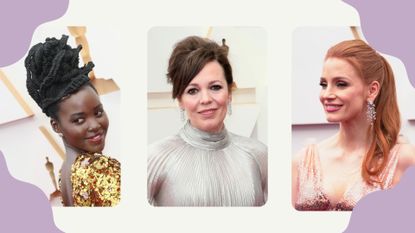 (Image credit: Future/getty images)
Oscars red carpet hairstyles are always the best of the best. From beautiful blow dries to glam Hollywood waves and sleek updos, this is the night the stars put on their gladdest of rags and go all-out with enviable hair looks.
While these styles are always a joy to observe, most of us wouldn't exactly describe the Oscars looks of the A-List as relatable or remotely achievable. But what if we told you that, actually, some of the best red carpet hairstyles are the most fuss-free and easy to recreate—it's all about having a bit of expert know-how.
Happily, said hair know-how is right here, ready for you to try for your next occasion. We've consulted the pros who work with the great and good of Hollywood to break down some of the most beautiful red carpet hairstyles of Tinseltown's biggest night plus how to achieve them step-by-step. Whether you're looking for the best bridesmaid hairstyles or mother of the bride hairstyles, find your perfect special occasion style and strut into that big event feeling like a winner.
Oscars red carpet hairstyles: 21 looks to try
1. Penelope Cruz
Penelope Cruz's big bouncy blow dry is one of the most timelessly glamorous and flattering red carpet hairstyles. The secret to achieving it, says professional celebrity hairstylist and ambassador for Shark, Aaron Carlo, starts with having the right tools. "Make sure you have heat protector spray, a comb, a round brush, hair clips, and a quality hair dryer," advises Carlo.
"Start by sectioning your damp hair with a comb into four even sections, using clips. Take small sections of the hair, and pull the round brush through your hair before you start wrapping your hair round the brush and rolling upwards. You need to blow dry outwards using the round brush and keep the nozzle of the hair dryer on the front side of the brush to encourage curve. After this, blast the wrapped hair with the cold shot to lock in the style and then release to leave a voluminous curl."
2. Olivia Colman
Best Actress nominee Olivia Colman brings vintage style glam to her red carpet hairstyle with this backcombed beehive chignon. This nod to the '60s is set to be a huge 2022 hair trend, explains pro stylist Mike O'Gorman for L'Oréal Professionnel, who created beehive styles for the Eudon Choi AW22 catwalk. "We're playing with beehives and fringes for a cool nod to the 60s. The look is sexy but not 'done'. Spray L'Oréal Professionnel Techni.Art Pli generously to add texture to the hair and exaggerate any natural texture. Create body and lift at the roots and crown of the head by backcombing into a beehive shape using water spray and heat. If you're applying extensions for extra body use a root cover up to help blend them seamlessly into the roots."
3. Ariana Debose
Best Supporting Actress winner Ariana DeBose shows how it's possible to jazz up a pixie haircut for the red carpet with some expert fringe styling. The trick with styling a fringe in this voluminous curve, says Carlo, is to get in there quickly. "If you start styling the fringe whilst it's wet, it'll be much easier to deal with once the hair is dry. So, as soon as you're out of the shower, start positioning your fringe and then dry it downwards over your face with a round brush to prevent it from lying flat. Finish by spritzing your fringe with a little bit of anti-humidity hairspray to keep it in place."
4. Lupita Nyong'o
Lupita's braided hairstyles never disappoint, and this beautiful fishtail updo is as elegant as it is dramatic. Hairstylist Vernon Francois created the look for Lupita, and explained the intricate style, saying, "Lupita's delicate sisterlocks are majestically swept up, hand-shaped and contoured with precision, for a soft yet striking look that elongates her neckline. I used a blend of basket weaving, wefting, and loc extension techniques to create an asymmetric playful structure that echoes the design of Lupita's dress." Only a seasoned hair pro could fully recreate this look, but a high braided bun, piled up and twisted asymmetrically around the head would be similarly impactful.
5. Jessica Chastain
Showing how elegant the humble ponytail can be, Best Actress winner Jessica Chastain's style, crated by Renato Campora relies on two things—volume at the roots, and texture throughout. Blow dry with a round brush, or a hot styler such as the Revlon Hair Dryer Brush, to create height, then use a texturizing spray to create a touchable texture. "Texturizing sprays are amazing at zhooshing hair up," says Celebrity Stylist Neil Moodie. "Lift your hair and spray generously into all the root area, ensuring you get the sides and back as well (not just on top). Use your fingers or a wide flat brush to distribute the texture spray through your hair and then style."
6. Uma Thurman
Cool-girl Uma Thurman is a master of simple, effortless-looking styles. This textured update has the feel of just being thrown up, yet looks ultra-chic, explains Moodie. "Spray your hair with texture Spray, and using just your fingers—which will give more texture—gather all of your hair up just below the crown area and create a knot. Tie into a ponytail and then with a few grips, create a chignon with the remaining hair, pinning the hair as tightly or loosely as desired. Once fixed into place, leave as-is or pull some tiny strands out around the front to frame your face. Finish with hairspray."
7. Nicole Kidman
This low, neat updo is one of the most timeless and flattering red carpet hairstyles for every face shape. Oribe Global Ambassador James Pecis explains how to create the sleekest of chignon styles.
"Section the hair horizontally from the crown of the head to just behind the ears. On the front section, create a deep side part and secure the larger section away from the face with a clip. Leaving the larger front section separate, pull the hair into a low ponytail and secure it with an elastic. Smooth the front section and secure it into the ponytail with another elastic. Brush both sections to combine. Take the end of the ponytail and bend up and under, creating a chignon, secure with another elastic. Finish by wrapping excess hair around the elastic and securing with pins."
8. Tracee Ellis-Ross
This sophisticated slicked-back tucked-in style is low-maintenance to wear and super-flattering. Go as tight as you dare with the bun to create what A-List hair stylist and Bblonde Brand Educator, Jason Collier, has dubbed the 'Botox bun.'
"For this one, you'll need a lot of your favorite smoothing product, running through every length. Using a paddle brush with soft bristles, pull all of your hair into a bun as tight as you feel comfortable with. The key is to ensure the pulled hair is in line with your cheekbones, to pull them up, and define your contours. Use a gel and toothbrush to secure all baby hair and flyaways."
9. Judi Dench
A great haircut means not having to worry about fussy styling, but that doesn't mean you can't ensure a pixie hairstyle looks a little bit special for the red carpet. Use a small amount of texture cream or pomade, gently working it through the crown area in particular, to recreate Dame Judi Dench's piecey texture.
10. Salma Hayek
Salma Hayek's high accessorized bun is the height of glamour, so set aside some time to prep then have a go with Celebrity hair stylist Asgar Saboo's tips. "This style works best on super straight hair, so make sure you use lots of product to leave your locks silky and smooth. Use a deep conditioner and hair oils such as argan before straightening, to protect your hair and leave it straight for longer," says Saboo.
"Pull your hair into a ponytail and sweep it to the side, securing it with discreet elastic. Pull out a strand of hair from the elastic, roughly 5cm wide, and tightly plait it. Wind the remaining ponytail into a high bun and hold it in place with bobby pins, use a hair donut if you want a neater look. Wrap the plait around the bun and secure with a small bobby pin before spritzing with hair spray to ensure your hair stays perfect all night!"
11. Carey Mulligan
This look from 2021 is a great mix of classic and contemporary, and pleasingly achievable at home. "For Carey's gorgeous blonde twisted up-do, start off by curling your hair with a curling wand and then section the hair into two sections—top and bottom," advises Chie Sato, Head of Education at Taylor Taylor London. "Twist the under section into one long twist and then wrap round and pin. Do the same with the top section so that the two twists sit right next to each other."
12. Halle Berry
Halle Berry is a master of iconic Oscars Beauty moments, and this short bob with bangs is no exception. If you want to experiment, why not make like Halle and fake it with a wig. "It's fun, easy and you can experiment, without having to commit," says Moodie.
"If your hair is long then brush it all back and tie it into a ponytail around the bone on the middle of the back of the head (the occipital bone). Braid the ponytail as tight as you can and then pin it to your head as flat as possible. Use a wig cap to keep all the hair in place and then fix your wig over the top. If you have short hair then just comb or brush it flat to your head and put a wig cap over the top. I'd always advise opting for human hair wigs as opposed to synthetic. They look much more realistic and are easier to style, as well as photographing better."
13. Angela Bassett
A razor-sharp central part and super-sleek front sections, tucked behind the ear create this modern yet elegant style. But how to get the smoothest frizz-free style? "If you're looking to get that catwalk ready sleek look, flyaways aren't an option!" says Carlo. "A great way to eliminate flyaways is by applying hairspray to the hair and using a teasing brush with your best hair dryer which will help to keep those stray hairs down, leaving a slick, smooth finish."
14. Andra Day
"Andra's curls have been beautifully swept into a classic twist, kept soft with a curly fringe and loose strands around her face and neck," says Sato. And luckily this, easy hair up style is simple to achieve with a few key products.
"After cleansing and hydrating your hair with curl-specific moisturizing products to add definition, start on one side of your head and sweep your hair into a twist, adding sections as you go to keep it tight. Finish on the opposite side so that it sweeps across, pin, and bring the loose ends upwards to sit on top of the head. Use a serum to keep the ends and loose pieces looking sleek and defined."
15. Laura Dern
"For Laura's take on glamorous Hollywood waves, start with a deep side parting and use a large barreled curling wand to curl hair away from the face," says Sato. "Allow the curls to cool and then use a brush to shape them how you want to create a looser, larger wavy effect. Spray with a shine hairspray to get that glossy, sophisticated finish."
16. Sandra Oh
Sandra Oh's updo speaks of vintage glamour and would make a perfectly romantic wedding guest or bridesmaid hairstyle. If you don't have a naturally curly hairstyle use heated rollers to create large glam curls. Let them set completely, then tease your roots with your fingers, and gently sweep the hair back in sections working from the top down. Onc pulled back, pin in place then once all the hair is pulled back, gather and twist into a chignon. Teasing again to create loose tendrils. Finish with hairspray.
17. Regina King
Actor King shows how much impact a simple yet dramatic parting change can make. "I'm a great believer that people should switch up their parting on a regular basis, it's the perfect opportunity to experiment with a new style," Says Carlo. "I love a deep side parting, which will provide an instant lift and volume and for all-out glam. Simply use a comb and part the hair above the outer corner of your eye when it's wet and dry into place."
18. Margot Robbie
"To achieve Margot's perfectly-imperfect cool-girl ponytail hairstyle, use a texturizing sea salt spray to add some gentle movement, then sweep back your hair into a pony at the nape of your neck," advises Sato. "Be careful not to pull it too close to the scalp as you want it to be loose and have some pieces coming undone for added effect. Her choppy fringe really adds to the look and helps to frame her face."
19. Amanda Seyfried
Renato Campora, Fekkai Artistic Director reveals how he created Seyfried's beautiful side-parted chignon. "I blow-dried the hair section by section with the Dyson Supersonic hair dryer, and then used the Dyson Corrale to smooth and created a side part. Starting at the middle, I sectioned off the hair around the crown in a circle then sectioned the front. I then brushed the sides of the hair back into a low pony and secured with an elastic."
"I curled the pony using a one inch curling iron then curled the circled section. Once brushed out, I joined that section to the low pony and rolled it under to the nape of her neck. Securing it with a long pin. I used the Corrale to smooth the hairline and pinned along the back joining it to the rest of the style."
10. Viola Davis
"The key to Viola Davis' stunning natural look is to properly hydrate your curls prior to slicking them back," explains Sato. "After cleansing and moisturizing with a hydrating shampoo and conditioner, use a curl cream to scrunch your curls and add definition. Use a super strong gel to slick the sides of your hair back, pulling the top forwards slightly and playing with the back to get the shape how you want it. You can pin in place or just spritz with a strong-hold hairspray to keep it in place all day and night."
21. Vanessa Kirby
"Vanessa's sleek and elegant updo for short hair is an easy look to recreate from home and works well on any hair type," says Sato. "Section the hair into a top and bottom section and use a gel to slick the bottom section, twist it into a bun and pin it into place. Then taking the top section create a middle parting and slick each side down, wrapping each section around the original bun to bring it together."
---
woman&home thanks Renato Campora (opens in new tab), Aaron Carlo (opens in new tab), Neil Moodie (opens in new tab), Jason Collier (opens in new tab), Mike O'Gorman (opens in new tab) and Chie Sato (opens in new tab) for their time and expertise
Aaron Carlo has partnered with Shark to front the launch of the STYLE iQ Hair Dryer and range of Intelligent Stylers to make it easy to create 'red carpet ready' hairstyles at home.