10 great European city breaks within 2 hours of the UK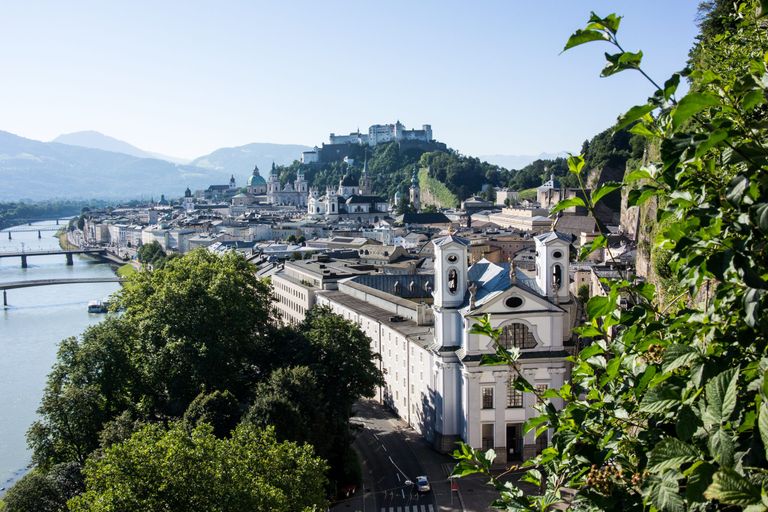 Brilliant European city breaks you don't have to go far for - and some you don't even have to fly for! These are the best and most beautiful cities in Europe for a long weekend.
1. Dublin, Ireland
How to get there? It's just 1hr 15 from London to Dublin on a plane, or you can take a ferry from Holyhead (Wales) in around three hours.
It might not immediately spring to mind when you think of European city breaks, but Ireland is indeed a European country and makes use of the Euro as its currency. A short hop over the sea from Britain, or a drive over the border from Northern Ireland, it's a fun-loving, slightly eccentric and all-round gorgeous city.
Beer lovers should head straight for the Guinness Store experience, where even if you don't drink the stuff you'll be fascinated by its interactive exhibits. There are good old fashioned pubs galore, and the architecture can spellbinding - don't miss the famous Trinity College Library. There's some spectacular history here too, so make time to explore Dublin Castle and both St Patrick's and Christ Church Cathedrals.
Stay at: The Shelbournefor five-star service and serious luxury. Just five minutes from the city's main attractions, it's in prime location - plus there's a fantastic seafood and steak restaruant.
Book it: try Riviera Travel's Ireland tour from £979pp >
2. Antwerp, Belgium
How to get there?Fly from most UK airports (1 hour). For a longer option (approx 3 hours), take the Eurostar from St Pancras International or Ashford in Kent to Brussels, then change for a local train (included in the ticket price when you buy 'to all Belgian stations').
Pixabay
Antwerp is a brilliant European city break: think towering, Gothic cathedral, higgledy-piggledy architecture, cobbled lanes and an arts and fashion scene to rival Europe's most cosmopolitan cities.
Don't miss a visit to The Rubenshuis, former home and studio of painterPeter Paul Rubens, and make time to explore MAS - the Museum aan de Stroom - which has fabulous views over the city from its upper floors and outdoor deck. Do a spot of shopping aroundVolkstraat and Nationalestraat - the city's top designers have boutiques there - and find inspiration at theMoMu.
Stay at: Hilton Antwerp Old Town- with all of Antwerp's best bits on its doorstep.
3. Amsterdam, the Netherlands
How to get there?Fly from most UK airports (1 hour 15 minutes), or take the Eurostar route between London and Amsterdam, taking you get direct between the two cities in just under 4 hours without the hassle of flying.
Pixabay
Canals, bikes, tulips... There's a lot to love about Amsterdam - it's certainly one of Europe's most beautiful cities. On arrival, head straight to the Bloemenmarkt on the canals for a view of quintessential Amsterdam, then stop off at the Kattenkabinet for something completely different (a museum entirely dedicated to cats and art involving cats).
The food highlights of Amsterdam are stroopwafels - which can be sampled in giant form at the Albert Cuyp Market - and the small but packing a punch Foodhallen. The latter is a towering hall featuring numerous food stalls and bars - indulge on bitterballen, salmon tacos, vegan nachos and delectable dim sum, all topped off with a high-end G&T.
Stay at:Hotel de Hallen. Located in the same complex as the Foodhallen, this boutique hotel is perfect for when you've eaten yourself to sleep.
Book it: try Riviera Travel's tulip river cruise >
4. Paris, France
How to get there? Fly from most UK airports, or Eurostar from London St Pancras (2 hours, 15 minutes)
Alamy
Paris poses the ultimate European city break: culture, food and a distinctly continental feel. As the French capital, it's where all the important stuff happens. It's also inhabited by more than 2.2 million people, undoubtedly seduced by its timeless feel, an abundance of quaint cafés and bakeries, and the iconic structures.
Easy to navigate via the Metro, you can join them in exploring Montmartre, the Eiffel Tower, the Louvre and the Arc de Triomphe, all in one weekend. Paris, je t'aime.
Stay at:Mama Shelter. This trendy hotel is in the heart of one of Paris's coolest neighbourhoods.
Book it: try Riviera Travel's solo traveller trip to Paris >
5. Salzburg, Austria
How to get there? Fly from most UK airports (1 hour, 50 minutes)
Alamy
The hills are well and truly alive in Salzburg, and the list of our favourite things to do here extends well beyond just a few. If you hadn't already guessed it, this Austrian gem is the real-life set of The Sound of Music, where you can visit Leopoldskron Palace - where the Von Trapp family lived - dance through the beautiful Mirabell Gardens, or re-enact the wedding scene at the Mondsee Church.
Beyond the 1965 movie, Salzburg is also a haven for lovers of baroque architecture and the birthplace of world-famous composer Mozart.
Stay at: Hotel Schloss Leopoldskron, famous as a location forThe Sound of Music.
Book it:try Riviera Travel's Oberammergau Passion Play & Salzburg tour >
6. Berlin, Germany
How to get there? Fly from most UK airports (1 hour, 50 minutes).
If you're fascinated by Berlin's tumultuous yet compelling wartime history, there's plenty to see: Brandenburg Gate, the graffiti-covered remains of the Berlin Wall and the Holocaust Memorial. But don't stop there. Today, Berlin is a phoenix from the ashes and, after paying homage to its past, it's crucial you immerse yourself in its present too.
Alamy
Wander the city's local markets (particularly at Christmas), gaze over the city from atop the 368m Television Tower, and observe 22,000 types of plant in the stunning Botanical Gardens. The shopping is fantastic, too.
Stay at: Hotel am Steinplatz. The beautiful former haunt of Brigitte Bardot.
Book it:try this 5-day city break by Riviera Travel >
7. Brussels, Belgium
How to get there? Eurostar from London St Pancras (2 hours)
We might know Brussels as the home of the European Union, but there's so much more to this quirky city than bureaucracy. Fusing together French and Dutch inspiration, the streets are a cultural mishmash of cobblestones, chocolate shops and breweries.
Alamy
Its many sights vary in style and peculiarity, from the famous Mannekan Pis (a tiny statue of a cherub-like boy urinating) and a museum dedicated to Tintin, to the UNESCO-listed Grand Place. If you like your city breaks full of contradictions, history and unusual architecture, look no further.
Stay at:Hotel Amigo- as close to old town Brussels as you can get.
8. Lille, France
How to get there? Eurotunnel Le Shuttle from Folkestone to Calais (30 minutes); self-drive to Lille (1 hour 15 minutes)
Alamy
Lille knows a thing or two about being underrated. But this Flemish-French fusion city should not be overlooked. Once the victim of dying service industries, these days it is instead a prolific haven for the arts. Discover the Palace for the Fine Arts, the Lille Opera House and abundant theatres, museums and galleries; it has even held the European Capital of Culture accolade.
And betwixt the postcard-perfect art and architecture, you'll find more than 4,000 shops, not to mention an unending choice of cafes, patisseries, bars and restaurants. Pure retail heaven.
Stay at:Mercure Lille Centre Grand Place Hotel, located on the south side of Lille's old town.
9. Geneva, Switzerland
How to get there? Fly from most UK airports (1 hour, 35 minutes)
Fringed by snow-dusted mountains and a stone's throw from the best ski resorts in France and Switzerland, it can be hard see beyond the powder in Geneva. But dig deeper and a wealth of gems are revealed.
Alamy
There's the pretty Old Town, the European seat of the United Nations (which actually has a giant seat), and outdoor green spaces like Bastions Park - a stark contrast to the white snow. Feel the spray of Jet d'Eau and get clued up on particle physics at the CERN, home to the Large Hadron Collider.
Stay at: theTiffany Hotel, just a 10-minute stroll from Lake Geneva.
10.Prague, Czech Republic
How to get there? Fly from most UK airports (1 hour, 55 minutes)
Pixabay
Prague is one of Europe's cheapest cities - and one of its most spectacular too. Everything from its flat whites to its historic hotels are budget-friendly, leaving you with plenty of cash to get under the skin of this arrestingly beautiful city. Not that you'll need it. Known as the 'City of 100 Spires' but boasting around 500, Prague has a history stretching back 1,000 years - all discoverable without having to spend a penny.
Navigate the labyrinthine Jewish Quarter, stroll the Charles Bridge, admire the Church of St Nicholas, and gaze upon the Astronomical Clock. Finish your days with a coffee or wine (yes, that's really cheap too).
Stay at:Alchymist Prague Castle Suites, an historic hotel right below Prague castle.
Book it:try this Riviera Travel tour incorporating Prague, Vienna and more >