The 5 easiest countries to work abroad in, whatever your age
It's never too late to up sticks and try somewhere new...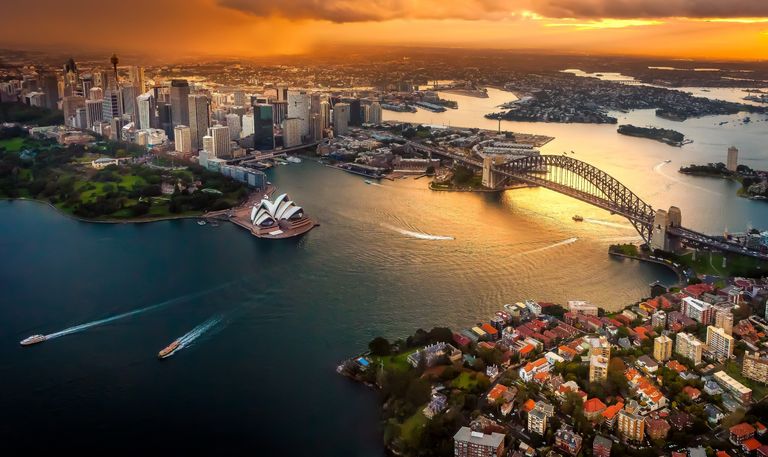 (Image credit: Getty)
So you want to work abroad? Whether you're bored of grey skies or dull office scenery, working abroad is the perfect way to travel AND improve your CV at the same time. You'll be instantly more attractive to employersand come back with loads of great stories to boot.
But once you've decided you what to work abroad, where should you go? Dealing with the nitty gritty details of long term work visas can get complicated. Choosing a country that offers a working holiday visa is a much simpler process - and there are tons of amazing options.
The 5 easiest countries to work abroad in
1. New Zealand
Great for: If you want a job as an accountant or a job in IT
This gorgeous country has great weather and beautiful scenery. There's every kind of landscape from tropical beaches to mountain glaciers - perfect for weekend getaways (and a haven for Lord of the Rings fans).
A working holiday visa will last you 23 months if you're from the UK, or 12 months otherwise. Trying to find work abroad in Oz? It's easy to find jobs in retail and hospitality. You could even try seasonal agricultural work like picking fruit.
There is a shortage of skilled professionals in Accountancy and IT in New Zealand, so it's relatively easy to find work abroad in these two areas. Health workers who are prepared to work outside of the countries' main cities are also in demand. Check out the Immigration New Zealand website for their Immediate Skill Shortage List. This is your best bet for finding a job quickly.
The best job sites to check out for opportunities in New Zealand are:
www.jobs.govt.nz (opens in new tab) (jobs in the public sector)
www.kiwicareers.govt.nz (opens in new tab) (job vacancies as well as job finding tips and detailed information about New Zealand industries)
www.workingin.com (opens in new tab)
2. Canada
Great for: If you're bilingual
Do you really need travel insurance?
Travel insurance gives you peace of mind should the worst happen when you are travelling. A travel insurance policy will cover most things, from emergency medical expenses and repatriation to flight delays and trip cancellations. You can even choose policies specifically tailored to your type of trip, such as cruise or backpacking insurance.
Compare Travel Insurance Quotes at GoCompare (opens in new tab)
Perhaps you want to work abroad in a ski resort in the stunning snowy peaks of the Rocky Mountains, or make big bucks in Toronto's financial district. If you speak some French, try Montreal. Interested in film? Snag a job in the movie business in Vancouver (it's the third-largest film production area in North America, after LA and New York).
Canada is enormous and brings with it tons of job opportunities. UK citizens can stay for up to two years. Plus, you'll have easy access to all the holiday attractions of America next door.
Yep so we know Canada is a mainly English-speaking country, but many companies have to do business in both English and French, so require bilinguals. If this is a skill you have, Quebec is your best bet for finding work.
The best job sites to check out for opportunities in Canada are:
www.monster.ca (opens in new tab) (this is one of the biggest job sites in the country)
www.workopolis.ca (opens in new tab)
www.hotjobs.ca (opens in new tab)
3. Australia
Great for: If you're after a shorter working day
The Aussie economy is booming at the moment, which means that it's great for those wanting to work abroad. Why? Jobs are plentiful and high paying. You'll never get bored with all of the golden sandy beaches, tropical reefs and epic open spaces to explore. Not to mention all those wild animals.
Sales, marketing, health care and media are popular options, as well as traditional working holiday gigs like seasonal farming and hospitality.
Just like with New Zealand and Canada, UK citizens can stay in the country for up to two years.
Australian employers and recruitment agencies are fans of using psychology and personality testing so expect to do these tests at an interview.
A standard working day for a professional worker is from 8/9am until 3.30/4.30pm. More time for surfing then!
The best job site to check out for opportunities in Australia is:
www.jobsearch.gov.au (opens in new tab)
4. Singapore
Great for: If you're looking for a total change of scene
Singapore's working holiday programme is for students and graduates only, and it only lasts six months. But Singapore is one of the financial centres of the world - and one of the best places to gain work experience abroad if you want to go into the business, finance or tech industries. It's also pretty expat-friendly, as English is commonly spoken. Plus, you'll be perfectly poised to travel around southeast Asia. Thailand anyone?
Did you know that foreigners actually make up one third (!) of the Singaporean population and spread across all industries from labour to professional jobs.
Job fairs are huge in Singapore. Visit the Career Services Singapore site (opens in new tab) for more information.
This is also a really useful job directory - https://app.vog.gov.sg/ (opens in new tab)
5. Europe
Great for: Flexibility (no visa required) and you can pop home easily to see friends and family
Okay, okay - we know Europe isn't a country. But if you've got UK or EU citizenship, why not take advantage of the easy, visa-free mobility you have toworkin Paris or Amsterdam or Madrid (until Brexit at least!)? You can learn a new language, build great experience for your CV in almost any industry and never be too far from home.
The best job sites to check out for opportunities in Europe are:
http://www.stepstone.com/ (opens in new tab)
http://iwork.iagora.com/jobs (opens in new tab)
http://jobsearch.monster.com (opens in new tab)
Now all that is required is for you to get plotting on where to go!
Emily Wadsworth is a journalist and editor, currently working as Condé Nast's Senior Digital and Social Media Manager for the Vogue and GQ brands. Launch content that Emily created for the launches of Vogue Scandinavia and Vogue Greece both won awards at the London Film Awards. Emily started her career as Time Inc.'s youngest ever editor. Prior to joining Condé Nast, Emily worked as Head of Digital for Dezeen, the world's most influential design brand. She has written for the Mail on Sunday, InStyle, British GQ, the New Statesman, and the London Evening Standard.