Best personalized jewelry gifts to surprise your loved ones with
To make present shopping easy, we've rounded up the best personalized jewelry gifts to surprise your loved ones with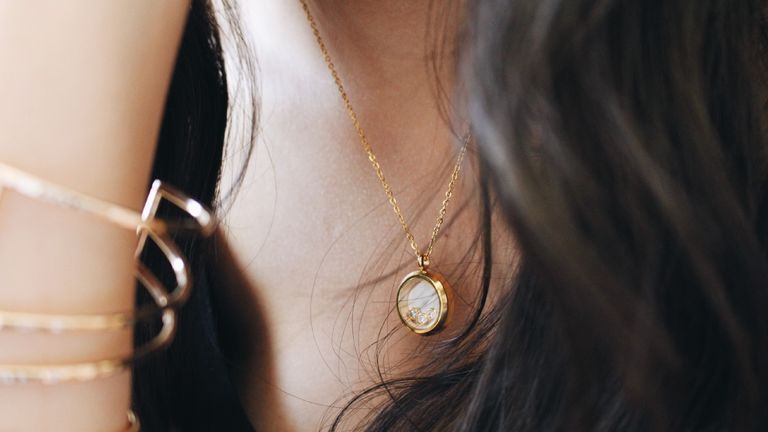 (Image credit: Getty)
When it comes to presents that go the extra mile, personalized jewelry gifts never fail to feel special.
Whether it's an initial, birthstone, meaningful charm or engraved message, a personal touch makes for a keepsake that will be loved and treasured for years to come. With more and more jewelry brands offering bespoke services, this season there is a whole host of beautiful designs that can be personalized to your specifications. You could even make something completely bespoke with one of the best jewelry making kits.
From chic signet rings to dainty bracelets, cute studs to stylish lockets, there's something to suit every style and every budget. Here's our edit of the very best personalized jewelry gifts to shop now...
Best personalized jewelry gifts to shop now
1. Merci Maman Personalised Intertwined Charm Necklace
This thoughtful necklace features two circular, intertwined charms - both of which can be engraved with the wording of your choice. We love the idea of putting names on the bigger circle, and a special date on the smaller one. Available in gold or silver, keep in mind when ordering that personalization can add a little longer to the delivery time. That being said, John Lewis promise to deliver your special gift within 7 days of ordering.
2. PDPAOLA Cubic Zircona Initial Pendant Necklace
If simple gold or silver jewellery isn't quite their bag, PDPAOLA have a colourful solution. Their initial necklaces are glistening with a combination of different stones that catch the light beautifully. The chain is adjustable, letting you switch up the length depending on the neckline you're wearing.
3. Missoma Gold Initial Pendant Necklace
Sponsored
Initial pendants have always been the king of personalized jewelry gifts and this Missoma necklace proves that. We love the unique ridge design of this striking necklace against the simple font of the lettering. And the the orb chain is a gorgeous touch to make this piece stand out. It's also available in silver for those who aren't partial to wearing gold jewelry.
4. Bloom Boutique Constellation Birthstone Bracelet
Sponsored
Devon-based Bloom Boutique specializes in stylish, customizable jewellery that looks far more expensive than its purse-friendly price point. Among the highlights of the current collection is the constellation birthstone bracelet, which features a delicate silver or 14-carat yellow gold plated disk threaded onto a matching double chain. Offering a double whammy of personalization, the disk comes decorated with the recipient's zodiac constellation in crystal, and the option to add a complimentary Swarovski birthstone charm. The free presentation box and card make gift wrapping a breeze.
5. Liberty Gold Initial Signet Ring
Liberty is renowned for its treasure trove jewelry offering, which includes stand-out pieces from high-end designers, as well as vintage treasures. This season, the heritage department store has launched an own-brand collection of 9-carat gold initial signet rings and they couldn't be more perfect for gifting. Designed to be worn on the pinky finger and featuring the iconic Arts and Crafts Liberty typography, each ring is made to order and handcrafted in Italy.
6. Posh Totty Personalised Sun, Moon and Star necklace
Fans of delicate jewelry will love Posh Totty's pretty celestial charm necklace. Handmade in Brighton from sterling silver, it features three pendants that can be embossed for free with any number, character or letter of the alphabet. The standard style comes with a silver finish and 18-inch chain, however, 18 carats rose or yellow gold plating can be added for £10. There's also the option to choose longer chain lengths.
7. Otiumberg Alphabet Stud
A fashion editor go-to, Otiumberg is beloved for creating beautifully made jewelry that can be worn every day. Case in point: the teensy alphabet stud, which can be styled as a solo piece in the lower or upper lobe, mixed and matched with multi-piercings or doubled up to make a pair. A stylishly subtle take on personalization, it comes in sterling silver and in every letter of the alphabet. Simply choose the lucky recipient's initials.
8. Monica Vinader Linear Friendship Bracelet
Monica Vinader has long been recognized as the destination for jewelry with a thoughtful twist. The Norfolk-based brand offers personalization service on several of its best-selling designs, and the intuitive website means it's easy and quick to bespoke a piece. Timeless and versatile, the signature Linear Friendship Bracelet is a guaranteed crowd-pleaser – plus the adjustable cords mean there's don't need to worry about sizing. As well as being able to select from 18ct rose gold or yellow gold vermeil, or sterling silver, you can choose from a variety of cord colors to create the perfect combination. The bar can be engraved for free with a name or short message, as well as a cute motif, such as the recipient's zodiac symbol or animal.
9. Under the Rose Personalised Initial Necklace
Dreamt up from the kitchen table, Under the Rose jewelry came to life when founder Tracey Gray created a personalized jewelry gift for her daughter. Offering a textured take on the classic initial disc pendant, this charm necklace has been crafted with the look and feel of a tiny pebble in mind. Get it engraved with your loved ones' initials or a symbol like a heart. It comes packaged in a gift box too to save on wrapping.
10. Missoma Gold Onyx Square Locket
The classic locket gets a stylish overhaul thanks to cult jewelry brand Missoma. Realized in striking black onyx with 18-carat gold detailing and rainbow moonstone gem, this is a thoroughly modern take on the traditional keepsake and makes for an eye-catching statement. The locket can be opened up to fit a small photograph inside and comes swinging off the brand's best-selling Orb chain which, at 19 inches, is a good length to team with other chains for an on-trend layered look. For extra personalization, the price also includes an engraved message or name on the back of the locket.
11. Anna Lou of London Name Necklace
Specifications
RRP: from $92 (approx.)/from £65
Of all the iconic fashion trends Sex And The City's Carrie Bradshaw inspired, her signature name necklace was the ultimate. The gold chain with cursive nameplate became synonymous with the character's quirky style and remains as desirable today as ever. Though Carrie's came from a little-known New York boutique, a convincing look-a-like is available from Anna Lou of London. Handmade from 18 carats rose or yellow gold, or sterling silver, it can be crafted into any name and makes for an on-trend bespoke gift. It also comes with a choice of three chain styles and lengths.
12. Lisa Angel Personalised Green Velvet Earrings Box
Every jewelry collection needs somewhere special to be kept, so if you want to buy a personalized jewelry gift but don't know where to start, try a chic storage box. Lisa Angel's velvet earrings box can be used to store charms, rings and earrings. Have customized with a name or special phrase. A thoughtful token is sure to delight.