How to organize a pantry: 12 tips, tricks and design ideas
Knowing how to organize a pantry and having the motivation to actually do it are two different things, but these tips make the job as painless as possible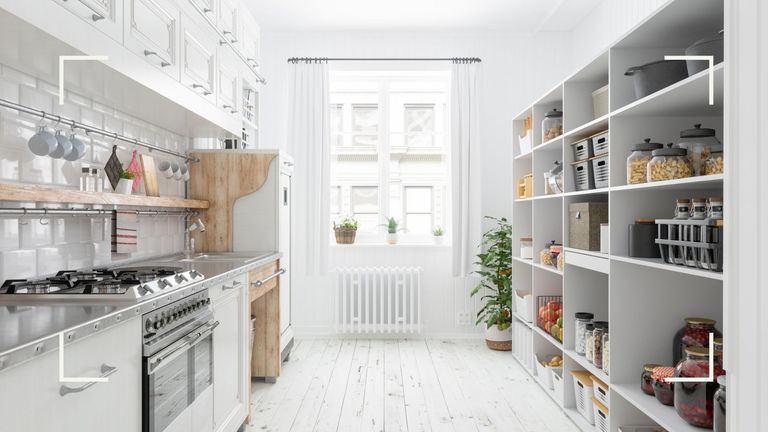 (Image credit: Getty)
Organizing a pantry can feel overwhelming, and it's certainly one of those tasks most of us put off until "later". But a tidy, organized space will reduce stress and save time in the future. It can even become a design feature.
Award-winning interior designer Roselind Wilson explains: "A pantry is so useful and if it's not a separate space in your home, it can easily be made into a beautiful feature of any kitchen." Interior, fabric, and wallpaper designer Vanessa Arbuthnott agrees: "There's no doubt that it looks better if hidden, but if well-organized, a pantry can look very homely."
There are a range of ways to make your pantry both functional and attractive, from adding baskets to your doors to ensuring essentials are stored in easy-to-reach spaces. We've also included design tips for those who are lucky enough to be creating a pantry from scratch. For extra tips, check out our guide on how to organize kitchen cabinets, as many of these hacks can be applied to your pantry.
How to organize a pantry: Top tips and ideas
Before organizing your pantry, it's useful to consider some specifics. Who else needs to use the space? Or can you organize it to suit your own preferences? What items do you need before you get started? Will you be buying new containers, such as jars or baskets, or will you be working with what you already have? If you're planning to organize your kitchen generally, you might want to tackle these tasks at the same time.
Before you get started, you'll also need to consider the below:
Decide how much time you have, and how much you need: How much time do you have? It's advisable to block out an afternoon and deal with it in one go. This won't be a ten-minute job.
Take everything out of your pantry and audit it: Before organizing your pantry, remove everything and audit the contents. Pantries can often become depositories for all the things that don't have another natural place. So, take everything out: food, appliances, jars, crockery, and decide what you want to keep. Throw out any out-of-date food and donate unopened, in-date items. If you have any old plates or appliances, consider giving them away, or selling them.
Clean the pantry: Use a multipurpose spray and microfiber cloth, or a cloth soaked in diluted washing-up liquid. If you're running low on cleaning products, simply arm yourself with baking soda, vinegar, empty spray bottles, and lemon, and check out our cleaning hacks guide, which details handy cleaning tips that utilize these kitchen staples. Vinegar is something of a magic ingredient and is super handy if you're wondering how to clean your washing machine and how to clean your oven.
1. Organize by food type
Arranging your pantry by food 'genre' or type is a great way to keep track of what you have in stock, and to find items with ease. "For example, group all the tins on one shelf, the jars on another, and so on," suggests Arbuthnott. "This method also allows you to be more aware of sell-by dates, too."
Group like with like: keep all your baking items together, as well as your dry cooking items—such as rice, pasta, oats, and lentils. Keep your tinned items together, too, as well as your spices. If you are storing any perishable items, such as cereal, remember to put products that are close to their use-by date at the front.
2. Use glass jars
"You can use these to organize rice, flour, sugar, herbs, tea… The list goes on!" says Arbuthnott. "To be more eco-friendly, buy the jars second-hand via eBay or from a charity shop—or collect jam jars and the like, run them through the dishwasher, and reuse them for storage."
It's also worth buying a label maker or sheets of blank labels. Labeling your jars will not only look fabulously organized, but it'll also make cooking and shopping for food so much more simple—you can see at a glance how much you have left and how it fits with your meal planning.
---
3. Use different kinds of containers for different foods
Glass jars have many advantages, but they may not work for your home. Children searching for snacks might do better with something lighter and less breakable, for example. Or you might need larger receptacles or ones that are easier to decant if you're using them on a daily basis. You might even want to hide some products in concealed boxes. Consider using different types of containers for different types of items. You could store canned goods in boxes, pasta in tins, and snacks in baskets.
You can incorporate any kind of storage item, from vintage boxes and straw baskets to bright, simple plastics.
---
4. Make sure essentials are easy to access
Only you know what you consider a kitchen essential. But make sure that the items you reach for most frequently are easy to access. Regular baker? Keep those supplies of flour, sugar, and spices on a lower or mid-level shelf, close to the door. Unlikely to touch that bulk-bought supply of tinned fish for a while? Store it higher up. Want your kids to be able to grab their own snacks? Make sure those are at a height they can reach without having to call for you each time.
5. Create an 'appliance zone'
Zoning is a kitchen trend of 2022, so why not apply the principle to your pantry? If worktop space is limited in your kitchen, consider using your pantry as an area where appliances, such as blenders or food processors can be stored and used. If you can, create a dedicated area just for these appliances, away from food so your pantry doesn't become disorganized.
"It can also be nice to make an allowance for a plug point in the pantry area," says Wilson.
6. Use hooks and baskets for fruit and veg
Hanging baskets or boxes can be a great space saver. Containers with holes will also help to keep your produce fresh, as better ventilation prevents mold from developing. Hanging wire baskets are a great way to store fruit, or vegetables like potatoes and onions. The fresh produce you are able to store will depend on the conditions of your pantry, however, so also bear that in mind.
7. Store spices on the door
Spices can be awkwardly shaped and difficult to store, but they are also items we often need to grab quickly when cooking. The back of your pantry door can become a useful spice rack with some simple tweaks. Shallow, door-mounted wall shelves can be added without too much fuss, or you could look for hanging shelves that hook over the back of the door.
---
8. Use wall-mounted hooks to hang oven mits and towels
If you have wall space in your pantry, utilize it by mounting hooks on it. You can use these to store oven mitts, towels, and aprons, freeing up drawer space in your kitchen.
---
9. Mount a chalkboard on the door or wall
You'll always find a use for chalk or pinboards in your kitchen, whether it be for pinning recipes, coupons, or shopping lists. However, using a chalkboard to record your stock means you can easily see what you have, or what you need to buy at a glance. If you're designing a bespoke pantry, think about a chalkboard wall if this is something you'd use regularly.
---
10. Use Lazy Susans to maximize space
Spinning organizers, or lazy susans, are especially handy for storing items at the back of shelves that are otherwise difficult to reach (or see). Ideal for small things like spice jars, these nifty space-saving devices mean that your favorite condiments are just a twirl away. We especially like these stackable ones, but you can go for wood or bamboo ones to fit your prefered aesthetic.
This is also a sound investment if you're wondering how to organize kitchen cabinets.
---
11. Consolidate supplies
There's no point in using the best kitchen storage ideas just to store duplicates of the same thing. Instead, bite the bullet and consolidate all your supplies. If you invest in good storage containers or jars, this will be easy as you'll be decanting all your supplies anyway.
---
12. Use shelf dividers
Similar to lazy susans, shelf dividers are an inexpensive and easy way to maximise shelf space. Ideal for small items such as spices, condiments and jars, these nifty little shelves can help double your shelf capacity.
---
Tips for designing your pantry
If you are building a new pantry, remodeling an old one, or looking to adapt your kitchen, it's worth considering the following:
1. Pantry-style shelves for small kitchens
Pantry-esque storage is still completely possible even if your kitchen is small. Adapt your wall space to perform the same function. "Consider long thin shelves, with enough depth for two cans or a bag of flour," suggests Arbuthnott.
2. Consider the height of drawers
Floor-to-ceiling drawers may look great on Instagram or in interiors magazines, but they aren't always useful. "They're only practical to a certain level as after a certain height, you cannot see into them," explains Wilson. "Drawers at a lower level are preferable as you can easily access them."
3. But floor-to-ceiling shelving works
Especially useful in buildings with high ceilings, shelving that goes all the way to the top can really help you to maximize the available space. "A bespoke ladder on railings would also not only complete it perfectly but would also allow you to reach those higher shelves," says Wilson. "Some people prefer to opt for a stepladder that can be stored elsewhere though, if an attached ladder is too cumbersome for permanent display."
4. Sliding doors can conceal clutter
Using sliding doors into an otherwise open-plan pantry has two major benefits. Doors will help the space sit well with the overall design of your kitchen and installing them also means you can shut the door on your storage space - because we all know it won't always be tidy.
5. Install specific wine bottle sections
Wine bottles can be awkward, given their height and fragility, so installing storage specifically for them can be a real space saver. It also means you can see your best reds at a glance.
---
With thanks to interior designers Vanessa Arbuthnott (opens in new tab) and Roselind Wilson (opens in new tab) for their time and expertise for this article.
Katie Byrne is a contributor to woman&home and a writer whose interests span everything from homes and interiors, to pop-culture, travel, business and self-development. A former digital editor, her freelance journalism has featured across a wide range of print and online titles, including Raconteur, Digital Spy and more. When she's not writing, she loves reading (and has the groaning bookshelves to prove it...), dreaming up new décor ideas for her flat and devouring Netflix's latest true-crime series with her husband. You can find her on Twitter: @katie_b123 (opens in new tab).