The best cashmere sweaters worth investing in—luxe styles to keep you warm at every budget
Stay stylish and cosy with the the best cashmere sweaters that deliver on quality and price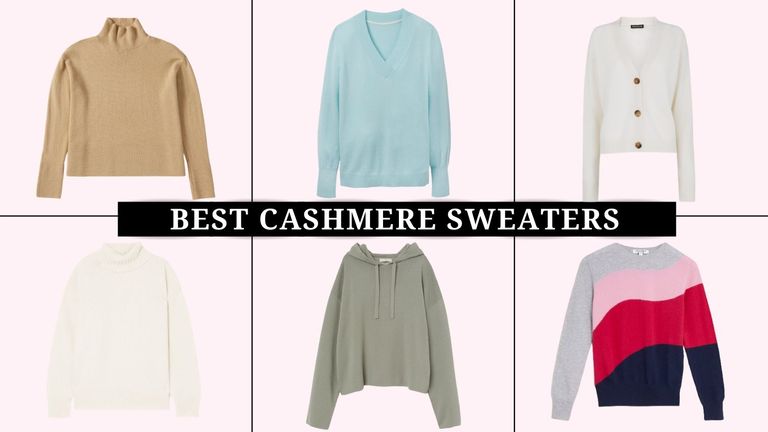 (Image credit: Future)
Timeless and chic, the best cashmere sweaters will add a dose of luxury to the simplest of outfits.
If you're looking to elevate your wardrobe basics, a cashmere sweater is a worthy investment piece. Comfy enough for off-duty days, yet smart enough to wear to the office (just add tailored trousers), a cashmere sweater makes any look feel instantly pulled together.
The best cashmere sweaters will become one of the most versatile knitwear pieces you own, you'll team it with your best jeans at weekends, and wear it over a silky dress on chilly evenings. And it can be used to add luxe-factor to your loungewear.
"No one can deny the unequivocal style status of the cashmere jumper, but you needn't save them for winter," says Hannah Eichler, stylist, writer, and fashion lecturer.
"Unlike synthetic fibers which can leave you hot and sweaty, cashmere fibers are woven tightly together which allows air to circulate around your body, keeping you cool when it's warm and warm when it's cool."
They are a key element in our capsule wardrobe and will help make getting dressed quicker, easier and chicer.
"Cashmere sweaters are definitely an investment piece, but a cashmere jumper can stay in your wardrobe all year round," adds Katie Eastwood, stylist ambassador at personal styling service Stitch Fix
"Navy and neutral tones are fantastic options for every season and are easy colors to incorporate into your capsule wardrobe. In the summer, pastel sweaters look chic styled with a light cami underneath, shorts and sandals, or worn over the shoulders with a slip dress. A v-neck style is also great for between seasons as it won't feel too close around your neck."
Where to buy the best cashmere sweaters—quick links
Cashmere sweaters are generally pricier than your average winter knit, but they do pay off in terms of quality and longevity, so are well worth spending a bit more money on.
High-end brands focus on creating ethically made, top-notch cashmere that stands the test of time. "If you aren't quite ready for the 100% cashmere investment, brands such as Hobbs and Mint Velvet offer great cashmere and cotton blends at a lower price point," says Katie.
For the cheapest cashmere sweater that still deliver on quality, also look at H&M and Marks & Spencer.
The best cashmere sweaters for women, as chosen by our fashion team
Looking to take the plunge and invest in a new cashmere cover-up? We've done the hard work for you found the very best cashmere jumpers from budget to blowout.
1. H&M cashmere-blend hoodie
Best budget cashmere sweater
Specifications
RRP: $69.99/£49.99
Sizes: XS-L
Fabric: 90% Cotton, 10% Cashmere
Care: Machine wash cold
Reasons to buy
+Budget-friendly+Part of the Conscious range+Super soft
Reasons to avoid
-Runs large-Not completely cashmere
A luxe reinterpretation of the classic sportswear style, H&M's hoodie is made from a cotton and cashmere blend, which is delightfully soft on the skin and looks far more expensive than its price tag. Considered details such as ribbed cuffs, slide vents and a chic drawstring elevate the basic, while a subtly oversized silhouette is both flattering and comfortable. Team with joggers for a cosy at-home look, or render it brunch-ready by layering under a blazer and wearing it with jeans.
---
2. Extreme Cashmere No20 oversize xtra cashmere-blend turtleneck sweater
Best luxury cashmere sweater
Specifications
RRP: $800/£600
Sizes: One size
Fabric: 97% Cashmere, 2% Nylon, 1% Spandex
Care: Machine wash cold
Reasons to buy
+Premium quality+Long-lasting
Reasons to avoid
-Only one size-Very expensive
If you're looking to invest in a premium cashmere jumper that will stand the test of time, then Extreme Cashmere's turtleneck is a good place to start. Founders Saskia Dijkstra and Camille Serra have over 25 years of experience in production and high-end knitwear design, so quality, fit and enduring style-appeal is guaranteed. The classic high-neck silhouette layers stylishly under blazers and trench coats making it a cornerstone in your fall wardrobe, however the fresh cream hue means it can also be layered over lightweight dresses on chilly summer evenings. It has a chic relaxed cut and comes in one size, which will comfortable fit dress sizes XS-L.
---
3. United Colors of Benetton crew neck sweater in pure cashmere
Best crew neck cashmere sweater
Specifications
RRP: $264/£189
Sizes: XS-XL
Fabric: 100% Cashmere
Care: Hand wash
Reasons to buy
+Keeps in heat+Good for layering
Reasons to avoid
-More expensive
Not just reserved for winter, this classic crewneck cashmere sweater will work all year round too. Lightweight, yet warm it's made from high-end 100% Italian cashmere. United Colors of Benetton are experts when it comes to technical details and this knit offers thermal insulation to keep in heat. It has a ribbed knit hem for extra style kudos and comes in three essential and easy-to wear colors: black, grey and beige. Its snug fit makes it a good option for layering underneath blazers and coats without adding bulk.
---
4. J.Crew Cashmere Collared Sweater
Best collared cashmere sweater
Specifications
RRP: $148/£180
Sizes: XXS-3X
Fabric: 100% Cashmere
Care: Hand wash
Reasons to buy
+Sporty style+Top quality fabric
Reasons to avoid
-Can come up big
We love this collared cashmere style from J.Crew which has a preppy silhouette for a more relaxed look. The cropped cut will look great paired with high waist jeans or trousers to highlight the waistband. J.Crew is a master of timeless wardrobe classics and is industry renowned for its beautiful cashmere. The numerous customers reviews also confirm this jumper's premium quality. Available in cream and green, go for the cream if you want upmost versatility.
---
5. Whistles Ivory Cashmere Cardigan
Best cashmere cardigan
Specifications
RRP: $349/£175
Sizes: XS-L
Fabric: 100% Cashmere
Care: Hand wash cold
Reasons to buy
+Lots of colors+Fashion-forward design
Reasons to avoid
-More expensive
Cardigans have made a mighty comeback over recent seasons, and cashmere iteration is perfect for adding luxe-factor to an outfit. The boxy fit on this Whistles number gives it a cool, nonchalant edge rather than a prim and proper vibe. Crafted from 100% cashmere, it's super soft and features stylish tortoise shell button fastenings. Wear undone if you want a more casual aesthetic, or button-up for a slicker look. Neutral hues will offer more versatility, however the bright blue or green style makes for a statement layer that would instantly add wow-factor to jeans. Whistles advise using a cashmere comb to keep it in bobble-free.
---
6. Boden Cashmere V-Neck Relax Sweater
Best v-neck cashmere sweater
Specifications
RRP: $180/£120
Sizes: US 2-22/UK 6-22
Fabric: 100% Cashmere
Care: Machine Wash
Reasons to buy
+Wide range of colours+Machine washable
Reasons to avoid
-Might not last as long
Boden has form when it comes to cashmere, offering premium-quality knits at fair prices. This classic v-neck is made from 100% cashmere ethically sourced from free-to-roam Mongolian goats, and is both super-soft and lightweight. It has a semi-fitted shape and dropped shoulders for a flattering and cozy finish. Available in nine colors, we love the rose pink hue which could be worn all year round and would give your neutral basics a fresh update. Team with a midi skirt and sleek flats for the office, or layer over your favorite jeans for a polished off-duty look.
---
7. M&S Pure Cashmere Crew Neck Jumper
Best colorful cashmere sweater
Specifications
RRP: $175/£99
Sizes: UK 6-24/ US 2-20
Fabric: 100% Cashmere
Care: Machine wash at 30
Reasons to buy
+Unique design+Classic crewneck
Reasons to avoid
-Not as versatile
Basics needn't be boring - case in point Marks and Spencer's statement color block knit. Though certainly eye-catching, the classic crewneck cut and considered use of color means this knit has enduring style appeal, and will effortlessly update basics from jeans to tailoring. High street stalwart Marks and Spencer is renowned for its affordable, well-made 100% cashmere knits that hold their shape after washing and last for years. Keep the rest of your outfit simple and team with black wide-leg trousers and pumps to let the bold sweater take centre stage.
---
8. Everlane The Cashmere Square Turtleneck
Best Turtleneck cashmere sweater
Specifications
RRP: $165/£155
Sizes: XXS-XL
Fabric: Body: 100% Cashmere; Trimmings: 90% Cashmere, 9% Nylon, 1% Elastane
Care: Machine wash cold
Reasons to buy
+Long-lasting+Zero-roll turtleneck
Reasons to avoid
-Limited colors
You can't beat a camel knit when it comes to elegant winter dressing, so why not take it up a notch with a cashmere number? This has an oversized fit with a turtleneck that requires zero rolling, keeping it simple, sleek and breathable too. It has lots of top reviews from customers who highly rate the quality and softness of the fabric. Considered details such as the reverse stitching on the cuffs make the style extra special. Balance out the looser cut with a streamline bottom half such as a pair of skinny jeans or slip skirt.
Don't forget to check our woman&home vouchers site before you shop for the latest offers and discounts from your favorite brands—think, Hobbs, Marks & Spencer and Boden.
How to care for cashmere
If you want cashmere to last, you'll need to look after it properly to avoid it shrinking in the wash or losing its shape.
"To ensure the longevity of your cashmere sweaters, it's important to take care when washing them. Many brands such as Editor's Cut offer machine-washable cashmere, but just be mindful of the temperature and spin speed—boiled cashmere is a lost cause, unfortunately," explains Katie.
Remember to:
Wash at cool temperatures: When putting your cashmere jumper in the machine, wash it no higher than 30 degrees and on a delicate spin. For added protection, you can place it inside a wash bag or pillowcase. However, if you're nervous about machine washing, it may be safer to hand wash instead.
Hand wash and dry flat: "Don't be fooled by the label. I prefer to wash cashmere by hand and dry flat," says Hannah. You also need to be careful when storing your cashmere sweaters to protect them from pesky moths.
Store in sealed bags: "If you choose to pack away cashmere during warmer weather, use sealable bags and roll them to minimize creasing. If you vacuum pack them, don't go too hard on the hoover as removing air can misshape the fibres," adds Hannah.
Use mothballs: "You can also use mothballs. I like the ones that incorporate lavender, which is highly repellent and also disguises the smell of traditional moth balls. You can also try soaking your clothes in equal parts water and vinegar to remove the smell."
Use a special comb: After repeat wear, it's common for cashmere to pill, especially in areas of friction such as under the arms and on the hip where your handbag may sit. Use a special cashmere comb to gently remove bobbles.
Charlie is the Acting Deputy Fashion Editor across multiple women's magazines and also a freelance fashion, beauty and lifestyle editor.
She bagged her first magazine job in 2009 and has previously written for titles including Woman & Home, Closer and Dare. Over the years Charlie has embraced anything that was thrown at her from styling celebrities to testing out the best jeans on the high street to writing about must-have beauty buys.
With a weakness for a printed midi dress, Charlie is on a mission to shop more sustainably and loves finding new ethical brands and second-hand buys. You can follow her on Instagram @fashionabell_