The best bras to support, lift and shape your bust—plus expert advice on sizing and maintenance
We've rounded up the best bras for every cup size, body type, and budget for your most comfortable fit yet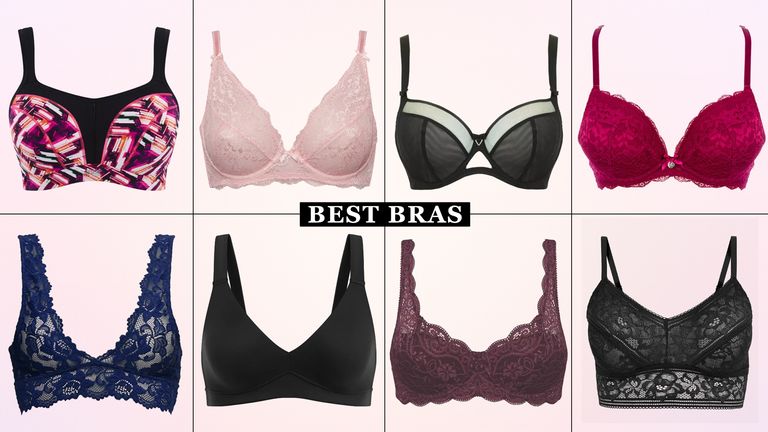 (Image credit: Future)
Looking for the best bras that deliver on support, lift, and style? We've got you (and your boobs) covered.
Much like the best jeans, bras are the backbone of any good capsule wardrobe. However, confusion over styles and sizing can quickly turn browsing for them into more of a chore than a treat. And it's no secret that many bras are downright uncomfortable with continued wear. Think falling straps, wires digging into the ribcage, and gaping cups.
Shopping for a great bra can require some trial and error—from examining measurements to sifting through thousands of styles. To help you find the perfect fit, we've tested and hand-picked the best bras across styles. Our curation caters to a wide spectrum of cup sizes, body types, and budgets, so there's something for everyone.
How we chose the best bras
There's no universally held standard of 'the best bra'—everybody has a different idea of how a good bra should fit, flatter and support. But there are some common qualities we firmly believe all of the best bras should share:
Fit. When it comes to bras, fit is everything. If you're finding that your current bras aren't doing what they need to, then it's definitely time for a new one. With our guide to how to measure bra size in mind, we wore the bras through work and weekend, to really test their fit, support, and wearability.
The quality of the materials. If cared for properly, the best bras should also prove excellent value for wear. This is why we rigorously tested the quality of their materials, their washability (following expert guidance on how to wash bras, of course), and longevity, to see if they really step up to the plate.
Style. Who said supportive bras had to be boring? From pretty lace balcony bras to wow-worthy push-up bras, we tried them all—to help you find the bras that will make your boobs look amazing, both in and out of clothes.
As a result, we're 100% confident that these are the best bras worth parting with your hard-earned cash for.
The best bras chosen by our experts
1. Curvy Kate Victory Balcony Bra
The best balconette bra
Specifications
Sizes: Back sizes 30-44, cup sizes D-KK
Best suited to: Bigger busts who favor a natural look
Wired: Yes
Padded: Yes
Machine washable: No
RRP: $62/£33
Number of colors : 7
Reasons to buy
+A great everyday bra+Double layered mesh lower cup for amazing support+Changes from two to three hooks from an F cup
Reasons to avoid
-Bridge may be visible with some necklines
Curvy Kate has a great range for bigger busts sized D-KK, with options that add support from extra hook-and-eye fastenings and thick, adjustable straps. Like most balconette bras, this classic style is designed with the cup cut horizontally, which hoists the breasts upwards, rather than inwards. What you get is a natural lift over deep, plunging cleavage, enhanced by a four-part seamed cup and sturdy underwire.
The Curvy Kate Victory Balcony Bra offers a firm, natural finish, minus padding—a thoughtful inclusion for bigger busts that warrant non-restrictive wiggle room. The cups have a smooth shape that will work underneath dresses and T-shirts alike. Plus, it's pretty easy on the eye when the clothes come off, too.
The best padded bra
Specifications
Sizes: Back sizes 30-40, cup sizes A-E
Best suited to: Small, asymmetric or low boobs
Wired: Yes
Padded: Yes
Machine washable: Yes
RRP: $49/£28
Number of colors : 4
Reasons to buy
+Comfortable to wear +Made from quality fabrics
Reasons to avoid
-Only goes up to an E cup -Can sell out quickly online
If you're looking for a fancy bra at high-street prices, the Rosie for Autograph range ticks all the boxes. The signature shapes remain pretty much the same year after year, updated with new colorways and trend-led prints each season. If you find bra shopping stressful, it's nice to know you have a tried-and-tested favorite you can return to again and again.
I've been a fan of the entire range for years, but for this review, I tested a Silk & Lace Underwired Full Cup Bra. As expected, it provided plenty of coverage and lots of support. The light padding and underwiring worked together to lift and boost my bust, while the luxe silk straps kept me comfortable.
See our full Rosie for Autograph Silk & Lace Underwired Full Cup Bra review
The best push-up bra
Specifications
Sizes: Back sizes 28-44, cup sizes A-G
Best suited to: Small, low or pointy boobs
Wired: Yes
Padded: Yes
Machine washable: Yes
RRP: $42/£20.80
Number of colors : 7
Reasons to buy
+Boosts cleavage on smaller busts+Inclusive size range
Reasons to avoid
-Comes up a little small -Removable padding could be easily lost
Mollie is Boux Avenue's bestseller, with one purchased every 10 minutes. Hailed as one of the best push-up bras, this lingerie staple works for cup sizes across the spectrum. The removable padding in sizes A-DD shapes and accentuates smaller busts, while the plunging shape supports and holds breast sizes DD+. Regardless, the full-coverage cups will boost your confidence, creating a full, rounded shape both underclothes and without them.
The soft lace fabric makes it a comfortable choice for every day—throw in an impressive shade range of six different colors and it's clear we're on to a winner. Naturally, this detail pairs nicely with minimalist wardrobe essentials and other clothing trends.
If your boobs are different sizes (almost everyone's are!) it's handy that you can keep the extra padding in one cup, and not the other, for an even look.
See our full Boux Avenue Mollie Lace Plunge Bra review
The best strapless bra
Specifications
Sizes: 30D-38G
Best suited to: All boobs
Wired: Yes
Padded: Yes
Machine washable: Yes
RRP: $54/£40
Number of colors : 6
Reasons to buy
+Stays in place well+Creates impressive cleavage
Reasons to avoid
-Feels slightly restrictive-Comes up small on the band
From shoppers and lingerie experts alike, Wonderbra's Ultimate Strapless Bra has long been hailed as the best on the market. Naturally, we were curious to try it out for ourselves.
We're pleased to confirm that it's worth every single bit of the hype. Its unbudging band (seriously, it's not going anywhere) is patterned with small silicone dots, which prevent the bra from slipping. In turn, you won't have to secretly adjust it under your clothes, as is the case with many strapless bras.
Above all, this brand excels for its unique hand-shaped system, designed to lift your bust from the inside like you've got a set of hands holding you up. Admittedly, this makes it not the most comfortable option to be wearing for long periods of time. Still, we love this best strapless bra for events and special occasions, moments when your bust needs extra support. If you have larger breasts, you'll be pleased to know that it's completely spill-proof, too.
See our full Wonderbra Ultimate Strapless Bra review
The best plunge bra
Specifications
Sizes: Back sizes 30-38, cup sizes B-GG
Best suited to: Bigger busts who want some lift
Wired: Yes
Padded: No
Machine washable: No
RRP: £25
Number of colors : 1
Reasons to buy
+Pretty, feminine finish +Great support for a fuller bust +Natural-looking push-up effect
Reasons to avoid
-Fussy strap details -Semi-sheer finish may limit outfit suitability
It's easy to think that this dainty, lace-styled bra wouldn't be supportive. It doesn't even feature padding: the foundation that naturally gives a bra its structure.
But once you try on this crowd-pleasing piece of lingerie, you'll soon be proved wrong. The Figleaves Juliette offers a secure fit and support, thanks to its clever double lining and sturdy underwire. Since it's a plunge style, the bra provides a flattering shape underneath T-shirts and shirts. Even so, it lends plenty of cleavage if you're opting for something with a lower neckline.
We also appreciate the bra's fabric quality, which is exceptional given its low price point. You simply cannot overlook the delicate lace and scalloped edges, luxe features that look and feel great. Overall, it's a real find, as it provides great shape and lift without any padding.
See our full Figleaves Juliette Lace Non-Pad Bra review
The best comfortable bra
Specifications
Sizes: XS-XL
Best suited to: Small, perky boobs
Wired: No
Padded: No
Machine washable: No
RRP: $48/£36
Number of colors: 4
Reasons to buy
+Stretch fabric for perfect fit+Hosiery-style back smooths out lumps and bumps
Reasons to avoid
-Limited shade range-Only goes up to a DD cup
Beyond seriously impressive shapewear, Spanx leveraged its years of expertise to create the softest bralette we've ever worn. With this simple, comfortable bra, the features missing are as important as its key features.
The Bra-llelujah! Unlined Bralette resembles a modern-day sports bra, featuring a plunging triangle shape, supportive shoulder straps, and a wide, hosiery-style back. It's crafted from a long-wearing Lycra mix for the softness of a t-shirt and the stretch of a pair of tights. And since it doesn't have padding, underwiring, or hardware, the bra camouflages seamlessly under clothes.
Those with bigger busts might find it doesn't offer enough support for all-day wear; however, it works well as a sleep bra and as one of the best bras for small busts.
See our full Spanx Bra-llelujah! Unlined Bralette review
7. M&S Louisa Lace Longline Bralette
The best sleep bra
Specifications
Sizes: 6-22
Best suited to: Bigger busts who want some night-time support
Wired: No
Padded: No
Machine washable: Yes
RRP: $16.50/£9.50
Number of colors: 2
Reasons to buy
+Super comfortable +Low price point +Flattering on the bust
Reasons to avoid
-Small fit -No fastenings means less flexibility on size
If you thought that bralettes provided minimum support, trying M&S's signature style will soon change your mind. While this bralette is recommended wholeheartedly for lounging and sleeping in, I'd also feel comfortable wearing this day to day with T-shirts, shirts, or dresses; the seamed cups create a lovely shape, even for a bigger bust.
I tried the bralette in my usual size and it was a little snug. After reading the reviews on the M&S website, I concluded I wasn't alone, so I'd definitely opt for a size up with this bralette. This is especially important if you're on the hunt for one of the best bras for back fat.
The colorways in this exact style are black and white. But if you favor this style, there's a whole host of M&S bralettes in pastel shades, eye-catching brights, and fun prints.
8. Triumph Amourette 300 Underwired Bra
The best non-padded bra
Specifications
Sizes: Back sizes 32-44, cup sizes B-K
Best suited to: Big, round or low boobs
Wired: Yes
Padded: No
Machine washable: No
RRP: $47.44/£38
Number of colors: 12
Reasons to buy
+Inclusive range of sizes+Wide range of colors
Reasons to avoid
-Cups come up slightly big-Generous back band
This full-cup style gracefully tiptoes the line between femininity and functionality, providing plenty of support without compromising on appearance. With this bra, the bulk of the lift comes from balconette-styled wiring, which boosts the bust without digging in.
Moreover, it earns extra brownie points for its inclusive size range, spanning back sizes 32-44 and cup sizes B-K. It does come up a bit big, so if you're in between sizes, we'd recommend sizing down.
You don't have to stick to classic white, black or beige. In fact, you can make the most of the broad color offering with pretty pastels and bold brights.
The best multiway bra
Specifications
Price: $49.50/£44.03
Sizes: Sizes 32A-38F
Composition: 83% polyamide, 17% elastane
Wired: Yes
Machine washable: No
Best suited to: All boobs
Provides: Strap-free support with no pulling or pinching
Number of colors: 9
Reasons to buy
+Firm but comfortable fit+Can be worn in five different ways
Reasons to avoid
-Doesn't offer a fully inclusive shade range -Sizing is a little confusing
We've always been a little suspicious of multiway bras. After all, if they can be worn so many ways, surely they're sacrificing support? Well, this VS bra will totally change your mind.
The Sexy Illusions sleek bra can be worn in five ways: the traditional two-strap route, racerback, halter-neck, strapless, or asymmetric. However you choose to wear it, the fabric quality will leave you seriously impressed. It's smooth as silk and virtually undetectable underneath tight clothes.
Moreover, the bra uses a patented, non-irritating adhesive, which provides all-day support and comfort. It also doesn't feature thick, plastic boning, meaning it won't dig into the skin.
See our full Sexy Illusions by Victoria's Secret Lightly Lined Strapless Bra review
The best bralette
Specifications
Sizes: XS-XL
Best suited to: Round, pointy, big or small boobs
Wired: No
Padded: No
Machine washable: No
RRP: $16.15/£15
Number of colors: 3
Reasons to buy
+Inclusive size range +Looks pretty
Reasons to avoid
-High coverage-Sells out quickly
Figleaves is always ahead of the curve as an industry leader in the lingerie space. Case in point: The Millie Lace Bralette is not only one of the brand's most popular styles, one that's become a media darling among social media influencers. On a larger scale, it's evolved into one of the best bralettes on the market.
This low-coverage bra fits more like a crop top, featuring semi-sheer, unlined fabric. It's also longline, finishing two inches beneath the bust. Ultimately, this extra fabric makes the bra incredibly supportive and secure, especially for larger breasts. All achieved without the need for wiring.
If you're feeling confident, layer this pretty racer-back style under a camisole top, or beneath an oversized linen shirt.
See our full Millie Lace Bralette review
11. Panache Sports Moulded Underwired Bra
The best sports bra
Specifications
Sizes: Back sizes 28-40, cup sizes D-J
Best suited to: All boobs
Wired: Yes
Padded: Yes
Machine washable: No
RRP: $70/£42
Number of colors: 13
Reasons to buy
+Underwiring offers extra support+Cushioned strap and band
Reasons to avoid
-Comes up a little small -Racerback strap tricky to secure
We've found the best sports bra for supporting, rather than squashing boobs with this one, and we won't be letting it go any time soon. If you're looking for a sports bra that won't immediately rid your boobs of all shape as soon as you slip it on, then this is the one for you.
The light padding, underwiring, and molded encapsulation cups of Panache's Sports Moulded Underwired Bra ensure that boobs not only feel super supported, but look great, too—both underneath clothes, and while wearing the bra alone.
But it's the comfort that makes this one a real winner in our eyes. With smooth, seamless inner cups, feather-light soft straps, and no irritating, niggling care labels to contend with (washing instructions are printed directly onto the inner band), this one is as comfortable as a bra gets.
It also comes complete with a racerback clip, so you can amp up the support for more intensive sweat sessions, like running and HIIT workouts.
12. Calvin Klein Modern Cotton Bralette
The best working from home bra
Specifications
Sizes: XS–XL
Best suited to: Working from home/chill days
Wired : No
Padded: No
Machine washable: Yes
RRP: $28/£30
Number of colors: 8
Reasons to buy
+Soft cotton-blend for optimum comfort
Reasons to avoid
-Not supportive enough for active days
Some days, you just gotta give your boobs a bit of a rest. Our solution? Calvin Klein's iconically soft bralette. It's the perfect working-from-home pick, with breathable and comfortable material that offers the support required for sedentary days.
With a racerback fit, no padding, and no lining, this one probably counts more as loungewear than it does bra, but it does a great job of helping you feel just that little bit more put together for days when you won't be moving much. Or, like M&S' Louisa Lace bralette, wear this one as a stylish and secure sleep bra with a pair of the brand's soft cotton boxer shorts. The only trouble you'll have is deciding which color to choose.
13. M&S Collection Sumptuously Soft™ Non-Wired Plunge T-Shirt Bra A-E
The best everyday T-shirt bra
Specifications
Sizes: 32A–42C
Best suited to: Casual, non-active days
Wired: No
Padded: Yes
Machine washable: Yes
RRP: $35/£20
Number of colors : 5
Reasons to buy
+Seriously soft and comfortable +Great value for money
Reasons to avoid
-Not supportive enough for active days
Sumptuously soft by name and nature, M&S' plunge non-wired bra is made from a smooth polyamide mix and decorated with a non-irritating lace around the band. This fuss-free option does exactly what it says on the tin: provides light to medium support, shapes the bust for a lifted, smooth look under clothes, and remains soft through wash and wear. We can promise this one will be a stalwart in your lingerie drawer, whether you wear it with one of the best dresses or a loose, linen shirt.
14. Skims Fits Everybody Crossover Bralette
The best triangle bra
Specifications
Sizes: XXS-4X
Best suited to: Small to medium sized boobs
Wired: No
Padded: No
Machine washable: Yes
RRP: $30
Number of colors: 9
Reasons to buy
+Inclusive nude shades+Super comfortable
Reasons to avoid
-Might not be supportive enough for bigger busts
Think what you will about Kim Kardashian, she sure does make a good bra. Her brand, Skims, specializes in solutions-based shapewear and underwear that not only looks good but feels it too.
This bralette is Kim's favorite, and we can see why. The fabric is super soft, with minimal seams, for a barely-there feel and absolutely no marks when you take it off. The narrow straps and lack of wiring mean it doesn't offer loads of support, and for that reason, it probably wouldn't suit bigger busts for all-day wear. That being said, the stretchy fabric provides a good amount of security and lift, with the cross-over shape means there's no spillage.
See our full Skims Fits Everybody Crossover Bralette review
15. Freya Idol Moulded Balcony Bra
Best for a discreet bra
Specifications
Sizes: 28D-38G
Best suited to: Bigger busts looking for full support with maximum coverage
Wired : Yes
Padded : Yes
RRP: $68/£36
Number of colors : 5
Reasons to buy
+Super smooth fabric+Inclusive sizing
Reasons to avoid
-Can niggle beneath the arms
Call off the search, we've found the perfect everyday balcony bra. A great choice for bigger busts in need of extra support, this bra has full coverage cups and provides impressive support and lift. The fabric feels really premium (we particularly like the subtle stripe detailing), and minimal seams ensure it doesn't show beneath your clothes. Available in black, white and a selection of nude shades.
16. Playtex Flower Elegance Balcony Bra
Best padding-free but supportive bra
Specifications
Sizes: 34B-40F
Best suited to: Those looking for something pretty but supportive
Wired : Yes
Padded: Lightly
RRP: $30/£38
Number of colors: 8
Reasons to buy
+Feminine design+Super stretchy fabric
Reasons to avoid
-Doesn't cater for small back sizes
Everything you'd expect from a balconette bra, the Playtex Flower Elegance is both sophisticated and seriously flattering. The attention to detail is spot-on, from the delicate bows on the shoulders and centre, to the soft, super-stretchy fabric on the backband. The latter of which is not only really comfortable, but helps eliminate any bulging at the back. Buy yours in black, white or a range of pretty pastel shades.
17. Pour Moi Flora Lightly Padded Underwired Bra
Best bra for subtle oomph
Specifications
Sizes : 32A-38F
Best suited to : Those looking for that extra oomph without compromising on style
Wired : Yes
Padded : Yes
RRP: $39/£20
Number of colors: 8
Reasons to buy
+Looks good+Broad choice of colorways
Reasons to avoid
-Empty List
Thanks to the lace overlay, the Pour Moi Flora offers the look and lift of a balconette, with all the support of a full cup bra. The padding is subtle, not so much as to dramatically change the size of your bust, but just enough to disguise your nipples and create symmetry. We know once you find a bra you love you'll want to buy it in every colour, and luckily this is available in a range of seasonal shades, as well as practical black and white.
How do I know if a bra fits properly?
So you've found the best bra, but you're still unsure about how a bra should fit. We totally get it – finding a bra that fits like a glove is no easy feat.
But according to Priya Downes, CEO and co-founder of fit first lingerie brand Nudea, there are a number of tell-tale signs that will indicate whether or not your bra fits as it should.
Your bust is bulging out of cups and is showing through your top—giving the double boob effect
The center front of the bra is not sitting against your sternum and is lifting away
The cups are now empty and wrinkling
The underband is riding up at the back, and you have to tighten the straps
A previously comfortable bra is now uncomfortable
But it's also important to remember that the size of your boobs is likely to fluctuate throughout the month. While knowing how to measure bra size is extremely important (especially during lockdown) it's also important to take into consideration when you should measure your bra size.
"We wear bras everyday of the month, so it's good to always be well fitted," says Priya. "At the time of lowest hormonal activity, about seven days into the cycle, the breast will be at its lowest size, as well as on the last day of the cycle. It would be ideal to measure at both times."
Though she adds, "Usually one or two bigger bras for your biggest days will do, but we should also make sure that your smaller size is suitable for everyday."
Top tips for buying a bra online
We're firm believers that every good fashion look starts with the basics, and a good bra is a non-negotiable. Even the most well thought through capsule wardrobe wouldn't be effective without a well-stocked bra drawer to go with it. Here's how to make sure you get it right the first time round when shopping online.
Book an online fit consultation: No, it's not the same as an in-person fitting, but virtual bra fittings can go a long way in helping you find the best fit—and subsequently the best bra—for you.
Put your new bra through its paces: "When you finally get your bra, make sure you try adjusting the straps and jiggling your boobs," says Carlotta Ghigi, Nudea's in-house bra technologist and expert fitter. "As you're putting the bra on, lean forward and 'jiggle' your boobs into the cups to get the best fit. This can be a real game changer for some who've been wearing ill-fitting bras for years," she advises.
Ensure hassle free returns: "It's an oft-quoted statistic that 80% of British women are wearing the wrong bra size, but self-measurement is just one step in finding your fit," says Carlotta. "So it makes sense to ensure that returning items is as easy as possible."
When should I replace my bra?
As with a pair of the best jeans, you probably have a few favorite bras in your underwear drawer that you turn to again and again. But when your bra no longer feels supportive—whether that's because your bra has lost its stretch, its fabric is wearing thin from over-washing, or your size has changed—it's time to seek out a replacement.
But proper care of a bra can prolong its life. Here are a few tips for making your favorite bra go the distance:
Machine wash your bra in a garment bag—and on a delicate cycle—to keep it from getting twisted among your other clothes
Line your bras up in your underwear drawer like they do in shops. Folding your bra one cup inside the other can shift the padding and compromise its shape.
Invest in a special detergent, like the Nudea Bra & Briefs Detergent and Softener Duo, to keep your bra in mint condition for as long as possible
Jess Beech is an experienced fashion and beauty editor, with more than eight years experience in the publishing industry. She has written for woman&home, GoodtoKnow, Now, Woman, Woman's Weekly, Woman's Own and Chat, and is currently Deputy Fashion & Beauty Editor at Future PLC.
She caught the magazine bug during a stint as Fashion Editor of her university newspaper alongside her English degree, and hasn't looked back since. As for the fashion bug, that came as part and parcel of growing up in the 90s, but the less said about that the better!
Jess' average day in the office is spent researching the latest fashion trends, chatting to industry tastemakers and scouring the internet to bring you this season's must-buy pieces - as well as advice on how to wear them. Weekends are equally fashion-focused, and Jess has been known to visit no less than five Zara stores in a single day in search of the perfect occasion dress.
The only thing that comes close to a buzz of finally tracking down that much-coveted dress is the joy of discovering a new beauty wonder product or hero ingredient. A beauty obsessive, Jess has tried everything from cryotherapy to chemical peels (minus the Samantha in Sex and The City-worthy redness) and interviewed experts including Jo Malone and Trinny Woodall.