I'm a tan-addict beauty editor and this is how to get fake tan off your hands, fast
Orange palms? Been there. Here's how to get fake tan off hands in a hurry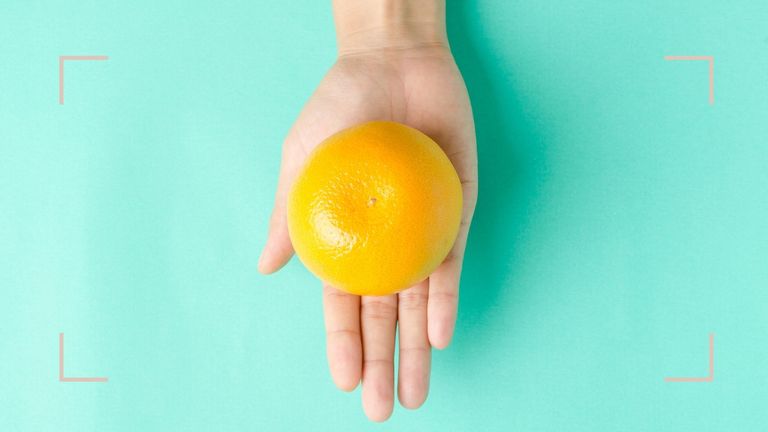 (Image credit: Future/Getty images)
Tanning regrets, I've had a few. If anyone knows how to get fake tan off hands it's a pasty Scottish beauty editor with limited patience and an unlimited supply of new self-tanners to try.
Even the best self tan can go wrong. And If there's a tan disaster you can think of, I've probably experienced it, plus plenty you can't (single, luminous tear-track on an otherwise golden face at a wedding, anyone?) But, one happy side effect of my misadventures in bronzing is that I'm now equipped to deal with any issue that could possibly arise.
And as tanning issues go, stained hands are right up there. You can't really cover them with gloves unless it's deepest-darkest winter or you're attending a Bridgerton ball. Plus, tangerine palms and terracotta cuticles don't just say fake tan amateur, they also make you look a bit, well, grotty and unwashed, to be honest.
So it's definitely worth learning how to remove fake tan and rectify the situation. And rectify you shall, with these tried and tested methods to get that tan off your hands. They are efficient, effective and involve products you more than likely already have at home. Mandarin mitts begone.
All the ways I know how to get fake tan off hands
1. Create a stain-blocking barrier
As in, don't get tan on your hands in the first place. Annoying start, but prevention is so much easier than cure here that the best advice I have is this: Barrier cream. That's taking any old thick, occlusive moisturizer you have lying around and spreading it onto your palms before you apply the self-tanner.
This blocks the absorption of tan's active ingredient DHA, which works by reacting with dead cells on the skin's surface to create golden tones. Using barrier cream stops the DHA from getting its claws into your palms, where thicker skin and more dead cells = rapid tan development and unreasonably intense color. Advanced tip: Beauty account director and pro spray tanner, Harriet Morrall told me over breakfast to take any excess cream on your fingers and create a light 'half moon' where your palm meets your wrist, for a seamless blend.
---
2. Wipe, don't wash
If your tan is beginning to develop and you can already spot build-up lurking at the base of your palm, don't start soaping up and scrubbing away like Lady Macbeth. "You cannot wash your hands after using tan as this could result in smudges and washing the tan off completely, leaving you white hands!" agrees Nadia Suliaman, co-owner of exclusive Forbici London, a Treatwell salon partner.
Instead, Take a cloth (ideally microfiber or muslin, but the corner of a tea towel will do) dampen it, and gently wipe the affected area back and forth. It's a good idea to give your cuticles a little swipe here too, as DHA hones in on that dry skin like wasps to a can of Coca-Cola. Be fast, be targeted, and also be very gentle when turning the taps on to avoid splashing water and splattering the tan on your arms. Been there.
---
3. Break down the DHA
You've rinsed your self-tan guide color to reveal a body that says 'fortnight in Santorini' but hands that say 'fortnight without soap'. Ingredients that are known to be bad for fake tan, therefore good at removing it, are oils and skincare acids. I've had my best success combining both. Prep with a glycolic acid peel pad or toner, like Pixi Glow Tonic to loosen the joins between dead skin cells, slather oil on the area to soften them up, then gently buff with a cloth to shift.
The internet suggests that soaking your hands in warm water and lemon juice can help. Personally, I've found this to be a) pretty ineffective and b) counterintuitive as it can strip tan from the fronts of your hands leaving ghostly 'gloves' that look just as crazy as grubby mitts. If going down the lemon route, be targeted, "you can use lemon and salt scrub for the palms of the hands, this will help lighten some of the tan but will not remove it completely," advises Suliaman.
Oskia Micro Exfoliating Balm | RRP: $85/£54
Killing two tan-removing birds with one stone, this luxurious balm combines tonnes of skincare oils with physical exfoliating particles. Naturally, it was designed to be used on the face and makes a beautiful glow-boosting mask in between self-tan disasters.
---
4. Use a dry exfoliation tool
For particularly stubborn tan stains that even the acid-oil combo can't shift, a bit of good old-fashioned elbow grease with a physical exfoliator should sort you out. Any of the best body exfoliator tools could work, so loofahs, dry body brushes, or my personal favorite, Korean skincare peeling 'mitts' you can buy on Amazon for peanuts. Use it dry for maximum resistance and effectiveness.
Again, be very targeted and very careful, rub back and forth on the affected area only, and don't scrub yourself red raw. Finish up with a little dab of something nourishing that also contains oil to double down on shifting the tan. You'll enjoy instant stain-lifting gratification for your efforts, which will also get better with time as dead cells that have been softened and loosened naturally drop off.
---
And finally... If you've had a fake tan disaster from top-to-toe and want to call the whole thing off, there's no need to slather on a job lot of lemon and salt scrub. Instead, run a hot bath (tans hate steam) pour in some tan eraser, and have a nice soak.
Rose & Caramel Purity Self Tan Removing Bubble Bath | RRP: £22.99 (UK only)
This needs about half an hour to do its thing and is best combined with physical exfoliation, using a loofah or mitt. If there is a particularly patchy area where the tan has built up, apply a bit of the liquid neat as you draw your bath.
---
As woman&home's Beauty Channel Editor, Fiona Mckim has tried more beauty products than she's had hot dinners and nothing makes her happier than raving about a brilliant find on womanandhome.com or her instagram grid (@fionamckim if you like hair experiments and cute shih-tzus). Fiona joined woman&home as Assistant Beauty Editor back in 2013, working under industry legend Jo GB, who taught her everything she needed to know (clue: learn about ingredients and employ extreme cynicism).