Best night cream—our favorite formulas for healthy-looking skin come morning
These picks for best night cream hydrate, brighten, and help rejuvenate troublesome skin overnight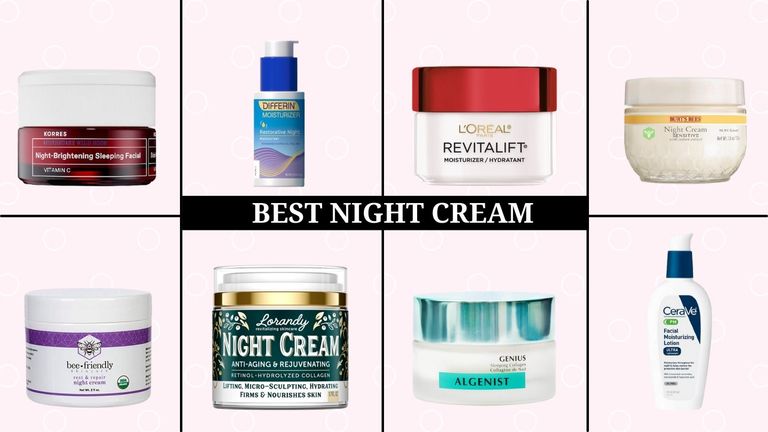 (Image credit: Future)
A lot of thought should go into choosing the best night cream for your needs. Is it proven to be effective? Is it fast-acting? How comfortable is it to wear overnight? And how different is it from your day cream?
Before delving into our favorites, it's helpful to understand the difference between morning and evening skincare regimes. A good daytime skincare routine should improve skin tone and clarity (and is ideal as prep for the best foundations and makeup products). Whereas a strong nighttime skincare routine aims to repair damage and troubleshoot issues such as fine lines, elasticity, lack of hydration, and hyperpigmentation in a potent, targeted manner. Night creams, quite obviously, fall into the latter category, as most evening formulas contain rich, emollient ingredients that help with moisture and collagen production, and remedy dark spots.
If you're still of the school of thought that believes night creams are all hype with no substance, a randomized controlled trial published in the Journal of Cosmetic Dermatology might make you rethink your stance. It revealed that when used with sunscreen and eye cream, night creams were able to improve (read, smooth) crow's feet after four weeks.
If that's not enticing enough, let insight from board-certified dermatologist Dr. Debra Jaliman, MD, convince you. "Since most people sleep between seven and eight hours a night, applying a night cream before bedtime can be more than beneficial, as sleep is a time when the skin works to repair itself," she says.
How to choose the best night cream
When choosing a night cream, budget, product texture, and skin type are factors worth taking into consideration. At the same time, Dr. Jaliman advises selecting a night cream based on ingredients too—you'll want to be on the lookout for ones that hydrate, brighten, and rejuvenate the skin.
"Ingredients to look for are retinol and niacinamide, which decrease fine lines and improve skin pigmentation. I also recommend looking for products containing peptides (which help stimulate collagen production), as well as hydrating glycerin, ceramides, squalane, and hyaluronic acid. Looking for a night cream that doubles as a skin brightener? Make sure your chosen product also contains vitamin C."
The best night creams, as chosen by our beauty experts
1. CeraVe Facial Moisturizing Lotion PM
Best night cream for most skin types
Specifications
RRP: $13.99/ £10
Texture: Lotion
Target issues: Inflammation, dryness, breakdown of skin barrier
Ingredient callouts: Ceramides 1, 3, and 6-II, hyaluronic acid, niacinamide
Fragranced: No
Reasons to buy
+Dermatologist-vetted+Contains ceramides naturally found in skin+Reasonably priced
Reasons to avoid
-If you have allergies to any of the lotion's ingredients, or extremely sensitive skin that cannot tolerate over-the-counter moisturizers
No, your eyes aren't deceiving you: this non-comedogenic night face lotion really can do it all—without breaking the bank.
Its key ingredients are ceramides, hyaluronic acid, and niacinamide—hydrating skincare ingredients that are well tolerated by most skin types, according to Dr. Jaliman. And when this trio of ingredients joins forces, it's basically the equivalent of giving your skin a huge glass of water to drink.
Superstar ingredients aside, the texture of this lotion is very impressive; it's lightweight and absorbs quickly into the skin, skipping that loathsome greasy feeling. This makes it the ideal product for those wanting to add a night cream to their routine, or those looking to top up previously applied skincare products, such as night serums or facial oils, with an added layer of moisture.
And another bonus of this product? Since this night lotion is also free of any fragrance, it won't cause allergies to flare up or keep your partner distancing themselves on the opposite side of the bed.

If this brand appeals, you might want to read our guide to the best face moisturizers too, because CeraVe is also featured there.
2. Algenist GENIUS Sleeping Collagen
Best luxury night cream
Specifications
RRP: $98/ £69
Texture: Cream
Target issues: Loss of firmness, fine lines and wrinkles, dullness
Ingredient callouts: Patented alguronic acid, vegan collagen, skin-mimicking ceramides, Mary thistle
Fragranced: Yes
Reasons to buy
+Contains unique anti-aging ingredients+Hydrates dry skin+Plant-derived collagen, ideal for vegans
Reasons to avoid
-Steep cost and added fragrance-Thick texture may be uncomfortable for oily skin
This luxury night cream may be pricey but, based on its unique ingredients list, it's definitely worth the splurge. The formula includes innovative patented alguronic acid, exclusive active vegan collagen, skin-mimicking ceramides, and Mary thistle—a combination said to strengthen the skin, improve skin texture and dullness, and soften signs of aging.
The texture of the night cream is a lot like your favorite body lotion—its silky and buttery texture drapes your skin in added moisture. However, because of this balm-like texture, those with oily skin may want to consult their dermatologist before using to avoid any pore-clogging issues.
While the French vanilla-esque fragrance may be a little overpowering for some, vegans, in particular, won't want to miss this plant-derived collagen product—especially since many skincare products still use animal-sourced collagen in their formulas.
3. Differin Restorative Night Moisturizer
Best budget night cream
Specifications
RRP: $11.99/ £8
Texture: Cream
Target issues: Inflammation, dryness, rough skin texture
Ingredient callouts: Hyaluronic acid, shea butter, ceramides, licorice, caffeine, and allantoin
Fragranced: No
Reasons to buy
+Non-comedogenic+Unscented+Reasonably priced+Safe to use on dry, flaking skin
Reasons to avoid
-Caffeine may trigger an inflammatory response in skin conditions such as rosacea-Can cause a stinging sensation when applied
Don't let this night cream's great price tag distract (or deter) you: the formula packs a powerful punch. Truly. This night cream is chock-full of ingredients that have been proven to improve hydration and elasticity.
Shea butter, hyaluronic acid, and ceramides all saturate your skin with moisture, of course, however, the cream's allantoin is another beneficial ingredient. A 2017 article published in the Journal of the American Academy of Dermatology, for example, found that this organic compound boasts anti-inflammatory effects, as well as the ability to promote wound healing. Like allantoin, licorice is also tough on inflammation: a 2020 study published in molecules revealed that, because of its anti-inflammatory effects, it can be used to treat atopic dermatitis.
Texture-wise, while this cream is light, it still has a plumping effect on the skin. Since it's also scent-free, you won't have to worry about smelling it when you're trying to catch some zzzs either. Overall, this product offers impressive bang for your buck.
4. KORRES Wild Rose Night-Brightening Sleeping Facial
Best brightening night cream
Specifications
RRP: $48/ £34
Texture: Cream
Target issues: Uneven texture, dullness, loss of firmness, dark spots
Ingredient callouts: Wild rose, vitamin
Fragranced: Yes
Reasons to buy
+Brightens uneven tone with vitamin C+Safe for nightly use+Superbly hydrating
Reasons to avoid
-Added fragrance can be too strong for some-Can cause breakouts in combination areas, or on oily skin
Roses aren't just loved for their good looks and pretty scent; when used in skincare, they boast powerful antioxidant effects that can be helpful in treating inflammatory skin care disorders, according to a 2017 review published in the International Journal of Molecular Sciences. Pair that with brightening vitamin C, and you have a night cream sure to send dullness and dark spots packing.
While this night cream's rich texture drenches dry skin in much-needed moisture, be advised that oily and acne-prone skin may find it clogs pores, or causes breakouts in combination areas.
Also, if the smell of roses actually lulls you to sleep, this cream will surely earn its rightful place on your nightstand. However, if your skin is sensitive to fragrances (or you just don't like scented products in general), you may want to stick with one of the non-fragranced night creams on our list.
5. Lorandy Night Cream
Best night cream for dry skin
Specifications
RRP: $17/ £12
Texture: Cream
Target issues: Wrinkles, uneven tone, loss of firmness
Ingredient callouts: Hyaluronic acid, collagen, retinol, jojoba oil, olive oil, aloe
Fragranced: No
Reasons to buy
+Lightweight+Anti-aging ingredients, such as collagen and retinol+Reasonably priced
Reasons to avoid
-Smaller jar-Can irritate extremely sensitive skin
Crazy about Amazon beauty buys? This night cream, which is loaded with anti-aging ingredients, such as collagen and retinol, is sure to tickle your fancy—especially as it rings in at less than $20.
While retinol is tough on wrinkles, it can also be very drying. Thankfully, the blend of aloe, jojoba oil, and olive oil in this night cream lets retinol do its thing, while managing to keep skin plump, hydrated, and ready for your morning commute. In short, it's the skincare equivalent of a daily green smoothie: jam-packed with nourishing ingredients.
The texture of this cream also receives high marks—it's sheer, lightweight, and dense, without bringing any stickiness to the party. Fragrance, you ask? There's not even the slightest hint of it in this unscented package, which is one of the reasons it made our best eye cream list.

If you do invest in this product, make sure you read our guide about how to use retinol.
6. Burt's Bees Night Cream Sensitive
Best night cream for sensitive skin
Specifications
RRP: $7/ £5
Texture: Cream
Target issues: Dryness, inflammation
Ingredient callouts: Cotton extract, aloe
Fragranced: No
Reasons to buy
+Awarded the National Eczema Association Seal of Acceptance+Hypoallergenic, dermatologist- and allergy-tested+98.9% natural origin; fragrance-free+Very affordable
Reasons to avoid
-Consistency may be too thin for some
Burt's Bees night cream is a godsend for sensitive skin—it's lightweight, hydrating, and both allergy- and dermatologist-tested. It also has glowing endorsements from reputable organizations: having been awarded the National Eczema Association Seal of Acceptance, the product is certified suitable for use on eczema or sensitive skin.
Because this cream's texture is more like a lotion, those with acne-prone skin can benefit from picking this up as well, as it provides moisture, absorbs quickly (without clogging pores), and leaves skin with a natural radiance. After all, even if we do love highlighters, there truly is nothing better than a natural glow.
While the cream's thinner consistency definitely isn't clogging, it can feel a little watery to some—especially those looking for products that provide deeper hydration. However, for those with sensitive or reactive skin, and those who favor a night moisturizer that's quickly and efficiently absorbed (with little risk of pillow transfer), look no further.
7. L'Oreal Paris Revitalift Anti-Aging Night Cream
Best anti-aging night cream
Specifications
RRP: $11/ £8
Texture: Cream
Target issues: Wrinkles, signs of aging, dryness, loss of firmness
Ingredient callouts: Retinol, centella asiatica (aka Tiger Grass)
Fragranced: Yes
Reasons to buy
+Targets fine lines on the forehead, around the eyes, neck, and lip areas +Safe for nightly use+Reasonably priced
Reasons to avoid
-Has a perfumed smell-Can cause reactions in those with extremely sensitive skin
If this best-selling firming cream from L'Oreal has been on your wishlist for a while, now is definitely the time employ those three little words: add to cart.
Not only does this night cream bring anti-aging retinol to the table, but also centella asiatica, or Tiger Grass—an ingredient that's effective in treating wounds, psoriasis, and aging skin, according to a 2013 article published in Advances in Dermatology and Allergology.
Considering some retinol products are expensive, this night cream makes a great introductory product for those who are new to using the wonder ingredient. It is affordable, hydrating, smoothing, and softens fine lines with each use. However, as with all retinol-infused products, you'll want to be patient and consistent when using this cream—it can cause "purge face", aka a brief period during the initial phase of use when impurities are brought up to the skin's surface. For retinol veterans, though, this is probably as straightforward and effective as things get, and the extremely budget-friendly price tag is a real added bonus.
8. Bee-Friendly Skincare Rest & Repair Night Cream
Best natural night cream
Specifications
RRP: $34.99/ £25
Texture: Cream
Target issues: Wrinkles, signs of aging, dryness
Ingredient callouts: Beeswax, raw honey, propolis, olive oil, royal jelly
Fragranced: No
Reasons to buy
+Certified organic by the U.S. Department of Agriculture+No synthetic chemicals, dyes, or fragrances +Paraben-, filler-, and cruelty-free+Non-comedogenic; hypoallergenic
Reasons to avoid
-May spoil easily if exposed to sunlight-Consistency is on the thicker and heavier end of the spectrum-Not suitable for those with bee/bee by-product allergies
Armed with a simple ingredients list and USDA organic certification, this night cream is surely any clean-beauty enthusiast's dream. After all, the formula marries beeswax with raw honey, propolis, and royal jelly ingredients—all of which hydrate skin, and boast anti-inflammatory and antiviral effects, according to a 2020 study published in molecules.
If your beeswax-rich hand cream got your hands through the worst of quarantine and lockdown life, this night cream is like bringing all that hydrating magic to your face: the texture is uber-spreadable, deeply hydrating, and leaves even super-dry foreheads feeling as smooth as a baby's bottom come morning.
However, the cream's ultra-hydrating effect isn't for everyone—it absorbs slowly into the skin, which can, of course, lead to clogged pores and breakouts in those with oilier complexions. Similarly, if you're allergic to any bee by-products, you'll definitely want to steer clear of this one. Otherwise, it's certainly worth looking into, particularly if you're thinking of transitioning into clean beauty.
woman&home thanks Dr. Debra Jaliman for her time and expertise.
Courtney Leiva is a seasoned lifestyle writer with nine years of experience under her belt. She graduated from The Ramapo College of New Jersey in 2012, and since graduation, she has been actively contributing to major news outlets such as Refinery29, Women's Health, Yahoo! Lifestyle, HelloGiggles, NewBeauty, and more. Courtney initially started off covering beauty news, but as she has grown her career over the years, her health, home, and shopping pieces can now be seen on BuzzFeed, The Daily Beast, and Huffington Post. When she's not writing, Courtney enjoys ranking her favorite ice cream flavors, spending her weekends in HomeGoods, and dreaming up new ways to decorate her house. Follow her on Twitter @CourtneyLeiva and on Instagram @MissCourtneyLeiva.