The best Dyson hair dryer deals: the savings you can shop right now
The one-stop destination for Dyson hair dryer deals across retailers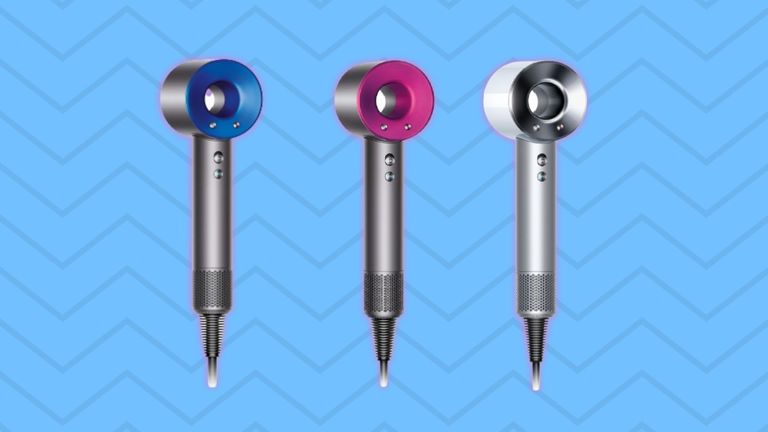 (Image credit: Future and Dyson)
On the hunt for Dyson hair dryer deals? We've rounded up the best Dyson hair dryer deals across retailers, so you'll never miss a bargain on this must-have beauty item. And to ensure you're always in the know, we regularly update this list with new Dyson hair dryer deals as they pop up.
Do Dyson hair dryers ever go on sale?
Dyson hair dryer deals are few and far between. Dyson hair dryer deals are generally in the form of bundle bargains, which promote free accessories with purchase rather than a dramatic price discount.
Nonetheless, you'll find that Dyson hair dryer deals and sales emerge during major shopping holidays, such as Black Friday, Cyber Monday, and Memorial Day. They also surface during specific retailer promo events, like the Sephora Spring Sale and Amazon Prime Day.
You'll also want to keep an eye out for Dyson's Owner Rewards Event or similar holiday promotions unveiled by the brand. Last year, the Owners Rewards Event spanned from December 3, 2020, through December 20, 2020—and shoppers, who previously purchased a Dyson product and registered it, were able to enter a one-time promotional code and receive 20 percent off a new Dyson product of their choice. When you register your Dyson product, you'll receive invites to exclusive events and sneak peeks at the brand's latest technology.
The Best Dyson Hair Dryer Deals
The leading hair dryer endorsed by experts and shoppers across the globe
Specifications
Dimensions: 3.8" x 3.1" x 9.6"
Weight: 4.41 lbs
Power: 1600 W
Cord Length: 2.8m / 9ft
Warranty: 2 years
Added Extras: Four attachments, non-slip heat mat, and storage hanger
Reasons to buy
+Leverages a nimble design+Fast, powerful, and quiet+Reduces hair damage+Easy to use and hold+Features useful accessories, eliminating the need for multiple purchases
Reasons to avoid
-Magnetic nozzle can be unstable
The Dyson Supersonic hair dryer is consistently lauded as one of the best hair dryers and best hair dryers for fine hair on the market. It's designed to remedy common haircare woes, from everything to taming frizzy hair, maintaining short hairstyles and hairstyles with bangs.
What the Dyson Supersonic hair dryer stands out for most, though, is its interchangeable parts. The included styling concentrator and smoothing nozzles impart shine without flattening hair, and the third diffuser attachment works well for curls. Each interchangeable part attaches magnetically, so they stay secure mid-blowout.

This worthwhile investment also touts innovative features that have redefined haircare and maintenance. The main USP is power, produced from a 13-blade digital motor, and it's positioned on the handle rather than the head of the dryer (as is the industry standard).
How does the Dyson Supersonic hair dryer work: The motor delivers 13 liters of air per second to the head—and is then amplified to 41 liters, which helps maintain an exact temperature as you style. This styling tool doesn't deploy tons of power, running at a considerably low 1600W, yet it exceeds in quality and delivers professional-grade results.
Does the Dyson hair dryer dry faster: The Dyson Supersonic dries hair twice as fast as most hair dryers, which helps to prevent hair damage, breakage, and dehydration. (Regardless, you'll need heat protection in your arsenal.) The motor works in tandem with the dryer's Air Multiple technology to smooth locks and ultimately curate an even hair drying experience.
Is the Dyson hair dryer worth it: The simple answer is a resounding yes—because it's seamless and impressive to use. The Dyson hair dryer brims with unique technology, such as speed controls, four heat settings, and a practical cold-shot button. From the moment you tap the power button, it accelerates to full speed and stays relatively quiet.
How to find the best Dyson Hair Dryer Deals
Finding the best Dyson Hair Dryer deals is no easy feat. To start, you'll want to bookmark this page—it serves as a one-stop hub of the best Dyson Hair Dryer deals and is always updated. It's also important to explore Dyson's website, which features special gift editions and gifts with purchase opportunities on the homepage. Occasionally, Dyson hosts specials, including one-time-use Dyson promo codes, owners' specials, and sitewide discounts.
Dominique (Dom) is a very online shopping writer at Woman & Home, where she covers products, sales/deals, and market news across categories. Before joining the team, she penned stories as an editorial fellow at Insider Reviews, the affiliate commerce team at Insider Inc./Business Insider. The bespectacled NJ transplant specializes in commerce journalism, women's lifestyle content, and hoarding makeup—much to her mother's dismay.
Her foray into storytelling began in the early aughts, the era in which she developed a passion for fiction writing and an aversion to math. This passion, along with many failed math exams, led her to Marist College, where she studied public relations, creative advertising, and English.
Aside from writing, she doodles in notebooks, crafts memes, and sleuths for homes out of her tax bracket on Zillow. Follow her adventures via the web:
Instagram: @domimcintee / @drugstoredomi
LinkedIn: https://www.linkedin.com/in/dominique-mcintee-3a32ab9a/
To connect: dominique.mcintee@futurenet.com