Coconut oil: everything you need to know about this popular ingredient
Coconut oil isn't just a kitchen staple. See how this powerhouse ingredient can benefit your skincare routine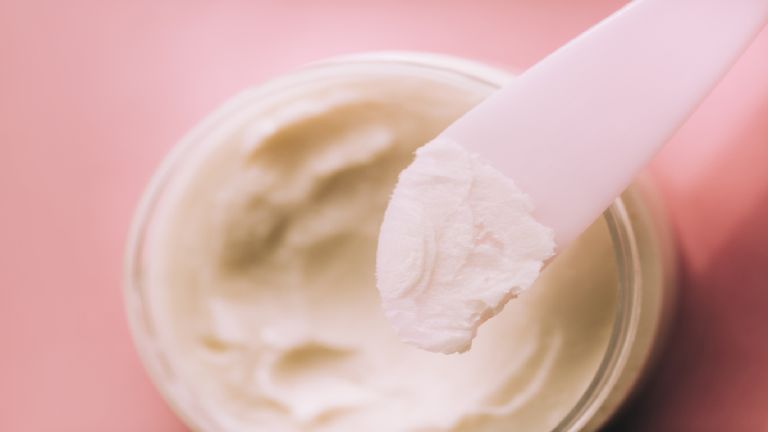 (Image credit: Getty Images)
Coconut oil has had its moment, both as an edible and as a beauty product. We've seen it added into everything from cooking recipes to baked goods, to beauty supplements to body lotion—and the hype doesn't seem to be likely to die down any soon.
Popularity aside, there's a whole lot to coconut oil, however, that hasn't been discussed in the mainstream. As a dietary additive, coconut oil has seriously mixed reviews, and most experts come down on the side of it not being great for your heart health. On the other hand, as an addition to your skincare routine, it's practically magical.
What exactly is coconut oil?
Like its more exotic counterparts olive oil and avocado oil, coconut oil is vegan, so for many non-carnivores, it's another option for adding fat to food. Also, unlike other oils where the oil is extracted from the seeds or pit, coconut oil is extracted from the meat of the fruit itself.
There are two methods for turning fresh coconut into oil: wet and dry.
The "dry" method uses a bit of heat to quickly dry the meat, or copra, and then it's pressed to extract the oil. These oils are marketed as Virgin or Extra Virgin (there's no difference between the two).
"Wet" processing uses a machine to press the milk and oil out of the meat, and then the two are separated in a centrifuge, or by fermentation.
How coconut oil is good for you
Even if you've done your due diligence and have the best eye cream on hand, there is no magic elixir for super clear, wrinkle-free, hydrated skin. Coconut oil comes as close as anything and when slathered on your body post-shower or used as a deep conditioner, you're pretty much guaranteed soft, supple skin and shiny, glossy hair. In fact, it's a common ingredient in the best shampoos and conditioners for dry and damaged hair due to its highly moisturizing properties.
Health and dietary benefits of coconut oil
So why all the excitement about how good coconut oil is for your health? Even though you want to consume the oil in fairly small quantities, there's no question it has lots of benefits.
Medium-chain triglycerides, or MCTs, are the magic ingredient in healthy oil. MCTs have a shorter chemical structure than other fats, so are quickly absorbed by the body. These magical MCTs then move to the liver, where they convert to energy right away, or your body converts them to ketones, which are being studied for treating Alzheimer's disease and epilepsy.
Tokelau, an island chain in the South Pacific, has inhabitants that get over 60% of their calories from coconuts. A 1981 study of that population found unusually low rates of heart disease along with overall good health. In Papua New Guinea, the Kitavan people also have diets high in coconut and report low heart disease or stroke rates. Their diets are high in fruit, fish, and tubers, so the fat in the coconut oil is one of the only fats they get.
Health side effects of coconut oil
Some people have reported dizziness, headaches, swollen glands, fatigue, joint and muscle pain, and an upset tummy when ingesting coconut oil.
Topically, if you're allergic to coconut and may not know it, the hives and rash that accompany a reaction may help confirm sensitivity.
How to use coconut oil
The fatty acids in coconut oil are what give it its superb reputation in beauty circles. You can use it every day with no buildup. Here are some of the best uses for the oil:
Makeup remover: Oil breaks down lipid-soluble impurities, like makeup, and the sebum that's responsible for oily skin. After removing makeup, use a gentle cleanser (we list some of the best cleansers of all time) to remove any oily coconut residue as part of your skincare for oily skin regimen.
Leave-in conditioner: If your hair is brittle, overtreated, or porous and damaged, use coconut oil as a deep conditioner that you can either rinse out or leave in. The oil helps repair hair that's damaged due to overprocessing or UV exposure.
Pre-shampoo treatment: Condition your hair for at least an hour before you shampoo, so the oil has time to penetrate the hair shaft.
Exfoliant: Make a body scrub or a natural exfoliant with coconut oil. If you have sensitive skin, first do a patch test to ensure no breakouts or reactions occur.
Lip balm: If you want a more homemade alternative to the best lip balms on the market, try coconut oil. Coconut oil is enough of a solid to make a hydrating lip balm for winter-chapped lips. Put some in a small jar and reapply throughout the day.
Anti-dandruff treatment: The anti-inflammatory and antimicrobial properties of lauric acid make coconut oil a good first line of defense in scalp care. It can be an effective treatment against dandruff or a scaly scalp.
Lauric and linoleic acids: coconut's secret weapons
Lauric acid, which is found primarily in coconuts, is a source of monolaurin, an antimicrobial agent that helps fight off a wide array of pathogens, from viruses to yeast infections. It's one of the reasons coconut oil is so good for your skin—the oil helps rebuff the topical bacteria that causes acne and reduce inflammation that comes along with an outbreak.
It's also high in linoleic acid, a skin-soothing compound that's deficient in most people with acne. There's also anecdotal evidence that coconut oil is better for eczema flare-ups than mineral oil; it helps with dryness and itching.
Test coconut oil on a small area of your skin before you commit to a full-on piña colada facial, as the oil can occasionally be too heavy for oily skin.
Eunice Lucero-Lee is the Beauty Channel Editor for woman&home. A lifelong creative writer and beautyphile, she graduated from De La Salle University in 2002 and was hired a year later to front all beauty coverage for Pink Magazine, a teen lifestyle publication, after submitting a page-long thesis on why Stila was the best brand to come out of the Aughts. She was hired an hour later.
Her writing—which has since then expanded to cover pop culture and astrology, both equal passions—led her to spearheading columns in Chalk Magazine, K-Mag, Metro Working Mom, and SugarSugar Magazine. Upon receiving her stripes at New York University's Summer Publishing Institute in 2008 she was immediately headhunted to work as the Beauty Editor, thereafter Managing Editor of Stylebible.ph, the digital home of Preview, the Philippines' best-selling fashion magazine, where she also did double-duty as Associate Editor of the print edition.
It was during this stint that the hallyu wave started taking hold and when she was tapped to co-found Sparkling, Asia's first-ever English K-Pop print magazine. Originally planned as a one-off, the project became a runaway hit and saw her taking Korean classes on the weekends for three years, as she found herself frustrated by the lack of breadth translators provided for celebrity profile coverage. She was Editor-in-Chief until her move to New York in 2013. The now-iconic magazine has remained in publication since 2009 due to massive fan support.
A beauty, astrology, and pop culture obsessive and insider for over 18 years, Eunice is an internationally published editor (and now certified astrologer) whose work has been featured in publications such as Cosmopolitan, Esquire, and The Numinous, among many others. The former Editor-in-Chief of All Things Hair and a (very) proud cat mom, she spends her time in Manhattan figuring out the correct Pilates-to-sushi ratio, obsessing over celebrity natal charts, luxury skincare, and Scandi-noir crime procedurals, as well as finding the perfect K-Pop vid to save the day. She can still order drinks perfectly in Korean. Find her on Instagram @eunichiban.