Benefit Badgal Bang! mascara review: is the cult mascara worth the hype?
Is Benefit Badgal Bang! another game-changing mascara from the brand?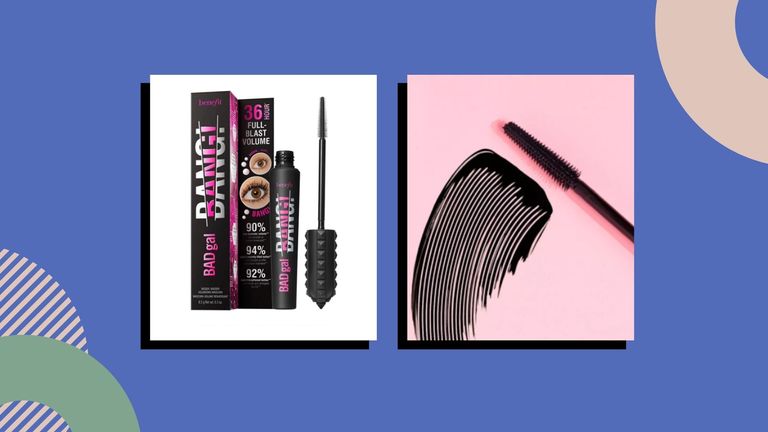 (Image credit: Benefit)
By Fiona McKim , Aleesha Badkar published
Specifications
Price: $26/£22.50
Waterproof version available: Yes
Mini version available: Yes
Colors available: Black and blue
Extra features: Tapered comb wand
Let's talk about Benefit Badgal Bang! mascara. If there's one brand we can generally rely on to deliver consistently excellent mascaras, it's Benefit. You've probably tried mega-seller They're Real! or at least heard one friend rave about its ridiculous lengthening and volumizing powers (all true) And now, BADgal BANG! is out to take its crown.
When Benefit Badgal Bang! launched it did so on a wave of hype—no surprises there, this brand is known for creating some of the best mascara options on the market. Boasting a jet-black formula that contains aero particles for mega flutter with zero heaviness, the mascara promises to be everything we love about cult favorite Benefit They're Real! but with a lighter touch and unique wand technology.
It might not be for everyone, but we expect hardcore Benefit fans will be won over.
Benefit Badgal Bang! mascara Review
Badgal Bang! Packaging
Badgal by name, badgal by nature—Benefit Badgal Bang! is the packaging equivalent of a sassy minx you probably wouldn't want your son bringing home for dinner. Benefit as a brand are masterful at creating eye-catching designs, and much like the best Maybelline mascaras this has gone all out on fun and funky appeal.
With a look unlike anything we've seen in a mascara before, the handle features spiky studs that look like they'd be more at home in an underground fetish club than on a high-end dressing table.
A sleek tapered tube gives an idea of the shape of the brush inside, with an intense black color that reflects the impactful hue of the formula. Hot pink writing finishes off the fierce look.
What's the formula like?
It's no exaggeration to say Benefit Badgal Bang! Gives you almost everything you could want in a mascara formula. It's silky and slippery so easy glides onto every lash without clogging or weighing them down. This is somehow coupled with an ability to resist even the most sweaty and action-packed days. In fact it claims to last a whopping 36 hours, and we found it certainly gave us a solid 12 (our tester does not approve of going a day and a half without using the best makeup remover)
Unbelievably, it also taps into space technology to give lashes an unearthly lift using aero particles, one of the world's lightest materials, certainly the lightest ever used in a mascara. An infusion of ProVitamin B5, which is generally used to promote hydration in the skin by reinforcing the skin barrier, does the same for lashes in this formula, delivering a dose of nourishment.
This could save you from having to spend big on the best eyelash grower serum, which tends to be pricy, and enjoy the conditioning benefits of Benefit Badgal Bang! instead. We also love the velvety black shade, which thankfully stays that way all day without turning chalky and grey by the time you pour your evening glass of pinot.
Ease of application
Let's just get this out of the way—Badgal Bang! uses a comb wand, which we know can be a dealbreaker for some mascara users out there. But we promise you that the brush is actually one of the best things about the product. It's incredibly flexible, which makes it easy to get right to the root of your lashes, and the neat conical shape with a thin tapered tip allows you to reach those tiny inner and outer corner lashes. What we didn't see coming was the impact of the tiny tip on the outer lashes, as just a couple of drags lets you create a fanned-out look, making this one of our best lengthening mascara picks along with those curling and nourishing benefits.
Short, even bristles create a nice, combed effect on lashes, but the wand's length does mean it collects quite a lot of product, which can lead to a tiny bit of clumping if you're not careful. However, this can be easily combed out and does make a nice change from some other comb wands, which often require a hokey-cokey-style 'in-out in-out' action just to get a bit of product on the brush.
Badgal Bang! Results
The true test of any mascara is in the wearing, and this definitely impressed. Unlike many lengthening mascaras that see lashes droop under the weight of a heavy formula as the day goes on, Benefit Badgal Bang! continues to give lashes an even, defined, and fanned-out look. It resisted smudging (mostly) although if you have particularly long lashes or like to load mascara on your best false eyelashes then a tiny little bit of formula may transfer onto your upper lid.
One thing we would say is that it doesn't give a hugely bulked-out effect, even after piling on a few layers. So, if you are seeking the best volumizing mascaras either look elsewhere or apply this as a first layer underneath something thicker like L'Oréal Paris Lash Paradise. Or, just save it for days when you want a natural makeup look and sultry flutter.
Benefit BadGal Bang! w&h verdict
With claims of a stubborn smudge-proof and water-resistant formula that also lifts and lengthens lashes, this mascara had our expectations sky high—and somehow it managed to live up to pretty much all of them. Sure, it won't give you the biggest hit of volume, but the even, fluttery results are beautiful in their own way.
For us, the comb also stood out from others we've tried. As well as doing its job flawlessly, gently separating and lifting lashes, it was soft enough that it didn't scratch or irritate our lids or lash lines.
The mascara itself is pretty much budge-proof—but this does mean that it requires elbow grease to remove. If you know how to remove waterproof mascara apply those same skills here. These are small little niggles, really. If you love super-fanned-out lashes, a flirtatious curl, and impactful length, then this is definitely the top dog in Benefit's highly competitive mascara hierarchy (for now, at least).
As woman&home's Beauty Channel Editor, Fiona Mckim has tried more beauty products than she's had hot dinners and nothing makes her happier than raving about a brilliant find on womanandhome.com or her instagram grid (@fionamckim if you like hair experiments and cute shih-tzus)

Fiona joined woman&home as Assistant Beauty Editor in 2013, working under industry legend Jo GB, who taught her everything she needed to know (clue: learn about ingredients and employ extreme cynicism).
In a previous life, Fiona studied journalism back home in bonnie Scotland and honed her skills as a features writer at publications including Junior and Prima Baby, with a brief and terrifying stint on the showbiz pages of a tabloid newspaper in between. She's a skincare fanatic who can't resist adding an extra step to her routine, adores fragrance, has fun with makeup and never turns down the chance to test a new hair tool. Basically, she loves it all.

When not slathering herself in self tan or peering at a tiny ingredients list on a moisturiser, you'll probably find Fiona enjoying something to do with food - cooking it, eating it, cajoling her friends into trekking across London to try a hyped pop-up in a dirty car park.
Come to think of it, the hot dinners and beauty products are probably about even.