Kate Middleton's affordable beauty hack for a 'lifted' face that you can get done in under an hour
Kate Middleton's affordable beauty hack for a 'lifted' face has got us ready to rush to the salon for a brow makeover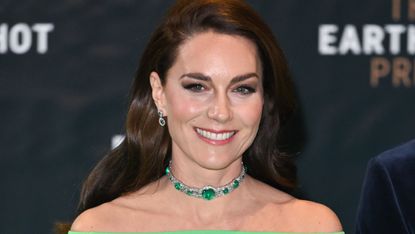 (Image credit: Getty Images)
Kate Middleton's hack for achieving a naturally lifted look to her face is a rather affordable treatment that takes hardly any time at all, a beauty expert says.
Kate Middleton's make-up and skincare stash is no doubt the envy of any beauty lover, but it seems that she's been relying on a particular eyebrow treatment to give her face a gorgeously lifted look.
According to a brow expert, the Princess of Wales appears to have become partial to the affordable and speedy treatment that is eyebrow lamination.
---
While Kate Middleton never fails to wow royal fans with her ever-radiant complexion, stunning make-up looks and enviable outfits, we can't help but notice that the Princess of Wales' eyebrows have been looking particularly powerful in recent months.
Princess Catherine has always had impressive eyebrows, but it appears that she's given them a boost lately, with a brow expert pointing out that a trip to the beauty salon for a lamination treatment could be to thank.
Eyebrow lamination is a simple treatment that essentially perms your brow hairs to lifted and sculpted in a way that provides the ultimate brow shape and way more volume. The process, which typically takes less than an hour in the salon, involves "softening the brows with a chemical solution and then brushing them into your perfect brow shape to set".
Kate's brows appear lifted and super full lately, with Sarah Amelia Fogg, celebrity make-up artist and founder of Brows by Sarah (opens in new tab), pointing out how Kate's revamped brows are helping to give her face a subtle lift to keep her looking gorgeously youthful.
"Kate Middleton's brows are truly some of the best I've seen in a long time. She has naturally dark, full eyebrows meaning they always look so defined. In recent pictures, Kate's brows have seemed more groomed and uniform indicating that she may well have had a brow lamination," Sarah told woman&home.
"Brow lamination definitely gives Kate a naturally lifted and sculpted look. As the lamination treatment involves brushing your brow hairs upwards, it naturally draws the whole of the face in that direction to create a snatched look which instantly makes you look younger," she explains, adding, "One of the most prominent areas that gives away your age is your brows.
"They are the most common area I see where people make mistakes that age them therefore although Kate is naturally beautiful, her groomed, laminated brows definitely help her to achieve a younger look."
While eyebrow lamination won't impact your bank account to the same extent as other eyebrow procedures on the beauty market, there's ways to achieve Kate's laminated brow look with just make-up too.
"Typically, it costs anywhere between £50 and £100 depending on the exact procedure - compared to other brow treatments such as microblading, it is considered to be affordable," Sarah says.
"A clear brow gel will also add a glossy effect to the brows which will emphasise the laminated look even further.
She adds, "If you're someone with slightly thinner, sparser brows and you want to add in a few more hairs and strokes, a brow pencil with a precise, triangular nib will provide you with the precision needed to draw hairs on while still keeping that natural look."