L'Occitane Launches Pamper And Perfume Sets With Pierre Hermé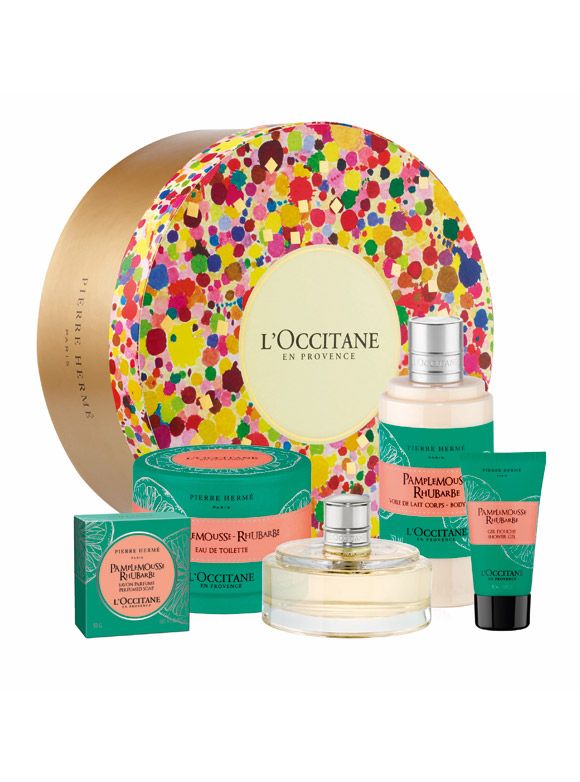 This is a woman&home advertorial
Leave it to L'Occitane to make spoiling your loved ones - or indeed, yourself - a joyful feat this Christmas with a stunning new collaboration. In a meeting of utter decadence, founder of the Provencal beauty brand Olivier Baussan has created two scent collections with world famous French pastry chef Pierre Hermé.
The two are purveyors of luxury and, in connecting their passion for natural ingredients, have created perfumes and body treats that make the mouth water. We're particularly fond of the Pamplemousse-Rhubarbe blend - not your average festive fragrance, it sees Christmassy piquant spices give depth to zesty grapefruit and green, crisp rhubarb, making it a succulent scent for both sexes.
As well as an eau de toilette, which is housed in a presentation box reminiscent of Hermes' iconic macaroons, a host of equal beautiful treat sized products are laced in the Pamplemousse-Rhubarbe scent. Cleanse skin with the delicately scented Shower Gel or Perfumed Soap, and lock in moisture with the Body Cream for a truly indulgent experience.
To be tucked in your handbag, the lightly fragranced Hand Cream and the Shea butter-enriched Lip Balm are whipped up with hydrating goodness that will soften your hands and pamper dry lips. Craving all of it? Of course you are, which is why L'Occitane has wrapped the whole collection up in a colourful gift box that begs to be on display.
Quell festive fatigue by unveiling one of their skincare, haircare, bodycare or perfume treats each day - there's a different one tucked behind every illustrated door. Perfect for a spot of pre- or post-party pampering, the daily gifts are a special surprise that make December all the more magical, before the 25th has arrived.
Discover more about the Jasmin-Immortelle-Neroli collections and Pamplemousse-Rhubarbe.