The Wayfair Black Friday blowout ends TONIGHT: here are the top sales deals you need to know about!
The Wayfair Black Friday sale is offering huge discounts until midnight only - so be sure to snap them up while they're still around...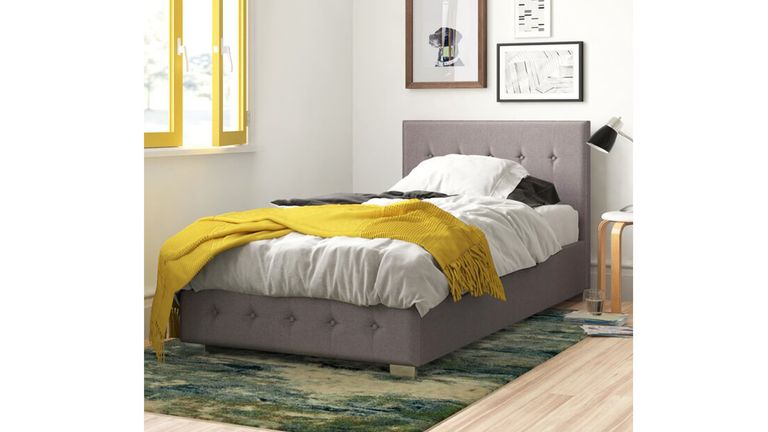 (Image credit: Wayfair)
My name is Amy and I am in desperate need of some stylish new furniture - enter, the Wayfair Black Friday sale, which ends in just under three hours!
When I moved out two years ago, I essentially bought the chicest items of furniture I could afford - but 28 months later, and my budget and interior preferences have changed, so I'm thinking it's about time some brand new purchases are made that fit better with my home decor aspirations.
And what better time than Black Friday?
At the moment, there are literally hundreds of furniture and home decor deals on, as we come into Cyber weekend. But as far as I can see, Wayfair are offering some of the biggest discounts around.
With deals on everything from sofas to bedside tables, rugs to dining room chairs, the Wayfair Black Friday sale is where I'm heading for all my latest decor purchases. So here's our pick of the best deals on the website right now...
Best UK Wayfair Black Friday deals
Fountain Tub Chair: £229.99 £162.99 (save £67) | Wayfair This gorgeous arm chair is compact enough to fit in any room, but cosy enough to luxuriate in at the end of a long day. It's now a huge 29% off, but only for the next three hours!View Deal
Zuma Upholstered Ottoman Bed: £280 £174.99 (save £105.01) | Wayfair An ottoman bed is the ultimate storage-saving solutin, and this lovely grey one is now a huge £105 off at Wayfair until midnight only!View Deal
Affleck Reversible Sleeper Corner Sofa: £1,224.99 £809.99 (save £415) | Wayfair This modern and versatile grey sofa now has an enormous 34% off, and we'll be snapping it up. It's stylish, but also practical, as it converts into a comfy sofa bed for visitors (post-Covid, of course)View Deal
Homan 3 Drawer Chest: £199.99 £149.99 (save £50) | Wayfair These neutral yet elegantly chic 3-drawer chest of drawers would fit perfectly in any size bedroom, and they're now 25% off!View Deal
Escolta Desk Chair: £239.99 £184.99 (save £55) | Wayfair Most of us have been working from home for months now, so I've got my eye on this ridiculously stylish desk chair to help spruce up my home office area. It comes and four different colours if you don't fancy the blue, and is now 23% off until tomorrow only. View Deal
Moyer Ladder Bookcase: £79.99 £65.99 (save £14) | Wayfair Every home needs a bookcase, and this one is bang on-trend at the moment. it's also a huge 18% off! It's big enough for all your books and knick-knacks, and while a practical form of storage, it's also a great way to display some chic decor in your home.
Heilig Olga Grey Rug: £59.99 £49.99 (save £10) | Wayfair There's nothing better than a neutral geometric rug to add some warmth and comfort to any room, and this one - which will go just about anywhere - is now a huge £10 off!View Deal
Best US Wayfair Black Friday deals
Evangeline 20" Round Pouf Ottoman: $79.99 $48.99 (save $31) | Wayfair Every home needs a pouf ottoman for us to rest our weary feet on, and this one is now 39% off on Wayfair.com. It comes in eight colours too!View Deal
Bjorn 59 Wide Rolled Arm Settee: $1,299.99 $314.99 (save $985) | Wayfair This is one of the best deals we've seen during the whole of the Black Friday sales! Save an enormous 76% on this classic 2-seater settee, but only while stocks last.
Mountview Oriental Navy Blue/White Area Rug: $30.04 $14.99 (save $15) | Wayfair Get 50% off this patterned rug that will liven up any home decor! With a modern Bohemian look, it'll go great with both classic and more up-to-date interior styles.View Deal
Blomquist Side Chair (Set of 4): $137.99 $111.99 (save $26) | Wayfair There's 19% off this white 4-piece set of dining room chairs, making this a super affordable way to kit out any dining space you might have. The chairs come in eight other colours too, if you fancy something a bit different.View Deal
Imani Velvet 81.5" Square Arm Sleeper: $509.99 $316.99 (save $193) | Wayfair This velvet sleeper sofa is super stylish, and is now a huge 38% off! But it's selling fast, so get it while you still can.View Deal
The Wayfair Black Friday sale officially ends tomorrow (Sunday), which means you've only got around 24 hours left to shop their brilliant home bargains.
It's likely that the retailer may have Cyber Monday deals, but the above items and their respective discounts can only be guaranteed tomorrow.
If you delay, you may well miss out on this items at their bargain price, as they could return to full price, or perhaps smaller discounts.
So if you want something, we'd advise snapping it up now!