Try not to update your home after seeing these 2021 kitchen trends
Bring a modern touch to your home with these stunning kitchen trends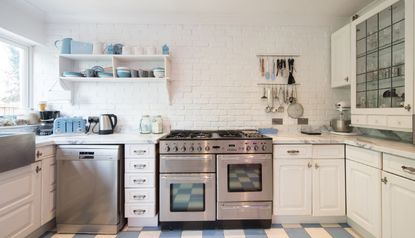 (Image credit: John Keeble/Getty Images)
A new report from Instagram's trending interiors has us running to redecorate in time for the summer season. For any size and shape your place may be, check out the must-have looks for the season below.
Whether you're hosting a dinner or having guests over, it's not unlikely that your guests may take a peek in the kitchen. While you may be following your guide for cleaning the kitchen quickly, having an aesthetically pleasing kitchen is an added bonus.
For those ready to refresh their home with a new look, Wren Kitchens discovered the most popular kitchen trends to incorporate into your home. So, whether it's adding a new counter to house, your best blender or updating your cabinets to hold all the kitchen essentials you need, take a look at the most popular trends of 2021 below.
Farmhouse Cabinets
Cabinets help bring a sense of character to your kitchen, according to Wren Kitchen. The farmhouse style in particular has been popular among social media users too. Research, in fact, has found that more than 745,961 people used "#farmhousekitchen" to show off their country-style kitchens on Instagram. Search trends also showed that searches for "modern farmhouse kitchen" have increased by around 160% in the last year, showing continued popularity over time.
The overall design can help add a vintage touch to your space and can help with kitchen cabinet organization to declutter your space.
Shades of white
It seems you still cannot go wrong with a classic white look. The hashtag "#whitekitchen" has more than 617,000 posts from users, making this color the reigning shade to incorporate into your kitchen space.
Among other trends though, Wren Kitchen has found that bolder colors are beginning to have a steady increase as well. Some people are looking to bring more color into their space rather than stick to basic shades, according to Wren Kitchens design director, Darren Watts. While bold colors still haven't taken over the top spot, Darren predicts they will become a popular trend in the future if popularity persists.
"When designing their kitchens, people are choosing to go with a bolder palette more and more," he said in a statement. "For example, we've seen a particular trend toward shades of green. Green is a color associated with nature and can be styled as hyper-modern or classic. With 78,000 people using #greenkitchen to tag their photos, this color has risen to prominence with celebrities such as Kendall Jenner, Dakota Johnson and Cameron Diaz choosing it as a prominent color in their kitchens."
Granite countertops
It may come as no surprise that granite is the top choice for countertops. It's typically durable and more affordable than marble (though you can find our guide to how to clean marble here), which provides a similar look. Recently, there have been almost 275,000 posts with the hashtag "#granitecountertops" on Instagram.
If you're looking to combine trends, you could incorporate a white granite countertop into your kitchen, but users have been seen adding grey and black shades as well.
Herringbone Floor
The farmhouse trend continues to dominate with the term "Herringbone floor" receiving a 160% increase in the last year. This design aims to create interest within the space while providing a farmhouse feel.
It seems that wood is also having a moment in the kitchen sphere. On Instagram, 296,000 people have been posting under the hashtag "#woodflooring." In terms of what kind of wood though, oak seems to be the material of choice, with around 73,400 posts sharing the hashtag "#oakflooring."
Galley style layout
If you're looking to make the most of your space, then Instagram users seem to love the galley style with close to 20,000 posts. Typically, the design features two parallel work surfaces often in a smaller, thinner space. Darren also claims it allows you to bring some creativity to your kitchen.
"The galley style kitchen is a popular layout in many people's households and its shape brings with it design options that require creativity," he explained. "For example, people enjoy sharing their smart storage solutions in a smaller kitchen, where a balance has to be found between practicality and style."
No matter what size or shape your kitchen, it seems as though the vintage farm look continues to reign supreme. While modern appliances continue to bring a chic look and feel to our kitchen, based on current trends adding a vintage and aged aesthetic to your kitchen is still on tron-trendend.
Rylee is a U.S. news writer who previously worked for woman&home and My Imperfect Life covering lifestyle, celebrity, and fashion news. Before joining woman&home and My Imperfect Life, Rylee studied journalism at Hofstra University where she explored her interests in world politics and magazine writing. From there, she dabbled in freelance writing covering fashion and beauty e-commerce for outlets such as the TODAY show, American Spa Magazine, First for Women, and Woman's World.