Most desirable sofa trends 2023 to upgrade comfort levels in the new year
Exploring the latest must-have colors and upholstery fabrics to the most popular shapes, experts share their insights into the biggest sofa trends of 2023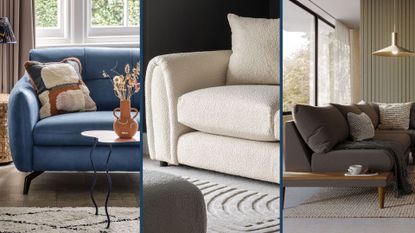 (Image credit: Sofology | Snug)
These are the sofa trends 2023 experts predict will lead the way when it comes to colors, shapes, and combinations to inspire how we style our living spaces for the year ahead.
For those looking to transform their homes and follow living room trends without wanting to completely redecorate, a new sofa could hold the key to updating without overhauling the entire decor.
As the focal point of any living room, it's important to avoid common mistakes when buying a new sofa because it is a big investment, not one to be taken lightly. Aside from the style, and color of your sofa choosing a design with longevity is key for today's modern home. The big sofa trends for 2023 take all of these factors into account to aid in choosing the right comfort champion for your home.
The biggest sofa trends 2023 revealed
1. Sustainablity
During the last few years, sustainable living choices have become crucial within the furniture industry. In contrast to 'throw-away' culture, brands now take a responsible approach allowing consumers to make ethical homeware choices that will impact our environment.
"Sustainable innovation will only succeed if they offer as good or better alternatives to other products," says Kate Wright, Commercial Director for Sofology and Sustainability Director for DFS Group. "We are always looking for ways to improve the longevity of our sofas, and to increase product reuse and recyclability."
Sofology has launched a 'Sustainable Edit' which is at the heart of this sustainable trend in 2023. Their 'Eco-sofa' is built on the belief that less can be more with fabrics made from recycled pre and post-consumer waste, fillings that are recycled or recyclable to support a circular economy, as well as wooden frames from sustainable sources.
The Gaia sofa, created by architect and Interiors tycoon, George Clarke nonetheless, is staple free – allowing each element to be quickly unclipped, unbolted, and unscrewed with ease to dismantle the sofa. This result is a sofa where each individual part can be more easily recycled or repurposed at the end of its life.
2. Versatile modular shapes
As homes evolve and take on new roles, in recent years more than ever before, we're seeking more flexibility from our sofas, in terms of style, size, and configuration. For those who like a little more freedom, the modular shapeshifter is the sofa for you.
"Choosing modular means you'll never have to worry about your sofa being left or right aligned," says Dani Burroughs, head of product at Snug. "Or, if you fancy a makeover, simply swap out the sofa arms for a designer-inspired side table. Better yet, transform a 3 seater to a 4 seater or even add a sofa bed to an existing sofa at a moment's notice with an easy slotting system."
"With trends changing from open-plan to broken-plan and back again, we need the flexibility to switch up our spaces whenever we feel like it," Dani explains. "Rather than having to look for new furniture, a modular sofa will give you all the freedom you need. Similar to life-sized Lego, simply separate the units to reconfigure from one large sofa into two smaller sofas to completely reinvent the space. The possibilities are truly endless when you go modular."
Modular seating is the solution when looking at how to make a small living room feel bigger.
3. Irresistible boucle
Tactile fabrics have been trending for a few years now, as we seek an extra layer of comfort from our interiors. The fabric of choice for sofa upholstery for 2023 is the teddy bear-like boucle that makes a bold statement for a sofa that is made to cocoon and comfort those who recline in its sumptuous texture.
"Boucle continues to take the interior world by storm," says Helena Davies, head of home buying and interior expert at Barker and Stonehouse. "A great option for neutral color schemes, boucle is one of the coziest fabrics around and will bring a wealth of warmth to your space with its unique texture."
"Not quite as indulgent as velvet, but a step up from your usual cotton or linen, boucle adds a dash of something different to any living area – and you just can't help but touch it!" A touch of boucle is a great way to make a home feel cozy in an instant, making it ideal for snugs and smaller, more intimate living spaces.
4. Timeless neutrals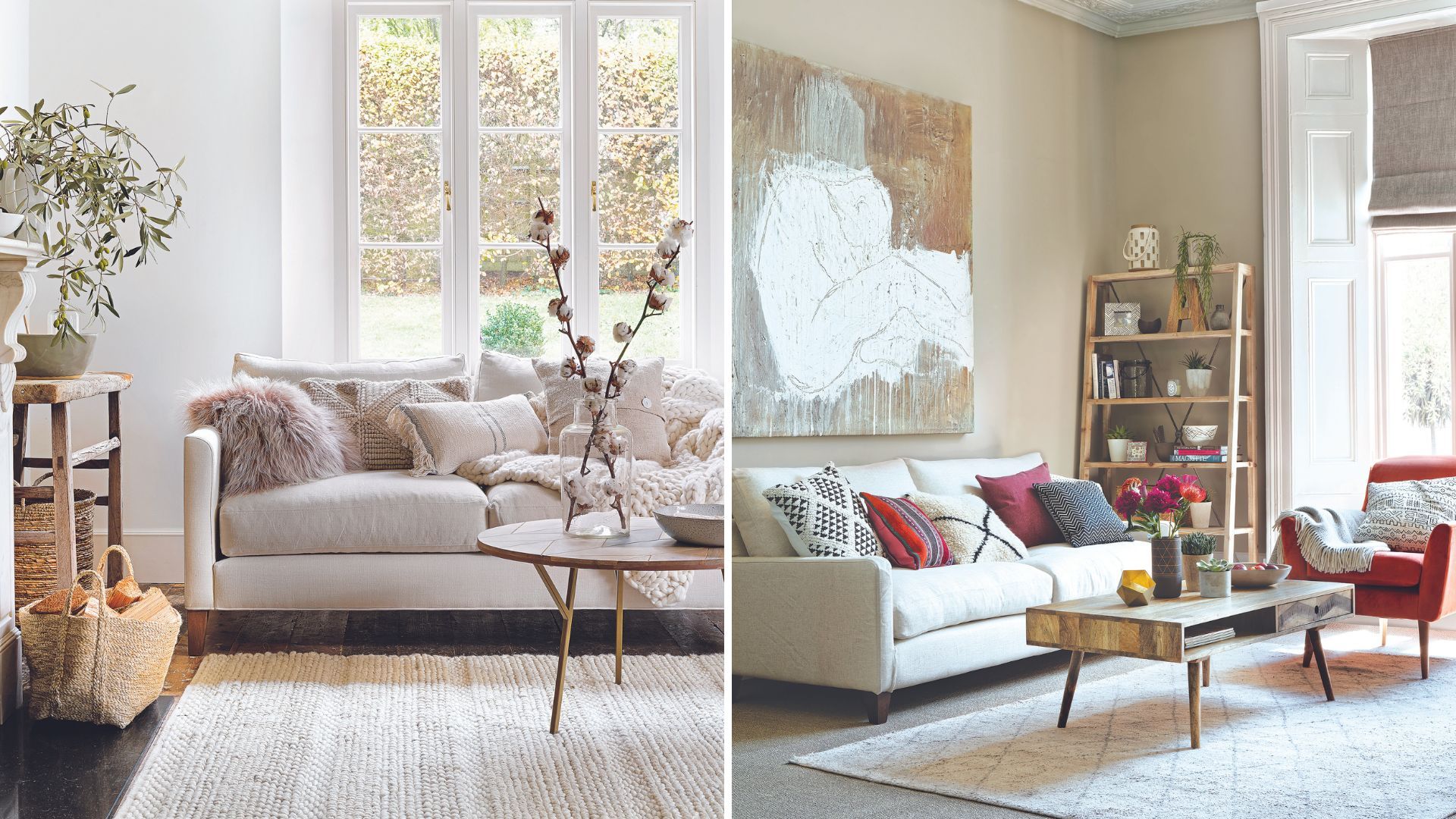 Neutral tones continue to dominate the best living room paint colors and beyond, it's, therefore, no surprise that the color palette is still proving popular for investing in such a key piece of furniture.
"The beauty of neutral hue sofas is that they're stylish and versatile," explains Dani. "From creamy biscuit and oatmeal hues to endless shades of grey, neutrals can be dressed up or down depending on how you want your space to look and feel."
"Accentuate the warm undertones on your cream sofa by accessorizing with toasty tones of burgundy, burnt orange, and mustard. A blank canvas when it comes to styling, pair neutrals with tactile textures and extra-cozy accents for the ultimate space to unwind."
Adding vibrant accent tones is a great way to use Pantone Color of the Year 2023 in homes to add warmth to the neutral scheme.
5. Shades of blue
Green has been one of the most popular accent colors for sofas in recent years, as the Dulux Colour of the year 2023 and the continued popularity of sage green proves, but it would seem that there's a new mineral hue on the horizon.
As Dani explains, "Forest green, pine green, and olive have continued to be firm favorites with our customers over the last few years. However, looking to knock green off the podium, we're seeing blue rise through the ranks and it's showing no sign of slowing down for 2023."
"A less bold look than the hero green, we're seeing a rise in blues, a deep blue with a grey undertone is the new hottest hue in town. Matching up with dark and dramatic or a calming and chic vibe, what's not to love about this versatile trendsetter?"
6. Grounding tones of brown
Brown sofas are set to be back in fashion as you look for grounding earth tones to dress our homes. "In 2023, we predict the return of brown to give our homes a sense of calm and comfort after a couple of tumultuous years," explains Rebecca Snowden, interior style advisor at Furniture And Choice.
Influenced by other soothing interior design trends like biophilic design and Japandi living rooms, brown is the ideal modern neutral to ground the room and let other colors take center stage.
"In furniture, we'll see browns ranging from light caramel tones to dark chocolate brown and rich dark woods across a variety of décor styles," Rebecca explains. "For example, a tan leather sofa or a walnut dining set with black legs could form a modern industrial look."
"If you prefer a classic, formal style then set the tone with a dark brown leather Chesterfield sofa or a grand pedestal dining table in dark wood paired with elegant fabric chairs."
7. Multifunctional purposes
As we demand more from our homes, we also demand more from our furniture choices also – to make our homes as functional as possible. "As our interiors continue to be multitasking spaces, we can expect to see multifunctional furniture as a rising trend in 2023," says Rebecca.
Choosing a sofa with integrated storage to help conceal items out of sight when they are not needed is a great way to organize a small space. The element of multifunctional design also comes in handy when your living room sofa transforms into a comfy bed to create a spare room when needed.
"In the living room, you could opt for a sofa bed for lounging while watching TV, instead of sitting on a sofa," suggests Rebecca.
8. Smart design
Smart homes have become less of a novelty and more of the norm, in particular when talking about kitchen trends in 2023, as homeowners are increasingly looking to utilize technology to make our everyday tasks even easier. As well as the countless voice-activated devices in our homes, there's also an increase in smart sofa designs too.
"There's more smart furniture available on the market, and in sleek modern designs too," says Rebecca. "For ultimate relaxation, choose an electric recliner. While some models need to be plugged in and others work on a chargeable battery, they all let you recline and relax with the touch of a button."
Sign up to our free daily email for the latest royal and entertainment news, interesting opinion, expert advice on styling and beauty trends, and no-nonsense guides to the health and wellness questions you want answered.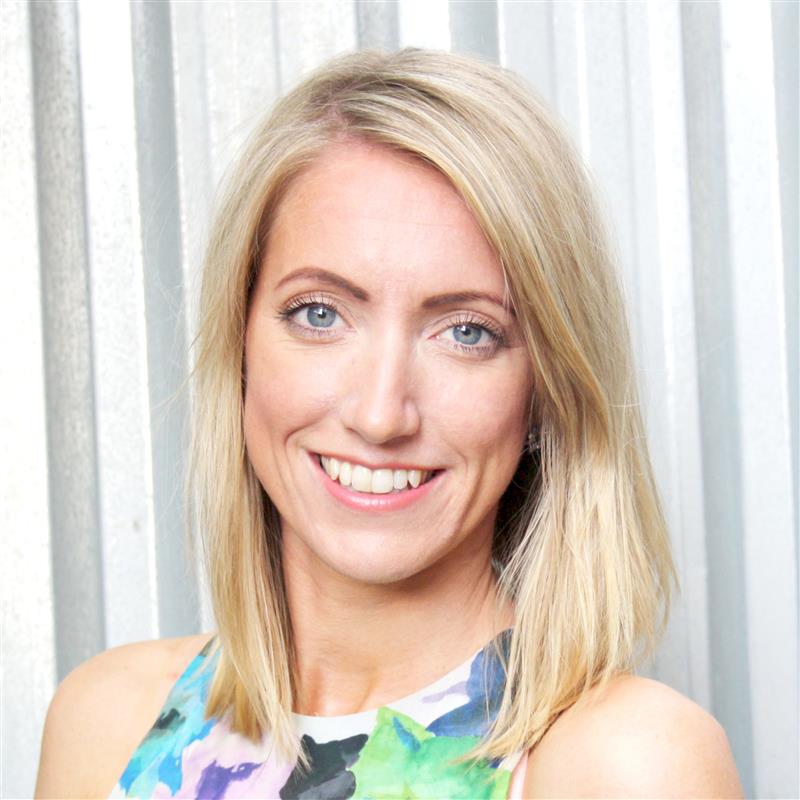 Tamara is a highly experienced homes and interiors journalist, with a career spanning 20 years. Now the Lifestyle Editor of womanandhome.com, she has spent the last 17 years working with the style teams at Country Homes & Interiors and Ideal Home, and it's with these award-winning interiors teams that she gained a wealth of knowledge and honed her skills and passion for shopping, styling and writing about every aspect of lifestyle and interiors.
With a keen eye for the latest interior trends, there's not a lot she doesn't know about home decor – whether it's what colour we should be painting our living rooms next season, or if the latest 'must-have' buys are actually worth investing in.
A true homes and interiors expert, Tamara has served as an ambassador for leading interior brands on multiple occasions, including appearing on Matalan's The Show and presenting at top interior trends events such as the Autumn Fair and Spring Fair.