How to decorate for Christmas according to interior designers
Discover how to decorate for Christmas like an interior designer this festive season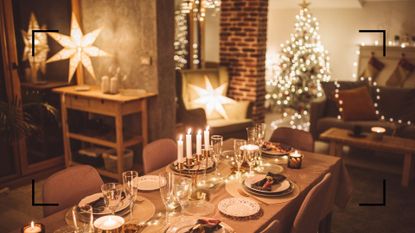 (Image credit: Getty/Future)
Make this festive season magical with our guide on how to decorate for Christmas by top interior designers and décor experts.
Covering all the Christmas decorating ideas you need and more to ensure that Christmas this year will be one to remember at home, internationally renowned interior designers, creative directors and experts in stylish décor with decades of experience between then have shared their top industry-insider tips for finessing your festive style.
From sharing Christmas centerpiece ideas to the secrets behind truly stylish yet snuggle-worthy Christmas bedding, prepare to transform your home into a winter wonderland with the style-factor of a five star hotel for a fraction of the budget.
Use our guide on how to decorate for Christmas to help you to consider your festive plan of action for all the important areas of your home during the festive season—such as guest bedrooms, entryways, and living areas. So lets get started...
How to decorate for Christmas
1. Consider the space you have
Before planning any decor, consider how much space you have to work with and any where you can realistically place decorations. This will be vital for making your space look stylish without being overwhelmed.
Trudy Hendy, a Christmas decor expert at Langford Lakes Christmas tree farm suggested, "You need to think about your space and where you are placing things. For example, make sure to measure before starting, especially if you're buying a fresh tree that needs to fit in your home. Consider that it should be kept away from any radiators or open fires to prevent it drying out, so you need to plan that in. You also need to make sure it fits under the ceiling."
She continued, "If you're having family and friends over, you should also be cautious, as you don't want decorations where they can be easily knocked over or get in the way. Don't over clutter surfaces as your family or guests may want to place drinks, nibbles or unwrapped gifts on them. This also applies to the kitchen—you don't want decorations in the way while cooking your Christmas Day feast. Perhaps settle for mini decorative tablescapes or windowsill decor items here."
2. Embrace themes—but don't be too rigid
Using themes to inspire your decor (see some ideas below) can be incredibly helpful when working out how to decorate for Christmas.
Interior designer Joanna Wood advises: "It's worth noting that the easiest themes to execute are gold and silver color schemes; there's so much scope to make it your own. Silver and gold doesn't have to mean glitter and sparkles either, keeping it understated is far more elegant."
"If the idea of a 'theme' doesn't appeal then go small scale—it can be as simple as having one prevalent color or using all natural decorations like holly, ivy, berries and pine cones."
Xander Shreenan, interior designer at home décor brand Dowsing & Reynolds, adds that the key to festive home decor or magical Christmas tree decorating ideas is to make them your own, "Ultimately it's about what themes and ideas make you happy. Don't follow trends or traditions just because you feel like you have to!"
3. Do choose a color theme
Though there's no need to strictly work to themes when decorating your home, it can actually be very helpful (and important, style-wise) to work to a color scheme, to help unify your home and ensure things don't look mismatched. Hendy told w&h, "Choose the colors that will suit you and your home. Either red and gold, silver and white, or gold and green as pairings are very timeless and complementary.
"Natural wood also works well with red, gold, green and silver. Vintage themes can look great too, don't be afraid to mix colours and textiles. If you're stuck, create inspiration mood boards."
In the same vein, you might want to choose fun, bright colors, which will be bang on trend in 2021. Wood explains, "Color is a big one this year. Instead of just silver and gold, we're going to see pops of bright colour."
By focusing on a color, you'll naturally create a theme in your house, and you won't be tempted by random decorations that don't go with the palette you've chosen. For an easy way to implement this, you could opt for luxury Christmas crackers in your chosen color scheme for your table, for example.
4. Make one area of each room the decorative focus
If you truly do get stuck when it comes to decorating, why not use this simple trick from Christmas decoration expert Jess Martin to help you narrow down on your vision? She explained, "Whilst it can be tempting to go overboard with the Christmas decorations, some of the best festive decor includes a strong theme throughout, with added personal touches."
"Try making one area of each room a focus, whether that is the tree in the living room, a garland up the staircase or a gorgeous tablescape in the dining room."
By focusing on one area of the room first, you can create a solid base from which to decorate the rest of the space, ensuring it matches your 'centerpiece' and guaranteeing you won't overcrowd or clutter the room.
5. Consider the practicality of your decorations
It might not sound very fun but it is vitally important to consider the practicalities of even your best Christmas decorations—you don't want to put things in your way so that you can't go about your daily tasks.
Interior designer Joanna Wood told w&h, "One mistake that people make endlessly is getting so overexcited with decorations that they then interfere with the day-to-day. A large tree in the hallway can be beautiful, but if it's at all in the way of coats, boots or the dog bed then it will drive you mad.
"For example, I like to keep things simple in the busy living room and very often just have some greenery on the mantelpiece with some candles."
To put this into practise, consider when and how you use every area of your rooms before decorating them—for example, do you really need decorative items on your kitchen worktops, or will they likely just get in the way?
We love the wreaths for this exact reason— the best Christmas wreaths hang out of the way, on a door, wall or window, but can simply and beautiful match your festive decor elsewhere in the home.
6. Think about guests and their comfort
Finally, it's something we often forget, but ensuring our guests are comfortable whilst they are in our home is an imperative part of decorating. Georgia Metcalfe explained, "Guests often enjoy a few moments of calm in their bedroom, away from the festivities downstairs, so why not decorate to make them feel comfortable in these moments?
"For these 'pause' moments, you could place a faux fur throw at the end of their bed, and a mindful book on their bedside table. We place hand-knitted socks wrapped up in a little parcel on the pillows (it makes a delightful, early and cheap Christmas gift). Other welcoming touches include placing the best scented candles in the bathrooms, which we light in the evening, Christmas bedside tissues, bathrobes on the back of bedroom doors (for lazy Christmas day brekkie), silk eye masks and finally—an Alka Seltzer tablet in the bedside drawer with a comforting handwritten note."
Christmas decorating themes
When it comes to planning your holiday decor, it can be helpful to think in terms of themes, as these can help focus your decisions and make organizing your space that much easier. Hendy says, "Themes are sensible, as they ease stress on any preparations and allow a nice flow throughout your home that you can use year upon year."
You can choose from so many different Christmas decorating themes depending on your own personal interior tastes—the key is to choose whichever one feels right for you.
If you need some guidance, here are some of our interior design experts favorite Christmas decor themes for 2021:
All things celestial— interior designer Steph Briggs explained to w&h, "The hottest trend for Christmas décor in 2021 is the sky and space. We saw a lot of celestial themes last year with stars, moons and added sparkles. It can be as tasteful or as kitsch as you want, there is something for everyone." Fellow interior designer Xander Shreenan agreed that a celestial color palette will be popular: "Silver and gold will always make up the core colour palette for Christmas. These add shine and sparkle, guilty pleasures we like to indulge in over the festive period," he said.
Traditional Christmas—Jess Martin, interior decoration expert at Ginger Ray, told w&h that she reckons above any popular decor trend, traditional colors will reign supreme once more. "The traditional Christmas decor theme incorporates classic red, green and white with sparkling metallics, " she said. "We see this trend reappear every year and there is a good reason why it is so popular. Whilst this trend is often maximalist, this theme can work in most homes."
Rustic and Scandi-inspired—If you prefer more low-key decor, there's a 2021 trend for that too. Martin explained, "If your home is more modern, a rustic minimalist theme might be more to your taste. Macrame wall hangings, simple wire tree decorations, wooden Christmas tree skirts, and gold geometric candle holders can all add a festive touch to more contemporary homes. A scandi foliage theme has been popular for a number of years now too, with cool tones of green and silver being brought into the home using wreaths, garlands and other natural accents. Xander agreed, stating, "We're seeing a rise in twig trees, and minimalist, asymmetrical designs are growing in popularity in modern home interiors."
Practical tips for decorating your home
Don't forget the key areas outside of your tree—it can be tempting to make your Christmas tree itself the focus of your decor come the festive season. But you shouldn't forget other key areas whilst decorating—such as the mantel, front door, and stairs. Metcalfe said, "Decorating your front door frame and surround is a great way to offer a welcoming gesture to your Christmas visitors and is a nice Christmas gift for neighbors to add a festive feel to the street. Use the festoon lighting from your summer garden and carefully twirl long strands of ivy around the flex, then secure with grosgrain ribbon bows in a deep crimson red for a doorway garland you won't want to take down. I always raid the garden for ivy and drape thick garlands across my mantlepiece, placing tall candles amongst the strands."
Make sure to fluff your artificial tree—Briggs explained that while faux trees have come a long way in terms of realism in the last few years, there are a few steps you should take to make even the best artificial Christmas trees look as stylish as possible: "If it's a faux tree, then it's all about the fluffing! Make sure that the branches are well spaced and look as natural as possible. This takes a while if it's been crammed in a box in the attic all year but time spent here is worth it—it will make a real difference to the end result." This is especially helpful if you buy your Christmas tree online, as it'll likely arrive cramped and squashed following the deliver process.
Ensure you choose warm lights—using warm fairy lights, as opposed to starker, cold lights, when decorating your home, will instantly create that warm, cozy ambience that defines the holidays and the winter months. They're Steph Brigg's lighting of choice, she explains—"I favour warm white lights for most trees—but coloured lights can work well too if you're going all out kitsch."
Foliage, foliage, and more foliage—Foliage such as branches and berries can work just about anywhere whilst decorating your home—on your table as part of a centerpiece, when buying the best real Christmas trees for your living room, or placed on your mantel. So it's a great staple for Christmas decorating. Hendy advised, "You can also use natural materials such as dried garlands of berries, cinnamon sticks, orange and lime slices. Go to your nearby woodland and find pine cones that you could use as they are or decorate with paint or glitter. Even ivy from your garden or any evergreen foliage you have can create effective decorations. Although be cautious of any skin irritation and use gloves if you do to avoid any scratches and cuts."
Use faux flowers wherever you can—Briggs also noted that faux flowers are a great piece of decor that you can use anywhere. "Flowers are lovely but don't have to be fresh—faux flowers have come a long way in the last few years and are a game changer as can be prepped ahead for a low maintenance day." Try placing them in your tree, on spare surfaces, or as part of your tablescape.
When should you decorate your home for Christmas?
In the US, many people tend to start decorating as soon as Thanksgiving is over (25th November this year), while others hold off until 1st December. Others prefer to make the most of the season, popping up their festive decor as soon as Halloween (on 31st October) is over, meaning that by 1st November their home is already looking like a festive wonderland. And then, there are the staunch traditionalists, who state that decorations should only go up 12 days before Christmas. So in conclusion, whatever you prefer is fine—there really is no right answer here.
Christmas decor expert Trudy Hendy confirms: "There's no right answer for this one! You can decorate when it suits you as a family.
"Some say decorate twelve days before Christmas, some say mid-November. After the last two years we've all experienced, we say the earlier the better. Why not?!"
Interior designer Wood agreed, though she noted that the tree itself shouldn't go up too early. She said, "You can decorate as early as you like, but stand your tree in water and remember that any greenery doesn't keep for long—so don't put it up on 1st December."
What to avoid when decorating for Christmas
There aren't many rules when it comes to how to decorate for Christmas, as your festive decor is very personal and should be used in a way that works for you and your home. However, if you want to keep your home looking as stylish as possible, there are some small things to avoid, according to the interior design experts...
No tinsel or colored lights—Wood advises that it's best to steer away from the slightly more dated decor items—she explained, "Avoid tinsel at all costs, not least because it drops everywhere. Coloured lights are also very limiting decor-wise unless you're going full on 60s. And flashing lights will give you a headache, so avoid those too!"
Avoid small, low-quality decorations—it's preferable to avoid other smaller bits of low-quality decor, especially if you have children and pets in your home. "Invest in some larger decorative items to avoid lots of little bits everywhere," Wood said. "No plastic and no synthetic materials, if you can avoid it."
Don't take it too seriously—most importantly, don't stress yourself out about your decorating! Shaun Powell, Christmas gifting expert and CEO of Find Me A Gift, said, "Don't overcommit things, and remember Christmas is meant to be a celebration, not a chore—so whatever you plan to do decoration wise make sure you enjoy it, and get the whole family involved!"
---
With thanks to interior designer Joanna Wood (opens in new tab), Georgia Metcalfe, founder and interior designer of The French Bathroom Company (opens in new tab), Jess Martin, decoration expert at Ginger Ray (opens in new tab), Xander Shreenan, interior designer at home décor brand Dowsing & Reynolds (opens in new tab), Steph Briggs, interior designer and co-founder of independent gifts and interior retailer, La Di Da Interiors (opens in new tab), Trudy Hendy, a Christmas decor expert at Langford Lakes Christmas tree farm (opens in new tab), and Shaun Powell, Christmas gifting expert and CEO of Find Me A Gift (opens in new tab), for contributing their time and expertise to this article.
Amy Hunt is an experienced digital journalist specialising in homes, interiors and hobbies. She began her career working as the features assistant at woman&home magazine, before moving over to the digital side of the brand where she eventually became the Lifestyle Editor up until January 2022. Amy won the Digital Journalist of the Year award at the AOP Awards in 2019 for her work on womanandhome.com.