The best movie sex scenes of all time – and how to recreate them at home
Starring in one of the best movie sex scenes can be easier than you think with our simple tricks and tips...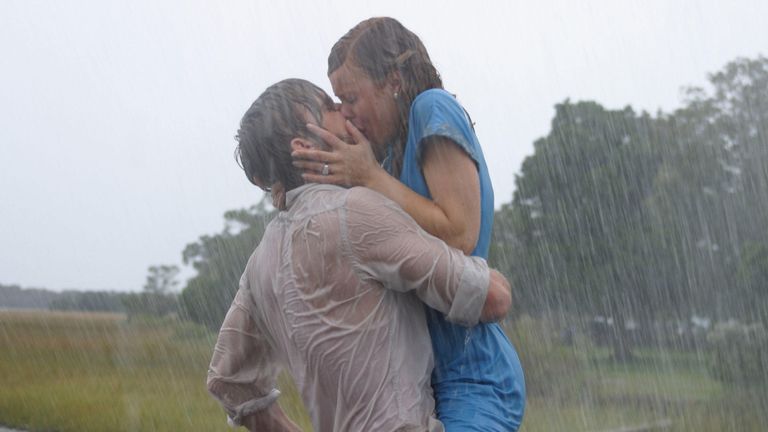 (Image credit: Entertainment Pictures / Alamy Stock Photo)
Whatever genre you love, there's one big thing that the best movie sex scenes all have in common – they will inspire you to get more creative in bed. From iconic films, such as Dirty Dancing, The Notebook and Titanic, to more recent steamy hits, including Fifty Shades Darker, the best movie sex scenes have the power to stir something inside you, that makes you want to keep watching them again and again.
Perhaps it's a uniform that ignites a secret sexual fantasy you have. Or maybe it just offers you a steamy escapism from daily life. Either way, they can help inspire you to try something new.
A great part about recreating the best movie sex scenes of all time is that you can add your own spin, and still keep things spicy. After all, not all of us have Ryan Gosling on hand at home. So, whether you want to recreate these sex scenes just with your imagination and one of the best vibrators, or you and your partner would love to act them out together, then you'll still come away satisfied.
So, turn on the TV, close the curtains, and be truly inspired by one of these saucy scenes...
The Notebook
Year: 2004
Starring: Rachel McAdams (Allie) and Ryan Gosling (Noah)
We've watched enough of these films to know that when a poor guy like Noah falls in love with a rich girl like Allie, things won't be plain sailing in Seabrook Island, but that doesn't mean it can't be as sexy as hell. After being separated by war, Allie and Noah finally reunite in the house they failed to make love in years before. Not only do the pair finally consummate their relationship, but they spend large portions of the film kissing in the rain, leaving most viewers simply dreaming of being swept away by Ryan Gosling. In fact, the chemistry between the lead actors is spectacular, as is Noah's ability to carry Allie all the way upstairs with one hand.
How to recreate at home: While kissing in the rain may seem romantic, relying on the weather can be problematic. Having sex in the shower is the next best thing. Don't want to go from Marilyn Monroe to Marilyn Manson in minutes? Without a behind-the-scenes makeup artist on hand to keep you looking your best, it's a good idea to wear waterproof mascara to stop the streaks. Standing doggy is a position that works well in such a small space, but don't splash water directly into your vagina and make sure that all sex toys, including the best rabbit vibrators which both of you will really enjoy, are fully submersible.
Dirty Dancing
Year: 1987
Starring: Patrick Swayze (Johnny) and Jennifer Grey (Baby)
It's the summer of 1967 and things are going from PG 13 to adults only very quickly at the Catskills resort. Baby's already carried a watermelon, balanced on a wet log, and spent several montage sequences practicing gyrating before her and dance captain Johnny finally spend the night together. With rich kid Baby planning a career in the Peace Corps, and Johnny living each day as it comes as a smoldering dancing escort, this love scene is all about living in the moment, because everything may be different tomorrow. After dancing together with Johnny's favorite vinyl playing in the background, Baby becomes a woman and the rest, as they say, is history.
How to recreate at home: Even if your partner hasn't got the same Swayze hip moves on the dance floor, the right music can still help set the scene to make sex in the bedroom go from fizzle to fabulous by the time you reach the chorus. Spend some time working out a sultry playlist beforehand, or consider using a sex toy, such as the We-Vibe Sync or The Wand by We-Vibe, which can be controlled by an app to vibrate in time to the songs that help you get in the mood. Even if you're going solo, unleash your inner Baby and prioritize your own orgasm. She knows what she wants, takes a risk against all odds, and just goes for it – and so should you.
Pretty Woman
Year: 1990
Starring: Richard Gere (Edward) and Julia Roberts (Vivian)
This modern-day Cinderella story follows working girl Vivian as she's hired by corporate guru Edward to pretend to be his girlfriend for a week of business events. After a faulty start, cue Vivian living out every girl's fantasy with a spending spree on Rodeo Drive, and being wined and dined at the best restaurants. The good news? There's not one, but two, best movie sex scenes that really stand out here. The first is when Vivian finds Edward playing the piano late one night in an empty ballroom. But, the one that really gets pulses racing is when Vivian breaks her "no kissing" rule, and wakes Edward up in bed. The scene finishes with Vivian declaring she loves him. And while the thread of social status throughout the movie makes the viewer realize that their future may not be so clear, at that moment nothing else matters.
How to recreate at home: In a survey by OnBuy's Adult Division, a staggering 65% of people want to try the piano scene out for themselves. One of the reasons this scenario so sexy is how the couple could be caught by a member of staff at any moment. While you need to keep things legal, having sex outside could spice things up for you if you like the idea of this kind of thrill. Want to stay inside? If you don't have a piano, try recreating this on the kitchen counter instead. It's one of the best sex positions for G-Spot stimulation. Plus, never underestimate how much a new outfit can boost your self-esteem, and sex drive, in an instant. So, go on, get shopping!
Top Gun
Year: 1986
Starring: Tom Cruise (Maverick) and Kelly McGillis (Charlie)
This iconic 80s romantic action movie has it all. Not only do the fighter jets going full throttle get blood pumping to all body parts, but throw in US Navy uniforms, Berlin's stirring Take My Breath Away playing on loop, and plenty of semi-naked locker room scenes. Trust us, this flick will leave you truly exhausted with the number of sexual fantasies it includes. But forget Goose, it's the tricky trainer-and-pilot relationship between Maverick and Charlie that really steals the show. The back-and-forth fighting about flying rules between the pair soon becomes less about regulations and more about love. After a row, Maverick storms off on his motorbike, and Charlie follows. They kiss and then comes possibly the most romantic-yet-sexy scene of all time with billowing curtains in the background and Berlin cranked up to the max.
How to recreate at home: One word: uniform. Your partner doesn't have to be a fighter pilot to recreate this one – you can simply buy the costume instead. Dressing up together can help keep the daily grind out of your sex life. Forget about the chores or worries, and be in the moment. And, if you find you love roleplay and sexy films and want to try watching more together, exploring porn for women could be the next best step.
Titanic
Year: 1997
Starring: Leonardo DiCaprio (Jack) and Kate Winslet (Rose)
Another tale of lovers divided by class but, this time, with a sinking cruise liner and huge iceberg thrown into the mix. Despite the cold seas, things on board RMS Titanic are getting steamier by the minute as poor artist Jack takes out a pad and pencil and draws upper-class Rose like one of his French girls. With just a rare diamond necklace covering her modesty, things between the pair culminate in a steamy romp in a car in the cargo hold.
How to recreate at home: Despite the tragic ending to Titanic, the same survey found that a huge 83% of people chose this as one of their best movie sex scenes and 79% want to recreate it. While sex in the car can definitely be a turn-on for some, for others a lack of space can just be annoying. Instead, get the creative juices flowing between you and your partner by stripping naked and drawing each other. Simply staring into each other's eyes can help ignite a connection, and is a great way to start again, especially if you are in a sexless marriage or haven't had sex for a while. Take penetration off the table, and build up slowly, exploring each other's bodies, while holding back for as long as possible.
Ghost
Year: 1990
Starring: Patrick Swayze (Sam) and Demi Moore (Molly)
If you've not seen this hit flick for a while, you may not remember the plot of the classic comedy drama, but you'll certainly remember the pottery scene. This is where a pre-ghost Sam interrupts Molly working with clay late one night at her pottery wheel. With Unchained Melody playing in the background and a phallic-shaped pot spinning violently in front of them, a shirtless Sam is too much for Molly to resist, and the pair soon get clay in parts that are very hard to remove.
How to recreate at home: Don't worry – you don't have to be amazing at pottery to try this best movie sex scene at home. The reason this steamy scenario works so well is that it really focuses on the power of touch, and using all your senses when having sex. Clay can be messy, and pottery wheels are expensive to hire, so why not swap that for some tingling lube instead. Massaging your partner with lube which heats things up, cools things down, or simply tastes good, can be a great way to spice things up. Plus, if there's ever a good example of how to seduce a man easily, then it's with a sexy massage. If he likes it firm, adding in one of the best body wand massagers could be for him.
Mr. & Mrs. Smith
Year: 2005
Starring: Brad Pitt (John) and Angelina Jolie (Jane)
There's makeup sex, and then there's the passionate sex that happens between John and Jane. Stuck in a stale marriage, after hiding their identities as highly trained killers, Jane and John are both ordered to kill each other. After an epic fight scene when they both realize they can't go through with the order, the explosive sex that happens between these warring loved ones is so steamy that it's obvious these Hollywood A-listers were once a real-life couple. It's definitely one of the most believable movie sex scenes we've seen.
How to recreate at home: If a relationship between two of the arguably best looking people in the world can turn stale, then it may feel like there is not much hope for everyone else. But how to have good sex in a long-term relationship doesn't have to involve being assassins and wielding guns. Instead, talking is key. Jane and John have therapy in the film. While it may not work well for them, it can help both partners to open up about sexual anxiety or sexual issues, which could be key to boosting your libido again.
Fifty Shades Darker
Year: 2017
Starring: Jamie Dornan (Christian) and Dakota Johnson (Anastasia)
A sequel to Fifty Shades of Grey is always going to have to up its game when it comes to sex scenes, and this one succeeds in getting full-on dirty by putting old flames Christian and Ana in even more steamy situations. The one that stands out for us is the elevator scene. After a dinner that involves Ana subtly taking off her underwear without the waiter batting an eyelid, the pair step into a packed elevator. Christian then drops to the floor pretending to tie his shoelace while secretly stroking Ana's legs. He then uses his hands to turn her on while they both enjoy the ride.
How to recreate at home: If you love the Fifty Shades series then you may have already tried beginner's bondage, as Christian and Ana's antics boosted sales of sex toys, including blindfolds, wrist cuffs, spanking paddles and riding crops. Experimenting with this kind of powerplay can be great for couples looking to try something different. Just make sure you have a safe word ready and agree to what you are both comfortable with beforehand. Plus, you can definitely use the elevator scene for inspiration when it comes to foreplay and arousing erogenous zones, such as ankles.
Twilight Saga Breaking Dawn - Part One
Year: 2011
Starring: Kristen Stewart (Bella) and Robert Pattison (Edward)
While you might not immediately think a teen favorite like Twilight would include one of the best movie sex scenes, it's worth remembering that Edward and Bella marry in Breaking Dawn – Part One, so things turn up a notch. The pair are on their honeymoon on a private island when they finally consummate their love. But, unfortunately, as Edward is a vampire and Bella a mere mortal, too much excitement in the bedroom could prove fatal for Bella. If her new husband can't fully hold back his vampire super strength, then he may kill her during climax.
How to recreate at home: One way to help strengthen your orgasm is by stopping and starting during lovemaking, a method used in tantric sex. Delaying orgasm, like Edward, by either choosing sex positions that you know won't make you climax quickly can make things more intense. Focus on simply kissing (as Edward and Bella do for the first few films), and see if it can make your sex life more explosive. Going solo? The "edging" technique of slowing down when you feel you might climax can be just as effective with a vibrator.
Indecent Proposal
Year: 1993
Starring: Demi Moore (Diana) and Woody Harrelson (David)
Would you let your wife sleep with a handsome stranger for one million dollars? That's the question David has to ask himself after they meet Gage (Robert Redford) during a trip to Vegas. And, you have to remember, it was a lot more money back then! But, despite (spoiler alert), Diana going through with the dirty deed, the great sex scenes in this movie actually involve the married couple themselves. As, despite being high school sweethearts, Diana and David are still very much in love. In fact, this film shows exactly how to have good sex in a long-term relationship with life before the proposal involving the couple making love on the kitchen floor to the soundtrack of Seal, while David's tossed aside underwear burns on the stove.
How to recreate at home: One of the easiest ways to boost your sex life is to take sex out of the bedroom. Try it in the kitchen, on the stairs, in the study - anywhere a bit different from the norm. Use your imagination to create sex stories and scenarios together that you can act out again and again. Include different decisions to make and alternative endings each time.
Forgetting Sarah Marshall
Year: 2008
Starring: Russell Brand (Aldous) and Kristen Bell (Sarah)
If you've never seen this laugh-out-loud comedy and are wondering how it can feature one of the best movie sex scenes, then trust us – it does. When Peter's (Jason Segel) girlfriend, Sarah, leaves him for rockstar Aldous, Peter hunts the pair down at a luxury resort. While ultra-flexible Aldous and Sarah take part in several adventurous sex scenes during the film, it's when they can hear Peter and his new girlfriend next door that they really turn up the heat and start screaming in fake ecstasy to try to make the other couple jealous.
How to recreate at home: Be honest, how much noise do you make in bed? If you were always used to being quiet during your early sexual encounters, you could still be holding back now. But making more noise could be an easy trick when it comes to knowing how to have an orgasm every time. That's because growling or roaring in bed can increase pleasure by 'waking up' vagus nerve endings in the face, lungs and throat, which could in turn carry sensation to the groin. Let your inhibitions go!
Basic Instinct
Year: 1992
Starring: Sharon Stone (Catherine) and Michael Douglas (Nick)
Even if you haven't seen the whole of this movie before, then you still probably know one of the most famous scenes from it. This is where manipulative Catherine, who is being questioned in relation to the murder of her boyfriend, re-crosses her legs when being interviewed by police officers to reveal she's wearing literally zero underneath. But it's the final sex scene with Nick, a detective tasked with finding evidence (an ice pick), which would confirm Catherine is really guilty, that really sets pulses racing. That's because the pair have been indulging all along in a game of cat and mouse, where Nick simply can't resist the temptation, even though he is aware Catherine has killed before and could easily kill him.
How to recreate at home: Again, this is another movie which plays with control but, what's great here, is that Catherine is always in charge. You can recreate this best movie sex scene at home by trying a sexual position, such as being on top, where you are in control of how fast or slow you want to go. Not only is it great for G-Spot stimulation, but you also have easy access to your clitoris too. Just maybe forget about involving an ice pick!
Body of Evidence
Year: 1992
Starring: Madonna (Rebecca) and Willem Defoe (Frank)
While this sexy, suspense-filled movie came under fire for its plotline and dubious acting, it's hard to deny how steamy it can make you feel when watching. After being accused of killing a man during sex, dominatrix Rebecca starts a sexual affair with her lawyer, Frank. The pair soon get close, with Rebecca tying him to a bed, stripping him and pouring hot wax all over his body.
How to recreate at home: While Rebecca thrives when she's in control in the bedroom before you attempt to recreate a movie sex scenes like this, you need to talk to your partner about what you are both comfortable with doing. Hot wax might seem like a great idea, but not only can it hurt, but it can also ruin your bedsheets. Build up by starting with some beginner's bondage and tying each other up. A blindfold and some ice cubes can be a lot safer if you'd like to try experimenting with pleasure/pain when it comes to temperature play.
Faye M Smith is an award-winning journalist with over 15 years experience in the magazine industry. Her continued work in the area of natural health won her the coveted title of theHealth Food Manufacturers' Association (HFMA) Journalist of the Year Award 2021.
Currently Acting Health Editor across several brands including woman&home, Woman and Woman's Own, Faye specialises in writing about mental health, the menopause, and sex and relationships. In fact, having previously been the go-to sex columnist for Now magazine, there isn't much she won't discuss when it comes to women's health. This makes her the best person to review must-buy sex toys, describe how to have a mind-blowing orgasm or explain how to navigate sex in the shower without it ending in a medical emergency.
While not anti-gym, Faye's fitness routine is more focussed on finding inner balance rather than burning excess calories. An advocate of mindfulness, she loves power breathing, yoga and plenty of walking in nearby woodlands rather than a sweaty HIIT class. Follow her @fayetuned