How to seduce a man you've been with for a long time
How to seduce a man and reignite passion in a long-term relationship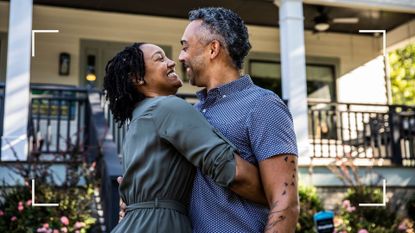 (Image credit: Getty Images)
woman&home newsletter
Sign up to our free daily email for the latest royal and entertainment news, interesting opinion, expert advice on styling and beauty trends, and no-nonsense guides to the health and wellness questions you want answered.
Thank you for signing up to . You will receive a verification email shortly.
There was a problem. Please refresh the page and try again.
Learning how to seduce a man you've been with for a long time is a key part of navigating a long-term relationship. As we age, our libidos change and all the while, life goes on around us. Several factors like stress, the way we sleep, our family life and our health can affect how close we feel to our partners and if your sex life is slowing down, or changing, it can feel daunting and difficult to address.
If this sounds familiar, don't worry. No couple's sex life is ever the same as it was in the early days of a relationship and this isn't necessarily a bad thing. We all go through life changes and usually, this enables us to do things better. To be more adept at intimacy and sex, we have to work at it and of course, this takes time.
The most important thing is to remain confident in yourself and your sexual identity to be open-minded. After all, everyone deserves great sex. We asked sex and intimacy experts for their top tips on how to seduce a partner you've been with for a long time, understanding sexual anxiety and what to consider when trying to turn your sex life around.
How to seduce a man you've been with for a long time
Knowing how to seduce a man you've been with a long time is about changing your mindset, rather than changing yourself or the way you feel about being intimate. You don't have to become an overtly sexual person if that's not who you are—no one is saying you need to get on board with the latest sex trends 2022 or play up to clichés about what men enjoy in the bedroom. Everyone is different and small changes can make a big difference.
"When people ask me how to seduce a man I tell them it's about more than pumping out Barry White and wearing stockings—although those things can help if they're preferences of yours," says Sammi Cole, sex and relationship expert at sexual wellness brand Lovehoney (opens in new tab). "To seduce a man, start by making the thought of sex with you the most appealing thing in the world. When you've been with someone for a long time, that means reminding them of how much you still desire them and what it is about you that they desire."
One of the main sex problems for couples who have been together a long time is mismatched desire. If one person has a higher libido than the other, this can lead to feelings of frustration and inadequacy. Mismatched libido and arousal non-concordance, when you experience a different level of sexual arousal to your partner, is a very common occurrence and there are plenty of ways to overcome it and find new ways to seduce one another and enjoy sex.
"Our libido is a moveable feast and goes through phases in response to our environment," says Sarah Tilley, sex and relationships expert and founder of Beautiful Space (opens in new tab). "From hormones to workload to mothering to illness, our libido can fluctuate in and out of tandem with our partners. Sometimes we match and other times we are completely out of sync. Open communication and asking your partner open questions is very important, like on a scale of one to 10 how high is your libido? How often do you want sex? Swapping penetrative sex for a massage and other ways of intimacy are also all brilliant ways to stay connected."
How to keep the spark in a relationship alive
The sexual experience must be woven through the entire day, explains Lacey Haynes, sex and relationship coach and founder of School of Whole (opens in new tab). "Remember, sex doesn't start in the bedroom. Sex is in the way we connect to our bodies through the day, the way we relate to pleasure, the time we take to feel and connect inwards."
It's very challenging to go from little to no connection in your relationship to feeling hot and heavy when you hit the sheet, she says. "With your partner, it's in taking the time for a truly present hug, touching a hand with total love when you're driving in the car, or pausing to have a totally-connected kiss when you say goodbye."
But remember, it's also about loving yourself and cultivating your feelings of seduction. "What truly makes you feel sexy and lit up? Do more of that," Lacey says. "If you want to have a long bath and wear something sexy, do it. But do it for yourself first and then share this with your partner from a place of having filled your own cup first."
Making an effort to bring a bit of seduction into your every day is a great way to go about seducing a man you've been with for a long time and reminding yourself of how sexy you are too. A woman's sex drive changes throughout her life and so does a man's, but that's no reason to stop feeling sexy and enjoying sex with your partner.
1. Invest in sex toys together
Introducing a sex toy is one of the easiest tricks when it comes to sexual reinvigoration and seduction. Learning the best way to use a vibrator can take your sexual enjoyment to new heights, not least because it can feel great for both of you, but also because the act of watching someone else experience pleasure is in itself a huge turn-on. Watching you tease and flirt using a sex toy can arouse your partner in seconds.
Sex toys can act as useful props, taking the pressure off you and your bodies and giving you both something to focus on. They can also add fun and flavor—for example, you could try acting out some of the best movie sex scenes together or use them as a segway to discuss personal fantasies. Toys can range from anything that provides light sensory experiences—like a blindfold, lube or a tickler—to something more powerful like a wand vibrator or a spanking paddle. Use these tools to explore the erogenous zones you may have been taking for granted and don't feel the need to race to the finish line. Take your time to touch each other and get each other in the mood.
"Using sex toys can be a great way for a woman to seduce her partner," says sexual wellness expert Megwyn White, who works with sex toy brand Satisfyer (opens in new tab). "A toy creates a bridge to new parts of the body. It can also spark a creative connection that allows you both to try out new things."
If you're completely new to sex toys, experiment with different types to find out what you both like. For example, the best rabbit vibrators are often very powerful, so perfect for intense pleasure but aren't always the best toys to use with another person. You might find that a wand vibrator or something with remote control can provide more scope to play and experiment together.
2. Step into your power
"What I believe is that your relationship to sex starts with you first," Lacey says. "Once you understand how you relate to sex—the storylines you've grown up with, the narratives that have been passed down from your family, the experiences you've had in your personal life, etc—you can begin to understand your own journey and do the healing work to come out the other side feeling confident, turned-on and unstoppable. Self-work is the key here."
It's very easy to project onto your partner and make the sexual experience all about them, she says, but sexual desire and being turned on all starts from within. "We need to unpack the shame, heal our bodies, understand the implications of trauma on our sexual desire and ability to be embodied, and embark on this powerful journey of reclaiming our own sexual desire which ultimately has the capacity to not only make you more connected and lit up in the bedroom but across all other facets of life, too."
3. Bring his sexual fantasies to life
If you want to know how to seduce a man, you need to know what turns him on. You might already be aware of your partner's sexual fantasies or you might need to ask him what really gets him going. Ensure you go into this conversation with an open mind and try not to respond from a place of judgment.
Of course, that doesn't mean that you have to do whatever he asks you and you should never do anything you're uncomfortable with or that you don't want to do.
If your partner is reluctant to open up, don't rush them. Any type of pressure or pushy behavior could actually do more harm than good when it comes to seducing your man. "It can take patience to seduce someone," says Megwyn.
"Create a space for communication and if what you're trying doesn't work, then try it a new way the next time. For instance, you might explore reading sex stories or watching porn together, find something that sparks your interest and then decide to play it out."
If you feel this conversation is one-sided, remember to share your fantasies too. Sharing your own could prompt your man to open up and discuss his fantasies with you.
3. Make sex a multi-sensory experience
One of the reasons you may want to know how to seduce a man is because his sex drive has diminished. A great way to revive libido is to focus on your sensory perception. Awakening all his senses, but don't just focus on something obvious, such as wearing sexy lingerie. Instead, really think about your somatic experience and how you relate to each other through touch.
"Great sex should be a multi-sensory experience, so awakening all his senses will really help when it comes to how to seduce a man," says Sammi. "Sure, treat yourself to some lingerie that makes you feel fantastic, but think about all the other senses, too. You could dab on some new perfume or scented body lotion, go for soft lighting, pick out music that helps to get you both in the mood and swap out your usual sheets for something a bit more luxurious. The more senses you can delight, the better."
"Withholding one of the senses, such as blindfolding a partner so he can't see, will actually help activate the others," adds Megwyn. This is also a great exercise in trust and can provide an element of excitement, boosting adrenaline for both of you, getting your hearts pumping and aiding in the process of turning each other on.
4. Take sex out of the bedroom
Knowing how to have good sex when you're in a long-term relationship can be tricky. Often, if the romance has fizzled slightly, many people just ignore it and they may enter—accidentally or on purpose—into a sexless marriage. But that doesn't have to be the case if you don't want it to be. Learning how to seduce a man you've been with for decades is possible, you just need to think outside the box. Sometimes, that can mean stepping outside the bedroom.
"Being familiar with your partner and their body is both a blessing and a curse," says Sammi. "It's sometimes hard to feel like a sex goddess when you're surrounded by reminders of everyday life, and it's the same with our partners." The solution? "Do things outside of your usual comfort zone and do them together. Whether it's as simple as a night away in a different setting, it can be enough to renew the way you see each other."
You can start easy by just taking sex out of the bedroom and suggesting sex in the shower or sex on the sofa. The next step to how to seduce a man you've been with a while could be watching porn for women together, trying out something that inspires you on screen or introducing the idea of having sex outside in a spot where you won't be seen—but still find exhilarating.
5. Use roleplay
Seduction doesn't really go hand in hand with domestic chores and the distractions of daily life. Unless that's your specific kink, home life can get in the way of a steamy sex life. If you want to know how to seduce a man, try playing to both of your fantasies by pretending to be something you're not in your everyday life. Imagination and an open-minded approach to fun can be master seduction tools.
"Lots of couples find roleplay an easy way to switch up their sexual routine. It helps you to see each other in different ways and free your inhibitions," says Sammi. "The great thing about the 'strangers meeting in a bar' roleplay situation is that it can help to recreate that fizz of excitement from when you first met."
If you're keen to give it a try, then do a little homework. Discuss your turn-ons and turn-offs, set the scene and create a space in your house, in a hotel room or at a meeting spot that you both will enjoy. "Determine the story ahead of time and decide how the story will end," recommends Megwyn. This way, you will be in total control of the situation and can communicate your desires as you go.
Roleplay also presents the perfect opportunity to introduce elements you might not usually incorporate. If you're playing at being someone else, or acting as a character, it could be that your character wears something you might not personally wear, or uses toys or accessories that you wouldn't use yourself.
Roleplay can also be a great way to try bondage for beginners or to experiment with different types of sex, different positions or new and exciting sex toys.
6. Learn how to talk dirty
The art of talking dirty takes practice. It's one of those skills that comes naturally to some and for others, feels embarrassing or difficult to tap into. "Talking dirty is a great way to spice things up and a foolproof way to seduce a man," says Megwyn. Not sure where to start? Simply think about the way your partner speaks and then copy it.
"Consider if there are certain sexy words you've heard them say over others," says Sammi. "Chances are, those are the ones that they're most comfortable hearing and saying, so that's a great jumping-off point."
You might also want to try watching or listening to some adult content for inspiration. There are lots of ethical audio and visual porn sites and sex apps that you can dip into for ideas. Or you can try sexting to get things going before you try talking dirty face to face. Remember that you don't have to say anything extreme or tell lies, you can simply take your time, tease your man and tell him what you enjoy, what you like doing to him or what you'd like him to do to you. It doesn't have to be a pressured conversation and you don't have to use any language that you feel uncomfortable with.
"Not only does sexting take away the face-to-face fear, but it gives you time to think about what you want to say or do next," says Sammi. "You could tell them about an X-rated dream you had about them or discuss your role play fantasies in detail from separate rooms in the house."
7. Relax when things don't go right
If you're still not feeling confident about how to seduce a man, that's okay and totally normal. You don't have to get things right the first time, and nothing has to be perfect. In fact, not putting pressure on yourself can help with enjoying the process of tuning into your sexuality and your partner's.
"Firstly, relax," says Sammi. "It's meant to be you and your partner having fun and, if you're nervous, you won't enjoy it as much. Besides, laughter is a great aphrodisiac and a great way to seduce someone."
Being able to laugh together when sex goes wrong, when your dirty talk takes a weird turn or when you feel silly is an important part of growing your intimate relationship. Sex should be fun, intimate and something that the two of you share as partners, not as opponents or strangers, so be yourself and be prepared to laugh and try again if things don't go perfectly.
Next, put down your phone and eliminate other distractions. "One of the sexiest things that you can do is make time for each other," says Sammi. "When was the last time you paid proper attention to each other, without looking at your phones or tuning into other background distractions? Put aside some time, be it an hour, an evening or a weekend, and spend it reconnecting. You'd be surprised what a difference it can make."
8. Make time for sex
Cultivating the right mood and setting for sex can be challenging, especially when you have busy lives but it's essential for the art of seduction. "Be okay with however you feel or whatever is happening," says Lacey Haynes. "Bored and tired? Bring it. Busy and distracted? Bring it. All of this can be fodder for creating a great sex experience."
It might not feel sexy putting a sex date in your calendar, but consider how sexy your partner might find it. Sending an actual invitation to a dinner, a weekend in a hotel or an hour in the bedroom can spark something between you and excite your partner, so don't rule it out.
If you find that you never have time for each other, communicate this and ask the man you're trying to seduce what time he can make for you. Be clear that you want to prioritize his pleasure and your own and see where things go from there.
How to get over embarrassing moments during sex
If your body has changed, your libido is different and it's been a while since you were intimate with your partner, that's not as big a deal as you might think it is. A lot of our limitations are set by our own minds. To feel sexy and seduce a man, we have to step into a confident, sexy mindset.
Sarah says, "Mindfulness is our superpower. Being able to sit with our strong emotions, to acknowledge our truth and accept ourselves anyway. Sitting naked in front of the mirror and looking at yourself in your fullness is a beautiful starting place to reconnect with your inner self and to listen to your inner voice. Allow and surrender to your inner critic, acknowledge whose voice she speaks in, is it your mother, your community, or the era you grew up in, and then move on. There's no time on this earth for anything but self-love."
Once you've worked on your confidence and you feel ready to be intimate and initiate sex with your partner, come armed with the ability to cope with any embarrassment that might ensue. Let's face it, sex can be embarrassing, but that doesn't have to hinder our enjoyment of it.
Lacey says, "Don't be afraid to state the obvious right off the bat: "I know this is embarrassing, hell I feel super awkward about this. I think it's important though for us to talk about our sex life so we can have even better sex and an epic relationship in the long run.
If someone rejects you for your vulnerability, likely they're actually rejecting themselves. We tend to project onto other people and make our fears about them. Know that if you're courageous, open-hearted and take responsibility for yourself, your actions and your sexual story, that's all you can do. You can't control the rest. But you get to decide whether it's worth it to you."
How to think about sex long term
It's important to remember that your partner loves you and even if your sex life is feeling a little lackluster, talking to your partner will always help. If he's shy to talk about sex with you, sex therapy techniques could help you both open up to one another and have an honest discussion about your relationship and sex life.
"Take care of yourself first," says Lacey. "Cultivate your own sexual energy. Become connected to your own body and develop the vocabulary and understanding needed to then share your journey with someone else. If you're in a dry spell, acknowledge what's happening and take steps towards healing this and re-connecting. "
If a chasm has developed in your relationship, you might need to seek additional support like coaching or therapy to navigate it. Maintain daily intimacy, schedule sex, keep the lines of communication open and above all, turn yourself on to life first so that when it comes to sex you're already lit up and connected meaning it's super easy to share this with someone else."
Emilie Lavinia is a writer, entrepreneur and women's wellbeing advocate. She is passionate about femtech, closing the gender health gap and campaigning for education and transparency across mental, physical and sexual health. Emilie presents All Being Well – a series that investigates the concept of wellness, good health according to experts and what it means to 'be well'. She has a decade of experience as a journalist, editor and brand strategist and is the founder of four separate organisations that champion women's health, marginalised communities and LGBTQ+ people.