Sex trends 2022 - discover the hottest new bedroom trends, according to experts
These are the sex trends 2022, from upgraded foreplay to hetroflexibility and outercourse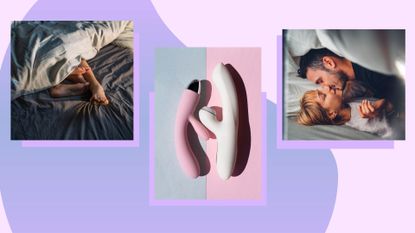 (Image credit: Getty Images/Future)
Sex trends 2022 are only getting spicier as we move through the year, so whether you're looking to try something new with a partner or just find out what's hot, we've called on the experts to reveal the pleasurable ways you could change your love life.
After all, we've seen a lot of changes in the world of sex and dating recently. We went from the regular world of dating to Zoom parties and sexting that was even more socially distanced than normal, back to dating in the real world again in the space of just a few years. The impact is ongoing and new ideas are forming all the time, with new spaces to explore both inside and outside the home.
This year's sex trends are all about the best sex toys and exciting new relationship dynamics, from outercourse to mindful masturbation, sustainable sex toys, new sex positions, and so much more.
Sex trends 2022 - selected by sex and relationships experts
Sex trends 2022 demonstrate a shift in attitude towards being more flexible and open-minded when it comes to our sex lives, says sexologist and psychosexual therapist Kate Moyle (opens in new tab). "We see this reflected in the normalizing of sexual acts, desires, and attitudes which were previously unspoken or hidden," she says. "This open approach to sexual wellness being included and recognized as a part of our overall health and wellbeing should be here to stay, and we should expect it to be the foundation from which all future sex trends are stemming."
Those attitudes are also shifting towards sustainability and building a more sustainable sex life that can withstand issues like relationship burnout and external pressures. "More people are looking to make sustainable changes in every aspect of their dating life for longer-term happiness, and their sexual play is no exception," adds Katie Lasson (opens in new tab), clinical sexologist, and sex and relationship advisor.
1. Heteroflexibility
If the last two years have taught us anything, it's that life is pretty uncertain and subject to change at any time - so why should our sexuality be any different? "The understanding of female desire, female masturbation, and orgasms are growing phenomena," says Moyle, who is also sexual wellness brand LELO (opens in new tab)'s resident sex and relationship expert.
A gradual shift in sexuality isn't much of a trend - it's been happening since the dawn of time - but our understanding of it has definitely been on an upward surge this year. "Our understanding is evolving and it's an important part of a personal relationship with one's own sexuality and pleasure to explore various aspects of your sex life."
This doesn't mean you need to download one of the best lesbian dating apps straight away, but if you identify as mostly straight and occasionally find yourself attracted to the same gender, this is the year to embrace it. "Sexuality exists on a spectrum and while some people believe labels aren't helpful, for others they really can be," she says. "Every heteroflexible person is different, and their experiences may look different. What they do have in common is that they help you to make sense of yourself, which is precious and worth exploring. Be open and be honest with the people you want to explore with about your intentions for the best success."
2. Outercourse
Outercourse, dry humping, whatever you want to call it, had its biggest moment during the pandemic but Moyle says that it's one of the many sex trends that's continued to flourish in 2022.
"Engaging in sexual activity, but without intercourse, means different things to different people," she says. "Some people see it as everything except penetration, others see it as just grinding, a massage, perhaps even mutual masturbation."
While kissing someone with Covid, flu, or just a cold, could very likely lead to passing the virus on, outercourse is presenting itself as a safe sex alternative as it establishes boundaries and encourages better communication for intimacy and pleasure, Moyle says. "Your definition of it depends on your reasons for trying it, and because of this, it may just prove to be the best new sex trend of them all."
2. Sensory sex
In a post-pandemic world, fostering connection both with others and ourselves has proven to be one of the biggest sex trends when it comes to wellness in the last year. "With mindful masturbation and the surge in interest around tantric sex in 2020 and 2021, the next big wellness trend will be sensory sex," says clinical sexologist Megwyn White (opens in new tab).
"It is the act of engaging as many senses as you can to help in heightening sexual pleasure and deepening the intimacy with a chosen partner. From the visual to the auditory to the tactile, by putting the focus on pleasurable sensations throughout the body, sensory sex can help you let go of the pressures that come with an exclusive focus on the genitals."
One way to explore sensory sex is through ASMR for sex or music, which ignites the same parts of the brain as food and sexual pleasure. "This means that when you pair your favorite sensual playlist with sex, it helps your mind and body embrace pleasure," explains White, who is also director of education at Satisfyer (opens in new tab).
"Plus, it's not only the ear that hears. The rest of the body can also detect sounds through 'feeling' them, which is why immersive sound spaces like concerts can feel so intense."
3. Sustainable sex toys
In 2022, most of us have reusable water bottles, coffee cups, and refillable beauty products, and we try to buy from eco-conscious brands where possible, so it's no surprise more people are making sure their best vibrator doesn't have an impact on the environment.
"I'm seeing more of my clients switching to environmentally-friendly versions of their best vibrator or favorite sex toy," says Lasson. "They're looking for sex toys that can be recharged and are made from body-safe environmentally friendly materials."
4. Upgraded foreplay
"With a growing emphasis on female pleasure in recent years and a better understanding of the female body, women have been able to explore their bodies more openly be it solo or with a partner," explains White. "However, what many women experience are feelings of orgasm anxiety. This can be described as anxiety about performance, for example, performance anxiety or anxiety about the need to orgasm, or otherwise anxiety in the build-up to orgasm.
"For most, sexual anxiety can be eased through a better understanding of foreplay, positions like the pretzel sex position that enable closer connection, and learning that sex can allow you to explore more sensitive areas. Focusing on connection and being present is a key element of tantric sex, and the end goal is not to orgasm, but to enjoy the sexual journey, the sensations, and the way it makes us feel mentally, physically, and spiritually."
5. Sex supplements
These days, you can buy a supplement for anything - even your sex life. No matter whether you're dealing with vaginal dryness or low libido, mainstream retailers like Holland & Barratt (opens in new tab) seem to have a supplement to help.
"Libido is a sensitive thing that you can lose quite easily," says White. "Lifestyle changes like getting more sleep, maintaining a healthy diet, exercising regularly, and giving up smoking, can all help boost your libido."
But if you're looking for a shorter-term solution, then maca, ginseng, and fenugreek are all adaptogen foods that may be able to help improve your libido over several weeks, according to research by Jamia Hamdard (opens in new tab).
However, we have to be mindful that no supplement is a magic fix. "There's a growing acknowledgment that what we eat can affect our sexual health," says sexual expert Dominique Karetsos (opens in new tab), CEO of The Healthy Pleasure Group (opens in new tab). "We have to consider our sexual health from the inside out, and no single product is a solution. However, supplements can be one tool in your armory towards your holistic sexual wellness."
6. Anal edging
"Anal sex may not be for everyone, however, this doesn't mean that you have to avoid the pleasures of exploring the anal area together," says White. "The anus has thousands of pleasurable nerves and erogenous zones, and orgasms can be achieved by both women and men. It's always been popular but it's definitely one of the biggest sex trends 2022."
"Stimulating the perineum as a form of 'anal edging' can also create hugely positive sensations. From finger play to rimming, spanking, or using an accessory like a butt plug or anal beads, it's important to broaden our definition of anal sex and anal play so that we don't consider penetration the only pleasurable option."
7. Healthcare and sex
"The pandemic has encouraged more brands to invest in digital healthcare over and above their standard product offerings," says Karetsos. "Many are now offering online healthcare around typically taboo medical topics. Though this is a fantastic step forwards, we're not seeing the same scale and speed in telehealth for our sexual wellness that we're seeing in other areas of our health and wellbeing."
By the start of 2023, the experts say predict that there will be a digital sexual healthcare revolution via subscriptions and discreet online testing. For example, there's already been a huge spike in the number of people testing for sexually transmitted diseases via postal testing than previously.
"This type of femtech and healthcare can appear in many ways though, from speaking to pre-teens about their menstrual cycle to enabling women to deal with their menopause symptoms while maintaining a healthy sex life," she says.
8. Sex brands and menopause
Talking of sex and menopause, many women suffer from vaginal dryness during this period of their life, which can impact their sex life greatly. "Now the menopause is fast becoming less taboo, a glut of brands has begun creating products that attempt to address menopausal symptoms," says Karetsos. "However, there's a lack of explanation around what these products are for and who might need them."
Thankfully there are now some great brands with offerings that are specifically aiming to bring greater understanding to this time in our lives - and how our bedroom routine might change. "This year will see the rise of brands like Gennev (opens in new tab), Tabu (opens in new tab), and Womaness (opens in new tab), that put education surrounding menopause at the forefront of their approach," adds Karetsos.
9. New sex language
Our lexicon is ever-expanding when it comes to sex, as shown in TV shows like this year's reboot of Sex And The City, says Cecile Gasnault (opens in new tab), who has over 10 years of experience in industry marketing and is now brand director of the innovative sex toy company, Smile Makers (opens in new tab). "Language is being used to reshape the way we think about sex, with new expressions to talk about parts of the sexual experience that were previously overlooked."
One such term, explains Gasnault, is 'outercourse' which - as mentioned before - is to talk about foreplay without creating a hierarchy between penetrative sex and all other sexual activity. Then there's 'aftercare', which is the way partners treat each other after sex and how they establish intimacy if that's part of the dynamic. "This shift is very important to equip people to create their own approach to sex by broadening our understanding of all that sex is, whether solo, partnered, physical or non-physical, and giving us more precise words to express what we want," she explains.
10. Normalizing masturbation
We've always been fascinated by masturbation but with two years of almost isolation for millions around the world, it's become an (even hotter) act and many want to improve their techniques like never before. "Masturbation inspiration on the go is one example of this," Gasnault explains. "Some of our most-saved Instagram posts of late have been about new techniques to try during their next pleasure session."
Additionally, it's never been easier to get a little extra help with your masturbation routine. "You can now pick up one of the best bullet vibrators with your groceries, supplements, yoga kit, and face wash," notes Gasnault, referring to how sex toys are now stocked in the likes of Boots, Holland & Barrett, and Planet Organic. "Gone are the days of only having easy access to condoms."
11. Vanilla sex
For some, intimacy is going back-to-basics - and you've got the popularity of Bridgerton to blame for this sex trend. According to research by Salience (opens in new tab), just as the second season of the romantic TV show arrived, online searches for 'missionary' soared by 22 percent. Meanwhile 'physical intimacy' has jumped by 1,940% and 150% more of us have looked up 'sexual intimacy' in recent months.
"There's nothing wrong with vanilla, it's a great flavor that goes with pretty much anything and loads of people love it," says Rachel Walker (opens in new tab), sex and relationship expert, and sexual health community development worker at sexual health charity Body Positive (opens in new tab). "Some people might like a special topping, or extra flavor, or a sprinkle of kink, and that's ok too. The most important thing we can bring to the table is communication. Let's see more people getting what they enjoy, and fewer people putting up with experiences they don't enjoy by making space for our partners to safely discuss what turns them on, and what they prefer to avoid so that everyone can relish each moment together no matter how spicy, or vanilla, things get."
With five years of experience working across print and digital publications, Stacey is a journalist who specializes in writing about the latest developments in health and wellbeing. She has also previously written for Women's Health, Get The Gloss, Fit & Well, Stylist, and Natural Health magazine, covering current health trends and interviewing leading figures in the wellness space.
When she's not talking to health experts, you can probably find her hiking somewhere in the Welsh countryside or near the coast. Her favorite two ways to switch off are a Pilates class and a glass of wine with a home-cooked meal.