11 of the best lesbian dating apps for queer women and non-binary people
There are so many lesbian dating apps out there, these are our favorite ones and how to get the most out of using them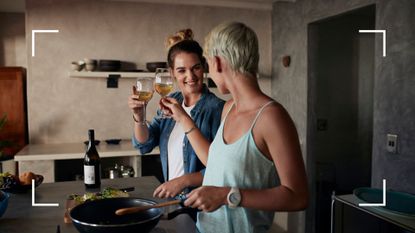 (Image credit: Getty Images)
Being on one of the best lesbian dating apps as a woman who identifies as part of the LGBTQ+ community isn't essential, but it certainly helps when it comes to meeting new people.
While it's still completely possible to meet a potential partner the old-fashioned way, like at a bar, work, or through a mutual friend, why wouldn't you open up the dating pool a little wider if you could? The queer community is ever-growing and diverse, so no matter where you are in the world, you're all the more likely to meet someone you fancy. That could be for just a date or something that grows into a long-term connection.
When it comes to lesbian dating apps, and just the best dating apps for relationships generally, it can be a bit of a jungle. Catfishing is prevalent, unicorn hunters abound, and some people will really just be looking for no-strings sex apps. But one should dare to hope and know that love, friendship, and the perfect combination of chemistry and romance can be found online if you know where to look. Here, we take a look at the top lesbian dating apps and ask the experts for advice on making the first move.
The best lesbian dating apps for queer women and non-binary people
1. HER
The best for LGBTQ+ women-only dating
Specifications
Initial Cost: Free
Additional Extras: Premium 1 Month $14.99, 6 Months $59.99, 12 Months: starting at $89.99
Reasons to buy
+
24/7 moderators
+
An inclusive pool of queer users
+
A queer founding team
Reasons to avoid
-
Hides who has liked you
-
Pushes users to go premium
Her is one of the most well-known lesbian dating apps. It's half dating app, half a social network, although this does sometimes make it a little confusing to know who's sliding into your DMs for friendship and who's looking for more. Then again, if you're a woman who dates women, you'll no doubt be familiar with the mix of camaraderie, mutual appreciation, situationships, and friendships that blossom when women who are attracted to one another connect.
2. Hinge
The best for finding a relationship
Specifications
Initial Cost : Free
Additional Extras : Premium 1 Month $29.99, 3 months $19.99 monthly, 6 months $14.99 monthly
Reasons to buy
+
Great functionality
+
Wide pool of active users
+
Verification technology
Reasons to avoid
-
Centred around finding a traditional relationship, which might not be for everyone
Hinge describes itself as the app that's "designed to be deleted". It prides itself on facilitating lasting matches and takes a thoughtful approach to match users with a mix of algorithmic swiping and personal prompts. Obviously, it can be used for more casual experiences. But, if you're just looking to try out some of the best lesbian sex positions and nothing more, it's worth being upfront if Hinge is your tool of choice
3. Zoe
The best for active lesbian users
Specifications
Initial Cost : Free
Additional Extras: Premium starts as $6.99
Reasons to buy
+
Verification
+
A large engaged pool of 4+ million users
Reasons to avoid
-
Not especially broad as it's just for lesbians
Zoe was voted the best LGBTQ+ app in recent years and it's easy to see why. It's simple, easy to use, and does the job. There's no specific gimmick or goal when using this app, it's just a dating app for lesbians with a swipe-to-match functionality. If you're a woman who dates women, this app is a great entry point to the world of online dating.
4. Bumble
The best for unique user experience
Specifications
Initial Cost : Free
Additional Extras: Boost visibility feature $8.99 a month, Premium $17.99 a month
Reasons to buy
+
Large pool of verified users
+
Free friendship and business modes available
+
Online events
+
Female founder
+
An engaged digital community
Reasons to avoid
-
Lots of people seeking threesomes
-
24 hours to make the first move before your match times out and disappears
Bumble is the original female-focused app. However, these days you might find more couples "looking for a third" or curious women switching their preference from men to women than meaningful LGBTQ+ connections. With that said, Bumble is an industry leader for a reason and the smooth functionality, BFF, and Biz options, along with the sheer number of active users worldwide, make it worth downloading for a look around. With this app, women make the first move, but if you both identify as such, it's anyone's game.
5. Victoria
The best for finding friendship
Specifications
Initial Cost: $75.99 a month, $174.99 for three months
Additional Extras:
Reasons to buy
+
Creative community events and experiences
+
Luxury focus
Reasons to avoid
-
Expensive
-
Unclear what the value is until you're in and start matching
Similar to Bumble, Victoria offers networking and friendship opportunities but also acts as a conduit for romantic connections. It's described as an app for creatives, dreamers, and entrepreneurs and is essentially a high-minded members club for "premium" people, providing opportunities for days out and hosted events.
6. Lex
The best for romantics and creative types
Specifications
Initial Cost: Free
Additional Extras:
Reasons to buy
+
Unique
+
It doesn't follow trends or align with modern dating app culture
Reasons to avoid
-
It's niche and specific
-
Doesn't allow for public image sharing
Lex, an app for the queer community, is lonely hearts meets Tumblr. No images, just small text-based messages on a noticeboard that displays posts based on your age range and location preferences. It's beautifully simple, nostalgic, and romantic, but if you prefer the quick-swipe, image-based style of matching, this may not be one for you.
7. Taimi
The best for getting what you signed up for
Specifications
Initial Costs: Free
Additional Extras: Subscriptions start at $2.99
Reasons to buy
+
Very inclusive and mindful of the LGBTQ+ spectrum
+
Detailed prompts
Reasons to avoid
-
The newsfeed and live streams can throw up things you might not be that interested in and might put some users off as this app is also a social network
Taimi boasts a very detailed onboarding process that's inclusive if a little long-winded. Choose your pronouns, whether you're looking for a woman, someone who's non-binary or gender fluid, a trans woman, a trans man, or someone else. List your interests, your personality traits, and then go. There's an in-app newsfeed and option to live stream so it's basically Facebook meets Tinder for the whole LGBTQ+ community.
8. Pure
The best for flings and fun
Specifications
Initial Cost : Free
Additional Extras : Weekly Membership $14.99, Monthly Membership $29.99, Compliment $1.99
Reasons to buy
+
Anonymity is protected
+
Screenshots are disabled
+
Chats self-destruct
Reasons to avoid
-
App pushes users to go premium for more features
Want to polish up your flirting and learn how to sext, try something new, or get out of your comfort zone? Pure could be for you. It's a creatively styled hookup app populated by people looking for fun, so you'll find many more shades than gray here. Users are upfront about what they're looking for, which could be anything from someone to explore bondage for beginners with to a BDSM partner, and you post "ads" instead of profiles. Download and use it with an open mind and clearly defined personal boundaries. Casual sex is as healthy and normal as female masturbation, even if in the past we've been exposed to a lot of shame around it. This app celebrates sex positivity, consent, and personal choice in a refreshing way.
9. Bare
The best for body positivity
Specifications
Initial Costs: Free
Additional Extras : Premium features available starting from $14.99
Reasons to buy
+
Sex-positive community and associated digital content
+
A female founder
+
Games
+
Verified profiles
+
Photo-blurring technology
Reasons to avoid
-
The app is still being finessed and hasn't officially launched so can sometimes feature tech bugs
BARE is a new LGBTQ-inclusive app that focuses on body positivity and consent. It doesn't shy away from the sexier elements of online dating and encourages games and safe photo sharing—ideal if that's one of the sexual fantasies playing on your mind. The tagline is "dating for the open-minded" so there's no particular impetus on hookups or relationships. The aim is to have fun and not take things too seriously.
10. Skirt Club
The best app for hookups and exploration
Reasons to buy
+
Access to a network of sex-positive women and events in major cities
Reasons to avoid
-
Small pool of users many of whom are just experimenting or don't identify as LGBTQ+
Skirt Club is technically a membership club for bisexual and curious women, but it also has an app. The app features groups, connections, and a private chat function where women can flirt and be themselves. So while this isn't a dating app and can be used for friendship and networking, Skirt's women-only parties are infamous for romance, hookups, and exploration and the app provides an online space for these things too. The only drawback? This community is more focused on lifestyle, kink, and curiosity. It could be a great opportunity to play out the sex stories in your head or find someone to try the best sex positions with, but not a go-to if you're looking to fall in love and find "the one".
11. Find Femmes
The best for a tailored experience
Specifications
Initial Cost: Free
Additional Extras: Upgrade options available
Reasons to buy
+
Access to the magazine
+
Matchmaking service
+
A social media community of like-minded women
+
A global pool of users
Reasons to avoid
-
Specificity of membership requirements
A dating site and community specifically for feminine-identifying LGBTQ+ women more commonly referred to as "femmes". A recently launched extension of Find Femmes, The Femme Edition, is an online publication for and by the femme community, that also features a bespoke Matchmaking Service for those serious about looking for their perfect match.
Married LGBTQ+ influencers Whitney and Megan Bacon-Evans, known to their fans as Wegan, found love online before going on to co-found the app. "We co-founded our dating site Find Femmes in 2015 in response to our followers asking how to find love, because as a femme you tend to slip under the radar. Femme visibility has certainly grown over the last few years, which is great to see and we're honored our platforms can help girls and women realize they can be feminine and gay; something a lot of them struggle with reconciling."
How to find the best lesbian dating apps for you
Find the purpose of the app: "Different apps have different vibes," explains Madison McCullough, a queer psychotherapist and clinical supervisor. "If you've determined, for example, that you're looking for a long-term partnership, stay away from apps that are more geared toward casual dating. There are lots of places online where you can read reviews (like above) and get a better sense of which might be the best fit for you."
Focus on your interests: There are plenty of different dating apps out there, so the choice can be a little overwhelming. "There are niche dating apps catering to people with all sorts of interests and identities, from fitness fanatics to self-identified geeks," she says. Think about what you're interested in and find an app that corresponds with that.
Explore different types of apps: It's tempting to just go for the best lesbian dating apps, but many of the top dating apps out there are increasingly LGBTQ+ friendly, says McCullough. "They have a better chance at connecting you to someone with whom you're very compatible. While there are great LGBTQ+ dating apps, they don't have to be your only route to finding a partner via the online dating world."
Don't rely on just one app: It may take some time before you find the app that works for you so don't give up if you've just tried one or two. As McCullough says, there are so many choices out there and you may have just not found the one with the functionality, interface, or audience that works best for you.
How to stay safe while using dating apps
Looking out for your own physical and emotional well-being is critical when it comes to online dating. The process can seem dehumanizing and reductive at times, so be sure to check in with yourself and remember you're so much more than a selection of photos and a few lines of text. Making snap judgments about other people is something we all do, but apps encourage a culture of quick decision-making.
It's fine to take your time and to remind those you're matching with to take their time, too. Don't allow anyone to pressure you to meet, send photos, sext, or do anything you don't feel comfortable with. They don't control you, and you can close the app and put the phone down at any time. No one has the right to make you feel pressured or disposable.
It's also worth checking whether the person you've matched with is verified. This means they'll have provided identification when making their account, so they are who they say they are. Catfishing is a huge issue in the lesbian dating world, with many people using fake photos and pretending to be someone else to match with and speak to LGBTQ+ women.
Always look for verification and authentic images but be respectful of those who might not be "out" and therefore might prefer to share a photo of their face in a private chat, rather than on a public profile.
What's it like for an LGBTQ+ woman using apps?
Using LGBTQ+ dating apps will open up your dating pool significantly, as everyone you match with, speak to, or generally interact with on the app could be a potential partner.
"I love and loathe being a woman seeking women on dating apps," says Gen, 46, an app user from Sussex. "I love it because it feels impossible to meet women in real life being a femme. Queer women assume I'm straight and the line between flirting and being friendly is too thin for most women to notice when I'm hitting on them. Meeting via a dating app allows a gay baseline to be set. We know the other is flirting, not being friendly, and it's easier to convert the interaction into a date. It feels unromantic to pitch it as efficient, but it really is."
The best lesbian dating apps can also help LGBTQ+ people to discover a new part of the community, says Amy Ashenden of LGBTQ+ youth charity Just Like Us. "As lesbians, we have a lack of community spaces, funding, and low visibility in the media. It is hard to find and connect with other people like you," she says. "Pre-Covid, lots of gay spaces catered for men and were not very trans or lesbian-inclusive. Lesbians are at the intersection of sexism and homophobia. You're not meeting your gender expectations because you're attracted to women. You have a double pile of things to navigate."
Apps and other forms of media (like some of the best LGBTQ+ podcasts) created specifically to combat the issues that LGBTQ+ women face are out there, and they're easy to use. But whether you're seeking a relationship, a hookup, a regular playmate, or something else, it's important to familiarize yourself with the rules and community standards of the app you're about to use and set your own boundaries before you dive in.
Dating tips from the experts
Be clear about what you're looking for: "People go on dating apps looking for all different kinds of things, from casual hookups to monogamous marriage. There is no wrong thing to be searching for on a dating app, it's just important to know what you're searching for so you can lead with that and communicate it to potential partners," says McCullough.
Write a profile that mirrors what you're looking for: Think about what you want to convey about yourself on your dating profile. If you're looking for a meaningful relationship, make sure you use the space to tell others about yourself. If you're just looking for something fun, a lighthearted profile may be better.
Don't be shy about messaging first: Connections can't be made if one of you isn't brave enough to make the first move, so dive in when you see someone you like. It's not a guarantee of a date but it's a good introduction. And your message should convey something you like about their profile, rather than a standard 'Hi' introduction.
Be honest about your experience: "Don't be afraid to be honest about your experience or lack thereof," says McCullough. "Your coming out journey is valid and uniquely yours, and any potential partner should understand and respect that. If they don't, then being honest with them early on has helped you weed someone out who wasn't a good fit."
Sign up to our free daily email for the latest royal and entertainment news, interesting opinion, expert advice on styling and beauty trends, and no-nonsense guides to the health and wellness questions you want answered.
Emilie Lavinia is a writer, entrepreneur and women's wellbeing advocate. She is passionate about femtech, closing the gender health gap and campaigning for education and transparency across mental, physical and sexual health. Emilie presents All Being Well – a series that investigates the concept of wellness, good health according to experts and what it means to 'be well'. She has a decade of experience as a journalist, editor and brand strategist and is the founder of four separate organisations that champion women's health, marginalised communities and LGBTQ+ people.