Why sex stories are such a turn on for women, where to read erotic fiction online, and how to write your own
Sex stories are more popular than ever right now. Here's everything you need to know...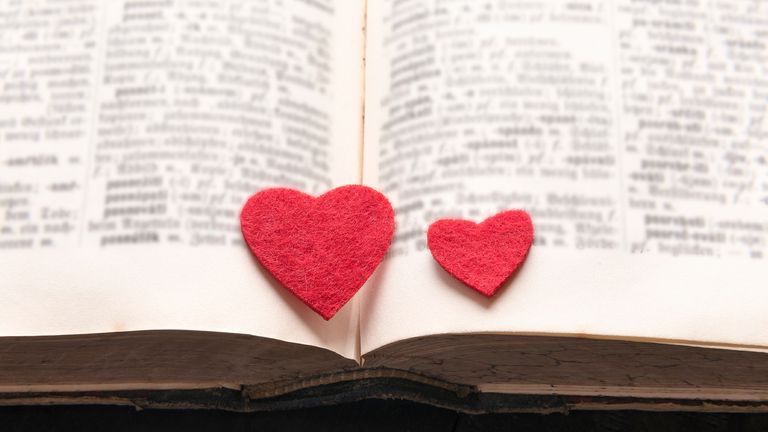 (Image credit: Getty Images / Daniela Simona Temneanu / EyeEm)
Enjoy reading sex stories, or would you like to try erotic fiction to spice up your relationship? You're not the only one. Here's everything you need to know about reading erotic fiction and even how you can start writing your own sex stories.
Anyone who has read erotic fiction will know exciting sex stories can really spice things up in the bedroom. They can inspire you to explore a new fantasy and introduce new types of sex play to your partner, whether that be as simple as adding your best vibrator for mutual masturbation or trying bondage for beginners to make things even steamier.
If you've always been a little shy about reading sex stories, you might be surprised to know they're actually incredibly popular and often outsell other fiction staples.
"Erotic fiction has never been more popular," says erotic fiction author Jessica Leoni, sex and relationship expert with dating site IllicitEncounters.com. "Romance publisher Mills & Boon reports that erotic fiction outsells sci-fi, mystery, and literary novels, with a readership that is 84% female."
It's no surprise the idea of reading sex stories has piqued your interest. To help you explore all the best erotic fiction out there and even write your own steamy scenes, Jessica shares everything you need to know about sex stories.
What are sex stories?
Sex stories are also known as erotic fiction, erotica, or adult fiction.
"Erotic fiction is stories written about the development of a romantic relationship through sexual interaction," says Jessica. "The sex is an inherent part of the story, character growth, and relationship development, and couldn't be removed without damaging the storyline."
While porn for women can be incredibly empowering and make you feel good, erotic fiction shouldn't be confused with porn. Sex stories may still inspire you to try out some of the best sex positions, but there is often more to the storyline in erotic fiction.
"Erotic fiction is different from porn which are stories or scenes written for the sole purpose of sexual gratification," says Jessica. "Plot, character development, and romance are not primary to the stories often portrayed in porn."
"While sex does play a key role in erotica, the sex itself is secondary to the development of the characters and plot," says Jessica. "A good erotica writer knows that, no matter how great the sex is, there still needs to be a good, solid story if one wants to hold a reader's interest."
Why are sex stories such a turn on for women?
Feel yourself getting hot and steamy when reading (or even thinking) about sex stories? Then you're perfectly normal. Erotica has been scientifically proven to increase women's sex drive.
"According to a scientific study by researcher Harold Leitenberg of The Journal of Sex Research, women who read romance or erotic novels have 74% more sex with their partners than those who don't," says Jessica.
"This, Dr. Leitenberg says, is because women fantasize more frequently and have more intense and realistic sexual fantasies when they read suggestive content," explains Jessica. "He concludes that not only were women readers having more sex, but they were also having better sex because they and their partners were more adventurous and playful."
Sex stories can also help women experiment with female masturbation and find out what turns them on and off, discovering what they might like to role-play with a partner.
Why sex stories are a great way to empower women
Worried about gender equality in sex stories? While it's not quite equal yet, there is the potential to be in the near future.
"When most people think of erotic literature today, the first thing that likely springs to mind is Fifty Shades of Grey (FSOG), a series that has been criticized for its depiction of the main female character Anastasia Steele," says Jessica. "While FSOG has certainly encouraged conversation about sex, kink (BDSM and bondage), and sexuality, the image it presents – of a shy, 'fragile' woman who must meet a dominating, unstable, and more sexually experienced man – is ultimately not empowering."
But it won't be that way forever. "That said, it's clear that women can be – and are – empowered by erotic literature," says Jessica. "In polls, high percentages of women report feeling sexually empowered by reading erotica."
"In fact, there are lots of erotic books that can be quite sexy and sexual without demeaning women and can even empower women. You need to look for books with a central female character who is both sexually active and in charge of her own life and desires."
Where's safe to read sex stories online?
You may think finding a steamy read will be hard – and that you'll end up with porn ads popping up on your computer for weeks afterward. But, rest assured, it's a lot easier to find good quality sex stories than you think.
"Accessing erotic fiction is easy – there are so many fantastic books for you to enjoy," says Jessica. "Amazon is as good a place to start as anywhere. It has a fantastic erotic fiction section with most of the best writers featured."
Just like when reading standard books, you should go back for more once you find an author you enjoy. "The key to enjoyment is finding an author you like and then going through their back catalog," says Jessica. "Most good erotic authors have dozens of titles to their names because erotic novels tend to be shorter than conventional novels. Once you find a writer you like, they should lead you to others who write in a similar way."
Still not sure what to look for? "You can pick up new recommendations through reading reviews which often highlight other writers who explore similar themes," says Jessica. "Plus, adult sites such as Lovehoney have a good range of erotic books and feature best-selling erotic authors, such as Annabelle Knight, who has a loyal readership."
Do you have to pay to read sex stories?
The good news is, if you don't want to part with your cash to read sex stories, then you don't have to.
"There's a lot of excellent free erotic fiction online. Sites such as Inkitt.com have dozens of free stories. It will enable you to dip your toe into the erotic fiction water and decide if it is for you," says Jessica.
And if you want to pay for more, then you shouldn't feel ashamed or dirty. "Erotic fiction is like most things you enjoy: you get what you pay for," says Jessica. "The best writers protect their work and charge for their books to be read online. All good book shops have erotic fiction sections featuring the best authors."
How sex stories can spice up your love life
Sex stories can do more than just turn you on, they can turn your partner on, too. From helping introduce new types of play into the bedroom to providing the opportunity to try out some of the best sex scenes, here's how to seduce a partner you've been with for a long time and let sex stories spice up your love life:
1. Enjoying it together
"Reading sex stories aloud can be a great way of talking 'dirty' without actually having to come up with your own text. Select a page, paragraph, or sequence within a book that resonates with you, place a bookmark on that page, and keep it on your bedside table. The next time you and your other half are about to hop into bed, ask them if you can read them an X-rated excerpt from the book you've got on the go. You might be surprised at how interested they'll be. Just remember to take it seriously and leave the giggling aside."
2. Getting in the mood
"For women, the excitement and readiness for sex don't always happen instantly. Reading erotic fiction is a great way to get in the mood. It turns your mind and body on, which is great for foreplay."
3. Introducing you to the world of sex toys
"It's no coincidence that sales of sex toys have drastically increased along with the popularity of Fifty Shades of Grey, and adult sites such as Lovehoney have developed a range of official products with the trilogy's author E L James. Erotica opens up people's minds to all the toys that are out there and introduces readers to new ideas when it comes to sex."
4. Encouraging experimentation
"By reading erotic fiction, you not only get new ideas, but these ideas become normalized and comfortable. It's as if you've gone through the experience already through reading, so turning an idea into reality no longer seems so out of the box or embarrassing."
How to write your own erotic fiction
Want to unleash your inner sex writer? We don't blame you. "The best sex stories are rooted in fact, so if you're thinking of trying your hand at erotic fiction, it is worth revisiting some of the most exciting sexual encounters you have enjoyed in your life," says Jessica.
Worried, the only exciting thing that happens with your partner is finding a parking space close to the shops? Don't worry. "These can obviously be tweaked to add more spice when you are writing them down," says Jessica. "And by all means, explore your own fantasies – if these fantasies turn you on, such as sex in the shower or sex outside, chances are they will appeal to other women, too."
Jessica's top tips for writing your own steamy sex stories include:
Respect the reader
"You want to move people between the ears as much as between the legs. That means applying the same attention and regard to writing about sex as you anything else you would write. Assume that the reader wants something more than just a vehicle for jerking off. That means character development, a good plot, and great dialogue."
Avoid cliches
"Don't say that he pounded her like a jackhammer or that she lay back, spent. Tell the reader something they have never heard before."
Less is more
"Don't overdo the adjectives and flowery language. The emotional dynamics of the lead characters are as important as the sex."
Read and read again
"Focus on the very best erotic fiction that you enjoy and adopt the very best practices that these writers use."
Keep it real
"If all the sex is "mind-blowing" and "blows the socks off" the main protagonists, the reader will soon get tired of the characters and the plot development."
Faye M Smith is an award-winning journalist with over 15 years experience in the magazine industry. Her continued work in the area of natural health won her the coveted title of theHealth Food Manufacturers' Association (HFMA) Journalist of the Year Award 2021.
Currently Acting Health Editor across several brands including woman&home, Woman and Woman's Own, Faye specialises in writing about mental health, the menopause, and sex and relationships. In fact, having previously been the go-to sex columnist for Now magazine, there isn't much she won't discuss when it comes to women's health. This makes her the best person to review must-buy sex toys, describe how to have a mind-blowing orgasm or explain how to navigate sex in the shower without it ending in a medical emergency.
While not anti-gym, Faye's fitness routine is more focussed on finding inner balance rather than burning excess calories. An advocate of mindfulness, she loves power breathing, yoga and plenty of walking in nearby woodlands rather than a sweaty HIIT class. Follow her @fayetuned