The rise of femtech is so important for women's health—these are the best apps to try
Femtech is on the rise, but what is it? And how is it helping women's health?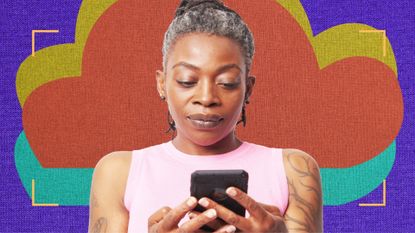 (Image credit: Future/Getty Images)
More than ever, people are engaging in digital conversations about their health and seeking out support and resources online. This year has seen over 11 million monthly searches related to intimate wellness and femtech (also known as female technology) companies have been there to answer the call.
Tech created by women and for women is revolutionizing the global approach to healthcare and more apps, services, and interventions are appearing every day, thanks not only to consumer demand but also to the attention of funding organizations and celebrity endorsements. Femtech, the term attributed to technology geared specifically towards women, is not a niche industry and these days, the word means so much more than a few companies working to create the best vibrators and breast pumps. With platforms that provide support on women's issues ranging from fertility, periods and menopause, to nutrition, sex, and finance through a female lens.
What is femtech and why is it so important for women's health?
Why you can trust Woman & Home Our expert reviewers spend hours testing and comparing products and services so you can choose the best for you. Find out more about how we test.
Female technology has been developed to make women's lives a little bit easier. Femtech covers every aspect of women's lives, from relationships and sex apps to menopause and period tracking apps, to platforms that explore motherhood, upskilling at work, and physical and mental resilience. But it's the tech that focuses on healthcare that has the potential to create the most significant impact for women.
Health apps, devices, and services stand to reduce healthcare costs, broaden access, provide bespoke treatment programs, improve standards of care and improve educational value for huge sections of society. This is because, unlike existing healthcare systems and services, femtech acknowledges that the way care is delivered may unconsciously disadvantage some groups and it seeks to change this from the foundations upwards.
Femtech is beginning to offer services and solutions that the doctor's office doesn't—be that anonymity, direct access to experts and second opinions, and respect for busy schedules. For those juggling domestic loads and shift work, there's little time to schedule in-person healthcare appointments and in addition to these obstacles, long waitlists and healthcare bias and discrimination make it even harder to be seen and to receive appropriate care.
The issue of bias is particularly problematic. According to experts at myGP (opens in new tab) there are massive racial disparities in pregnancy-related deaths, with statistics showing overwhelmingly that black women are more likely to die during pregnancy than white women. Research (opens in new tab) also found that black patients are more likely to wait longer for a primary doctor's appointment and are less likely to be offered pain relief. A report by BMJ (opens in new tab) shows that rural living, distance, and transport issues can also dramatically affect access to healthcare and of course, these challenges become even greater for disabled women and women who are caregivers. But there's hope—the tremendous growth of femtech provides many opportunities not just for individuals to use apps, but for health tech providers to work directly with communities and marginalized groups to reduce health disparities and provide unbiased care.
The rise of Femtech is a big win for feminism
The phrase "women are not just small men" coined by medical and femtech experts Nieca Goldberg and Stacy Sims, describes the problem with attributing exactly the same healthcare research, provisions, and resources to both men and women, despite the male and female bodies being different in many ways. Women's experiences with healthcare providers can often be upsetting, their pain might be dismissed and their complaints passed off as "women's issues"—of which there is little understanding in certain medical communities. Misogyny and medical gaslighting, health discrimination, racism, and wealth inequality make it very difficult for some women to receive adequate care or to put their trust in healthcare systems. Femtech offers women an alternative on their terms.
Femtech is beginning to offer healthcare provisions tailored to and made for women's bodies and these solutions are becoming increasingly popular with users, and with investors. In 2016, Sarah Bolt, the founder of femtech platform Forth (opens in new tab), was told by angel investors that a market didn't exist for the service she envisioned (an home health check for women). Five years later, the company had succeeded in doubling its revenue and is now closing a third investment round. Proof that wherever women face challenges, there's a need and a market for solutions.
"Women are traditionally homemakers and the center of family life," says Dr Jess Braid, Co-Founder of digital health platform Adio, highlighting the importance of accessible health support for women. "As a founding team of two sisters who work together and spend a lot of family time together, we know what it's like to have to balance work and health with a busy family. Many of us have now learned that we can find some support from home."
Most femtech solutions exist online or as apps to make access as flexible as possible and anonymous data is used in research studies to ensure that, when it comes to providing a health product, the issues of misogyny, discrimination, and medical gaslighting are removed from the equation.
Best femtech apps for better health
---
It's clear that femtech apps and platforms offering healthcare resources need to be primarily accessible, safe, and culturally responsive in order to make a difference. So who's getting it right and what are the best femtech apps really impacting women's health positively? We spoke with femtech experts, creators, and users to establish a list of the best health apps and services available for improved wellbeing.
1. Tia
Best app for holistic health
Specifications
Cost: $15/£11 monthly or $150/£110 annually
iOS or Android: Both and online
Area of healthcare: Mental health and intimate health
Reasons to buy
+
Tailored diagnoses
+
Holistic approach to health
+
Covers mental and physical health
New York-based startup Tia (opens in new tab) is a platform offering both brick-and-mortar services and virtual women's health tools ranging from OB/GYN appointments to mental health services. It describes itself as your one-stop shop for gynecology, primary care, mental health and acupuncture. The idea is that you can find diagnoses and treatment for the likes of PMS, a sore vagina, sleep issues like insomnia, and menopause symptoms all in one place.
Co-founder Carolyn Witte created Tia after her own experiences with the US healthcare system left her struggling for years to receive a PCOS diagnosis. "I went through a three-year-long polycystic ovary syndrome diagnosis," says Witte. "It's one of those classic issues that gets stuck between the cracks of the healthcare system. It was through this difficult diagnosis process that I experienced three big pain points that we seek to solve at Tia." These three main points are fragmentation, a lack of personalization, and the focus on care versus prevention. Tia offers a digital health record in the palm of your hand, access to specialists who take a holistic approach, a booking platform for appointments, unlimited messaging, and tailored treatments.
Users pay for a membership to use the platform. If topical diagnosis and treatment for women's health issues that range from mental health to painful periods is something you're willing to pay for, this platform can be incredibly helpful. However, in-person appointments are charged separately. Tia does accept health insurance.
Members can log in using any device to interact with Tia's services and the dedicated Tia app offers cycle and symptom tracking. The brand also offers community events and online advice and stories which can be found on the website and on Medium.
2. Clue
Best period tracking app
Specifications
Cost: $10.98/£8.08 for one month and $32.98/£24.46 for 12 months
iOS or Android: Both and online
Area of healthcare: Periods and menstrual health
Reasons to buy
+
Free
+
Affordable upgrade
+
Free Encyclopaedia
+
iOS app syncing
Ida Tin, the founder of Clue (opens in new tab), coined the term "femtech" when the Clue menstrual tracker was launched in 2012. Clue has gone on to become one of the most famous femtech apps, creating healthcare interventions using leading research that goes beyond what's currently available. The brand has even created its own contraceptive app (opens in new tab), approved by the FDA and available in the US. Today, the Clue app is used by over 12 million monthly users in over 190 countries and the Clue community has access to educational resources via the Encyclopaedia to improve cycle and self-care knowledge across the board.
The app is pretty great as long as you enter your information regularly. It makes period, PMS, and fertile window predictions based on the most up-to-date science. You can see all your tracked data in the Calendar and an overview in the Analysis section. You can link to the Health app on your iPhone and set up reminders. The app is free but for all the special features, it's Clue Plus you'll be paying for.
"The interest in bodily autonomy and cycle tracking has stemmed from the expansion of our knowledge about how periods and cycles impact the body, so I think that the current 'trend' of cycle tracking will simply become a part of our day-to-day lives as time goes on. Understanding the unique rhythm of our bodies will be normal!" says the company's founder. "At Clue our goal is to have a product that is so great that people are willing to pay for it in an up-front transaction, rather than through the back door, with their data."
3. Adio
Best all-round healthcare app
Specifications
Cost: Essential $6.87/£5.05 per month One Health $13.75/£10.11 per month
IOS or Android: Only online
Area of healthcare: General health
Reasons to buy
+
Holistic approach to health
+
Large bank of resources
+
Affordable options
+
Prevention focused
Adio is a general health app offering the flexibility to connect as much or as little as you want to. A bank of health information and advice in formats like webinars, courses, audio, activity classes, articles, and group support, Adio was founded by Dr Jess Braid and Dr Xandra Middleton and offers new approaches to learning about health, our surroundings, and treating complaints. The platform offers a comprehensive look at health, with resources dedicated to mental, physical, and emotional health and nutrition, and diet. These areas are split into sub-sections covering the likes of hormones and sexual health and immunity and infection. "There is evidence that the education of women changes a community and the environment more effectively than many other interventions. As successful women, we want to empower other women and help them to feel and heal better and take that into the world around them," says Dr Jess Braid.
You can upgrade to Adio One Health at $13.75/£10.11 per month or wait for the family subscription to launch. This new feature allows up to six family members a full membership to the platform. If one-off courses and products sound more appealing, Adio does offer this option but a monthly subscription works out much cheaper than buying a single course. The platform doesn't yet have an app and makes use of an online portal instead, so you can access this from any device with wifi.
"Families come in many shapes and sizes, but predominantly women are at the center of the home, and to change healthcare we want to change it from the pre-pregnancy stage right through to our old age," says Dr Braid. "We aim to show people how to start a health journey from the very beginning and give them simple tips to promote health for the whole family."
4. Perci Health
The best cancer support platform
Specifications
Cost: Free (with some extra charges)
IOS or Android: Online only
Area of healthcare: Cancer
Reasons to buy
+
Personalised support
+
Direct access to experts
+
Quick response time
Reasons to avoid
-
Individual appointment costs
If one thing has become clear during the pandemic it's that having a support network matters. Perci Health (opens in new tab) was founded by Morgan Fitzsimons, former global head of marketing at ASOS and digital director at CBS Television in New York, and Kelly McCabe, a registered oncology dietitian, previously COO of Cancer Network. Kelly witnessed people feeling 'abandoned' following primary cancer treatment and set out on a mission to proactively challenge the current status quo for those living with cancer and change perceptions about life after treatment. For women who experience diseases like breast cancer and cervical cancer, this is something that's been sorely missed by many communities.
Perci was the first online platform providing access to support from multidisciplinary cancer teams and was backed with $2million of investment from top cancer doctors. The idea is that Perci users can access a range of vetted cancer professionals focused on recovery from a physical, mental, social, and emotional point-of-view. Online appointments and personalized care programs remove any bias or postcode lotteries and wait times are reduced to a maximum of one or two days.
You begin with a free consultation and individual appointments range from free sessions to one-off costs of up to $170/£125.05. For some, this may work out to be cheaper and more effective than what your primary provider can offer, and the patient experience and support promise to be much more personal. A pay-as-you-go system might not be the best option for some, but with high-quality care at reduced prices, many find Perci a more preferable way to approach life with or after cancer.
5. Forth
Best app for at-home blood testing
Specifications
Cost: $47.81/£35.17 upwards
IOS or Android: Online only
Area of healthcare: General health
Reasons to buy
+
Detailed health reports
+
Quick delivery and lab results
+
Dedicated women's health tests
+
Baseline indicators
Forth (opens in new tab) is an app and testing service delivered to your door. Buy a test to check anything from female hormone mapping to menopause symptoms or your thyroid health, and receive analysis from an accredited laboratory. The app functions as a health dashboard on which you can track your results and better understand your health. Compare biomarker results and receive tailored medical advice. Founder Sarah Bolt was concerned that data wasn't readily accessible through GPs or was too expensive through traditional private health checks. Her aim was to empower people with knowledge and in doing so encourage them to adopt better behaviors and take greater responsibility for remaining healthy.
Forth is trying to help address gender health inequalities, using their rapid and accurate lab testing services to give women better insight into female hormones. Forth's tests combine AI with blood analysis to predict how a woman's hormones fluctuate throughout their entire cycle, unique to them rather than on a single day which is current clinical practice. It's a game-changer for women particularly those who want the certainty of entering perimenopause, a time of life, where women are unfortunately lacking sufficient support.
Order your test, take your samples comfortably at home. Send the samples off and then await your results. These will come back quickly and you'll be able to track your results and progress and seek tailored support using the online platform. The tests can be costly, but if it's an accurate and rapid service with a range of support you're looking for, particularly if you're being denied labs and hormone testing by your health provider, Forth can be an excellent source of knowledge and peace of mind.
6. Always You
Best app for giving back
Specifications
Cost: Free
IOS or Android: Both
Area of healthcare: Periods and menstrual health
Reasons to buy
+
Gives back to the vulnerable
+
Tracks cycle
+
Provides tips
Founded by Ariana Huffington's Thrive Global and menstrual health brand Always, the Always You (opens in new tab) app is working to # (opens in new tab)EndPeriodPoverty (opens in new tab) as you use it by making donations of period products to those in need. The app is designed help you track your cycle each month and features health advice and expert-backed articles, videos, and activities via 'Thrive Microsteps' to improve your wellbeing. The app is free and aims to impact self-care habits and wider knowledge about menstrual health and inequality. According to a study by Always, nearly 1 in 5 girls in the US have missed school due to not being able to access or afford period products. The app aims to change that through partners like Feeding America.
"At Thrive, we're passionate about creating technology that has an impact on people's lives, and Always You is a perfect example," said Arianna Huffington. "We're not just giving people a period tracker. We're supporting them and celebrating them with our whole human approach to wellbeing, and providing too-small-to-fail Microsteps they can take immediately to improve their wellness and build confidence. And we're especially excited to be doing it to help end period poverty, because giving is one of the most effective and proven ways to boost our wellbeing, transforming the giver as much as the recipient."
The app itself does a good job of cycle tracking and logging symptoms and changes to your mood, body, and habits. The charitable scheme works based on the points you earn. Tracking one cycle will earn you 20 points and 100 points buys one period product like a menstrual cup or pair of period underwear for a girl in need. You can also earn points for engaging with content and completing your Microsteps.
7. Lioness
Best sexual pleasure app
Specifications
Cost: $229/£168.46 upfront cost
IOS or Android: Both
Periods and menstrual health: Sexual health
Reasons to buy
+
Free Sex Guides
+
Easy to understand data
+
Tracks orgasms
Sex-tech for women by women, Lioness (opens in new tab) is an app and sex toy that tracks and shows you your orgasms and teaches you how to improve on your own pleasure. It's like a Fitbit for sexual pleasure and vaginal health. The contractions you'll be used to experiencing when doing your kegel exercises are one of the best indicators for arousal and orgasms. The Lioness vibrator uses sensors to measure how your muscles are squeezing and relaxing when in use—a little like a pelvic floor trainer. By syncing the vibrator to your Lioness app you'll be able to see how your arousal and orgasms may be changing over time by looking at your dashboard.

Similar to sleep apps or menstrual trackers, Lioness shows how different factors like stress, alcohol, different partners, and your state of mind can affect your arousal and orgasms. Although the rhythmic pattern of your pelvic muscles may stay the same, the strength and the length of an orgasm can change depending on different factors. Paired with the free Lioness app, you can keep track of how to have an orgasm alone or with a partner, what made your orgasms better, worse, or different in order to understand your body better and feel more confident.
The Lioness AI and biofeedback technology make it much easier to understand and discuss pleasure, especially if that's been a pain point with a partner in the past. The only drawback is of course the up-front cost. For women who find it difficult to orgasm or suffer from sexual anxiety, making the commitment to buy this technology may be challenging. However, Lioness does offer free content on its website via its Sex Guides.
8. EKHO wellbeing
Best femtech platform for education
Specifications
Cost: $12.37/£9.10 monthly
iOS or Android: Online only
Area of healthcare : Intimate health
Reasons to buy
+
Access whole library
+
Holistic approach to health
+
Large pool of experts
+
Free trial
+
Corporate wellbeing courses
EKHO (opens in new tab) wellbeing is a platform dedicated to women's intimate health. By focusing specifically on hormonal, sexual, and reproductive health and how these markers of wellbeing affect women's lifestyles, the London-based startup aims to help educate women and address blind spots in healthcare, education, and support. "There are really three areas of health that influence women's lifestyles, experiences and subsequently, influence gender equity and the intersectional experience across society," said the platform's founders. "For women, hormonal health, sexual health, and reproductive health—and the lack of unbiased data, education, and support across these areas—are responsible for myriad socioeconomic inequities. Including, but not limited, to the gender pain gap and the wage gap. We focus on these areas to change the conversation, the data, the resource allocation, and the gaps that mean women suffer and struggle disproportionately."
EKHO is a subscription-based service offering courses on a range of topics. Users can work through each course at their own pace and from anywhere so long as they have wifi. Each course is broken down into different modules covering anything from sexual pleasure to confidence and advocacy and the platform works with a cohort of women's health experts, ranging from sex therapists to OB/GYNs and yogis.
EKHO wellbeing also offers bespoke courses to businesses across the UK and US. "Corporate wellbeing is so important and we use easily measurable data points to identify blind spots in all kinds of organisations, close health gaps and in doing so, close the pay gap in a myriad of businesses" says co-founder, Professor Lee Smith. The platform works with leading research institutions to identify the issues that women face at home, at work, and in the doctor's office to create solutions. The courses are available to anyone but the organization also offers corporate training and advocacy courses to employers across the UK.
9. Bonzun
Best IVF app
Specifications
Cost: Free
iOS or Android: Both
Area of healthcare: Fertility and pregnancy
Reasons to buy
+
Medication tracking
+
24/7 support
+
Free educational resources
Bonzun was created by Bonnie Roupe after a near-fatal diagnosis of pre-eclampsia during her second pregnancy left her wondering why she knew nothing about the signs and symptoms of the condition. She realized there was a huge gap between existing evidence-based knowledge and easily accessible information available to the public. Even though she was living in Stockholm, with the best maternal care in the world.
Bozun describes itself as a 'free virtual midwife' and has helped millions of women to feel safe during their pregnancies, navigating high-risk situations. In 2019, the app released a new service Bonzun IVF, specifically developed to increase the chance of having a baby during an IVF treatment. The in-app dashboard shows medication tracking, information on IVF and pregnancy issues, 24/7 emotional support networks, and the ability to link your app with a friend.
IVF can be a very challenging process emotionally for some and the ability to make better sense of the landscape of trying to conceive can make it all a little easier. Then there's the cost. IVF is expensive so the free support from the Bozun app takes some of the pressure off too. However, there's no integration with your chosen clinic or healthcare provider, so using the app is very much a personal experience.
10. Peanut
Best pregnancy and parenthood app
Specifications
Cost: Free
iOS or Android: Both
Area of healthcare: Pregnancy and parenthood
Reasons to buy
+
Match with local friends
+
24/7 support network
+
In-app audio chats
+
Educational resources
Reasons to avoid
-
Private group chats
-
Less IVF support
Peanut is a community-focused app focused on pregnancy, parenting, and the experiences of motherhood. A place for connecting with women sharing their experiences, Peanut was created by Michelle Kennedy to address the isolation she herself felt as a new mom. The app functions similarly to a dating app with a swipe left or swipe right action to match with other women close by or who might be in a similar stage of their parenting journey.
The Peanut app also offers a Clubhouse-like in-app room of audio chats and private groups dedicated to different topics. Then there are the resources, information, and forums on IVF, adoption, pregnancy, first years or nursery, and beyond. Users are encouraged to make local friends to minimize the worry and isolation that can court pregnancy and motherhood, but for some, the digital community is enough. However, some users report finding the private chats and the ability to remain anonymous a little unnerving. These chats can yield the potential for trash-talking partners, critiquing certain parenting styles, and being negative about other women. In some cases, it can be hard to feel welcome when you're looking to match with new friends and self-consciousness can strike.
Other users have advised Peanut might not be the best place for IVF or baby loss support due to the volume of positive stories on the app. For those feeling vulnerable about their parenting journey, there are lots of other apps and communities available, and some find being among a positive community of women who have experienced loss and gone on to grow their families to be helpful.
11. Mira
Best hormonal testing app
Specifications
Cost: $199/£179 upfront
iOS or Android: Both
Area of healthcare: Hormones
Reasons to buy
+
Accurate hormone tracking
+
At-home testing
+
Real-time results
OB/GYN recommended and FDA approved, Mira not only provides an app for tracking but offers at-home testing technology too. Boasting a lab-quality hormone tracking system, a Mira starter pack doesn't come cheap but is arguably the best and most accurate solution for understanding and tracking your fertility journey. For those wishing to identify their fertile days and make decisions about encouraging or avoiding pregnancy, Mira offers instant results. Hormone testing wands and an analyzer make up the $199/£179 starter pack. The wands should be used with urine samples and then inserted into the Mira analyzer. This syncs with the app so you can see your real-time hormone concentrations and receive personalized ovulation insights based on your unique hormone data.
Accurate fertility tracking often relates to precise hormone measurements of more than one cycle. By measuring quantitatively, you will be able to understand your unique hormone baseline levels, and how your hormone surges correlate to ovulation. You will have fewer missed peaks which are commonly seen by existing OPKs, learn more about your cycle, and know exactly when you should try to conceive.
The only drawback with this technology is of course, that after the initial up-front cost, you'll run out of wands. If you're using the app and the testing wands continuously to avoid pregnancy, or if your fertility journey is a lengthy one, this could be expensive as 20 LH only wands costs $45, 20 LH and E3G wands costs $59 and 20 3dG wands will set you back $65.
However, the privacy and convenience of being able to test accurate hormone levels at home, and understand them through the app dashboard and supporting resources is a hit with users. "Women's health tech is still an emerging industry, and there are many unmet needs here," says Mira's founder Sylvia Kang. "A few at-home tools exist that help individuals track their health, but there is a lack of a comprehensive platform that genuinely offers solutions. Many diagnoses and decisions only happen during scattered hospital visits and when a health problem has already occurred.
Future femtech will focus on health beyond fertility. We're already seeing emerging players focusing on managing conditions like PCOS or endometriosis. Those going through menopause are another significant group overlooked by founders and investors. I think a lot of funding will be happening around these areas."
12. IPlaySafe
Best sexual health app
Specifications
Cost: $135.22/£99.50
IOS or Android: Both
Area of healthcare: Sexual health
Reasons to buy
+
Home testing
+
Status sharing
IPlaySafe is a newly-launched app that enables users to verify their STI status with sexual partners. The app itself is free and the testing kit is available to buy online. 'The Box' contains a finger prick and pee test to complete at home. Sign in to the app to register and send your samples off for rapid testing and in-app results within five days.
The samples will be tested for the six most common infections, however, these don't include some commonly undetected infections that can lead to pelvic discomfort and issues with inflammation and infertility in women. If you suspect you may have a sexually transmitted infection and want a full screening, you can visit a sexual health clinic or your GP to discuss a full lab report.
According to the app's founders, all IPlaySafe testing devices are "assembled according to the ISO 13 485 quality management system. They are a CE marked in vitro diagnostic medical devices, which means they are standardized and fully traceable." Once you've received your results you can share your status with other app users and access treatment and advice from on-hand medics, which means discreet diagnosis diagnoses and medication and the ability to feel more confident about your sexual health status.
13. Evvy
Best app for microbiome testing
Specifications
Cost: Single test $129/£94.92
IOS or Android: Both
Area of healthcare: Intimate health
Reasons to buy
+
Detailed test results
+
Targeted diagnoses
+
Educational resources
Evvy (opens in new tab) is a platform dedicated to intimate health, specifically testing and education on the vaginal microbiome. Your vaginal microbiome is associated with everything from recurrent infections like bacterial vaginosis and thrush to fertility challenges to STIs. With simple swabs and an app, Evvy can help you to understand not only what causes thrush but also whether your vagina is consistently producing enough of the good bacteria it needs to stay healthy and how to avoid common infections and issues.
The ability to routinely test and treat your vaginal health from the comfort of your home has the power to ensure your peace of mind, your body agency, and flexibility around your schedule. The upfront cost of testing, however, can be high – a single test costs $129/£94.92, and a membership, which provides four tests per year works out at 30 percent cheaper. However, given the cost of other at-home tests, creams, antibiotics, doctor visits, antifungals, and other treatments you may already be spending on without an accurate understanding of the causes of your issues, Evvy could be cheaper and more effective in the long term.
The Evvy app dashboard will display your results, letting you know which bacteria are present and whether any imbalances need addressing. Personalized reports and educational resources help you to make changes to your habits or address any issues. Accurate testing also means accurate treatments. No unnecessary antibiotics if they're not needed, simple lifestyle changes you can stick to, medical advice free from bias, and clear diagnoses. The app can tell you anything from how to clean sex toys the body-safe way to the difference between Candida albicans and Gardnerella bacteria or why taking a probiotic can influence your vaginal health. It's the dedicated vagina science you didn't learn in school. Access to one-to-one sessions with health coaches sweetens the deal, however, Evvy is compatible with most HSA and FSA plans.
14. Fertility Circle
Best community app for fertility
Specifications
Cost: Free
IOS or Android: Both
Area of healthcare: Fertility
Reasons to buy
+
Friendly support forums
+
Educational resources
+
Affordable access
Abi and Karen found themselves asking why there wasn't a practical one-stop fertility shop for locating clinics, finding support, and learning the facts. They founded The Fertility Circle (opens in new tab) app—coined 'the world of fertility to your fingertips'.
The app offers access to a network of fertility experts via chatrooms and digital events, a community of women to interact and share support with, and educational resources by way of fact sheets, articles, videos, classes, and more. "Our vision for this is to give you all you need to feel connected, empowered and supported, throughout your fertility journey. Our hope is that it will be a place for virtual hugs and support where you can come when you need a friend who just gets it," say the founders.
The app is free but in-app purchases enable locked features and the in-app store contains lifestyle products, such as the Wellbeing Sisters Fertility Circle Box—a collection of supplements, skincare and self-care products at $84.88. Most content and access to chats and experts, however, is free and users appreciate the niche focus of much of the content, covering the likes of issues like PCOS and fertility, male fertility, and mental health.
15. Balance
Best menopause app
Specifications
Cost: Free
IOS or Android: Both
Area of healthcare: Menopause
Reasons to buy
+
Free content and advice
+
Recommended by GPs
UK-based menopause expert Dr Louise Newsom designed the Balance app (opens in new tab) to support perimenopausal and menopausal women. The free app provides a space to manage your menopause with a symptom tracker, community stories and advice section, and a balance journal to stay on top of your thoughts and feelings day each day. When signing up you'll be prompted to answer questions about your health and symptoms to establish what stage of menopause you're in. This will also help the app to tailor helpful content and conversions to your experience. You'll receive notifications and reminders and the app will also recommend treatments and advice to soothe symptoms and issues associated with hormone fluctuation.
"After being taken by surprise by my own menopause experience, I was shocked at the lack of support and evidence-based information available about the perimenopause and menopause," says Dr Newsom. "Aiming to change the way people receive information about this time in their lives, I set up My Menopause Doctor. I still felt there was so much to do. I want to make sure we continue to help people across the world, and that's where Balance comes in. We're here to make sure that menopause is an opportunity, not an ending."
The app is recommended by many NHS GPs and will also advise you on how to start a conversation about menopause with your GP or healthcare provider if you're not based in the UK. Dr Newsom's My Menopause Doctor (opens in new tab) content is also free and accessible worldwide.
16. Natural Cycles
Tracking and contraception app
Specifications
Cost : Monthly $9.61/£7.07
IOS or Android: Both
Area of healthcare: Periods and menstrual health
Reasons to avoid
-
Not 100% effective
-
Not suitable for irregular cycle
Natural Cycles (opens in new tab) is still the only mobile app approved as a certified contraceptive in Europe and FDA approved as one in the United States. The app and oral thermometer help women track body temperature to predict when they are the most fertile and not. Natural Cycles is more than a fertility awareness method. It's powered by a regulated and certified algorithm that learns the pattern of your unique cycle to work out each daily fertility status.
A digital contraceptive is a strange concept but cycle tracking is fast becoming one of the most popular ways of avoiding unwanted pregnancies, with many women opting to come off hormonal contraceptives like the pill, the injection, and the coil. However, if your cycle is erratic and you struggle with issues like PCOS or endometriosis, apps like Natural Cycles might not be the best contraceptive option for you to opt for. Some have criticized the app after falling pregnant.
No form of contraception is 100% effective; most are assessed according to 'typical use' and 'perfect use'. The 'typical' setting takes the margin for human error into account, whereas the 'perfect' setting is when it's used absolutely correctly. With perfect use, Natural Cycles scores as 99 percent effective, with just one percent of people becoming pregnant but obviously for that one percent, an unplanned pregnancy can be a distressing experience.
Despite this, Natural Cycles is incredibly popular and has received significant investment, making it one of the largest and most-used tracking apps available. Many women prefer tracking to synthetic hormonal contraception and also use the app to plan their fertility journey, applying the dashboard insights to their conception plans.
16. Caria
Best community app for menopause
Specifications
Cost: Free
IOS or Android: iOS only
Area of healthcare: Menopause
Reasons to buy
+
Free information
+
Three types of content
+
Personalized insights
Developed with leading experts in women's health, Caria (opens in new tab) aims to help its users have a healthier, easier menopause and midlife experience. Using the app, you can track symptoms, get personalized health insights, review your own analytics, and access research-backed resources to improve your wellbeing. It's made by a US team so expect an American feel to the language and resources.
In many ways, it's similar to the UK-based Balance app. It provides symptom tracking, expert advice, and an easy-to-use dashboard as well as community support and in-app chats. However, when it comes to connecting with local communities in your area, if you're based in the US, Caria can offer a greater chance of discovering a network closer to you with more in common.
The most significant difference between the two apps is that Caria offers three types of free content—short, insightful menopause stories that make issues that seem incredibly personal easy to relate to and digest, a bank of free Menopause Guides providing education and support on myriad issues and articles providing how-tos and news on topical subjects.
The app is free but some content is locked and requires in-app purchases. Courses, recipes, advice, and at-home workouts can all be accessed but it's up to the user whether or not they wish to up their cost in order to access every feature of the app.
Are health apps ethical?
Of course, many apps, products, and platforms like Forth and its cohort aren't free, so how does this work out for low-income households and women struggling with the expense of healthcare? Femtech reimagines the way we spend and the way we understand our health but these apps and devices, though they're cost-effective in the long run, don't always come cheap. Some take one-off payments and some operate by way of monthly subscriptions or offer pay-as-you-go products and appointments. Health insurance and medical costs in the US continue to price many people out of access to appropriate care and for those in the UK with access to free healthcare, the NHS is stretched with huge waiting lists and a compartmentalized approach to health.
There's no one solution to the cost of good health, but for many, femtech interventions are cheaper and provide better access and advice than the alternatives. The hard part is finding the platform or solution that works for you. If a femtech product isn't serving women's needs effectively, improving on what's already available, and innovating the healthcare space, it simply won't succeed. It's a space that requires transparency, innovation, and accountability in spades and fortunately, many providers are putting purpose before profit altogether. The likes of My Menopause Centre (opens in new tab), the Headspace (opens in new tab) mental health app, and Arianna Huffington's Thrive Global (opens in new tab) offer free resources to support women's health, for those who can't afford the added expense.
However, some platforms have been criticized for the way they store and use users' private data. Claims that period tracking information has been used to target and sell particular third-party products to users have put some people off using tracking apps and femtech devices altogether. "We are concerned at reports that some health apps do profit from irresponsible user data sharing. We think selling data without real consent, and then hiding that process, is totally wrong," says Ida Tin, Founder of menstrual health app Clue. "We're using data to advance research for global female health. We work with scientists at Stanford University, Columbia University, the University of Washington and the University of Oxford, the Kinsey Institute, the Bill and Melinda Gates Foundation, and others, on research projects that we hope will improve the lives of people all over the world. We can only make those advances with data, so the more reproductive health data researchers have access to, the better they will be able to conduct targeted research that might someday lead to significant improvements in female health."
---
woman&home thanks Dr Braid and Dr Xandra Middleton, cofounders of digital health platform Adio (opens in new tab), Ida Tin, Founder of menstrual health app Clue (opens in new tab), Sylvia Kang, founder of Mira (opens in new tab), and UK-based menopause expert Dr Louise Newsom, who designed the Balance app (opens in new tab) for their time and expertise.