The best period tracking apps for every stage of your cycle
We spoke with femtech and menstrual health experts to discover the best period tracking apps for every cycle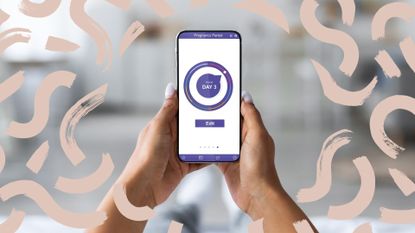 (Image credit: Future/Getty Images)
If you're familiar with the guessing games and inevitable slip-ups that come with trying to predict your period you're by no means alone. But thanks to the rise of a handful of femtech founders, you can wave goodbye to guessing with the help of the best period tracking apps.
Apps have become a useful way to track and maintain good health, especially for women. From sleep apps to apps that help you learn the best kegel exercises for a stronger pelvic floor, modern technology can help us get a better understanding of our bodies. Period trackers were first introduced as a niche tool with basic journal and calendar functions and have since developed into must-have women's health apps, with the best period tracking apps offering anything from biometric feedback to tailored health insights and links to treatment providers. We consulted menstrual experts to figure out which are the best and most useful period tracking apps and the special functions to look out for.
How period tracking apps empower women
Why you can trust Woman & Home Our expert reviewers spend hours testing and comparing products and services so you can choose the best for you. Find out more about how we test.
---
Apps give women and people who menstruate more power over their reproductive and hormonal health, and the ability to share this power, knowledge, and responsibility with their partners. Knowing more about your cycle can help with supporting a healthy lifestyle and using apps is fast becoming second nature to many women. In the same way that you might make time for your morning yoga, pull out your best walking boots for a weekend hike, or count your five a day in each meal, making time to enter your symptoms into a period tracking app has become part of a healthy routine.
A new study commissioned by INTIMINA and conducted by YouGov revealed a shocking gap in men's knowledge of women's menstrual cycles. Only 41% percent of men could correctly identify what exactly menstruation is. Of these findings, 52% believed a full menstrual cycle was one to six days, when in fact a menstrual cycle can be up to 35 days in length. In fact, many women think of their period as the only relevant part of their cycle and this gap in knowledge causes a lot of problems when it comes to contraception, family planning, understanding mental health, and mood and diagnosis. "This survey highlights the continued need for more work to be done to educate the masses about menstruation, a very natural process and a sign of health and fertility," says Dr Alyssa Dweck, INTIMINA's sexual and reproductive health expert. "After all, 50% of the population menstruates and 100% knows someone who does!"
The best period tracking apps
1. Flo
Best for community support
Specifications
RRP: Free (basic), $9.99/£7.53 for 1 month (premium)
Reasons to buy
+
Easy tracking
+
Sends predictions
+
In-app expert support
+
Large community
Reasons to avoid
-
Not 100% accurate
-
Monthly cost
Flo is one of the better-known period tracking apps. With a large number of active users and a team of experts at the helm, it provides a pretty comprehensive view of your cycle. The app makes predictions based on the data you record and then sends personalized insights on general health, fertility, and pregnancy. An added bonus is the availability of virtual health assistants to answer any questions.
Flo doesn't use biofeedback so any information it holds about you has to be recorded from your side. The app will ask you a series of questions about your goals, for example, whether you're pregnant or trying to get pregnant, whether your cycle is regular and whether you experience cramps or spotting. It'll also ask you who you usually turn to with any issues or questions so it can provide tailored information to those who need it most.
"Flo has the absolute potential to drive positive change by educating women from all corners of the world about how they can live in harmony with their cycles and make better health and wellbeing decisions every day," says the brand's director, Joelle Barthel. And for the most part, that's true. It's useful to receive tips on sleep, nutrition, skin care, hormonal fluctuations, and mental health alongside predictions for which phase of your cycle you're in.
However, if you're using Flo as a method of contraception, we'd recommend doubling down and using it in tandem with another method. Thousands of women have fallen pregnant as a result of incorrect cycle predictions and this is a risk that the majority do not want to take when considering their reproductive health. The app is free to download and the calendar is free to use, but for the additional features, there's a monthly subscription fee. Users can save by signing up to a longer subscription period but we'd recommend trying a month first to see how you like the app compared with other more affordable options.
2. Cycles
Best for couples
Specifications
RRP: Free (basic), $30/£22.60 annually (premium)
Reasons to buy
+
Easy tracking
+
Share insights with your partner
+
Free trial
Reasons to avoid
-
Partner features are premium
-
Not 100% accurate
-
Apple product centric
The Cycles app caters specifically to couples, which makes sense when you consider the importance of cycle tracking for partnered sex and fertility. Many people like having the ability to have their partner be part of planning for intimacy and on a practical level, it certainly makes things easier.
Like any other tracking app, Cycles allows you to record your mood, observations about your period, and your sexual activity in one place, for free. However, to share your cycle data with a partner, you'll need to be a Cycles Premium Member and your partner will need to have an Apple device. This might provide a barrier for some.
A premium subscription is much better in terms of the insights and feedback it offers, as well as providing the Partner Connect option. The premium version of the app will do a better job of forecasting and reminders And let you know when you're ovulating and when you're most fertile so you can either avoid pregnancy or pursue it. However, Cycles, as with many other period tracking apps, maintains that it shouldn't be used as a sole method of contraception due to the margin for error.
For Apple Watch users, the user interface for the app is very good so if you're already an Apple product user and can afford the $30 (£22.60) annual fee, Cycles is a great tracking option to sync with your existing tech and wearables, and to share the responsibility of your sex schedule and family planning with a partner. A seven-day free trial is also available, which often helps the decision-making process between sticking with a free tracking app and committing to a subscription.
3. Spot On by Planned Parenthood
Best for tracking contraception
Reasons to buy
+
Compatible with all contraceptives
+
Useful resources
+
Online support
+
Free
Reasons to avoid
-
A big commitment in terms of recording
If you're looking for an option that does double up as a means of birth control and provides helpful tips and advice, the Spot On Planned Parenthood app is a good place to start. A period tracker and birth control app powered by Planned Parenthood, Spot On provides a basic tracking functionality so you can record your period dates, mood, and which contraceptive you're using.
Many methods of contraception affect your menstrual cycle, for example with pills inducing synthetic bleeds, IUDs stopping your periods altogether, and implants causing spotting or random bleeds. It can be challenging to know when your period will arrive when adjusting to a new form of contraception and it can be an anxiety-inducing experience avoiding pregnancy if you're unsure about your ovulation dates.
The Spot On app provides expert advice on these subjects and sends you reminders to record data, take pills, book sexual and reproductive health appointments and record any changes around those appointments. If your periods are irregular, no app will be able to effectively predict your most fertile days each month so using your contraceptive method with the app consistently is the best way to avoid unwanted pregnancy. If you're hoping to conceive, the app can help you to track your best chances for success throughout your cycle.
For a free service, the app provides very thorough information, support, and resources, but obviously, requires you to put the effort in to record any and all dates, symptoms, and changes.
4. Inne
Best biofeedback period tracker
Specifications
RRP: $208.47/£157 for reader, from $84/£63 for strip subscription
Reasons to buy
+
Accurate biofeedback insights
+
Easy tracking
If you want to take your personal insights a step further and track your hormone levels rather than your hormonal symptoms, Inne uses biofeedback to tell you when you're ovulating. The at-home 'minilab' uses saliva and cervical fluid samples to test progesterone levels and establish where you are in your cycle.
At the beginning of your menstrual cycle, your progesterone levels are low. They rise right after ovulation and remain high during your luteal phase. The minilab uses a combination of highly sensitive lateral flow immunoassays and advanced image processing technology to detect the smallest differences in hormone levels. It detects a rise in progesterone from a saliva strip, which is inserted into the Inne reader, and lets you know that you've ovulated based on the reading.
The reader itself has a high up-front cost and it's the strips that make up your subscription. Depending on whether you opt for a month or more, the subscription starts at $84/£63. Obviously, a biofeedback-led solution can give you far more accurate readings on what your body is doing, where you are in your cycle, and when you should be avoiding sex or trying to conceive. However, this information comes at a cost and Inne is a much more expensive option than some of the free tracking apps available.
5. Dia
Best free period tracker
Reasons to buy
+
Easy tracking
+
Expert support
+
Appointment booking
+
Treatment advice
Perhaps the sort of support you're looking for with your periods is more comprehensive. Many people who experience the symptoms of PCOS, perimenopause, and endometriosis struggle with simple tracking apps because they offer little insight into what's going on inside the body and how to alleviate pain.
Dia is a new app designed as a 'period companion'. It connects with wearable devices and provides the ability to track and record symptoms and dates, however, it also offers an appointment-booking and video-consultation service, which connects users with doctors. The app's founders say Dia aims to "bridge the gap between the hundreds of fertility and lifestyle apps on the market with a growing trend in telehealth". Telehealth is basically the ability to look after your health using your phone, something the best femtech platforms are zoning in on and providing solutions for.
Dia provides fertility forecasts and guides women to experts and physical clinics and treatment options. But mostly it provides the advice and peace of mind that many of these tracking apps can't. However, with that said, many apps do offer blog posts and written resources on a wealth of women's health topics to better understand anything from the best sex positions for people with PCOS to how to use a menstrual cup.
Dia relies, as with many period trackers, on you inputting your data so it can respond with predictions and insights. This service is free, as is the referral and advice service. However, any in-person appointments and fertility treatments will incur a cost.
6. Clue
Best for birth control transitions
Specifications
RRP: One month $1/75p, annually $10/£7.50
Reasons to buy
+
Easy tracking
+
Large community
+
Affordable
Clue is another of the leading tracking apps, with a huge user base and an impressive supporting catalog of information. The idea is to teach users about menstruation and cycle health while they track symptoms. Clue provides period, PMS, and ovulation predictions and advice on factors like energy levels, sleep, and skincare.
The calendar, predictions, and personalized reminders are easy to follow thanks to a slick interface and the app is customizable based on your needs. You can set reminders to take your pill or for when you're ovulating and all prompts and tips are fact-checked by experts.
Of course, as with many other tracking apps, Clue doesn't promise 100% efficacy when used as a method of contraception so we recommend using another method with the app. Clue itself will soon offer a new contraception service built into the app that's been FDA-approved. In the meantime, use your chosen method with the Clue app.
7. Bearable
Best for symptom tracking
Specifications
RRP: Free or monthly $4.49/£3.83, annual $27.99/£21.09
Reasons to buy
+
Easy tracking
+
Overview of general health
Bearable is a general health app that syncs with your smartphone's tracking features for steps, heart rate, blood pressure, weight, and more. The concept is the same as other tracking apps, in that it's up to you to input information about your mood, daily activities, nutrition, sleep, and symptoms. But the beauty of Bearable is that it brings all your tracking together in one place and offers insights to support your mental health.
The app is easy to customize and the more information you log the better the insights become. For example, you can find out what might be causing your low mood and headaches beyond which part of your cycle you're in by tracking lifestyle factors and the app will identify patterns.
Bearable is a good option for anyone juggling multiple health concerns but who also might want to track their cycle and figure out how this intersects with their wider health. It's easy to input data on the go to identify health trends and especially useful when speaking to your healthcare provider about any issues you might be experiencing. Often, it's much easier to show a doctor your tracking results than yell them in order to receive a diagnosis. The free version of the app includes the basic features and the premium version offers a more complex and holistic view of your health trends.
8. Moody Month
Best tracker for a holistic view
Specifications
RRP: Free or $5.50/$4.13, monthly, annual $49.64/£42.33
Reasons to buy
+
Easy to track
+
Holistic approach
+
Classes and resources
+
Affordable subscription
Reasons to avoid
-
High upfront cost for lifetime
The Moody Month app calls itself a wellness tracker, taking a more holistic and complementary approach to cycle tracking and menstrual health. The free version offers basic cycle tracking, informative articles, and workout videos for different stages of your cycle. However, you'll have to go premium to access hormonal insights and the full range of videos and content. The free version gives you access to just a couple of videos each month.
Moody also offers a daily update on the weather, moon phase, a suggested article and which stage of your cycle you're in, and how you might be feeling. The app asks you to log your energy, mood, stress, body changes, and any journal entries you'd like to add. You'll receive tips on nutrition and self-care without the need to go premium, but a premium subscription itself is fairly priced as far as these apps go.
9. Apple Health Tracker and Apple Watch
Best integrated tracker
Reasons to buy
+
Free
+
Syncs with other tech
+
Simple tracking
You can also track your cycle using the Health app on your iPhone or the Cycle Tracking app on your Apple Watch. The Health app offers a simple approach but apple specifically rolled out the Cycle Tracking app after calls from users to create one. The Cycle Tracking app is part of watchOS 6 and tracks heart rate along with the cycle data you input.
The more data you enter the better the predictions the Health and Cycle apps can provide. And you can turn on notifications to tell you when your next period or fertile window is approaching. Apple offers educational resources in the app to inform you about your cycle, what spotting and cramps might mean and how different factors can impact your cycle. It's nothing revolutionary, but for an app that comes free with your phone, it's certainly not a disappointment.
"It is very beneficial for women to keep track of their cycles," said Dr Lena Nathan, assistant clinical professor at the Department of OB-GYN at the University of California, Los Angeles. "We know that ovulation occurs approximately 14 days before your period begins, so for women who are either trying to get pregnant or trying to avoid pregnancy, it can be helpful to get a sense of how long your cycle is and when ovulation may be occurring."
10. Eve By Glow
Best for sexual health tracking
Reasons to buy
+
Simple tracking
+
Sexual health monitoring
+
Log 40 health signals
Reasons to avoid
-
High one off lifetime cost
-
Not 100% effective
Eve By Glow is a period tracker that also helps to track your sexual health. Users can record their mood, symptoms, and medications, and similarly to most other period apps, the more you record, the better and more accurate Eve's predictions will be. However, Eve also encourages you to use emojis to log your sexual encounters, sex drive, and contraceptive choices.
Glow offers a range of health services that focus on different stages of your life journey. Eve is focused on your menstrual cycle and sexual health and sends daily reminders to log your health signals including BBT, cervical mucus, cramps, and breast tenderness. The app is free but offers an affordable $4/£3 per month subscription, too.
The premium subscription is worth the cost for access to comparative data and insights from other users, private messaging within the Glow community, and access to articles and resources. Glow claims to be unmatched by other ovulation calculators and offers a follow-on app Glow Nurture for pregnancy. However, if you don't feel comfortable relying on ovulation predictions as a sole means of contraception, do use a secondary form alongside the app to be safe.
11. Ovia Fertility
Best for trying for a family
Reasons to buy
+
Simple tracking
+
Fertility coach chat
+
Tailored articles
+
Employer family benefits
Ovia has entered the scene as a fertility tool, rather than a cycle tracking tool, but essentially has the same functionality as other tracking apps. However, the content you'll find on the app is all geared towards conception or avoiding conception. Enter your information and Ovia will send through personalized predictions, tips, and articles on anything from ovarian reserve to endometriosis.
A free subscription will get you unlimited support from the app's health coaches, whom you can message whenever you need to. Trying to get pregnant can be frustrating, disappointing, and a tense time where your mental health and self-worth are concerned. The Ovia coaches aim to support you on your journey and provide as much insight as possible.
There is an Ovia Premium option that's covered by some health plans and employers, so the cost of additional support could well be covered by your insurance or by companies supporting their employee's reproductive health and family plans. Companies pay for Ovia's 'family benefits solution' package on a per-employee basis, however, some people aren't comfortable with this and prefer to keep their boss out of their business when it comes to trying for a baby.
12. WILD.AI
Best all-round health tracker
Specifications
RRP: Free or $5.99/£4.50 monthly, annual $50.28/£37
Reasons to buy
+
Simple tracking
+
Ideal for active people
+
Syncs with wearables
Reasons to avoid
-
Expensive with wearables
WILD AI is more than a period tracker but if you lead an active lifestyle, it could be the perfect blend of menstrual and physical health support. The app tracks your workouts, wellbeing, and nutrition as well as your cycle to provide a mix of biofeedback and predictions and recommendations. The app divides your menstrual cycle into five phases and sends alerts based on the symptoms and dates you enter.
A fairly smart femtech app that syncs with wearable devices like Garmin, Oura ring, Fitbit, Strava, and Training Peaks, Wild will automatically pull in training sessions, sleep, resting heart rate, and other internal metrics and collate them in one place for a better view of what's going on with your health.
For some, especially those who just want to know when their period is due, the bells and whistles, integrated biofeedback devices, and nutrition and training recommendations might be a bit much. But for those who love to see their body's data in real-time and who have specific training goals, WILD AI is a firm favorite.
Professional athletes have often been encouraged to put their training ahead of their cycle and menstrual health. Many women who train hard experience amenorrhoea AKA no periods, high cortisol levels, and a low percentile of body fat. This puts them at risk of what's known as Female Athlete Triad which can cause long-term health consequences like increased risk of osteoporosis and bone fractures, heart attacks, infertility, and vaginal atrophy.
WILD AI encourages a holistic view of the body and offers prompts and advice to maintain good health and a healthy and regular cycle. The app itself is fairly affordable, but with the addition of wearable devices like one of the best Fitbits or an Oura ring, the cost could be considerably higher.
What are period tracking apps used for?
---
Many people use menstrual trackers to stay aware of their cycle dates and know when to expect their period, but these apps have multiple uses including:
Tracking menstrual cycle dates
Preparing for upcoming periods
Getting to know your cycle and body
Verifying experiences and sensations
Informing healthcare professionals
Tracking general health and sleep
Contraception and fertility tracking
Recording changes to lifestyle
Tracking your cycle using apps has the potential to be an incredibly empowering practice. Using an app can help users to manage symptoms, identify issues like endometriosis and pre-menstrual dysphoric disorder, gain a better understanding of their hormonal functions, and feel more confident and prepared when their period arrives.
"Period tracking allows us to see where we are in the menstrual cycle—not just when our periods are due and this is incredibly powerful," says Hannah Samano, Founder of Unfabled, the world's first store dedicated to cycle care. "Your lifestyle impacts your menstrual symptoms but we aren't taught that about ourselves. Tracking helps us to understand what kind of food, exercise, and self-care rituals our body is craving as our hormones change. When we learn how to cater to our bodies in this way, we can learn to be more in sync with ourselves and ultimately, feel healthier and happier."
If your periods appear like clockwork, it can still be beneficial to use menstrual tracking apps, even if just to better understand the length of your cycle or feel more confident about your general health. Lisa Krapinger, CMO at breathe ilo, the world's first CO2-based fertility tracking device believes we need to open up conversations around intimate health so that we can understand our bodies, not just through conversation but using technology. "It's a myth that menstrual cycles are always 28 days long and every woman ovulates on day 14," she says. "The average menstrual cycle is 28 days long, but every woman is unique and nearly 50% of cycles vary in length by seven days or more."
What are the benefits of period tracking apps
---
Using an app to track your period might seem unnecessary, but for some, it's an essential part of their body literacy and a good way to keep track of all manner of other things—from skin health to mental health. Plus, knowing the exact dates of when you'll be ovulating and menstruating can help healthcare professionals to support you with your wellbeing more generally.
It's beneficial for your doctor
There are a number of reasons a medical professional might ask the date of your last period. If you're visiting your doctor with abdominal pain and sickness, they'll want to know about your cycle to rule out pregnancy and then investigate other causes. If you're trying to get pregnant, health professionals will be asking for information about your cycle to provide tailored care and support. And if you're visiting the doctor with hormonal symptoms like heavy periods, sexual dysfunction, mood changes, or vaginal dryness, having the information from a tracking app that knows your body on hand can be invaluable.
"I'm really passionate about promoting better health in an accessible way and I'm a huge fan of tracking apps, both personally and professionally," says Ona Croft, a registered nurse based in the UK. "I think apps empower women to understand their bodies. I'll often ask my patients 'when was your last period' and some will know off the top of their head, some will consult an app (as I would) and some have no idea. I always recommend an app to the latter group to track symptoms and inform future treatment plans. When it comes to your own health, the more information you have, the better."
More agency over your reproductive health
For women who prefer not to take hormonal contraception, period trackers can put power and agency back in your hands. Hormonal tracking is growing in popularity as a contraceptive method with more and more women giving up the pill, patches and injections and instead, abstaining from sex that could cause pregnancy during their fertile days – of which women typically have a few a month. Many women who had previously taken the pill and enjoyed the certainty of knowing exactly which date their period would arrive have also taken to using tracking apps for the same outcome.
"My period has never been super regular, so a tracking app helped me be able to predict or be a little more confident that I wouldn't have spotting or stained undergarments," says Samantha* a 26-year old grad student from New York City. "When I started dating my partner we just used condoms, so having the app helped me feel more confident about when I was expecting my period and reduced anxiety about any unintended pregnancy because I could just refer to it. I really started using apps after I got my IUD inserted, so I could track how my body was responding to the device. The app I use has helped me have more informed conversations with OBGYNs because I have measurable, real-time data to validate the claims I'm making to a provider; it's given me a greater sense of agency in relation to my own reproductive health."
Should I use period tracker?
---
While some women swear by tracking apps, menstrual tracking can lead to health anxiety for some. If you're the sort of person who tends to obsess over recording information or catastrophizes over small changes in your health, an app might cause excess stress. Some people also worry about how period trackers store and use their personal data. For people using apps for fertility awareness when trying to get pregnant, more awareness of fertile days combined with the difficulty to conceive can be demoralizing and upsetting.
Apps can also be misleading and there are many cases of women falling pregnant after using a period tracker as a contraceptive option to avoid pregnancy. Apps can also be more frustrating than insightful when it comes to the onset of menopause. Perimenopause can cause spotting and irregular periods and the effects of menopause, such as vaginal atrophy, can also cause bleeding that may interfere with your tracking. Of course, some of the best fitness apps and health appshave been created specifically to track and support your menopause symptoms so one of these may be better suited to your needs.
"Your cycle is a vital sign of your health. But I believe that once you've got an understanding of your cycle, it's less about the app telling you what's happening, and more about you starting to get a feeling for what's going on," says Abi Adams, a menstrual, mindset and movement coach at Prøject Wøman. "An app will never be able to tell you how or why you experience such powerful emotions as it hasn't experienced your life. But for you, your relationship with your cycle can elevate your sense of self. It's important to use apps in tandem with allowing yourself to trust your power of judgment and intuition."
---
woman&home thanks Dr Alyssa Dweck, INTIMINA's sexual and reproductive health expert, Hannah Samano, Founder of Unfabled, the world's first store dedicated to cycle care, Lisa Krapinger, CMO at breathe ilo, the world's first CO2-based fertility tracking device, Ona Croft, a registered nurse based in the UK, Abi Adams, a menstrual, mindset and movement coach at Prøject Wøman, and Dr Lena Nathan, assistant clinical professor at the Department of OB-GYN at the University of California, Los Angeles.
Sign up to our free daily email for the latest royal and entertainment news, interesting opinion, expert advice on styling and beauty trends, and no-nonsense guides to the health and wellness questions you want answered.
Emilie Lavinia is a writer, entrepreneur and women's wellbeing advocate. She is passionate about femtech, closing the gender health gap and campaigning for education and transparency across mental, physical and sexual health. Emilie presents All Being Well – a series that investigates the concept of wellness, good health according to experts and what it means to 'be well'. She has a decade of experience as a journalist, editor and brand strategist and is the founder of four separate organisations that champion women's health, marginalised communities and LGBTQ+ people.