Looking for new sex toys? These are the latest trends to add to your collection
Experts recommend new sex toys to add to your collection with the latest trends revealed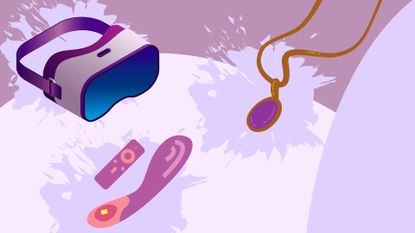 (Image credit: Future)
woman&home newsletter
Sign up to our free daily email for the latest royal and entertainment news, interesting opinion, expert advice on styling and beauty trends, and no-nonsense guides to the health and wellness questions you want answered.
Thank you for signing up to . You will receive a verification email shortly.
There was a problem. Please refresh the page and try again.
Looking to explore new sex toys in 2023? Welcome in, sex toy trends. You read that right. Like fashion and beauty trends, the world of sex also has its predictions and plans for what's going to be hot or not this coming year.
With our pleasure being taken more and more seriously, the world is listening about what we actually want and need and the sex toys of the future are quite literally making waves to keep you on your toes and as satisfied as can be. So if you're searching for the best sex toys for 2023 or the top general sex trends for 2023, you've come to the right place.
We're covering everything from the transformative world of sex toys and VR (virtual reality) to how to quite literally wear your favorite sex toy without anyone expecting a thing. Read on to discover something new for the new year and treat your bedside drawer to a bit of an update.
New sex toys to look out for in 2023
1. Accessible sex toys
Sex toys should be accessible to everyone, we can all agree. Accessible sex toys for disabled people have come on leaps and bounds and adaptations are being constantly made to make sure the world of sex has its doors fully open. Sex toy brands are working harder than ever to make sure people with missing limbs, for example, can use their toys.
No company strives harder to achieve accessibility than Hot Octopuss (opens in new tab). The sex toy company works with disabled people to make sure their iconic toys like the DiGit Finger Vibrator become an extension of the body and allow users to focus on pleasure rather than grip.
"I think companies are finally waking up to the value and the impact of the purple pound, and are starting to understand that disabled people are sexual people that have their individual desires and needs. This, coupled with the fact that we have so much amazing tech available to us now means that we are probably in for a very exciting 2023 when it comes to developments in sex tech and new sex toys, and when it comes to conversations around disability and sex," says Kelly Gordon (opens in new tab), creative director at Hot Octopuss.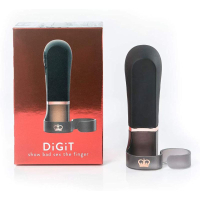 (opens in new tab)
Hot Octopuss DiGiT Finger Bullet Vibrator: $54.94 / £44.94 | Amazon (opens in new tab)
Ideal for those who want to explore external clitoral stimulation, the DiGiT Finger Bullet Vibrator has an adjustable finger strap and just one button on the side of the device to turn it off and on.
2. Sex toys with apps
If you've recently bought a sex toy, you might notice that it didn't seem to come with any instructions. That's because sex toy apps have become all the rage and replaced paper guides, which are obviously better for the environment.
Some sex toy apps come complete with illustrated guides on how best to use your new sex toys and how to get the most out of them with a partner. So power up your toy, whether it's one of the best remote vibrators or a classic vibrating dildo, download the app, and embrace a whole new world of pleasure.
3. Biofeedback sex toys
If you're worried this sounds like something you might do in a science experiment at school, don't panic. Biofeedback is a technique sex toy companies are tapping into to make sure you get a better orgasm through creating devices that monitor your bodily functions, like pelvic floor contractions.
"More sex toys are expected to start using biofeedback to help learn which settings work best for your body and lead to more satisfying orgasms. This tech has advanced over the years from helping individuals perform kegel exercises to now being able to tell when you need a particular type of vibration during certain stages of sexual arousal to help get you hot and climax with ease," explains clinical sexologist and therapist Ness Cooper (opens in new tab).
4. Hands-free sex toys
We're all familiar with holding a rabbit vibrator in our hands, but what about hands-free sex toys? They're set to be one of 2023's biggest trends.
"Things have advanced to not just hands-free stimulation for your vulva and clit, but now you can explore hands-free sex toys that are held in place with your vulva. This concept is fairly new and I'm expecting more brands to explore it in 2023," adds Cooper, who is also the founder of The Sex Consultant (opens in new tab).
Want to try it for yourself? We recommend the Lovehoney Venus Butterfly Vibrator (opens in new tab) or you can try a hands-free holder (opens in new tab) to keep (most) toys in place.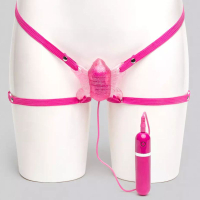 (opens in new tab)
Lovehoney Venus Butterfly Vibrator: $29.99 / £24.99 | Lovehoney (opens in new tab)
With bonus points for looking pretty, the Lovehoney Venus Butterfly Vibrator is a great toy for anyone looking to try something new. There are 10 different functions on this wearable vibrator, all controlled by the touch of a remote button.
5. Sex toys disguised as jewelry
Ever thought about wearing your sex toy? In public? It's better than it sounds, we promise. Sex toy jewelry has been on the market for a while and it's set to explode in 2023.
"More and more companies are selling sex toy-focused merchandise and jewellery to help promote sexual pleasure. More people are expected to be wearing sex-positive items in 2023 and some of these may double as functional sex toys," Cooper tells us.
Wearables are all about subtlety though, so don't go thinking you're going to have to wear a full on dildo as a pendant - that's not the case. The world of sex toy jewelry is classy. If you're into the law of attraction, try a sex spell manifestation necklace (opens in new tab) which is as beautiful as it is functional. Biird (opens in new tab) sell a range of clitoris and sex-themed jewelry and accessories, including sterling silver earrings, necklaces, and socks.
Ready to push the boundaries further? Try the Crave Vesper necklace (opens in new tab) which acts as a beautiful piece of jewellery, as well as a functioning vibrating sex toy for whenever you fancy a little pick-me-up; available in silver, rose gold and 24k gold, it's the sexiest addition to your jewellery box you'll ever come across!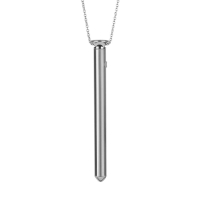 (opens in new tab)
Crave Vesper Vibrator Necklace: $80 / £65 | Amazon (opens in new tab)
Available in silver, gold, or rose gold, you'd never know this necklace was one of the best bullet vibrators unless you knew the brand.
6. Virtual reality sex toys
We're all used to artificial intelligence (AI) and virtual reality (VR) by now with apps to turn you into avatars and the Occulus Rift transporting us out of this world, but what does that means for sex?
"VR compatible sex toys that work alongside VR erotic and porn experiences are expected to become more popular than ever. Many of these will be compatible with household VR headsets. When using a sex toy during VR sexual play either solo or with a partner, it may reduce unwanted VR effects such as cyber-sickness," says Cooper.
It won't come as a surprise that VR sex toys tend to be aimed more at men than women right now, but that's about to change. If you have a partner that works away a lot, you could try a VR headset and sex toy which sink up together so you're both getting visual and physical pleasure. Want to treat the man in your life? Many fleshlights come with the ability to make it VR accessible and popular porn sites have entire sections of their website dedicated to VR porn for you to try.
7. Sex toy workshops
"These types of workshops used to be more underground and covert, but now they are becoming very common. There are many workshops around the globe already booked way into 2023," Cooper tells us. "Workshops like these teach individuals how to explore their sex toys and sexual pleasure fully and break away from routine masturbation habits. Leading to greater self-confidence."
Whether you're new to sex toys, or a pro looking for your next steps, a workshop - either taken solo or with a partner- can be an enlightening new way to educate yourself on sexual pleasure.
Sex toy legends Sh! have launched a series of sexual pleasure workshops (opens in new tab), designed to boost your confidence. Taking place online since the pandemic, courses cost as little as £15 and teach women and those with a vulva how to make the most of self pleasure.
Ready to try out some of 2023's new sex toy trends? Stock up on the best lubes, treat yourself to something new, or grab an old favourite and remember, nothing is sexier than consent.
Hollie-Anne Brooks is an award-winning journalist, broadcaster, and disability rights campaigner with a focus on health, sex, and relationships. Hollie-Anne has appeared on radio and TV discussing topics from Christmas gifts to disability travel, and everything in between.