Sex trends 2023: Here's how the experts predict how our love lives will change next year
Discover the new sex trends 2023, from remote-controlled vibrators to sexual wellness courses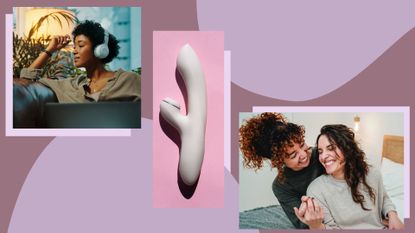 (Image credit: Getty Images)
woman&home newsletter
Sign up to our free daily email for the latest royal and entertainment news, interesting opinion, expert advice on styling and beauty trends, and no-nonsense guides to the health and wellness questions you want answered.
Thank you for signing up to . You will receive a verification email shortly.
There was a problem. Please refresh the page and try again.
Our deep dive into the sex trends 2023 may help upgrade your sex life in the new year if you're looking for ways to enhance the intimacy level in your relationship or try something entirely new.
Sexual wellness is just as important as mental and physical wellness. Not only can it improve our relationships, but there is plenty of research that shows regular pleasurable sex can decrease our risk of depression and even improve our immune system.
In fact, relationship experts believe that learning how to spice up your relationship can have benefits both in and beyond the bedroom, and, while trends come and go, the sex trends for 2023 are all about learning how to be intimate in the longer term. From booking a sexual wellness class to exploring your senses with ASMR, these are the top sex trends to look out for in 2023.
Sex trends 2023 as revealed by sex and relationship experts
1. Achieving internal orgasms
In the past, G-spot and vaginal orgasms haven't had as much airtime as clitoral orgasms, but, as sex coach Mangala Holland (opens in new tab) explains, women want to take the time to experience different sensations.
"I'm definitely seeing a huge rise in clients who are craving a much deeper sense of satisfaction and fulfillment, which they're getting from G-spot and cervix orgasms, as opposed to the 'quick release and get on with my day' vibe of the clitoral orgasm," says Mangela. "There's a growing number of women who are successful in many parts of their lives and are no longer prepared to settle for average pleasure or orgasms. They're definitely taking that into their own hands."
With more G-spot massagers coming onto the market, as well as glass dildos that are designed specifically for internal pleasure, there are plenty of ways you can work on exploring internal orgasms more.
2. ASMR in the bedroom
Multi-sensory sex is nothing new, but ASMR - or Autonomous Sensory Meridian Response - has many benefits both inside and outside the bedroom, and our experts predict it's going to be a key part of sex trends 2023. As well as standard ASMR for sleep, this great sensory experience can boost satisfaction during sex.
"When more people choose to focus on pleasure, then sexual novelty, for example, dom and sub role play and using ASMR to inspire sensory arousal can be introduced into the bedroom," says doctoral relationship researcher, Limor Gottlieb (opens in new tab). "The notion that sex is only penetrative is outdated. The focus of sex is no longer on reaching an orgasm, but on experiencing pleasure, and we can achieve pleasure ‌that doesn't require penetration with ASMR for sex. This allows couples to get creative in the bedroom and explore and get to know each other's bodies more deeply."
3. Eco-friendly sex toys
With climate change now a huge concern across the world, eco-friendly and sustainable sex toys will reach a new demand in 2023. According to research by Sh! Women's Store (opens in new tab), consumers are becoming much more carbon-footprint savvy about where they purchase their toys from.
China, where the vast majority of sex toys are manufactured, has the highest CO2 emissions of any country in the world. Add to this the environmental cost of transporting and delivering these toys, and it's easy to see why people are choosing to buy closer to home.
4. Sex education
If you're looking to expand your sex expertise in 2023, then you'll be pleased to know that there are plenty of intimacy-designed courses out there. While taking a sex class may sound a little odd, many of them allow you to learn in the comfort of your own home and come with fun homework to help guide you on your sexual journey.
Websites such as Shush Life (opens in new tab) offer courses that give you the tools to explore new areas of sexual wellness, from finding the best oral sex positions to general tips on how to have better sex.
5. Facetime sex
Living in a digital world means that our sex lives and tech often go hand in hand, and, according to a recent study from the University of Nebraska (opens in new tab), women are more likely than men to initiate sexting in a relationship. However, 2023 is forecasted to see more couples opting for FaceTime sex and communication via other video call apps to help maintain their connections.
"Many long-distance relationships couples who are physically separated need to come up with creative ways to stay not only emotionally connected but also sexually connected to strengthen intimacy," says Gottlieb. "And, thanks to technology, good old phone sex can be replaced with FaceTime sex."
6. Praise kink
Praise kink first emerged into public consciousness in the summer of 2022 following a stream of TikTok videos exploring the until-then-relatively-unheard-of fetish. As the name suggests, praise kink refers to someone who derives sexual pleasure from being praised during sex or foreplay.
"As kinks go, this one has a pretty low barrier to entry," says intimacy expert Natasha Ivanovic (opens in new tab), who has an MSc in investigative psychology. With further education on the subject now quickly available, many more adults may be tempted to try this for themselves.
"For example, you might be turned on by being complimented, especially as a part of a power exchange between partners. Perhaps your partner might like to be told they are a good girl or boy or complimented on their specific skills in the bedroom," suggests Ivanovic, who has recently partnered with the sex toy brand Kiiroo (opens in new tab).
7. Long-distance sex toys
You might already be familiar with many types of vibrators, but the very best remote vibrators are set to be the new hot toy in 2023. These toys connect to apps on your phone, so you can control them from anywhere in the world - making remote sex possible when you're apart from your partner.
Research from Condoms UK (opens in new tab) has revealed that there has been a rise in devices designed to mimic the sensation of giving and receiving oral sex. These popular devices can be programmed with different vibration patterns and intensities to simulate a variety of sexual activities.
8. Supplements for sex drive
With the global sexual wellness market valued at $77 billion (opens in new tab) in 2021 and projected to have a market size of $121.6 billion by 2030, the sexual supplement market is booming. With supplements and vitamins to assist with vaginal dryness, low libido, and erectile dysfunctions, experts believe that 2023 will see an uptake in people turning to new products to help improve their sex life.
"Hard economic times coupled with the emergence of diseases like COVID-19 have impacted people's mental health and we know that anxiety and depression reduce sexual urges," says sex therapist and relationship advisor Tatyana Dyachenko (opens in new tab). "Supplements and vitamins are great for stimulating the brain. In 2023, I foresee scenarios where couples will encourage each other to try out products to improve their sex lives."
9. Upgraded missionary
From playing with new angles to incorporating sex toys, there are plenty of ways you can make missionary sex better for both you and your partner.
The missionary sex position might have a reputation as being a bit 'vanilla' and many couples are looking for a fresh spin on this classic move. Search marketing company Salience (opens in new tab) found that online searches for 'missionary' have increased by 22% over the last year.
With five years of experience working across print and digital publications, Stacey is a journalist who specializes in writing about the latest developments in health and wellbeing. She has also previously written for Women's Health, Get The Gloss, Fit & Well, Stylist, and Natural Health magazine, covering current health trends and interviewing leading figures in the wellness space.
When she's not talking to health experts, you can probably find her hiking somewhere in the Welsh countryside or near the coast. Her favorite two ways to switch off are a Pilates class and a glass of wine with a home-cooked meal.