I've tried most fitness trackers and always come back to the Fitbit Versa 3—and it's so cheap right now
You can now save up to 30% of the Fitbit Versa 3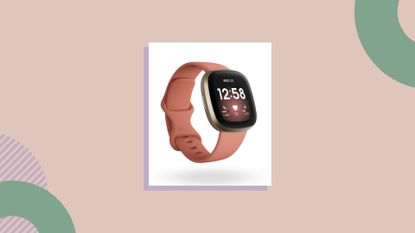 (Image credit: Future/Fitbit)
The Cyber Week sales are finally here, and if you're on the lookout for a fitness tracker, our digital health editor's top recommendation, the Fitbit Versa 3, is currently up to 30% off in the Black Friday sales. You won't want to miss this...
As a health editor I've tried and tested all the best fitness trackers out there, from Fitbit to Garmin, and Polar to Fossil, there aren't many brands I haven't given a whirl. And while I'm often impressed by the latest fitness gadgets, there's one brand and one model, in particular, I come back to time and time again. Cue—the Fitbit Versa 3.
Right now, you can get up to $50 or £60 off the Fitbit Versa 3 in the Black Friday and Cyber Week sales.
The best Fitbit Versa 3 deals in the UK
The best Fitbit Versa 3 deals in the US
The fitness tracker-smartwatch combo is always on my wrist in between testing other fitness trackers, and here's why...
Why the Fitbit Versa 3 design is the best
Lightweight and comfortable, even during my sweatiest HIIT workouts. The Fitbit Versa 3 is available in five colors and you can pick up additional bands (including vegan leather bands and fabric loop bands) if you're not a fan of the original silicone band.
Similar to an Apple Watch, the Fitbit Versa 3 has a large watch face that I really appreciate mid-workout when I want to quickly check my stats. It's a touchscreen watch that requires a simple swipe and is one of the easiest trackers to navigate. There are hundreds of clock faces to choose from, or you can create your own with a personal photo (I've currently got a picture from a hiking trip in England to admire every time I check my tracker).
Other design highlights include the quick charging battery. In just 12 minutes you can boost your watch with a full day's charge. Once fully charged to 100%, you can expect it to last around a week (depending on how often you stream music or use the GPS features). I often forget to charge my phone every day, so this is a big pro for me!
The Fitbit Versa 3 features you need to know about
The Fitbit Versa 3 offers a huge range of features. There's sleep tracking, heart rate monitoring, music streaming, on-screen notifications, SpO2 monitoring, built-in GPS and stress management to name just a few. But, there are three features, in particular, that really stand out to me...
It tracks my workouts—whether I'm doing an at-home yoga practice or working up a sweat at a spin studio, I use my Fitbit to track my workouts. After my session, I can see my stats on the watch face, or analyze them in more detail on the Fitbit app which I use to track my progress. It boosts my motivation to hit the recommended 150 Active Zone minutes per week by breaking down my workouts into three zones that are all worth different minute values.
It features Fitbit Pay—my Fitbit has saved me time and time again when I find myself debit card-less and stopping for coffee and a pastry post-run (life is all about balance, right?). I've got a lot of love for Fitbit Pay which links to my bank card and allows me to make contactless payments on the go with a tap of my watch.
It has a Daily Readiness Score—my favorite feature of all has to be the daily readiness score—it helps me slow down on days my body needs to rest, and challenge myself on the days my energy cup is full. While most of us are in tune with our bodies and will know when to rest, using this feature has given me an interesting insight into how my body and data align. By tracking sleep, activity, and heart rate variability, Fitbit recommends what level of activity (or rest) you should tackle that day, and even suggests workouts to get you moving. On days where I've tried to hit the gym despite feeling tired, it's helped me stop, re-think and slow down, opting for meditation or a stretching practice instead.
Fitbit Versa 3 vs other fitness trackers
I've tried a range of fitness trackers and smartwatches, from Garmin and Polar to Samsung and Fossil—and while all the models in our best fitness trackers and best smartwatches round-ups have earned their place at the top, I always come back to the Fitbit Versa 3. It's super easy to set up, easy to navigate and it does everything I need a fitness tracker to do and then some.
However, this watch won't be suitable for everyone. For the keen runners amongst us, some of the other fitness trackers I've reviewed (such as the Garmin Forerunner 55 and the NURVV Run Smart Insoles) might be more suitable as they provide a detailed analysis of running style and technique. While those who want a stylish wearable might prefer the Fitbit Luxe or the Fossil Gen 6 Smartwatch. And for the shoppers who need a tracker that monitors their heart health as well as workouts, the Withings Move ECG with an in-built atrial fibrillation device could the best choice for you.
But, for those who want an everyday watch with smart tech capabilities to make their day a little easier while accurately tracking their activity on the go and during workouts, I recommend giving the Versa 3 a try. With all the Black Friday and Cyber Week sales kicking off, there's no better time to invest.
Ciara is the former digital health editor at womanandhome.com and has covered all things health and wellbeing from fitness to sleep to relationships. She's always on the lookout for new health trends, innovative fitness gadgets and must-read wellness books.
Originally from Ireland, Ciara moved to London to study journalism. After graduation, Ciara started her career at Goodhousekeeping.com. Ciara qualified as a meditation teacher with the British School of Meditation in 2020, and outside of her day-to-day now runs her own meditation school called Finding Quiet. She is all about bettering that mind-body connection but believes wellness looks different to everyone.