Best fitness trackers to help you monitor activity, sleep and health metrics
Our round-up of the best fitness trackers will help you make the right decision before parting with your cash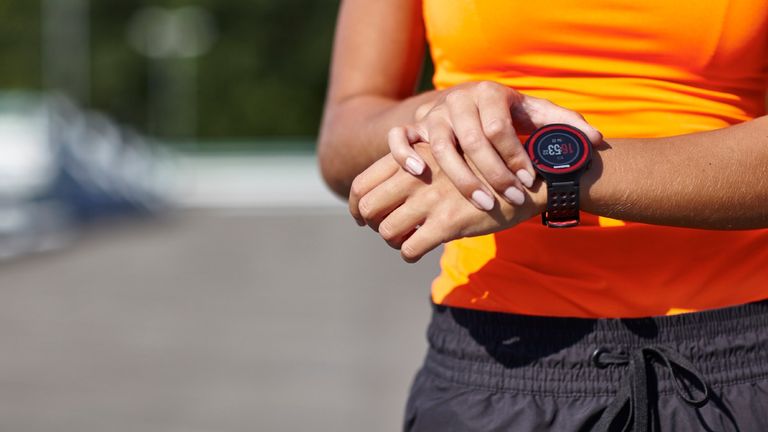 (Image credit: Getty Images / Maria Fuchs)
The best fitness trackers can be game-changing when it comes to your health. But there are so many smart watches out there, so finding the right one can take some work. 
But whether you're looking to get an idea of how many steps you do everyday, get into running (in which case, you might want a pair of our best running shoes for women as well) or just monitor your health in general, it's important to choose the right one for you.
Many of those we put to the test have not been included here, as they didn't make the grade. We considered everything, from how easy each was to set up, to how long the battery lasted and whether it spurred us on to exercise more. 
How to choose the best fitness tracker for you
With so many fitness trackers vying for your attention, it can be difficult to know which one to pick. So, where do you start? "I would look out for the basics, including heart rate, calories burnt and the active minutes and step counter as NEAT, which stands for Non-Exercise Activity Thermogenesis," says Sam Gregory, trainer and co-owner of F45 Stratford. 
"This is the ability to create a bigger calorie loss while not doing prescribed exercise. It shows how much energy you have used up throughout the day and how many calories you have burnt without even realising."
A sleep tracker won't be as important for everyone. "Personally, I'm not entirely convinced about sleep trackers," says Sam. "I have a sleep tracker on mine and it sometimes kicks in if I'm sat watching TV. However, on the days that my tracker tells me that I got a deep and REM sleep, I sometimes feel refreshed and well rested."
Finding which tracker is right for you is key, as they really can help you work harder. "Fitness trackers and heart monitors can give you a target and keep you accountable," says Sam. "They show people the results of their workout and demonstrate whether they are becoming more efficient, stronger and/or fitter. Being able to see these results helps to motivate people to push themselves harder, in order to reach their targets, as well as challenging themselves to do better."
The best fitness trackers you can buy right now
1. FitBit Charge 4
Best fitness tracker for most people
Specifications
Watch dimensions: 35.8mm x 22.7mm x 12.5mm
Battery lasts: up to 7 days (5 hrs with continuous GPS)
Water-resistant: up to 50m
Available colours: Black, blue-black, granite, rosewood
GPS?: Yes
Reasons to buy
+Good for all fitness levels+Supports mental health
Reasons to avoid
-Small screen-Looks like a fitness tracker
There's a reason the best Fitbits have been worn religiously for over a decade and that's because they are so user-friendly, even for technophobes. That's definitely true for the FitBit Charge 4 - in fact, it's the main reason we rate it so highly. This fitness tracker also focuses on boosting your health and emotional wellbeing – essential to balance if you want to push your fitness boundaries further. At £129.99, it's definitely worth the investment, considering it's waterproof and has a heart-rate monitor, built-in GPS and the ability to track your sleep. But the main reason it scores so highly is that it's really easy to use. There's no user manual in the box as you simply don't need one. 
The functions are easy to select by simply swiping up, down, left or right. It tracks all the basics when you exercise and you can even set goals before you set off, to really boost your workout. Plus, not only can you review your sleep, track your menstrual cycle and take time out for a quick breathing meditation reboot, but the ever-expanding Fitbit community means you can share as much or as little of your progress and wellness with other like-minded individuals. This means you'll always feel like part of a team, even when you're on your own. Now all you need is to gear up in our best leggings and you're ready to go!
See our full FitBit Charge 4 review
2. Apple Watch 5
Best premium fitness tracker
Specifications
Watch dimensions: 40mm x 34mm
Battery lasts: Up to 18 hours
Waterproof: Up to 50m
Available colours: Space grey, silver, gold
GPS?: Yes
Reasons to buy
+Looks stunning+Endless functionality
Reasons to avoid
-Expensive-Only compatible with iPhone 6S+
If a fitness tracker has a starting price of £399, then you want to be happy with the results if you take the plunge and make the purchase. Luckily, with the Apple Watch Series 5, satisfaction is almost guaranteed, purely because of the huge number of functions available. 
This includes Siri and the ability to reply in iMessage on the move. But that's not all – add into the mix a medical-grade ECG heart monitor, automatic detection to know which sport you want tracking and a nudge if you haven't moved enough each hour. Plus, this wearable also looks out for your health, with a menstrual cycle tracker and decibel monitor, so you know when you need to protect your hearing. The only thing missing is its own sleep tracker, although you can download an app for that.
See our full Apple Watch Series 5 review
3. MyZone MZ-3
Best budget fitness tracker
Specifications
Watch dimensions: 70mm x 43mm
Battery lasts: 7 months
Water-resistant: up to 10m
Available colours: Black & red
GPS?: No
Reasons to buy
+Easy set-up+Good for group fitness
Reasons to avoid
-Connection issues-Can be uncomfortable
Not everyone wants to wear a fitness tracker around their wrist. Sounds like you? Then this will be your top pick, especially if you are competitive when it comes to your workouts. Instead, the red Myzone MZ-3 strap fits around your chest and connects to your smartphone via Bluetooth. This type of external strap can give ultra-accurate heart rate readings. But that's not all. The unique thing about this fitness tracker is that your workout score is based on the effort you put in and the heart-rate intensity you reach, not how muscular you are. This means you can compete against someone with a completely different body shape to you and whoever wins is based on effort. This type of tracker is addictive and focusing on heart rate is a great way to boost your fitness. Plus, the fact it only needs charging every seven months means you can keep it in your gym bag so you'll never forget it.
See our full Myzone MZ-3 review
4. Withings Move ECG
Best fitness tracker for heart health
Specifications
Watch dimensions: 38mm
Battery lasts: 12 months
Water-resistant: Up to 50m
Available colours: Black & silver, white & silver
GPS?: Yes
Reasons to buy
+Easy to use+Large and stylish watch face
Reasons to avoid
-Slightly limited-Not rechargeable
Worried about your heart? With one in four adults in the UK expected to develop a problem, it's no wonder more and more fitness trackers are choosing heart health when it comes to their top functions. But instead of a 24/7 heart rate monitor, this pick has an in-built atrial fibrillation device. It means you can discover any heartbeat irregularity in less than a minute, just by putting your thumb and forefinger on the side of the rim. The technology is medical-grade and trustworthy. But that's not the only reason we love this super-stylish pick. Beginner? It's ideal if you are starting out and just want to count daily steps. There's a special hand on the analogue watch face, which moves as you do and then automatically resets at midnight. You'd be surprised how much it can spur you on to do those last few hundred steps to stay on target – making your heart healthier in the process. 
See our full Withings Move ECG review
5. Mobvoi TicWatch C2 Plus
Best fitness tracker with built-in GPS
Specifications
Watch dimensions: 42.8mm
Battery lasts: two days
Water-resistant: up to 1.5m for 30 mins
Available colours: Onyx, platinum, rose gold
GPS?: Yes
Reasons to buy
+Stunning design+Colour screen+Built-in GPS
Reasons to avoid
-Heavy-Takes time to set up
If you're willing to invest in a fitness tracker, then you'll want one you won't get bored of easily. That's exactly what the TicWatch C2+ is all about – it feels limitless. For most fitness buys, tracking your steps, activity levels, calories burnt, distance travelled and creating personal goals would be enough. But the TicWatch C2+ offers so much more, including breathing meditation, Google Assistant and notifications for social media and SMS. Built-in GPS and Google Pay means you don't have to worry about taking your phone out with you ever again. Plus, available in onyx, platinum and rose gold, this fitness tracker is simply stunning to wear. With a colour screen and 20 different watch face designs to choose from, you can really personalise it to suit your taste. You'll definitely get a good return on your investment.
See our full Mobvoi TicWatch C2+ review
6. Suunto 3 Fitness
Best fitness tracker to wear all day
Specifications
Watch dimensions: 43mm
Battery lasts: up to 30 hours when using connected GPS
Water-resistant: up to 30m
Available colours: Black, sakura, burgundy, copper, gold, ocean
GPS?: No
Reasons to buy
+Lightweight+Guidance training
Reasons to avoid
-Not touchscreen-No built-in GPS
Just starting your fitness journey and not sure which type of exercise will be right for you yet? Step forward, the Suunto 3. Not only does it help track your performance for a seemingly endless list of sports (everything, from martial arts to roller skating), but it evaluates your data and then provides you with a training programme to follow. Not only that, but the wristband is super flexible and comfortable to wear, even when you get sweaty. Plus, we love its ability to track your heart rate 24/7. Another reason to buy this fitness tracker is that it can tell you about the quality of your sleep. This is a really good way to see how what you're doing during the day is affecting how much rest you need at night. And, at just 36g, it doesn't feel too weighty and won't wake you up.
See our full Suunto 3 review