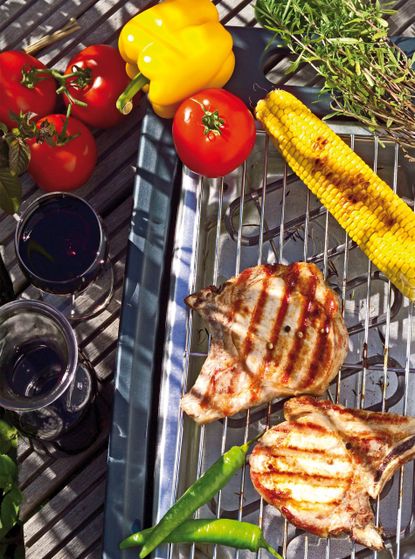 Barbecues shouldn't be banned for the calorie counters. Learn to eat cleverly when you fire up the charcoal and you can still lose weight!
In an ideal world we would have spent all winter and spring season long watching our calorie intake and hitting the gym every day, so that by the time summer rolls around, we would be looking and feeling fabulous. But the reality is that winter is often too cold to think about salads and running, and when spring comes we want to spend our time basking in some much-needed sun. So more often than not, it's only when a beach holiday is imminent that we manage to get back on track with our diet and weight loss goals.
But who wants to watch what they eat and work out in the summer? Well, the good news is that summer weight loss doesn't need to be tortuous. With a few tips and tricks, you can lose weight this season without sacrificing any summer fun – like the good old British summer barbecue tradition. So, forget boring diet recipes and fire up the (charcoal) BBQ because there are plenty of easy, tasty ways to lose weight this summer without missing out on your favourite summer tradition. Introducing the barbecue diet.
From switching meat for fish to making your own marinades, we've got all the tricks to help make your garden barbecue a diet-friendly affair. You can still enjoy fun gatherings with friends and family in the garden, while being kind to your waistline. We've even got the tips you need to barbecue your foods to perfection – because let's face it, no one likes their burger burnt to a crisp! And once you've tried our one-step trick to healthier barbecued chicken, you'll never go back.
These delicious, healthy and easy changes take minimal effort, and will leave you feeling fuller for longer. So click through now to discover our exclusive barbecue diet tips for the summer ahead...
Learn how to barbecue properly
Get to grips with your barbecue by deciding which type you want. Charcoal barbecues give a great smokey taste to the meat, but they are difficult to control and can cook meat too quickly. If you're cooking for a crowd, it's better to stick with the gas barbecue. The next issue is flipping. So many people think by constantly flipping their meat they will stop it sticking to the grill. In fact, you are actually making it stick more and stopping the meat from cooking properly. High heat sears the food giving it an intense flavour, so stop flipping and you can enjoy your barbecue without having to add calorific sauces for flavour.
Go for fish over meat
Ditch red meat and choose a healthier fish option for your next barbecue. Rich in heart-healthy omega 3 fatty acids, fish is much more nutritious and has been linked to reducing certain types of cancers. Choose mackerel or salmon for a really tasty barbeque dish. Try our barbequed mackerel with fennel and orange salad recipe
Opt for pork tenderloin
This lean cut provides 26% of your recommended daily allowance of protein with only 3g of fat. It's just as delicious and tasty as the fattier cuts, so next time you head to the butchers, choose the leanest pork cut. Our smokey pork tenderloin salad with Tabasco lime dressing recipe has a deliciously smokey flavour.
Make your own sauces
It's the red devil of condiments and yet so many people can't go a meal without slathering on some tomato ketchup. With sugar making up almost a quarter of every bottle, there's no quicker way to pile on the pounds. Instead, why not make your own sauces and have control of how much salt and sugar goes in. Try our healthy tomato ketchup recipe as a homemade alternative
Try new flavours
Replace sticky barbecue marinades with leaner, fresher alternatives. Argentina have some of the healthiest barbecue recipes in the world, and a heightened life expectancy to boot. Their focus on fresh, grass-fed meat and natural herby sauces make them perfect for weight-loss barbecuing. Cook these sirloin steaks with chimichurri sauce recipe for a South American twist
Go veggie
Not all burgers have to be made of beef, and with the average beef burger carrying 24g of fat perhaps it's a good idea to try another sort. Chicken is a leaner option, but for a truly healthy barbecue why not try a vegetarian bean burger? They are just as tasty but harbour less than half the fat of their meaty counterparts. Check out our delicious chickpea burger recipe
Make your own potato salad
There's nothing like a hefty side to send your barbecue calorie content soaring. Take control of what you're eating by making your own potato salad using low-fat mayonnaise and sweet potatoes. Incorporate fish into your potato salad with our mackerel, rocket and potato salad recipe
Load up a (healthy) kebab
Feeling calorie conscious this summer? Why not swap your slab of steak for a kebab. It's a delicious way to incorporate veggies in to your barbecue and you'll eat half as much fatty meat. Swap meat for fish with our monkfish, chorizo and romano pepper kebabs recipe
Marinade with big, natural flavours
Too often it's easy to rely on heavy, sugar-laden marinades for taste when barbecuing, when fresh herbs and spices could do exactly the same job - with half the calories. Try different marinade recipes that focus on using natural ingredients instead. Criolla sauce goes really well with chilli chicken burgers, and chimichurri makes a delicious marinade for beef. Why not try this prawns in pineapple marinade with mango and coriander salad recipe
Remove the chicken skin
It's no secret chicken skin is the ultimate taboo for barbecue dieters. It might not seem like an issue, but chicken skin saps up all of the juices and the fat from the chicken while it's cooking. Considering a gram of fat contains 9 calories, while a gram of protein contains 4 calories - it's no wonder it can pile on the pounds! Next time you're barbecuing remove the chicken skin for a healthier meal. Try our low-fat coriander chicken recipe
Go easy on cheese
If you thought ketchup was bad, just consider the cheese in your burger. It's a surefire way to pile your plate with calories, so why not replace it with some salad leaves or a gherkin. Take inspiration from our chicken and chorizo open burger with garlic mayo recipe
Use yogurt
Yogurt based sauces and marinades work wonderfully with barbecued food and make a nice change from mayonnaise. Perfect with salads, vegetable dishes, fish, chicken and turkey, switch your ketchup for some delicious tzatziki - and watch the pounds drop off. Try our harissa and yogurt marinated leg of lamb recipe Discover how to make quick and easy homemade tzatziki here
Put your butcher to work
Don't settle for standard issue supermarket meat. Know what you're eating and get the best cuts from a local butcher's shop instead. For beef, ask for the rump steak or the chateaubriand (a particular thick cut from the tenderloin) - it might be more dear but the quality is definitely worth it. For lamb, ask for neck fillet or butterflied leg. Why not try this mouthwatering butterflied leg of lamb with rosemary, garlic and lemon recipe
Fill up on vegetables
The best thing about the barbecue is that it gives vegetables a deeper flavour that is unobtainable in any other form of cooking. So cut down on the meat and fill up on delicious veggies like hot corn, grilled asparagus, marinated aubergines or low-fat garlic mushrooms. Veggies never tasted so good! Try our irresistible barbecued corn in its husk with lime and chilli butter recipe
Sign up to our free daily email for the latest royal and entertainment news, interesting opinion, expert advice on styling and beauty trends, and no-nonsense guides to the health and wellness questions you want answered.
Natalie Cornish is a freelance digital journalist and editor.
Formerly, she was digital editor of Red Online, woman&home, and Fabulous.
Natalie has also freelanced for Stylist, ELLE, The Sunday Times, Cosmopolitan, Glamour, Future Women, Grazia, Country Living, House Beautiful, and Marie Claire.
Natalie has been nominated for a number of awards, including by the British Society of Magazine Editors (BSME) for campaign of the year 2021, Mumbrella for journalist of the year, and Women in Media for rising star.