TikTok's newest cooking hack involves freezing your bacon - and it's honestly brilliant
Regardless of how you cook your bacon, this storage trick is a game-changer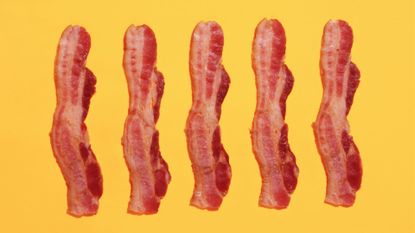 (Image credit: Getty Images)
A new TikTok cooking hack has revealed a genius way to store and cook your bacon - and it involves your freezer.
Bacon goes on pretty much everything: eggs, sandwiches, brussels sprouts, salads... the options are endless. So it would make sense to pick up a pack or two of the refrigerator staple every week on your grocery store trip. And, luckily, we recently scrolled across a video on #foodtok that caught our eye, and it involves two things you already likely have: bacon and your refrigerator.
One of the things that can be most frustrating about buying bacon is that, sometimes, we don't use the whole pack at once - leaving us wondering what to do with the other strips that linger in the pack. A dilemma like this calls for a cooking hack, much like Cameron Diaz's ramen hack or Mary Berry's turkey hack - but, ya know, for bacon.
Luckily TikToker @cleanfoodiecravings, aka Charlotte, is one smart cookie, and surmised a genius way to put an end to our endless bacon confusion.
First, Charlotte suggests taking all of your bacon out of the packet and placing it on a piece of parchment paper. Then, once you've laid your bacon out 1/2 inch apart so that all of the pieces are separated on the parchment paper, add another layer of the parchment paper on top.
Then, roll the pieces of parchment paper up together so that the bacon is being rolled longways. From there, Charlotte says to cut between each slice of bacon so that you end up cutting what looks like a ring of bacon for each slice. From there, you can put your bacon rings in the freezer in a plastic bag, so every time you need a slice of bacon, you can just thaw the individual pieces instead of the whole pack. Genius, right?
"This way, I don't have to take out an entire pack of bacon," Charlotte says in the TikTok, "and when I'm ready to cook some bacon, I can just take out a couple of them at a time."
Charlotte says that, when taking your bacon out to thaw, just let it sit at room temperature for 5-7 minutes, and then it's ready to cook.
"This hack keeps cooking a little less stressful and organized, and we love that for us," Charlotte says while demonstrating how to unroll the bacon from the parchment paper.
And, as it turns out, people in Charlotte's comments section can't get over how smart this hack is, too.
"The amount of bacon I'm going to save from the garbage now that I know this!!!" someone commented under her TikTok.
"Omg thank you! I let packs go bad constantly because I'm the only one eating it. It gets brown and nasty immediately sometimes," another person commented.
Madeline Merinuk is woman&home's US lifestyle news writer. She covers celebrity, entertainment, fashion, and beauty news but is also obsessed with internet trends - you can find her reciting trending TikTok sounds out loud at any given time.
After winning multiple student journalism awards for her investigative work, she graduated from Hofstra University in 2021 with a B.A. in Journalism. After graduating, she worked at today.com, the digital site for the Today Show, where she wrote pop culture news and interviewed big-name personalities like Emily Ratajkowski, Haley Lu Richardson, Emma Corrin, and more.
Her personal interests, in no particular order, are: cheese, Joni Mitchell, reading, hot yoga, traveling, having multiple chapsticks in every handbag at all times, and dancing to ABBA songs as if she were in the Mamma Mia movies.