7 Ways To Enjoy Doing Nothing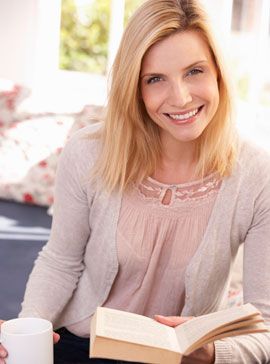 Book some guilt-free time out for yourself with our favourite ways to switch off and recharge
If doing nothing sounds like bliss – yet never happens – then ask, why don't you allow yourself to switch off without feeling guilty? Setting goals is fine, but getting too used to driving yourself can mean feeling bad about taking it easy. Maybe we've grown up with a mother putting her family's needs before her own. All this leads to a kind of hurry sickness, where we equate chilling out with being lazy and selfish. Book in a regular slot of doing-nothing time each week. Not only will you be better company and perform better at work, but you'll also be infinitely less stressed. TIP Having idle time changes the brain's chemistry and increases the feel-good hormone serotonin, leaving you calmer and more in control.
Put yourself in the zone
Mark the start of your switch-off time with this clear focus exercise, where you develop a mini routine to put you in the mindset of doing nothing. Stand on the spot, with feet together, straighten your back and imagine roots from your feet are connecting you deep into the earth. Then visualise emptying your head of all thoughts, letting them float up into the sky. TIP You can even do this during a stressful day at work, sitting at your desk (no one need know what you're actually thinking about!).
Banish moods
At first, when you begin trying to empty your mind, you may find feelings of restlessness or anxiety creeping in. It's tempting to plunge back into busyness to dispel this, but a simple breathing exercise is a better fix. Try 5-2-5 breathing… breathe out for a count of five, pause at the bottom of the breath for two counts, then breathe back in for five. This slows your heart rate and gives your brain a chance to banish the stresses of the day. TIP When your thoughts stray, bring them back to the breathing and the fact that clearing your mind will recharge your batteries.
Enjoy a fantasy
To help you feel more relaxed, play some gentle classical music and try imagining a beautiful scene from a holiday you've been on in the past or a fantasy of yourself in the future. Need more inspiration? Picture walking into a room where every single thing, from the door to the furniture, is painted in your favourite colour. TIP Pale purple or light blue are particularly healing, whereas orange will energise – rather than relax – you.
Take tech time out
Browsing websites is fun, but it doesn't replenish you in the way that other pastimes will, and can even end up stressing you out if you can't find what you want. There's also the constant flow of demands on your attention via emails and text. Try a technology detox where you ban yourself from going online and switch off your mobile for the day. Okay, try half a day if you feel you can't be out of touch for that long. TIP If you're snatching some quiet time during the week, switch your mobile settings so that your email doesn't constantly pop up on your phone, demanding attention.
Be spontaneous
One of the great things about holidays is that without any time constraints, you can be spontaneous in deciding what to do. Try recreating that feeling in the do nothing slot you engineered. It's fine to have a mental list of ideas stored up, but nothing concrete, then just tune in to what you feel like doing on the day. Remember the number-one rule though: there's no obligation to do anything at all, or to plan ahead. TIP The key to switching off is to be guided by how you're feeling at the time.
Silence the inner chatter
Okay, so you've promised yourself some switch-off time at home, so why do random worries keep entering your head and spoiling the moment? Instead of battling your worries for the next two hours, allow yourself a maximum of ten minutes to brainstorm solutions to the problem. Grab a pen and paper, and jot down any ideas. Ask, what have I tried so far? Who else can I talk to about it? Have I been in this situation before? And how did I cope then? Right, ten minutes are up, now let the guilt-free idle time begin… TIP When we try to do too many things at once, the part of the brain that does all the problem-solving and analysis shuts down. It's amazing how, once we slow down, suddenly the answer often just comes to us.