25 Christmas gift ideas for dogs
Your furry friend deserves a treat - and these Christmas gift ideas for dogs will be sure to get tails wagging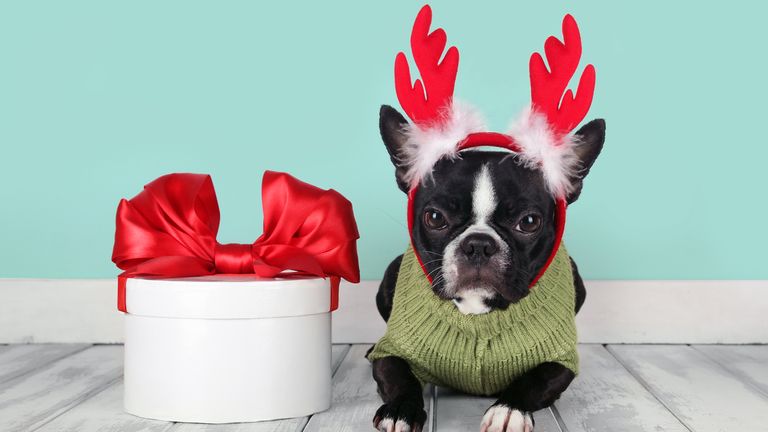 When ticking off your festive shopping list, there's a very important family member you shouldn't forget to include in your planning: Christmas gift ideas for dogs!
We all know that dogs are much loved by their humans (sometimes more than other humans!) and now is a perfect time to treat him or her to something special. With the excitement of the festive season, your bundle of fluff will love receiving a new treat and there are some truly unique Christmas gifts out there to choose from.
Where to buy Christmas gifts for dogs
You no longer need to make a special visit to the pet store to pick up a gift for your dog. Many high street stores have a selection of goodies made for four-legged friends, or you can order online and get them sorted in just a few clicks.

When it comes to shopping for dogs, practical is best. Sure, they want new toys, but do they need them? And does their owner (that could be you) have enough room for more? There are plenty of useful purchases you can make, too, such as new leads, cosy jackets or even a dog camera to keep an eye on them while you're out.
Want to feel inspired? We've scoured the very best Christmas gifts for dogs from Pets & Home to Not On The High Street, John Lewis, Matalan and more to find something that your furry friend is bound to love.
Fenella Smith Dachsund Dog Treat Jar
RRP £34, John Lewis
Nothing makes our four legged friends as happy as treat time, and wouldn't it just add to the joy if said treats could be stored and presented from this very chic little jar by British designer Fenella Smith? Well it would for you, anyway.
Tails Ultimate Christmas Box
RRP £25, Tails.com
Speaking of treats, what dog wouldn't love to receive this bumper box of delicious and (crucially, for you) healthy snacks? Inside you'll find chicken and duck biscuits, turkey pate, a giant festive biscuit, lickimat for treats and eco-friendly plush bone toy. Just don't let them eat it all at once!
Paikka handmade knitted dog coat
RRP £45, Selfridges
Dog jumpers can err on the tacky side but not this gorgeous cable knit number in a chunky wool mix. We love the little details like ribbed trims and rose gold tag - so everyone at the local park knows who the smartest pooch on the block is. The rich claret colour is nicely wintry, although there's a classic grey too if that's more your thing.
Fat Face Meadow Floral Dog Duvet
RRP £49.99, John lewis
A comfy, perfectly squishy day bed that your pooch will love to chill out on. It's unusually stylish for this sort of product, with two pretty prints to pick from in cotton fabric and the filling is made with 100% recycled materials from old plastic bottles.
Catford Dogs Blythe Dog Lead
RRP £25, Liberty London
Many of us are looking to support small independent businesses in 2020, and this is a great way to do it. Made by a small South-East London brand, this sturdy and stylish lead is made of ultra strong materials, but doesn't sacrifice any cool factor for practicality.
Kiehl's Cuddly-Coat Cleansing Spritz
RRP £12, Kiehl's
Freshen up your four-legged friend with this light and energetically-scented spritz. It'll neutralise any smells they pick up in the park (say no more) and gently condition with glycerin too. This is probably one of those gifts that benefits the owner more than the dog - but it does mean you can put off bath time for a bit longer, which I'm sure most pooches will appreciate.
Lish Philip wool-blend small pet carrier
RRP £225, Selfridges
One for the most pampered of pooches, this regal tartan dog carrier unzips to become a cosy travel bed. Every part of this luxe carrier has been lovingly crafted, from Its Harris tweed fabric all the way from the Outer Hebrides to the classy gold hardwear and super shaggy lining.
Navy Winter Stars Knit Dog Scarf
RRP £12, Ollie & Co
'Tis the season to wrestle or bribe your dog into wearing adorable but unnecessary clothing. You won't have much trouble getting Fido into this though, a comfy and cosy scarf that fits easily over his head and has a secure loop to prevent mid-walk shake-offs. Thanks to its affordable price this would make a perfect present for any dog lover in your life, and makes a nice winter alternative to the usual bandanas.
Fortnum & Mason Dog basket
RRP £195, Fortnum & Mason
If your little prince or princess deserves the very best, you'll want to treat them like royalty with this dog basket from Fortnum & Mason. The wicker is hand-woven from willow, while the luxurious Pippa & Co. pillow is exclusively crafted from sustainably sourced fabrics, trimmings and fillings. A very fancy dog, indeed.
Furbo Dog 2 Way Camera
RRP £189, Amazon
Always wanted to know what your dog gets up to while you're out of the house? A Furbo is a must-have for nosy pet owners, as it allows you to keep an eye on your dog through the camera, which you can watch on your phone via an app. It'll send push notifications to let you know if they're barking, and you'll even be able to talk to them through it. You'll also love being able to play remotely by tossing treats to your little pal.
Aesop Animal wash
RRP £27, LookFantastic
Aesop make fancy soaps for humans, but why should your dog be left out? This chic 'shampoo' works to thoroughly cleanse and deodorise fur while respecting and caring for delicate skin. With scents of lemon, tea tree and spearmint, it's almost enough to make bath time an enjoyable experience.
Barbour Dog jacket
RRP £32.99, Very
Only fancy dogs can wear this very posh jacket from Barbour. Not only does it look great, it's also functional and will keep him or her warm and dry on those New Year walks. With tartan lining and a belt to fix it in place, we're almost jealous!
Joules Bone toy
RRP £5, Horse Direct
Finally, proof that dog toys don't have to be eyesores! This plush is available in red tweed or blue floral, and while you can appreciate its beauty, your pet will love carrying it around the house or using it as a pillow.
Posh Pooch Dog wine
RRP £2.99, Pets at Home
Christmas is a time for enjoying a glass of wine with friends and family, and now your dog can join in, too! This non-alcoholic tipple is a healthy infusion of 100% natural herbs, and can be drank alone or poured over food for some extra flavour.
Snack launcher
RRP £6.99, Prezzybox
We promise you'll have hours of fun with this treat launcher, which comes with a handy wrist strap so you won't use it. Perfect for taking out on walks, it'll help your dog with their co-ordination.
Relaxopet Relaxation trainer
RRP £69.90, Fetch
Stressed pets will be thankful for this gadget, which helps reassure the animal in stressful situations, whether in their own home, in a stable, in a cage or in a non-animal environment. It uses sounds, inaudible to humans, and frequencies to calm them down.
Pet Safe Bubble toy
RRP £2.99, Fetch
Dogs love bubbles, and owners love watching them chase them around the garden - so this gift is a win-win! The formula is pet-safe, and is even peanut butter scented to make the bubbles more enticing.
Kysler Pet bed Extra Large
RRP £65, Made
This pink velvet bed looks so cosy, we're almost tempted to curl up ourselves! Luckily, there is a matching pink bed, so you could go all-out and make your bedroom a pink haven for everyone in the house.
Treats gift box
RRP £5, Lily's Kitchen
You'll win the approval of any dog with this special festive treat gift box from pump favourite Lily's Kitchen. It contains Christmas turkey bites, duck & venison sausages and beef mini burgers - so your dog can enjoy their own Christmas dinner while you feast on yours!
Personalised Pet portrait
RRP £16.19, Etsy
Technically, this is probably one for the owner rather than the dog, but we can't deny that these portraits are adorable! Simply share the name, and 2-3 pictures of your dog, and the rest is easy!
KONG toy
RRP £11.99, Amazon
If your dog is prone to destroying all of their toys, you probably need to invest in a KONG. These incredibly hard-wearing toys are practically indestructible, but still keep your pet amused thanks to the hole, which you can fill with treats for them to dig out.
Broccoli toy
RRP £3, Pets at Home
Dogs don't like vegetables, but we're sure they'll enjoy this adorable teddy bear. Sure, it's a bit gaudy, but won't they look adorable carrying this around the house..?
Wild & Woofy New Dog Starter Kit Gift Set
RRP £20, John Lewis
If you know someone lucky enough to be getting a dog this Christmas, get them this starter kit to help. It contains a spotted bow tie, rope style lead, tennis ball and collapsible bowl with carabiner to help them with their newest family member.
Personalised dog hamper
RRP £30, Not on the High Street
This adorable hamper comes printed with your dog's name on the front, and is filled with natural treats - such as biscuits, sausages and paw balm. If you really want to spoil them, you can opt for a premium version.
Silver Grey Softie Faux Fur Dog Blanket
From £46, The Stylish Dog
This cosy blanket is stylish enough to be enjoyed by you and your dog. Pop it on the sofa, or in their bed or at the bottom of your own bed for those bedtime snuggles. It's super warm and machine washable so practical too.
Medium Dapper Dogs Liberty Print Dog Neckerchief
RRP £25, Liberty London
Okay we admit it, sometimes our dog is dressed better than we are. If you, like us, love spoiling your pooch then why not treat them to this fancy neckerchief. Featuring the Dapper Dogs Liberty print it's handmade from cotton with a secure Velcro fastening that can be worn with a harness or collar.