What to sell on Poshmark to make a profit and insider tips for selling on the social commerce marketplace
Successful sellers share what to sell on Poshmark to turn a profit and the do's and don'ts to being a top seller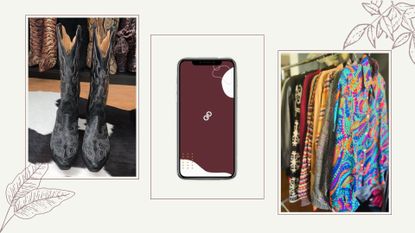 (Image credit: Future/Canva)
Poshmark has grown exponentially since it was founded back in 2011 and now has over 80 million sellers on the site. To stand out from the crowd on the app you have to know what to sell on Poshmark to capture a buyer's attention, as well as know how to use the site to benefit from the app's algorithms.
To find out what to sell on Poshmark to turn a profit we went straight to the source, getting tips for selling on Poshmark from Tracy Sun, a co-founder of the social commerce marketplace, and three successful sellers on the site. We got the inside scoop on why listings go unsold, what items perform the best on the app, and all the tools that help maximize sales and sell clothes online successfully.
The secret to selling on Poshmark according to Poshmark insiders
Whether you're like me and created a Poshmark account just to sell your high school prom dress, or you're looking to expand your independent clothing brand and turn your Poshmark account into a small business, staying consistent and active, engaging with potential buyers, and being up to date on trends are just a few ways to become successful on one of the best apps to sell clothes online, according to Poshmark insiders.
Hannah Brown (opens in new tab), a Poshmark ambassador, sells luxury and vintage goods full-time. She started using Poshmark after decluttering clothes in her closet and making 15 sales in just one weekend. Five years later, Brown says she's made $30,000 in just one year. So what's the secret to selling on Poshmark? According to Hannah it's finding a niche to sell on Poshmark, engaging with other users, and being a part of the algorithm by being consistent.
"Study what other sellers are offering," Hannah told woman&home. "Study brands, fashion trends, and vintage if you're into that. Some sellers choose a niche like vintage or sneakers. And they focus on mastering selling those items."
Poshmark part-time reseller and Posh ambassador Harriet Fitzpatrick (opens in new tab), 54, made $15,000 in one year from selling designer, vintage, and modern clothing on the app. Juggling her full-time job and her brand, Room Seven, Fitzpatrick is excited to retire from her job this year and invest full-time in her brand because she agrees with Hannah Brown that consistency as the key to selling successfully on Poshmark. "There's an algorithm for being consistent," she revealed to us.
Another top tip for selling on Poshmark is to use the tools provided by the app to improve your listings. Poshmark released a video feature in 2021 that allows sellers to bring their listings to life in a 15-second video as well as a bulk-sharing feature in 2022 that allows Posh ambassadors to share all their listings at once.
As a shopping writer and someone who reads endless product reviews, physically seeing a product in motion is 10 times more beneficial than still images. You can see the quality, how it wears, the fit, and more. So, I could only imagine how many more Poshmark sales there were after this update.
Brown says these app updates were game-changing. "The sharing tool freed up so much of my time," she tells us. "Before that feature launched, you had to share each listing individually one by one, and that absorbed multiple hours a day."
Tracy Sun, Co-founder and SVP of Seller Experience at Poshmark, advises that being active in your listings and within the Poshmark community will set you up for success: "being active in the Poshmark community is one of the best ways to become more successful on Poshmark,."
"Share your listings at least three times a day and spread the love by sharing other Poshers' listings as well."
Sun also recommends joining 'Posh Parties', a real-time virtual shopping event where you can shop, share, sell, network, and build followers.
Tips for selling on Poshmark for beginners according to people who actually make money on the site
Hannah Brown, Harriet Fitzpatrick and Fe Stepka (opens in new tab), who has made nearly $115,000 in earnings to date selling fashion jewelry on Poshmark, revealed to us their list of beginner-friendly tips for selling on Poshmark:
If you're a casual reseller, start by selling items you no longer wear in your closet. To continue making money once you've organized your closet, find a niche for your brand and source those items from charity shops, liquidators, estate sales, or other retailers.
Do your best to take professional photos for your listings. Make sure you have good lighting and that the items look their best.
Be detailed in your product descriptions and product titles.
Study trends and brands to work out what is proving most popular at the moment and is likely to sell well.
Be active on the app daily.
Post new stuff, follow ambassadors, and re-share your listings.
Engage with customers.
Be patient.
Image 1 of 6
What is the 30-minute rule on Poshmark?
The '30-minute rule' on Poshmark is the idea that sellers who list, share, follow and comment all in the span of 30 minutes will increase their chances of making sales and increase their followers.
However, Fe Stepka explained to us that the '30-minute rule' is somewhat outdated now with the Poshmark's newer features, and she doesn't feel it applies to new sellers on the app:
"I can see this helping someone who has never used Poshmark and has no idea that activity boosts your closet visibility, so I can see a possible change for someone that does exactly nothing right now. I do not think it's useful because this was created before Poshmark deployed some pretty nice tools that allow you to share your entire closet at once, and send offers to all people who liked your items at once. If you want to sell a lot on Poshmark right now, you need to research the brands people want and sell those at good prices."
What items sell best on Poshmark?
Most potential buyers go on resale marketplaces to find vintage bargains, discounted designer wear, trending retro pieces or unique, one-of-a-kind items.
Fitzpatrick says items that sell the best vary because trends are constantly changing, but she finds herself continually reselling many designer brands. "It's easier to sell designer brands that people are already looking for," she says.
Brown also sees an ongoing selling trend of luxury designer bags and brands, as well as vintage items: "The best-selling items out of my closet are vintage coats, dresses, and shoes," she tells woman&home. "Designer accessories always sell, and sometimes clothes, but it depends on the style and demand as they take longer to sell to the right buyer."
Image 1 of 3
But if selling vintage and designer pieces isn't your thing and you still want to dominate in sales, Sun recommends turning on Poshmark's trends push notifications that alert you to new trends every morning and can help you work out what to sell on Poshmark.
"Once you find a trend page, tap on view details to be taken to its trend guidelines to view the details that make up that trend, like recently trending brands, categories, and departments. These can help you while you search your closet for items to sell or while sourcing," says Sun.
The trend guidelines also give you specific keywords shoppers use so you can add them to your item descriptions, allowing your listings to pop up.
What should you not do on Poshmark?
Now that we've gone through all the do's in becoming a successful Poshmark seller, it's important to list all the 'don'ts' that could hinder your potential sales. According to Poshmark insiders here's what you shouldn't do on the social commerce marketplace:
Don't ignore potential buyers when they are asking questions about the sizing and measurements. No response is a horrible customer service and won't generate sales or good reviews.
Don't undervalue your listings, do your research, and don't be afraid to price a little higher for popular or sought-after items.
Do not lie on item descriptions.
Do not advertise on other sellers' listings.
Do not abuse any of the tools provided to message multiple buyers - don't spam.
You are not capable of convincing someone to buy your product, so don't bother them. If they liked your item, just quietly send them an offer.
Common reasons your stuff isn't selling on Poshmark
Although you should be patient and hopeful in your listings, it's important to know why your stuff may not sell. Fitzpatrick points out several reasons an item may go unsold, such as the simple fact that an item may not be in high demand or trending, or you're not active or re-listing the item enough.
Brown also explained that a poor or lacking description for the products you are trying to sell on Poshmark can also hinder the sale of your item: "Common reasons that can hinder an item from selling is when the listing title and description are not descriptive enough," she told woman&home. "Include as much information as you can in your descriptions. If you take it a step further and provide flat-lay measurement photos, you can reference that when a potential buyer asks for the measurements. It happens daily and can be the difference between capturing or losing a sale."
And Stepka, whose closet hasn't been the same since before the pandemic, says the current economic crisis affected her sales and is the biggest reason items aren't selling.
If your stuff isn't selling on Poshmark, try improving the listing images, updating the product title or changing the description to make it more details and make your item sound more attractive to buyers.
Selling on more than one marketplace? Check out our guide on how to sell on Depop, where we got the inside scoop from the free app's top sellers themselves.
Kenedee Fowler is a shopping writer based in the United States. She joined woman&home in September 2022, and ever since has been sharing her expertise with the brand to help readers source gifts for any occasion and on any budget, reviews products so you don't have to, and scout out the best deals and products to give you the best value for your money. Before joining woman&home, Kenedee was a home editorial fellow for Insider Reviews, where she wrote in-depth reviews and articles across the home vertical.

Kenedee is a recent graduate from the number one journalism school in the US, the University of Missouri - Columbia, where she gained hands-on experience as a multimedia journalist at mid-Missouri's local news station.