Best Christmas jumpers 2022 - the festive styles to buy now
These are the 21 best Christmas jumpers 2022 has to offer, from festively chic to cute and quirky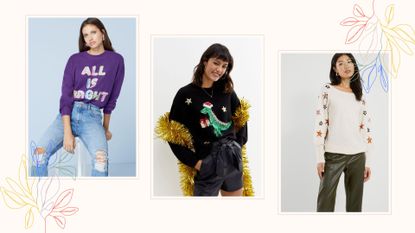 (Image credit: Next/New Look/Monsoon)
The best Christmas jumpers are guaranteed to get you into the festive spirit and with the temperatures starting to drop there's no better time to start bolstering your knitwear collection.
Much like your favorite Christmas party dress, a Christmas jumper is an integral part of a festive wardrobe. With popularity soaring in recent years, the best Christmas jumpers are now a mainstay of straight-to-market brands, with dozens of iterations expected across all budgets and categories in the run-up to the holiday season. Such is the popularity of the best Christmas jumpers that there is even a day dedicated to wearing your most spirited sweater, whilst raising money for a good cause. While many credit Mark Darcy for the initial explosion in the style status of the Christmas jumper - after the character was spotted donning a particularly festive knit in Bridget Jones, having a holiday season wardrobe packed with joy-inducing pieces is nothing new.
From slogan sweaters and funny festive puns to cute character motif styles and classic fair isle knits to subtle sparkly designs, there is a Christmas jumper for every sartorial style. Whether you want to get the whole family kitted out best matching Christmas jumpers, or see it as your duty to don a festive knit to help bolster Christmas cheer, it's time to get fully decked out for a joyous December.
The best Christmas jumpers to shop now
Purchasing special clothing items for Christmas day itself or the run-up has become a global tradition and the best Christmas jumpers fall very much in line with this trend. From the best women's Christmas pajamas for those dark and cozy nights during December to the best matching Christmas pajamas for the whole family to get everyone excited on Christmas Eve, our clothing can really help get us in the right mindset to celebrate the festive period.