All the best Christmas jumpers for 2021
Our fashion expert's pick of the best Christmas jumpers for 2021 for every style and budget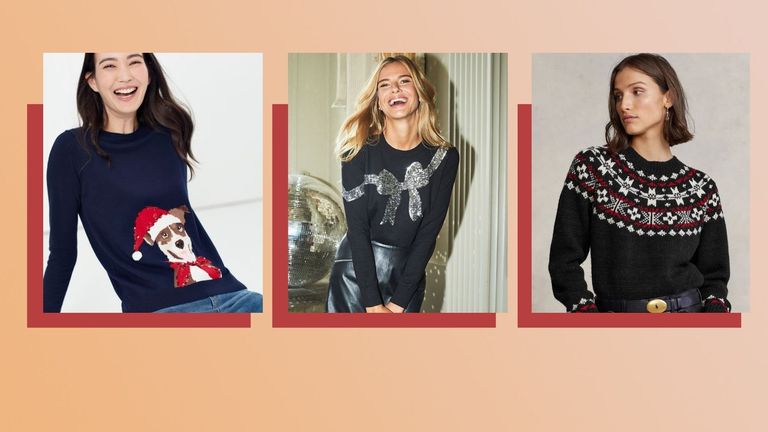 (Image credit: Future)
We've picked the best Christmas jumpers for the 2021 festive season because like it or not, the holidays are most definitely coming.
It's the most wonderful time of the year so having a failsafe Christmas jumper as part of your winter capsule wardrobe means you'll be kept fashionably festive for seasons to come.
Much like the best women's Christmas pyjamas, the shops are now being filled with knits adorned with everything from witty festive slogans to reindeer motifs that would make Rudolph proud.
Whether you're after some subtle sparkle that can be worn past December 25th or think nothing beats a novelty knit that Bridget Jones would be proud of, there is a festive look for everyone. There's even options for the rest of the family in matching Christmas jumpers, too.
The best Christmas jumpers to shop now
1. Sosandar Sequin Bow Knit Jumper
Best stylish Christmas jumper
Specifications
RRP: £49 / $77
Sizes: US 4-14 / UK 8-18
Material: 70% Acrylic, 25% Nylon, 5% Polyester
Care: Machine Wash
Who needs presents under the tree when you are the true gift for your family and friends this Christmas? If you're after a chic look that shows you've got the holidays covered in the most stylish of ways, then this is the sweater for you. With sparkly ribbon detail, prove it's your time to shine. Try wearing it with a leather skirt or tuck it into black wide-leg trousers to help the sequins really stand out.
2. Ralph Lauren Fair Isle Wool-Blend Jumper
Best fair isle Christmas jumper
Specifications
RRP: $298 / £265
Sizes: Xxs-xxl
Material: 79% wool, 11% acrylic, 10% alpaca hair
Care: Hand wash
This super chic jumper works for the whole of winter, not just for Christmas, so is certainly worth the investment. With a subtle nod to the festive season, the fair isle design around the neck and the cuffs is just the right amount to keep it on the right side of stylish. If you're looking for Christmas gifts for her that she will love - this is it. Get the après ski look and imagine yourself toasting marshmallows by the fire.
3. Boohoo Plus Merry Christmas Ya Filthy Animal Jumper
Best plus size christmas jumper
Specifications
RRP: $40 / £20
Sizes: US 12-20 / UK 16-24
Material: 100% Acrylic
Care: Machine wash
When it comes to the best Christmas movies on Disney Plus, few beat the iconic classic Home Alone. Let your jumper do the talking and bag this quirky style with the famous phrase across the front. The style comes in four colours and is made to hug curves for a comfortable fit. Pop this knit on year after year and wish your pals a "Merry Christmas ya filthy animals".
4. Amazon Top Fashion18 Women's Reindeer Novelty Snowflake Long Sleeve Festive Sweater
Best classic Christmas jumper
Specifications
RRP: $13.45 / £9.99
Sizes: 8-22
Material: 100% Acrylic
Care: Hand wash
You can't go wrong with a festive style like this one. Every year, you can rest assured that a classic fair isle print with added reindeers will get you in the Christmas spirit in no time. Wear the chunky style with streamlined bottoms and boots, head to a Christmas market and warm up with a hot chocolate.
5. Joules Miranda Festive Intarsia Crew Neck Jumper
Best Christmas jumper for animal lovers
Specifications
RRP: $89.95 / £59.95
Sizes: US 2-22 / UK 6-26
Material: 50% Cotton, 30% Viscose from Bamboo, 20% Recycled Polyester
Care: Machine wash
Is there anything cuter than a festive dog? We don't think so! Add this sweater to your wardrobe and you're guaranteed to feel paw-fectly put together. Throw it on with a pair of jeans and let the pooch take centre stage. It's also made with recycled bamboo making it an eco-friendly Christmas gift for dog lovers.
6. Bella Freud Fairytale of New York Jumper
Best Christmas jumper for beyond 25th December
Specifications
RRP: $475 / £310
Sizes : XS-XL
Material: 100% merino wool
Care: Dry clean only
For a subtle nod to the holidays that feels super luxe, this knit is the one for you. Embroidered with the title of the hit Christmas song by The Pogues, it's the classy solution to the conundrum of what to wear on Christmas Day.
Made with super soft merino wool, there's no reason this classic knit can't be worn all year round. Fairytales in New York aren't just for Christmas, after all! Layer it over dresses, wear with leather trousers or midi skirts for a chic look that never goes out of style.
7. Boohoo Mrs Elf Christmas Jumper Dress
Best novelty Christmas jumper
Specifications
RRP: $30 / £15
Sizes: XS-L
Material: 100% Acrylic
Care : Machine wash
Go bold or go home, right? For those of us who think the holidays are essentially a month of wearing costumes and getting dressed with wild abandon, this should be your sweater of choice. Become Santa's head elf and embrace the season with a kitsch look. Sure, it might not win you style points in the long run, but you will be most certainly stand out in the crowd and it's a great option if you need funny Secret Santa ideas for Christmas gifts for your friends.
8. ASOS DESIGN Christmas Sweatshirt
Best minimalist Christmas jumper
Specifications
RRP: $26 / £18
Sizes: US 0-14 / UK 4-18
Material : 100% cotton
Care: Hand wash
Poke fun at the Christmas jumper craze with a minimalist sweater that reveals your sarcastic nature. You don't need bells, whistles and light-up Rudolph noses to prove you're a fan of the holidays, so bag this simple option. You could even stretch to some festive red lipstick… or maybe not.
9. Midnight Magic & Co Christmas Disney Sweatshirts
Best Christmas jumper for Disney fans
Specifications
RRP: $35.99 / £27.94
Sizes: S-XL
Material: 50% Cotton, 50% Polyester
Care: Machine wash
No just a Christmas gift for kids, who doesn't like a bit of Disney magic at Christmas? Whether you are mad for Minnie or know a family member who is passionate about princesses, get a themed festive sweater this year to really top the present giving.
10. Rock on Ruby Bah Hum Bug and Scrooge Unisex Christmas Jumper Set
Best his and hers Christmas jumpers
Specifications
RRP: $90.73 / £64
Sizes: XS-XL
Material : Cotton blend
Care: Machine wash
If your other half isn't quite as fanatic about the holidays as you are, then this his and hers set is a must-have. Tease your partner with a cheeky slogan sweater that is sure to get friends laughing. Add a set of his and hers Christmas pyjamas for the full matching closet, too. The black and red sweaters can also be bought individually and kids can even get in on the action. Who ever said Scrooge didn't have a sense of humour?
11. Sparks and Daughters Family Christmas Jumper Set
Best matching Christmas jumpers for the family
Specifications
RRP: From $50.68 / From £36
Sizes: Adults XS-XXL / Kids newborn - 10 yrs
Material : Cotton blend
Care : Machine wash
Dress the whole family in matching jumpers that are great for the big day. These snuggly styles are fleece-lined for extra warmth and come with the option of personalizing with names, too. Whether you fancy grey or navy, get the family kitted out in matching sweaters that is sure to see you top Santa's nice list. Wrap them up along with some cosy slippers for a picture perfect present if you're looking for Christmas gifts for your parents.
12. Jojo Maman Bébé Christmas Pudding Maternity Top
Best Christmas jumper for mums-to-be
Specifications
RRP: $35.16 / £26
Sizes: S-L
Material: 95% Viscose, 5% Elastane
Care: Machine wash
If you're in need of Christmas gift ideas for a mom to be, this could well be it. Jojo Maman Bébé is known for its high quality maternity clothes and this super soft festive jumper is no exception. With a Christmas pudding sitting on right on the baby bump, it will make for plenty a festive photo-op.
Joely Chilcott is an experienced fashion and features editor having spent over ten years writing, styling and editing for a number of women's lifestyle publications, including Woman & Home, Woman and Woman's Own.
She caught the style bug as a child and, despite a few sartorially challenging teenage years, chose to pursue fashion journalism after university. Whether dishing out advice on using clothes to boost confidence, staying ahead of the curve with seasonal fashion trends or styling the latest celebrity photoshoot, Joely's passion lies in making women feel their best through their wardrobe.
She also spent three years as the Woman Editor of a tabloid newspaper in which she was regularly the mouthpiece for female issues while spearheading campaigns which successfully saw laws being changed as a result. A certified shopping expert, Joely is always on the lookout for new and exciting brands that she can champion, while holding the high street close to her heart. She has had work published in Drapers, Women's Health, Fabulous, YOU, The Sun and the Metro, as well as being a regular fashion contributor to TalkRadio.
You can usually spot her wearing a midi dress and boots...and complaining she has nothing to wear.