The best Pandora Black Friday and Cyber Monday deals to shop now, including 30% off selected items
We've tracked down the best Pandora Cyber Monday deals available today, with up to 30% off bestsellers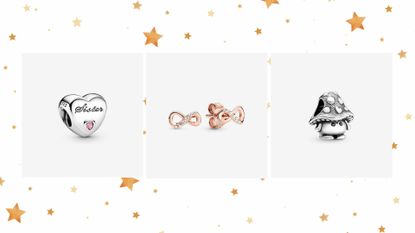 (Image credit: Pandora/Future)
The Pandora Black Friday sale is still going this Cyber Monday, with discounts of up to 30% available across selected items, including stacking rings, charms, gift sets, earrings and more.
Although Black Friday has come and gone, the Pandora sale is still running and Pandora shoppers can get 30% off site-wide in the US (opens in new tab) until 29 November and 30% off selected items in the UK (opens in new tab) until midnight tonight.
There are also notable Pandora deals on Amazon (opens in new tab) and Boolchand, (opens in new tab) so plenty of discounts can be found. Whether you're looking to add to your stash or for the best Christmas gift for her, these are the best offers we've spotted today.
Where to find the best Cyber Monday Pandora deals in the UK
Best Cyber Monday Pandora deals avalable today in the UK
Where to find the best Pandora Cyber Monday deals today in the US
Best Pandora Cyber Monday deals available today in the US
How long will the Pandora Cyber Monday deals last?
For most retailers, the Pandora Cyber Monday deals will end imminently, with the Pandora UK sale ending at midnight tonight. This means that today is the absolute last chance to shop these great deals - so act quickly if you want to snap one up! US shoppers have a little longer, as the Cyber sale will end on November 29.
In the US, retailers Ben Bridge (opens in new tab) and Boolchand (opens in new tab) have confirmed that their Pandora Cyber Monday deals will end tomorrow, Tuesday November 29, so you have a little longer to get a great deal through these sites. However, it's worth noting that these end dates are only subject to stock lasting in the sale, and when a piece goes out of stock in today's sales, it's likely it won't come back.
Are the Cyber Monday Pandora deals the same as Black Friday or better?
Generally, the Pandora Black Friday deals are very similar to the Pandora Cyber Monday deals. For example, the Pandora site in both the US and the UK have continued to offer 30% off selected items site-wide, and 20% off almost everything else - which is the same deal that was on offer during Black Friday and Cyber Weekend.
What's changed, however, is largely the products that are on offer - retailers tend to swap out their stock for Cyber Monday, and there are different items on sale today than there were over the weekend. Retailers such as Amazon (opens in new tab) are offering slightly improved Pandora Cyber Monday sales, and while it's not clear when these will end, it's likely that the Cyber Monday deals will cease to exist by tomorrow.
Tips for shopping the Pandora Cyber Monday sale
There are some useful tips to bear in mind when shopping the Pandora Black Friday deals, to help you make the most of the bargains:
Read the fine print—Many of the discounted items in Pandora's sale last year were deemed final sale, meaning no exchanges or returns were allowed. Therefore, we'd encourage you to do your research and choose wisely before purchasing this year. Before investing, determine if the piece aligns with your current style and if you (or the person you are purchasing it for), will wear it for years to come, and whether you are sure it will fit. Items like bracelets and necklaces will likely fit universally, but pieces like rings can be trickier to get right size-wise.
Buy only what you really want—If you're planning on buying Pandora jewelry in the Black Friday sales (or one of the best jewelry advent calendars), it's worth first browsing to see if there is anything you really like – because when it comes to jewelry, we'd say there's no point buying just for the sake of a deal, as there is so much choice out there. And while there are no guarantees, keeping your eye on an item over the course of the Black Friday week can pay off, as it's likely to be discounted further than when you first spot it.
Bear in mind that collections may not be discounted—While waiting for discounts during big shopping sale events can be fruitful, it's worth noting that not all items at Pandora (and other retailers) enjoy the discounts. For example, in 2019 and 2020, Pandora's super popular Harry Potter and Star Wars ranges were not subject to the money-off deals that the brand put on during Black Friday. This is likely because the ranges were already big sellers, meaning discounts weren't needed to draw customers in. So if you have your eye on their current Marvel x Pandora collection for example, it's worth remembering that they may not get any price cuts (although you never know!)
Which Pandora pieces are the most popular?
Pandora's entire offering is popular, and the Copenhagen-based brand are one of the most popular jewelry brands around.
But the brand is arguably most well-known for its charms and charm bracelets. At the time of writing, their simple Moments Chain Bracelet and their Moments Bangle were two of the most popular items, along with a huge amount of charms – including their Daughter Heart Charm, their 18th Celebration Dangle Charm, and their Happy Birthday Hot Air Balloon charm. As you can see, for many people, Pandora jewelry is a brilliant option if looking for a gift for a milestone celebration such as a 18th birthday gift or 21st birthday gift.
Pandora's minimalist jewelry items are very popular too, including their Infinity Collier Necklace, their Band of Hearts ring and their Heart Stud Earrings.
Black Friday is the perfect time to invest in premium Pandora accessories, whether you're shopping for yourself, or on the hunt for a new piece to add to your own collection, or you're searching for special Christmas gifts for your friends, or Christmas gifts for parents who want something special to mark the arrival of a little one.
Can you shower while wearing Pandora?
No; the brand recommends that you do not wear Pandora jewelry during any water-based activities, including showering, bathing, swimming and whilst doing any sports.
This is because most of Pandora's jewelry is made of sterling silver, meaning it will tarnish over time. And this will happen sooner if your item comes into contact with anything that might affect it, such as water, chlorine, or skin products like body lotions and perfume.
As such, you should not wear your Pandora products in the shower, and you should make sure to take care of your jewelry as much as possible – it can be helpful to store it away from sunlight, regularly polish it, keep away from the humidity in your bathroom, and if you can, place it in a tarnish-resistant pouch when not wearing it.