Early Pandora Black Friday deals and what we predict for this year's sale
We have high hopes for this year's Pandora Black Friday deals. Here are our predictions for discounts across their gift sets, charms, bracelets and more based on our years of experience covering the Pandora Black Friday sale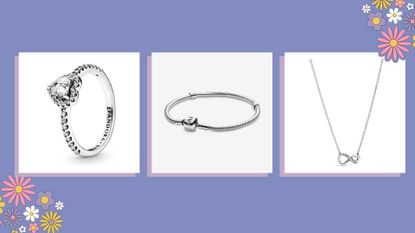 (Image credit: Future/Pandora)
Over the years we have seen some brilliant Pandora Black Friday deals across the brand's entire range, from stacking rings and charms, to bracelets and gift sets.
Last year, Pandora unveiled steep discounts on their sought after jewelry, with 30% off site-wide in the US, and 20% off in the UK. And while it's too early for the 2022 Pandora Black Friday deals to be released, we predict there will be similar discounts across the brand this year too.
Black Friday 2022 will take place on 25 November, and discounts will likely stretch throughout the weekend until Monday 28 November.
Following the sharp rise in inflation across the world at the moment, there are increased costs associated with silver and gold, which in turn is pushing up the price of jewelry. This means that there will be an even greater focus on the Black Friday jewelry deals offered this year and we'll be interrogating each one to make sure the sale price represents a genuine discount and 'good deal'.
Will there be a Pandora Black Friday sale in 2022?
Pandora haven't made any official announcements about the dates of their Black Friday sale this year, but they have confirmed on their website (opens in new tab) that there will be offers and "fantastic promotions" again in 2022.
Based on our experience monitoring Pandora Black Friday deals over the last five years, we think it's likely that Pandora's 2022 Black Friday sale will begin on the Friday, though it could start a day or two earlier to get ahead of other retailers. If the brand follows the same pattern as last year, the Pandora Black Friday deals will also continue all the way through the weekend and in to the Monday, which is known as 'Cyber Monday'—so we should have at least four days to fill up our (virtual) shopping bags.
Black Friday is the perfect time to invest in premium Pandora accessories, whether you're shopping for yourself, or on the hunt for one of the best Christmas gifts for her, or special Christmas gifts for your friends. And if you can't wait, we've shared some of the best Pandora discounts that are available right now below.
What were the best Pandora Black Friday deals last year?
Last year, the best Pandora Black Friday deals were available at Pandora stores and on their own website, and in our experience this is generally the case every year,.
The brand, who sell some of the best jewelry online at affordable prices, offered customers up to 30% off of their bracelets, charms, earrings, necklaces and rings last year, which amounted to some impressive savings.
As with many retailers, gift sets generally saw the biggest discounts at Pandora last year, and we imagine the same will be true again in 2022. Some of the best deals included £45 off the Pandora Rose Timeless Heart Gift Set, a heart-shaped earring and necklace set and a discount on the Disney Beauty And The Beast Charm Gift Set, complete with three character charms, which was reduced from $165 to $119 in the US.
There were also some great Pandora Black Friday deals to be had on bracelets too. The Pandora Moments Snake Chain Bracelet was reduced in the UK and the Moments Bangle saw an enormous $120 discount in the US, going from $400 to $280. The brand's Celestial Bleu Charm Bracelet Set also dropped by $61.50, from $205 to $143.50.
Across both countries, Pandora's rings also experienced impressive discounts. The Electric Pink Sparkling Stacking Ring Set went from $190 to $133, and their Wishbone Stacking Ring Gift Set was also reduced from £125 to £100 in the UK. So while there may still be discounts to be had on single rings, it could well be worth looking out for Pandora Black Friday deals on ring sets in 2022 instead, if you're after an even bigger saving.
Best Pandora deals ahead of Black Friday 2022 in the US
Best current Pandora deals 2022 in the US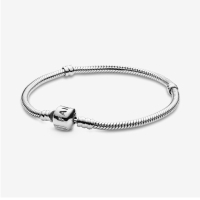 (opens in new tab)
Build-Your-Own Gift Set: Save up to 22% | Pandora (opens in new tab)
With this offer running at Pandora at the moment, you can save up to 22% when you purchase a charm holder (e.g. a bracelet) and two charms.
Pandora explain that the value of the three items is normally up to $165, but you can get the bracelet and two charms for up to $129 with this deal! The saving you make is dependent on the specific charms and bracelet you buy.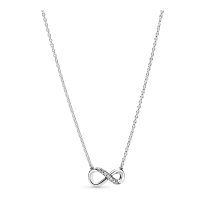 (opens in new tab)
Pandora Sparkling Infinity Collier Necklace: $75 $65.60 | Amazon (opens in new tab)
This stunning but simple infinity necklace, available at Amazon, is currently on sale for 13% off, which is one of the best discounts on Pandora jewelry at the moment.
Made with clear cubic zirconia, this would be a lovely gift to symbolize a commitment, or for a milestone birthday—for example, it could be a much-treasured 18th birthday gift idea (opens in new tab).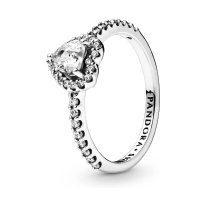 (opens in new tab)
Pandora Elevated Heart Cubic Zirconia Ring: $75 $64.80 | Amazon (opens in new tab)
This gorgeous ring has up to an impressive 14% off at the moment, though the discount does vary ever so slightly depending on the ring size you choose.
Made from cubic zirconia and sterling silver, it would make for the perfect treat to yourself, or again, as a gift for a loved one—perhaps a partner?
Best Pandora deals ahead of Black Friday 2022 in the UK
Best current Pandora deals 2022 in the UK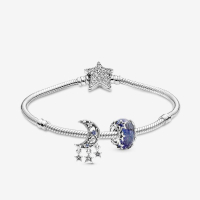 (opens in new tab)
Pandora Moments set: Save 20% by creating your own | Pandora (opens in new tab)
Much like on Pandora US, the UK Pandora website is offering up to 20% off if you build your own bracelet set—including a charm holder and two charms.
With the deal, you can get a bracelet and two charms for £99, or add a third charm for a total of £119. Again, the saving will depend on the specific charms and bracelet you choose.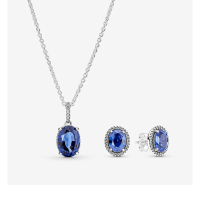 (opens in new tab)
Sparkling Statement Halo Gift Set: £160 £125 | Pandora (opens in new tab)
Save £35 on this gorgeous gift set at Pandora, with the gift set deal running on their website at the moment.
Coming complete with a pair of earrings and a pendant necklace, the Sparkling Statement Halo set has been made with sterling silver, and stunning man-made blue crystals. It could make for a really unique jewelry gift, and an alternative to your typical silver jewelry.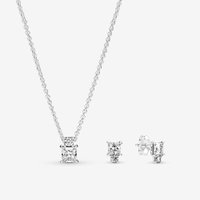 (opens in new tab)
Pandora Sparkling Round and Square Gift Set: £115 £90 | Pandora (opens in new tab)
The classics will never go out of style, such as this gift set. Hand-finished in sterling silver, the pendant necklace is adorned in clear cubic zirconia stones of two different cuts and sizes. Similarly, the sparkly earrings add extra "oomph" to any outfit.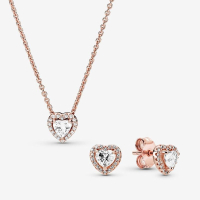 (opens in new tab)
Pandora Rose Timeless Heart Gift Set: £195 £150 | Pandora (opens in new tab)
The floral pendant necklace is decorated with stone, plus a heart-shaped halo of pave stones. The matching stud earrings complete this look as ear candy for your accessory drawer.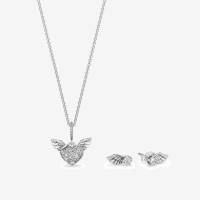 (opens in new tab)
Pandora Angel Wings Gift Set: £110 £89 | Pandora (opens in new tab)
Delight yourself or a loved one with this divine duo, embodying the protective presence of a guardian angel. This contemporary bundle can be worn together, or mixed with other pieces.
It's worth noting that the price of this piece hasn't changed and is still consistent with the prices we saw last year.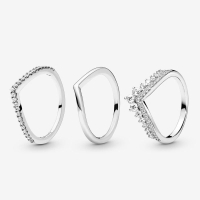 (opens in new tab)
Pandora Wishbone Stacking Ring Gift Set: £125 £100| Pandora (opens in new tab)
A beautiful ring stacking set, crafted from sterling silver in the shape of a wishbone. The £25 discount on this set is consistent with Pandora Black Friday deals we saw last year, so if you want this set, there's no reason not to snap it up now.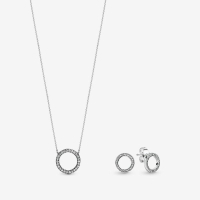 (opens in new tab)
Pandora Circle of Sparkle Gift Set: £135 £110 | Pandora (opens in new tab)
This sparkling set features a reversible pendant with shimmering stones and an embossed logo, supported by an adjustable chain. Made of sterling silver, it's among the most stunning minimalist wardrobe essentials (opens in new tab).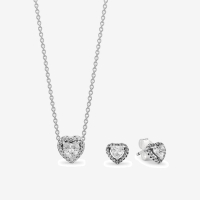 (opens in new tab)
Pandora Timeless Heart Gift Set: £125 £99| Pandora (opens in new tab)
The Timeless Heart Gift Set certainly lives up to its name, embellished in sterling silver, cut stone, and a dainty heart-shaped halo of pave stones.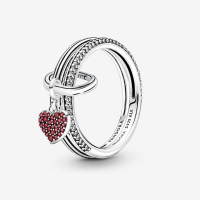 (opens in new tab)
Pandora ME Love Ring Set: £84 £69| Pandora (opens in new tab)
Glamorize your jewelry stash with this sterling silver ring set, featuring the ME Ring, ME Pavé Ring, ME Heart Dangle Charm, and ME Styling Ring Connector.
Top tips for shopping the Pandora Black Friday deals
While the Pandora Black Friday deals haven't yet begun, there are some useful tips to bear in mind when they do roll around, to help you make the most of the bargains:
Read the fine print—Many of the discounted items in Pandora's sale last year were deemed final sale, meaning no exchanges or returns were allowed. Therefore, we'd encourage you to do your research and choose wisely before purchase. Before investing, determine if the piece aligns with your current style and if you (or the person you are purchasing it for), will wear it for years to come, and whether you are sure it will fit. Items like bracelets and necklaces will likely fit universally, but pieces like rings can be trickier to get right size-wise.
Plan ahead—If you're planning on buying Pandora jewelry in the Black Friday sales (or one of the best jewelry advent calendars), it's worth browsing their website ahead of time to see if there is anything you really like, and keep an eye on the discounts as the sales roll around. When it comes to jewelry, we'd say there's no point buying just for the sake of a deal, as there is so much choice out there. While there are no guarantees, keeping your eye on an item over the course of a few months often pays off, as it's likely to be discounted from its original price at some point.
Bear in mind that collections may not be discounted—While waiting for discounts during big shopping sale events can be fruitful, it's worth noting that not all items at Pandora (and other retailers) enjoy the discounts. For example, in 2019 and 2020, Pandora's super popular Harry Potter and Star Wars ranges were not subject to the money-off deals that the brand put on during Black Friday. This is likely because the ranges were already big sellers, meaning discounts weren't needed to draw customers in. So if you have your eye on their current Marvel x Pandora collection for example, it's worth remembering that they may not get any price cuts (although you never know!)
Which Pandora pieces are the most popular?
Pandora's entire offering is popular, and the Copenhagen-based brand are one of the most popular jewelry brands around, with their products making for some of the best Christmas gifts for mom, or the best Christmas gifts for your mother-in-law.
But the brand is arguably most well-known for its charms and charm bracelets. At the time of writing, their simple Moments Chain Bracelet and their Moments Bangle were two of the most popular items, along with a huge amount of charms—including their Daughter Heart Charm, their 18th Celebration Dangle Charm, and their Happy Birthday Hot Air Balloon charm. As you can see, for many people, Pandora jewelry is a brilliant option if looking for a gift for a milestone celebration such as a 18th birthday gift or 21st birthday gift.
Pandora's minimalist jewelry items are very popular too, including their Infinity Collier Necklace, their Band of Hearts ring and their Heart Stud Earrings.
Can you shower while wearing Pandora?
No; the brand recommends that you do not wear Pandora jewelry during any water-based activities, including showering, bathing, swimming and during any sporting activities.
This is because most of Pandora's jewelry is made of sterling silver, meaning it will tarnish over time. And this will happen sooner if your item comes into contact with anything that might affect it, such as water, chlorine, or skin products like body lotions and perfume.
As such, you should not wear your Pandora products in the shower, and you should make sure to take care of your jewelry as much as possible—it can be helpful to store it away from sunlight, regularly polish it, keep away from the humidity in your bathroom, and if you can, place it in a tarnish-resistant pouch when not wearing it.