Missoma Black Friday deals: Meghan Markle's ring has 25% off and it's the perfect present
The Missoma Black Friday sale has some incredible deals - and we're snapping up this royal-approved ring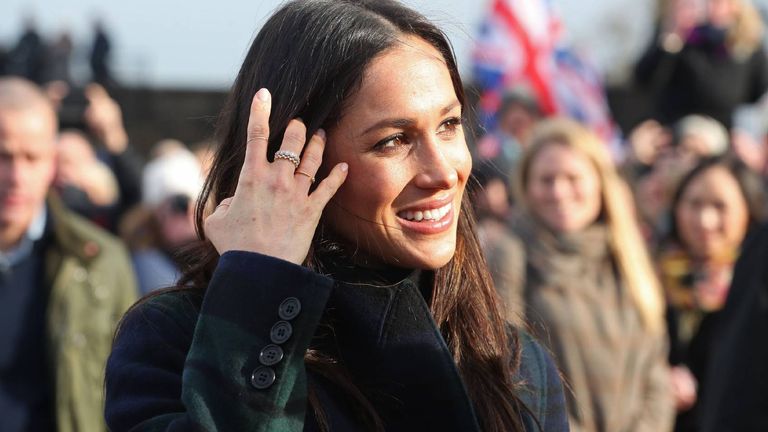 (Image credit: Getty Images)
If you're looking to bag some royal-approved jewellery in the best Black Friday deals, then the Missoma Black Friday sale is a good place to start.
Meghan Markle is a huge fan of the jewellery brand and has been spotted several times wearing their stunning pieces.
So if you want to steal her style for less, now's your chance as this weekend they have 25% off everything on their website.
Meghan often wears a series of delicate stacking rings on her right hand – one of them being this dreamy Missoma gold interstellar ring.
It's normally £49, which is a bargain in itself but thanks to their Black Friday deals, it's now reduced to £36.75 – saving you £12.25.
Gold Interstellar ring £49 £36.75 | Missoma Save £12.25 Inspired by constellations of planets and stars, this ring has an open design with a sparkly crystal on one end. Simple, yet stunning it would make a lovely addition to anyone's ring collection.View Deal
Inspired by constellations of planets and stars, it has an open design with a sparkly crystal on one end. It would look stunning on its own or you can stack it up with other simple jewels for a more dramatic effect.
We think it would make the perfect Christmas gift too for your mum, sister or best pal. Who doesn't love a bit of bling at Christmas?
Meghan was spotted wearing this stellar ring during her official visit to Scotland in 2018.
And Meghan is not the only royal who loves Missoma. Her sister-in-law, the Duchess of Cambridge, has also been spotted rocking a set of earrings from the brand – which you can nab with over £20 off in the Black Friday sale.
But you've got to be quick with this one. The Missoma Black Friday deals are ending soon and seeing as these gems have the royal stamp of approval, we predict they will fly off the cyber shelves.
Looking for more inspiration? We've rounded up our favourite picks below
Lucy Williams Malachite Square Gold Signet Ring £98 £73.50 | Missoma Save £24.50 If you're looking for something a bit more colour-popping, how striking is this green statement ring? Traditional meets contemporary with 18ct gold-vermeil signet ring, wear on it's own and let it take centre stage.View Deal
Silver Molten Ring £55 £41| Missoma Save £14 Layer up your jewels with this sweet stacking ring. Don't be afraid to mix silver with golds for a modern twist. Now this beauty is under £50, it would be rude not to!View Deal
Gold Radial Ring £79 £59.25 | Missoma Save £19.75 This contemporary rope-design ring helps you create that stacking effect, without the effort thanks to it's two-in-one design. Wear on its own, or pile them up for a bolder look.View Deal
Gold Open Heart Signet Ring £89 £66.75 | Missoma Save £22.25 Meghan Markle has also been spotted wearing this signet ring. The open heart design symbolises love, passion and friendship. Wear on its own for maximum impact.View Deal
Silver Ancien Ring £69 £51.75 | Missoma Save £17.25 Simple, yet effective this chunky ring is fuss-free for those of you who like to keep your rings classic. Perfect for everyday, it will forever be in style.View Deal