The Missoma Black Friday sale 2022 has landed: Save 30% on everything, plus our pick of the best discounts
The Missoma Black Friday sale has arrived and so begins our annual opportunity to snap up discounts on this affordable luxury jewelry brand loved by royalty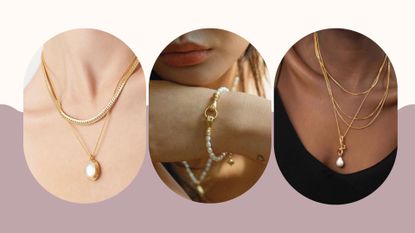 (Image credit: Missoma)
The annual Missoma Black Friday sale is a unique chance to save on one of the most popular modern jewelry brands and their signature rings, earrings, necklaces and more.
When it comes to fine jewelry brands, Missoma triumphs in curating luxurious, but affordable pieces, earning clout from the likes of Meghan Markle, Duchess of Sussex, and Catherine, Princess of Wales. It's no secret that Missoma sales are infrequent, but every year the brand takes part in the Black Friday jewelry deals.
This year's sale, which offers 30% off everything on site, has now officially begun. We are expecting the sale to run until Cyber Monday (28 November), however there is no guarantee how long stock will last. Increasing from the 25% Black Friday discount offered last year, Missoma have stated that this is the biggest sale ever - and it will only happen once.
To secure Missoma's hero pieces, we recommend snapping up the discounts now before all of the best pieces are gone. We've rounded up the best deals we've found on the Missoma website below, plus the notable discounts available at third-party retailers where prices are lower or the deals are better. This includes 20% off at Liberty London (opens in new tab) and 50% off at The Outnet (opens in new tab) at the moment.
Where to find the best Missoma Black Friday deals in the US
The US Missoma Black Friday deals to shop today before they sell out
Where to find the best Missoma Black Friday deals in the UK
The UK Missoma Black Friday deals to shop today before they sell out
How long will the Missoma Black Friday sale last for 2022?
The Missoma Black Friday sale for 2022 has officially begun, with the retailer offering 30% off jewelry across the whole site. This is a further 5% off compared to last year, where 25% off all pieces was offered.
Part of Missoma's appeal is that it offers high-fashion designs at affordable prices, so with unbeatable discounts available over the Black Friday and Cyber Monday period, shoppers will be able to pick up a real investment piece of jewelry for under $100/£100 - a great opportunity to shop for the best Christmas gifts for her and Christmas gifts for mom next month.
This year, we're expecting the general deals to run until Sunday 27, November, or Monday 28, November 2022, which is Cyber Monday. We'll be keeping this page up to date with the latest Missoma Black Friday deals, as well as information as to when the discounts will officially end for 2022.
Top tips for finding the best Missoma Black Friday deals in 2022
Do your research: Jewelry is an investment, so it's important to do your homework. Browse the collections before the sale and determine which pieces and collections fit your style. Figure out what you need, so you don't overspend on items you won't wear. A piece of jewelry should be a part of your capsule wardrobe so that you can wear it with most outfits.
Take shipping delays into account: Globally, volatile supply chains promise delivery delays well into the new year. Naturally, shoppers should begin their holiday shopping now. After all, Black Friday has become a drawn-out season, meaning you'll find plenty of deals before the big day.
Hold out for items you want: If there's a piece that you have your eye on, it's best to wait until Black Friday to see if you can score a better deal on the one item, rather than buy something you don't want as much right now just because it's on offer. The same goes for Missoma's jewelry advent calendar, which does represent a great saving on some stylish pieces from the brand and but is only a great option if you love the brand and there isn't a specific piece of jewelry you're holding out for.
What Missoma products were in the sale last year?
Last year, there was a blanket 25% off all products on the Missoma websites, so shoppers could pick up their favorite products with a generous discount.
The biggest discounts were to be had on big-ticket items, like the Lucy Williams Roman Coin Malachite Necklace Set, which was down to £296.25 from £395, with a saving of £98.75 in the UK. Considering that there is already a saving on the full price, as the three necklaces would cost £425 if they were bought separately, this was a huge discount.
There were also great discounts to be had on earrings, including the Catherine Princess of Wales' iconic rhodochrosite hoops - the Mini Pyramid Charm Hoop Earrings - which were on sale in the US for $82.50, down from $110, with a saving of $27.50.
How much does Missoma's delivery cost?
Missoma UK Standard Delivery and US Standard Shipping are both free. And this should apply over the Black Friday and Cyber Monday periods, too - no matter how much you spend. In the UK you should expect to receive your order in 3-5 working days and in the US, standard shipping should see your parcel arrive in 5-7 working days.
The brand does note that regarding personalized items, "Any items purchased with engraving or monogramming will take 7-10 days to be delivered and will be shipped separately if ordered with other items."
Missoma items purchased from stockists will be subject to different delivery times, so make sure you check with the retailer directly before purchasing.
Is Missoma a luxury?
Missoma jewelry is considered demi-fine, meaning that it is crafted with precious metals, like gold, using vermeil plating. Vermeil refers to gold plating over a sterling silver base, so all materials used in Missoma pieces are high quality. However, they will require slightly more care than solid gold would. For example, be careful around water, when applying products like perfume, or exercising. To keep your Missoma pieces in the best possible shape, we advise taking them off before showering or swimming.
We think Missoma jewelry strikes the perfect balance between luxury and affordable - whilst some pieces are at the pricier end of the spectrum, others are ideal for gift-giving or everyday wear. For a luxury look and feel that won't break the bank, Missoma is our top pick.