A rundown of Adele's best outfits, from her art-deco Valentino number to *that* statement maroon Grammys dress
Adele's best outfits prove she doesn't just make waves with her music...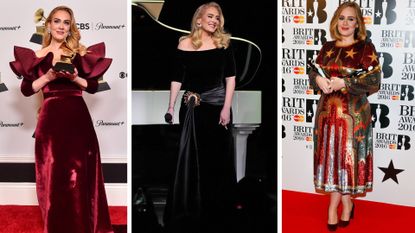 (Image credit: Getty Images)
Adele is often recognized as one of the world's greatest talents - but she's known to steal the spotlight with her red carpet and streetwear styles as well.
The 34-year-old Grammy-winning artist is nothing short of a world-class gem. Between her emotionally impactful songs to her hilarious and infectious personality, it's probably hard to find a person out there who can't agree that Adele is a true treasure.
However, aside from her impactful and internationally successful music career (she's sold over 100 million albums since her debut album, 19, and has won 16 Grammys), she also has debuted some pretty incredible looks over the years, from stunning dresses to more casual streetwear, and let's not forget Adele's fabulous Saturn earrings!
Although Adele doesn't typically make a lot of public appearances (we respect a private Queen), she often works with designers from well-known fashion houses like Givenchy, Burberry, and Schiaparelli to name just a few.
Since we certainly couldn't be blamed for not being able to pick just a few of our favorite Adele songs, we decided to round up a few of Adele's best outfits instead - because let's face it, she always looks stunning.
Adele's best outfits, from 2009 to now
Green satin coat at the 2009 Grammys
If there's one thing we know about Adele, it's that she always rocks an all-black outfit with ease.
One of her first public appearances as a singer-songwriter was at the 2009 Grammy Awards, right after the release of her debut studio album, 19, in 2008.
For this look, Adele opted for an all-black dress with a floral broach, paired with a set of sheer black tights and some of the best designer heels: Manolo Blahniks. On top of her dress, she styled the look with a full-length green satin coat by Barbara Tfank, which gave the perfect pop of color to an otherwise monochrome outfit.
Faux-fur trimmed poncho in London, 2011
In a departure from her monochrome outfits, Adele stepped out in style in London with this look from 2011.
Although she is sporting a Burberry Prorsum studded bag, as well as some sheer black tights, she wrapped up in a seriously cool poncho. Aside from her sock-style grey boots, the most covetable part of this look is her undeniably chic wool, plaid poncho, complete with a brown faux-fur collar. Even though this image was captured over a decade ago, we seriously need to know where this poncho is from!
---
Vintage black dress at the 2011 Brit Awards
Adele always shows up looking timelessly chic - and that's exactly what she did at the 2011 Brit Awards. The singer decided to go for a vintage mid-length black dress, which had an overlay of sparkly black lace on top to give the look some extra flair.
In the interest of keeping the look simple, Adele paired this dress with a pair of sheer, nude tights and a pair of black pumps - as well as De Beers earrings to tie the look together.
Rocking Burberry at the 2013 Golden Globes
Award shows are a breeding ground for show-stopping fashion moments - and Adele certainly stepped up her game for the 2013 Golden Globes. She opted for a floor-length Burberry black dress for this one, adding an air of elegance with her trademark black eyeliner. The collar of the dress featured a black bedazzled pattern all along the neckline, allowing her chic, up-do hairstyle to take center stage.
Needless to say, she looks like a true goddess in this ensemble, once again proving that all-black looks will always remain chic.
Sporting Valentino at the Grammys, 2013
If there's one Adele look that's most surprising, it has to be this one - her 2013 Grammys look. In a true departure from her typical, monochromatic outfits, Adele decided to sport a Valentino red floral dress for this award show. She paired this red overlay dress with a pair of matching pump heels with the same pattern as her dress, and completed the stunning look with a classic Adele up-do and some flower earrings to really tie the botanical theme together.
At the 2013 Grammys, Adele took home the award for best pop solo performance for her song Set Fire to the Rain.
Boho chic in New York City, 2015
Over the years, Adele has excelled in updating her wardrobe to feel perfectly true to her personality and vibe, while still exploring new patterns, silhouettes, and styles to keep up with trends.
During a trip to New York in 2015, Adele was spotted wearing this uber-chic mid-length dress, which shows off a color palette of earthy neutrals - making a statement without being too loud - a theme Adele pulled off perfectly.
With her dress, she wore a pair of matching heeled booties, as well as a large pair of enviable black sunglasses.
Custom Burberry for 2015's Saturday Night Live
Adele's 2015 SNL performance as the musical guest stopped fans dead in their tracks, not only for her show-stopping performance of her hit single Hello, but also for her stunning performance dress.
The custom Burberry green dress features stunning fringe detail all over, a departure from Adele's usual style but one that hits all the right notes!
Head-to-toe black (with a mug!) in NYC, 2015
Adele stepped out of her NYC hotel dressed in a floor-length black coat, complete with gold hardware, as well as her signature big black sunglasses and some black leather boots. Although these typical outfit elements are chic enough on their own, we can't help but marvel at Adele's incredibly stylish wide-brimmed black hat and the mug!
Custom-made Burberry gown for Austin, 2016
When Adele goes on tour, she tends to stick to only a handful of looks to complete her concert wardrobe, and this fabulous dress is just one of the ones she chose from her 2016 tour of her third album, 25. The dress, which features an elegant navy blue and black pattern complete with dazzling, yet subtle sparkles, perfectly captures her essence - and was paired with understated jewelry, as to not take away the attention from the floor-length gown.
All black Givenchy glam at the 2016 Grammys
In classic Adele fashion, the singer approached the 2016 Grammys with a vibe she knew she could nail - an all-black ensemble. With her shoulder-length bob hairstyle, she paired her stunning Givenchy black, sparkly gown, which cinched her waist perfectly, with simple jewelry and makeup.
Pre-fall Valentino for the 2016 Brit Awards
This colorful, sparkling look brought a bit of art deco to the 2016 Brit Awards. Adele wore a captivating midi-length Valentino gown from the brand's pre-fall collection. Decorated with celestial imagery, and what appears to be an image of Manhattan's Chrysler Building it was a true detour from her usual looks. On the bottom, she stuck to a pair of reliable maroon pumps to complete the look.
Khaki green Givenchy at the 2017 Grammys
Swiftly fast-forwarding to the Grammy Awards that took place just one year later, Adele sported a mossy green gown on the red carpet for music's biggest night.
The Givenchy dress, which featured symmetrical patterns and subtle pleating throughout, was a great look for the artist, seeing as she clearly tried to diversify her looks a tad more as the years progressed throughout her career. We must say, her efforts did not go unnoticed.
Hosting Saturday Night Live in an off the shoulder Giacca Rohtak peplum, 2020
In 2020, smack in the height of the COVID-19 pandemic, Adele hosted her very first show of Saturday Night Live - and she looked damn good doing it. Since the show was under a strict health code due to the pandemic, it wasn't a show that hosted a full audience - but Adele still made it work with her hilarious monologue.
For her outfit, she decided to go for, again, an all-black ensemble - but this time, she chose a Giacca Rohtak off-the-shoulder peplum top with skinny black pants - a move away from the dresses we are used to seeing her in.
This was also the first time Adele had made a public appearance since her transformational weight loss during COVID-19, so fans were excited to see just how fabulous she still looked. "I had to travel light, I could only bring half of me," she joked during her monologue.
British Vogue's 2021 cover look
Steven Meisel did the Lord's work when he captured this stunning photo of Adele for British Vogue in 2021.
In this cover look, Adele shows off a stunning yellow bodice by legendary Vivienne Westwood, with a fabulous broach on her right shoulder, perfectly capturing her glamorous essence - even with a color she doesn't often wear. She's also boasting some major teased hair (which we will be trying to replicate, no doubt) and her classic, black cat eyes.
Head-to-toe Valentino at the 2022 Brit Awards
For the 2022 Brit Awards, Adele decided to sport a sparkly, green Valentino gown - a color that, over the years, she has clearly come to appreciate (re: her 2017 Grammys look.) She paired her gown with a set of matching green Valentino metallic pumps.
During the show, she performed her relatable I Drink Wine - and we know for a fact she does, sometimes with Lizzo! - off her album 30. That night, her album won album of the year, artist of the year, and song of the year.
Animal print at 2022's NBA All-Star Game
Courtside fashion has long been a point of fascination for fans of celebrities - and Adele took her opportunity to sit courtside at the NBA All-Star game in 2022 to her advantage. She chose to wear a long, cheetah-print coat, paired with sheer black tights and a pair of super-chic, knee-high black boots that perfectly match her ensemble.
She attended the game with her rumored fiancé, Rich Paul - and was spotted (cheetah pun not intended) getting pretty cozy with him as they sat courtside for the game.
Las Vegas Residency opening night in Schiaparelli, 2022
Although Adele has undoubtedly expanded the colors in her wardrobe over the years, there's no denying that the singer's all-black looks continue to stun.
For her residency in Las Vegas at The Colosseum at Caesars Palace, titled Weekends with Adele, she debuted a slew of truly exciting gowns that she's worn for the occasion - but this specific Schiaparelli Haute Couture dress that she wore during one of her opening performances was especially eye-catching.
The velvet black dress, which features a flattering, off-the-shoulder cut, also boasts a black sash belt with a gem detail, which helps the sash cascade all the way to the floor.
Ruby red statement gown for the 2023 Grammys
If there's ever been a moment where we truly had to gasp for air because Adele looked that good, it was the 2023 Grammys.
During this award show, the singer opted for a body-hugging Louis Vuitton velvet dress in a maroon shade. On the top of the sleeves near the shoulders, the fabric spawned out into beautiful, shapely ruffles that added some Old Hollywood glamour to her look - and her stunning, side-swept hair perfectly added to the vibe as well.
Madeline Merinuk is woman&home's US lifestyle news writer. She covers celebrity, entertainment, fashion, and beauty news but is also obsessed with internet trends - you can find her reciting trending TikTok sounds out loud at any given time.
After winning multiple student journalism awards for her investigative work, she graduated from Hofstra University in 2021 with a B.A. in Journalism. After graduating, she worked at today.com, the digital site for the Today Show, where she wrote pop culture news and interviewed big-name personalities like Emily Ratajkowski, Haley Lu Richardson, Emma Corrin, and more.
Her personal interests, in no particular order, are: cheese, Joni Mitchell, reading, hot yoga, traveling, having multiple chapsticks in every handbag at all times, and dancing to ABBA songs as if she were in the Mamma Mia movies.