We can't stop thinking about Adele's Saturn earrings—here's where to shop yours...
Where you can buy earrings like Adele's from her One Night Only special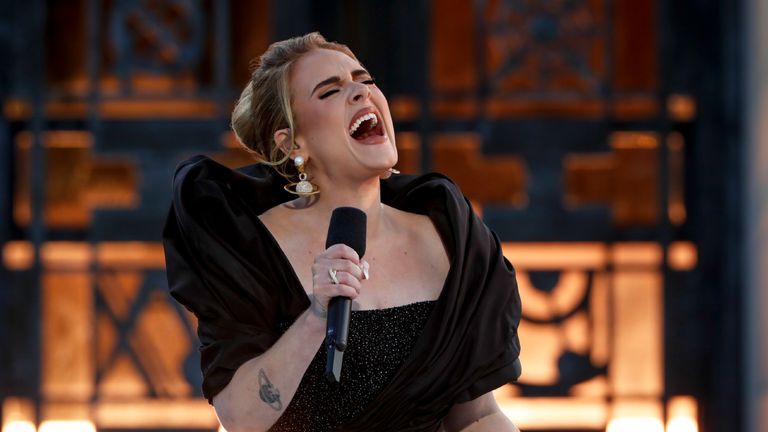 (Image credit: CBS Photo Archive / Contributor / Getty Images)
By Laura Harman
Adele's Saturn-style earrings have caught the attention of fans after she wore the planet-inspired earrings at her CBS special, Adele: One Night Only.
Adele wore custom Schiaparelli earrings on stage as she performed her CBS special. The earrings were huge gold and diamond Saturn-shaped dangling earrings that matched her Saturn tattoo that features on her forearm.
The tattoo and earrings are indications of the importance Adele places on Saturn as she mentioned in an interview with Vogue that Saturn Return had a huge impact on her life, and her tattoo symbolizes the turmoil that took place during this period for her.
The Saturn earrings were custom made for the star and therefore not available for the public. However, if you want to steal this look, there are plenty of brands that sell similar items, and for a much more affordable price...
Chills. Everywhere. This performance...iconic. Welcome back to the stage #ADELE, we've missed you. pic.twitter.com/KIuy9GDtcENovember 15, 2021
See more
---
The Vivienne Westwood symbol features Saturn and a cross. As the brand makes many jewelry items featuring this iconic logo, there is a whole range of earrings from the designer that resemble Adele's planetary style earrings.
One such pair from the designer brand is a pair of pendant silver-toned, planet-style earrings that are studded with crystals.
These earrings are slightly more delicate than Adele's chunkier pair but still have that classic bold design that will draw in compliments.
---
Vivienne Westwood Sorado Bas Relief silver-toned brass and crystal earrings | $190
Vivienne Westwood Sorado Bas Relief silver-toned brass and crystal earrings |$190 or £160 | Selfridges
These drop earrings are 37mm and the perfect accessory to emulate Adele's iconic Saturn pendant earring look. The earrings have a neat clasp back and feature the brand's signature orb design, with crystal-embellishments, silver-toned hardware, and brand-engraving underneath.
If you particularly love the gold and crystal embellishment element of Adele's Saturn earrings, then Vivienne Westwood also sells a pair of high quality stud earrings. These earrings come in all different sizes, but to copy that chunky look that Adele went for, you'll want to go big.
The best part about these gold stud earrings from Vivienne Westwood, is that they can also be bought as part of a set. The brand sells, necklaces, bracelets and other jewelry items that means you can have a full matching look and pair your earrings with other matching items.
Vivienne Westwood Mayfair orb yellow gold-toned brass stud earrings | $89
Vivienne Westwood Mayfair orb yellow gold-toned brass stud earrings | $89 or £75 | Selfridges
The brand describes these earrings as, "yellow-gold toned, crystal-embellished at the front, signature orb design, polished, and brand-engraved at back." The earrings are 16mm with a push-back fastening. 
If you are looking to emulate this style but you are on either a tighter budget or fancy a type of earring that is more suitable for everyday wear, Accessorize sells a pair of Saturn studs that retail at only $23.
These earrings are both smaller in price and in size so are perfect for those who want to try out this trend without spending too much.
---
If you are keen to hop on this astronomy based jewelry trend but you don't like the style of the Saturn earrings, there are plenty of other designs at different brands that have the same effect without featuring Saturn.
Orelia sells a pair of hoop dangle earrings that feature a star-style design. These earrings are also crystal-encrusted and available for just $31.
---