What is Saturn Return? The chaotic astrological period we all go through and how to survive it
What is Saturn Return? Astrologist explains everything to know about the phenomenon known as 'the astrological 7-year itch'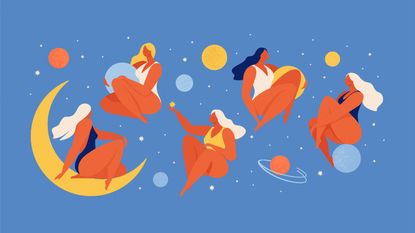 (Image credit: Angelina Bambina/Getty Images)
Adele has credited the upheaval she experienced over the last few years as being a part of her Saturn Return. The astrological phenomenon is one that everyone goes through around their late twenties that can cause a huge amount of anxiety.
Whether you're the type of person who reads their weekly horoscope and celebrates the Lion's Gate portal opening or a complete disbeliever in all things astrological—there's no denying that your late twenties can be a difficult time.
One well-known individual, megastar Adele, recently referred to her Saturn Return while discussing one of the most difficult times in her life—the dissolution of her marriage.
"When that comes it can rock your life," she said. "It shakes you up a bit. Who am I? What do I want to do? What makes me truly happy? All those things."
If that statement about her connection to the planet isn't enough, Adele's Saturn earrings and her tattoo of the planet show she's fully invested.
Eager to learn more about the whole concept, woman&home reached out to astrologer, tarot reader, and psychic Inbaal Honigman to gain a deeper understanding.
---
What is Saturn Return?
Your Saturn Return is the time when the planet Saturn returns to the same place in your astrological chart, as it was when you were born.
It takes about 29.5 years for Saturn to return to the exact place it was when you were born, but from around age 27 (or 56... or 85...) you might start to feel the changes that your Saturn return brings.
The Saturn Return is a sort of rebirth, explains Inbaal. "You are reborn, as yourself, but this time not as a child but as an adult. You have a chance to start again," she says. "Look at your relationship, your home, friendships, and career, and think to yourself—is this truly what I want for the next 30 years?"
Your Saturn Return happens every 29.5 years, so you are due another one around age 59, and if you're lucky, again when you're 88. "Each one is a further step into maturity," Inbaal tells us, "as we always learn and evolve throughout our lives."
How does Saturn affect you?
Saturn is a planet that affects maturity and limitations.
Your Saturn sign might indicate how you operate in an environment. Since it is a very slow-moving planet, your Saturn sign isn't very prominent in your chart, since you will share your Saturn sign with everyone born within a two-year period.
So your Saturn characteristics will be shared with your whole class, and maybe the class above, so you won't stand out within your peers for the way Saturn effects you.
What should you do in Saturn Return?
Going through a Saturn Return is never easy and examining all your contacts and dealings in this world is a challenging process.
Inbaal advises, "Be kind and forgiving towards yourself when you go through it, rest a lot, take a lot of space to think your own thoughts, and don't listen to others' opinions—this is your chance to make real changes!"
Perhaps you've already gone through your first, cruised through your second and are nearly over your third. However, chances are, there are people in your own personal orbit going through it.
"If your friend or partner is going through their own Saturn Return, be kind," says Inbaal. "Accept their need for space, and perhaps provide more wine and baked goods than you normally would!"
Aoife is Junior News Editor at woman&home.
She's an Irish journalist and writer with a background in creative writing, comedy, and TV production.
Formerly Aoife was a contributing writer at Bustle and her words can be found in the Metro, Huffpost, Delicious, Imperica, EVOKE and her poetry features in the Queer Life, Queer Love anthology.
Outside of work you might bump into her at a garden center, charity shop, yoga studio, lifting heavy weights, or (most likely) supping/eating some sort of delicious drink/meal.