Adele's weight loss secrets revealed—'I eat more than I used to'
Adele has set the record straight on her weight loss in a bombshell new interview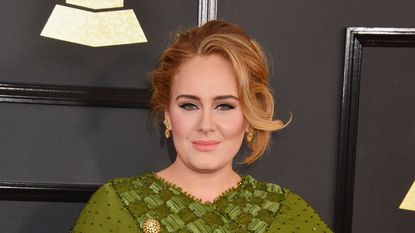 (Image credit: Alamy)
Adele almost broke the internet in 2020 with her incredible weight loss reveal, leaving fans everywhere desperate to know just how she shed the excess pounds.
The Hometown Glory singer shared a string of photos looking almost unrecognizable last year, having dropped seven stone (100lbs) following her split from the father of her child, Simon Konecki, back in 2019.
The drastic body transformation was quickly dubbed by the media 'Adele's revenge body'—a sexist phrase she has now rightfully condemned. Speaking to Vogue for her first interview in five years, the Grammy-award winner has finally opened up about how, and even more importantly why, she decided to lose weight.
How did Adele lose weight?
Adele's weight loss reveal prompted an outpouring of speculation on her dietary changes, with many 'insiders' claiming that the British singer followed a highly restrictive nutrition plan to reach her goal. It was said that she used intermittent fasting and the Sirtfood diet to get in shape—two widely circulated theories she has now sharply debunked.
"Ain't done that. No intermittent fasting. Nothing," she said. In fact, when it comes to Adele's weight loss, it sounds like exercise has played a far greater role than her food choices.
"If anything I eat more than I used to because I work out so hard," she revealed. Adele now follows a heavily active lifestyle, working out "three times a day" with a personal trainer.
"Basically unemployed" during the lockdown, she began to prioritize exercising more and quickly became "addicted" to breaking a sweat. The Someone Like You singer is now a massive enthusiast for strength training for women, starting off her mornings with an endorphin-pumping weights session. She then boxes or hikes in the afternoon, before rounding off the day with some old-fashioned cardio (think HIIT treadmill workouts and spin classes).
---
Why did Adele lose weight?
If there's one thing Adele wants you to know about her weight loss, it's that she did it for herself.
She revealed it was her "anxiety", rather than a desire to be thinner, that motivated her to get started.
"Working out, I would just feel better. It was never about losing weight, it was always about becoming strong and giving myself as much time every day without my phone," she said.
"I needed to get addicted to something to get my mind right," she added. "It could have been knitting, but it wasn't."
As for all the frenzy surrounding her weight loss, Adele's not exactly impressed.
"People are shocked because I didn't share my 'journey'," she said. "They're used to people documenting everything on Instagram, and most people in my position would get a big deal with a diet brand. I couldn't give a flying f**k. I did it for myself and not anyone else. So why would I ever share it? I don't find it fascinating. It's my body."
How much weight did Adele lose in total?
No one can deny that Adele is looking incredible at the moment, so it's no surprise that her recent appearance on Saturday Night Live in October 2020 sent the internet into a total meltdown.
Even she joked about her weight loss and made reference to her last public appearance in 2016 when she headlined Glastonbury Festival.
"I know I look really, really different since you last saw me," Adele joked, referring to her live public appearance in 2016 when she headlined Glastonbury.
"But actually, because of all the Covid restrictions…I had to travel light and I could only bring half of me, and this is the half I chose."
Although it is difficult to estimate exactly how much weight Adele has lost, it has been widely reported that she has shed seven stone.
While the weight loss has been a "bonus" training has given mum-of-one, Adele, a new "lease of life" according to pals.
"She has been loving her new workout regime and it really works for her," an insider revealed. "It's a bonus that she has shifted some weight. Her mates are glad she's letting loose and there's nothing but good feelings towards her. She's got a new lease of life."
Georgia writes across Woman & Home and Good to Know and specialises in all things royal. Previously labelled the "Queen of the royals," Georgia knows the whose who and what's what when it comes to the monarchy. When she's not eagerly following the royal family, Georgia enjoys shopping and self-care. She lives with this motto in mind; "if your dreams don't scare you, they aren't big enough."