The best eyeshadow for blue eyes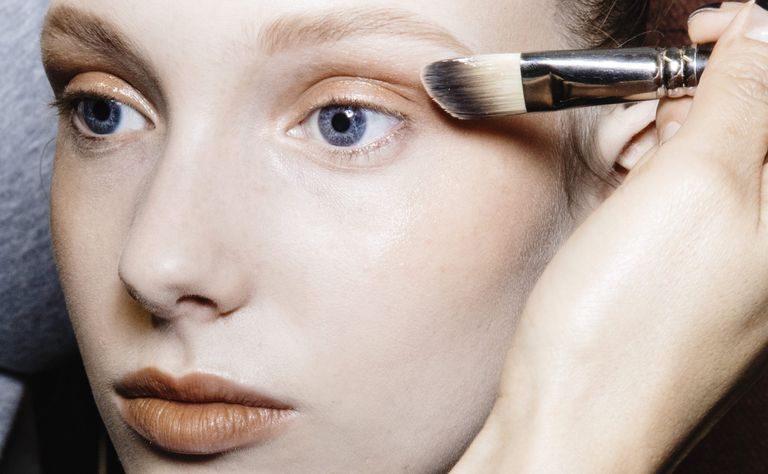 (Image credit: Getty Images)
What make-up suits blue eyes? We round up the best shadows to enhance those baby blues
The best eyeshadow for blue eyes is whatever you want to wear, but if you're looking to bring out the colour in your eyes and make your blue eyes 'pop', then this is what the experts recommend...
Let's preface this by saying we don't subscribe to that old fashioned 'doing your colours' notion of beauty.
The one that suggests blondes can only wear one quarter of the colour spectrum, redheads another and never the twain shall meet. If you love green eyeshadow and red lipstick, wearing them will make you feel confident and look fabulous as a result; no matter what traits you won in the genetic lottery.
Having said that, there are some shades that just work together, and the best eyeshadows for blue eyes can really make them 'pop.' Of course 'popping' as far as eye make-up is concerned, is a wonderful, striking thing.
What eye shadow colour makes blue eyes 'pop'?
The generally accepted wisdom when it comes to the best eyeshadow for cooler colours like blue and grey eyes, is that a warmer shade will help bring out those icy tones.
Everyone loves a creamy sand, molten copper or chocolate brown eye, it's simple, universally flattering and perfect for day or night.
Pablo Rodriguez, Director of Artistry at beauty brand Illamasqua, says,"I truly believe that it always comes down to personal preference when selecting eyeshadow colour. However, if we want to create a rule based on colour theory, then orange shades are the opposite to blue in the colour spectrum, so a beautiful orange hue will give more contrast and ensure the eye colour will pop.
"I also love to use a similar eyeshadow shade to the natural colour of the eyes, as this will expand the eye colour and generally make the eyes appear bigger and more of a focal point."
What is the best eye shadow colour for blue eyes?
If you like to experiment with colour, unsurprisingly, blue works well here. Avoid 1980's electric shades, frosty shimmers that fall into lines or, even worse, cornflower.
Instead create a dramatic smoky eye with deep navy and dark slate grey tones. Other colours that work well with blue eyes are smoky purples, mossy greens and even a deep dusky pink (if you dare!)
What eye shadow colour should you avoid?
So are there any shades that should be avoided at all costs? If you're eyes are a light, icy blue, then super-bright colours may detract from their natural striking beauty.
Rupert Kingston, co-founder and director of Delilah, advises,"For blue eyes I tend to stay away from all the cold greys or anything that already has blue undertones, as they just don't make the eye colour pop."
Reds are probably best avoided regardless of eye colour or skin tone unless you're feeling really brave.
Otherwise, the main thing to keep in mind when picking an eye shadow colour is just to have fun! Play, experiment and find your perfect shade from our pick of the best eyeshadow for blue eyes below...
mark. ExtraLasting Creamy Gel Eyeshadow, Savage Bronze, £6
This well-reviewed blendable and mess-free gel shadow from Avon is crease- and smudge-proof and lasts for up to 18 hours. There is a lovely selection of strong, pearly shades but we think Savage Bronze beautifies blue eyes best.
Barry M WILDLIFE Eyeshadow Snow Leopard Charity Palette, £7.99
There's a lot to commend this product, which comes in four sets – Snow Leopard, Tiger, Rhino and Pangolin. It's vegan, at least 20% of the net profits go to the David Shepherd Wildlife Foundation, it's competitively priced and has rave reviews. Snow Leopard is a mix of blues, greys and complementary highlighters that can be combined to make blue eyes zing.
NARS Hardwired Eyeshadow, Ecstasy, £17
Whoever said blue and green should never be seen clearly didn't see how well this iridescent leaf green with gold shimmer works with blue eyes – especially if you're brunette or have olive skin. Apply lightly for a pearly hue or build up the colour and combine with NARS Peacock Green for a bolder look.
Chanel Les Beiges Eyeshadow Palette, Light, £45
Pinks work especially well on dark blue eyes or those speckled with hazel and this new pretty-in-pink palette from Chanel's Healthy Glow Natural Eyeshadow range provides an array of natural yet luminescent colours to create a range of looks from nuanced to dramatic.
YSL Couture Palette for Smokey Eyes, Tuxedo, £46
Smooth and easy to apply, YSL Smokey Eyes sets (there's a choice of eight – all inspired by fashion collections from the House of Yves Saint Laurent) provide durable, blendable intense colour. With its mix of slate and silvery greys, this palette is perfect for a sexy and glamorous look.
Stila Glitter & Glow Liquid Eyeshadow, Rose Gold, £18.40
Ideal for porcelain complexions or those with pink undertones, this easy-to-apply, long-lasting liquid colour has a shimmery lustre that's proved poplar with fans. The eyeshadow also has the added benefit of being worn alone or over matte shadow so you get two different looks from one product.
Elizabeth Arden Trio for Little Black Compact, Touch of Lavender, £18
With its long-wear and crease-resistant formula, it's perhaps unsurprising that research showed that 93% of women surveyed felt it was easy to build a look from natural to dramatic, while 90% of women felt this eyeshadow applied evenly. Purple is a striking look so if you're looking for your blue-green eyes to stand out, take the plunge.
MUA Professional Shade Palette Natural Essentials, £3.50
If you have blue eyes, a neutral palette like this is a must-have addition to your make-up collection. Available at Superdrug, this budget option gets excellent reviews for its smooth, blendable matte colours, with one reviewer saying the lighter shades can double up as a face powder substitute. Neutral tones such as these are perfect for everyday wear or can be layered for added effect.
As woman&home's Senior Beauty Editor, Fiona Mckim has tried more products than she's had hot dinners and nothing makes her happier than raving about a brilliant beauty find on womanandhome.com or her instagram grid (@fionamckim if you like hair dye experiments and cute shih-tzus)

Fiona joined woman&home as Assistant Beauty Editor in 2013, working under legend Jo GB, who taught her everything she needed to know about the industry (clue: learn about ingredients and employ extreme cynicism).
In a previous life, Fiona studied journalism back home in bonnie Scotland and honed her skills as a magazine features writer, with a brief and terrifying stint on the showbiz gossip pages of a tabloid newspaper in between. She's a skincare fanatic who can't resist adding an extra step to her routine if it's all the rage in Japan, loves fragrance, has fun with makeup and never turns down the chance to test a new hair tool. Basically, she loves it all.

When not slathering herself in self tan or squinting at a tiny ingredients list on a moisturiser, you'll probably find Fiona enjoying something to do with food - cooking it, eating it, cajoling her friends into trekking across London to try a hyped pop-up in a dirty car park.