Oval layer haircut explained: the 90s-inspired style that creates fuller, bouncier hair
We break down everything you need to know about the oval layer haircut – and how to recreate this trending look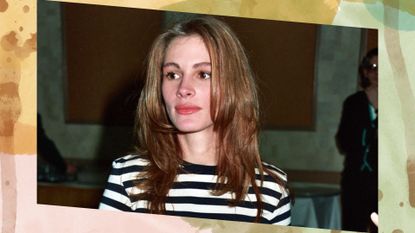 (Image credit: Future/Getty )
The oval layer haircut is this year's go-to chop for bouncy, full-bodied locks – and it's surprisingly easy to get the look yourself.
Nailing long hairstyles often presents some challenges, as it's not easy to keep your length while also capturing your personal style. Enter: the oval layer haircut. A more refined take on the butterfly haircut, this 90s-inspired light and textured chop will not only add shape and volume to your hair but also provide new styling options to experiment with. The best part is that it can be customized to suit your hair length and face shape, so it is a style that can really work for anyone.
"It's all about face-framing layers, without internal layering," says Paul Percival (opens in new tab), Founder of Percy & Reed. "You are looking for a very blunt and polished cut that is shaped in an oval to frame the face." Where it differs from other flicky chops is that the layers are more pronounced and concentrated at the front, compared to styles like the C-shape haircut. From expert styling tips to what to ask for at the salon, we've discovered all you need to know about this trendy trim.
The oval layer haircut: what you need to know
What is the oval layer haircut?
The oval layer haircut is really focused on the shape it creates around the face. Using face-framing layers of various lengths, it works to form a long oval shape that creates volume and movement. The effect is that of healthy, full hair with just a few simple snips. "It's another very 90's cut," Percival says, and we think it has a timeless feel that will stay trendy for years.
What we love about this hairstyle is that it isn't too prescriptive, so you can recreate it in any way that you like. Your hairdresser can help you figure out how to cut the layers to best frame your face, and you can make them as bold or as subtle as you like to compliment your style. It can even work for short hairstyles, so nothing is off-limits.
Who does the oval layer haircut suit?
"This cut will pretty much suit anyone," Percival says. "Your stylist will cut the length of the front layers depending on your face shape." This means that no matter your face shape, it is a haircut that will work for you, as it can be very easily adapted.
To get the thick, shiny look that really compliments this style, we recommend focusing on improving the health of your hair as well as getting a good chop. Use the best hair masks or bond builders for hair at home and pay attention to heat protection when styling.
Can the oval layer haircut work for curly hair types?
"It tends to work better on straighter hair," Percival says. However, "it can [work] as long as you are willing to put the time in to blow your hair out." Depending on your curl pattern, you may require a few different products to style oval layers in a curly hairstyle. Tools like the best hair dryer brushes work brilliantly on curly and frizzy hair to achieve the rounded ends that define the oval shape haircut.
However, there are no hard and fast rules with any hairstyle – the goal is for you to look and feel your best. You can certainly take inspiration from the oval shape to inform a style for curly hair, and we love the way that face-framing layers look with tighter ringlets.
What to ask for at the salon
"You should ask for a blunt cut shape through the back, and oval face shaping layers through the front," says Percival. The oval shape haircut is a fairly easy style to capture, so it is a good idea to take reference photos with you to your appointment. This ensures that your stylist knows exactly what you are looking for.
How to style the oval layer haircut
Learning how to style layered hair is essential for making the most of your oval layer haircut. Any cut focused on volume and movement looks best with the help of some heat styling or specialist products. We recommend using products that will help your layers hold their flicky shape throughout the day, or for a glam look try a hair waving device (our beauty ed raves about the Babyliss Wave Secret Air) or a round blow dry brush to help with styling from wet.
Our beauty writer recommends...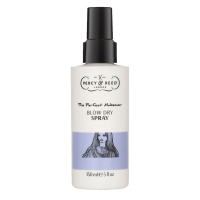 (opens in new tab)
Percy & Reed The Perfect Blow Dry Makeover Spray | RRP: $17/£14
One of the easiest ways to accentuate an oval layer haircut. Spray onto towel-dried hair, adding extra at the roots for volume, and blow dry. "This helps to give body and shape, perfect for this type of cut," says Percival.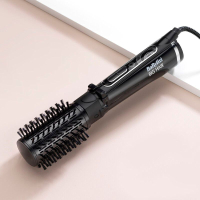 (opens in new tab)
Babyliss Big Hair | RRP: $60/£50
If you struggle to get salon-like results when styling at home, this tool will answer your prayers. "Because the brush spins, it's really easy to bend the front layers in," says Percival. Ideal for creating that frizz-free 90s blowout look, this is all you will need to nail the oval shape haircut.
8 oval layer hair styles we love
1. Thick oval layers
The Princess of Wales always gives us major hair envy, and her take on the oval layer style is no exception. The key to nailing these thick and bouncy layers is all in the styling, and a heated round brush is an ideal tool to use. For best results, read up on how to use a blow dryer brush and focus on curling the ends by adding a cool shot of air when you've finished blow drying.
2. Wavy oval layers
Though the oval layer haircut is most obvious on straighter styles, we love the relaxed feel it gives on wavy hair too. Priyanka Chopra's cut proves that these face-framing layers can elevate the look of hair with more texture, giving a gorgeously relaxed finish. Try using one of the best diffusers for curly hair when drying naturally wavy hair types, or add a texturizing sea salt spray to give body to straighter styles.
3. Cropped oval layers
The oval layers are more subtle in this style, but this just proves the versatility this chop can have. On shorter hair, play around with curling your layers in different directions to get a look that is full of movement and body. Use your best curling iron on dry hair and set it in place with hairspray to ensure long-lasting hold.
4. Oval layer up-do
We particularly recommend oval layers if you like to wear your hair up, as the face-framing shape adds interest and definition that elevates a ponytail or bun beyond a classic style. You can even incorporate bangs hairstyles with the oval layer haircut, so it really can be adapted however you like. Focus on slightly shorter layers around the jawline to make this style pop with up-dos, keeping the rest of the hair long so it can be tied up.
5. Oval layer bob
Tyra Banks' 90s style looks just as good today as it did decades ago, proving the timelessness of a great chop. We love these subtle oval layers that work in harmony with the cropped bob shape, giving the hair a full and healthy look that will work beautifully for braided bob hairstyles too. To give bob hairstyles this rounded look, we recommend blow-drying your hair upside down for increased volume or setting it in place with wide-barrel curlers after heat styling.
6. Chunky oval layers
These chunky layers are particularly trendy this year, reminiscent of 90s Rachel-style trims that we love so much. To achieve this look, each layered section needs to be cut slightly thicker than regular layers – about an inch wide. Cuts like this can be harder to master than you think. We recommend showing this image to your hairdresser to get the perfect result and ensure that each layer is cut to compliment your face shape. To recreate this shiny creamy blonde, wash with the best purple shampoo once a week.
7. Sweeping oval layers
Sweeping oval layers are a glamorous take on the trend, giving an effortlessly luxe finish that doesn't look overly styled. This is also a great low-maintenance option, as the layers are slightly longer so don't require as much day-to-day styling. To achieve these flicky ends, we recommend using a round heated brush to form the shape then creating wide pin curls at the very ends. Leave to set for 10-20 minutes and finish with hairspray.
8. Extra long oval layers
If you want to try out the oval layer haircut trend but don't want to sacrifice any length, this is the style for you. Kate Hudson perfectly demonstrates how to elongate the look whilst keeping the rounded shape, providing numerous styling capabilities. This is also a great option for long hairstyles for women over 50, as it gives a subtle nod to the trend that doesn't require a total hair makeover. Opt for thinner layers and use your best hair straighteners to create these rounded ends.
Amelia joined woman&home after graduating with an MA in Magazine Journalism from City University in 2022. She specialises in lifestyle journalism and throughout her undergraduate degree she wrote for a variety of student publications, where she developed a love for all things style, beauty and sustainable fashion. She has previously written for titles including OK! Magazine, New! Magazine and Notion before she started her career as a lifestyle journalist with woman&home after completing an internship with the brand.