Love Getting Your Legs Out With The Best Body Make-Up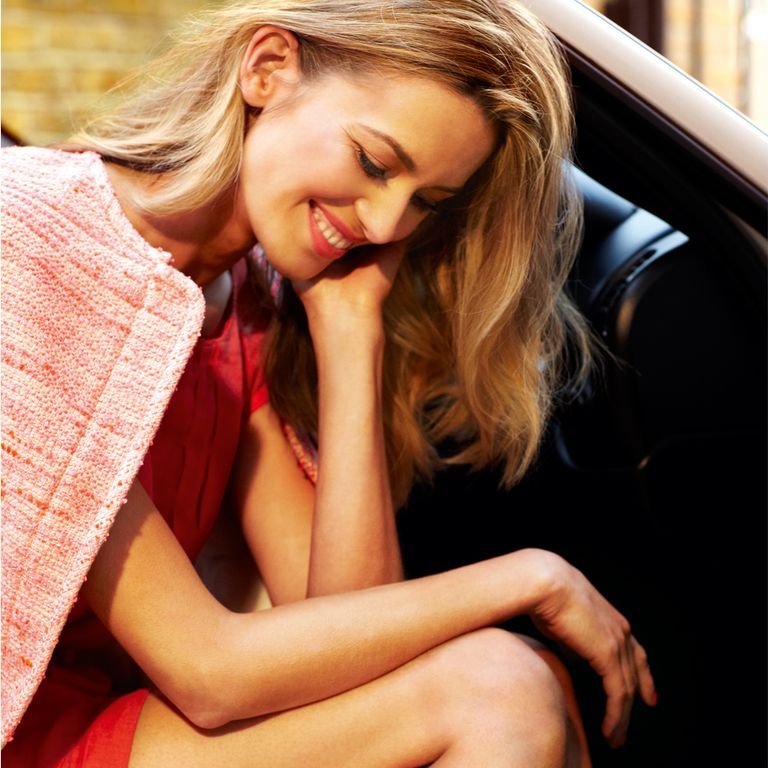 Cover veins and bruises plus smooth and slim with the best beauty products for body confidence
So, who's ready for a bit of spring sunshine, then?
A show of hands in the Woman & Home office would be pretty much unanimous, but that's not to say May's promise of glorious weather is without it's beauty dilemmas, namely, getting your legs out for the first time.
Chances are, your legs have been safely wrapped up in 40-deniers since September, so the thought of baring them again can be more than a little daunting. Whether your skin is so fair that the veins show through, or you have thread veins, bruises, ingrown hairs or cellulite to worry about, there's no reason why you can't use body make-up to cover the bits you don't like and enhance the bits you do.
You may not immediately think of perfecting your legs with make-up the way you do with the your face, but the best body make-up is hard-wearing, flattering and so subtle that nobody would ever know it's there. No make-up artist would dream of showing up to a photo-shoot without body foundation - because contrary to popular belief, celebrities and models need plenty of help in this area too - so this year we'll be taking our lead from the professionals and getting a little help from MAC, Charlotte Tilbury et al to bare our legs with pride.
Our pick of the best body make-up includes a brilliant new spray-on that makes shedding your tights simple, a supercharged serum that fades bruises with just a hint of a tint, a cover-all behemoth that makes light work of disguising scars (or ill-advised tattoos) and a cool shimmery roll-on that gives circulation a jump-start to boot.
So prepare to shed those tights and enjoy going bare-legged this spring with our round-up of the best body make-up for every skin concern...
Barry M In The Glow Tahitian Body Oil, £7.99
Don't be fooled by the frivolous name (or scarily bronze first look) a couple of drops of this brand new coconut-scented oil adds a whisper of colour and gloss to legs that looks rather lovely and subtle. The silky formula is slippery enough to blend quickly and glosses over dry or flaky bits nicely. If you need full cover of veins this will be too sheer, but if it's glamour and sexy skin you want look no further. Buy Barry M In The Glow Tahitian Body Oil, £7.99, at Lloydspharmacy.co.uk
Guerlain Terracotta Flawless Legs Smoothing & Perfecting Lotion, £45
A luxury price tag on this one, but Guerlain has rightly carved out a niche as the thinking woman's bronzing brand and this luxurious new leg perfector is no exception. A rich, prettily scented cream, this smooths on and sets down pretty quickly, providing fairly opaque hard-wearing cover on veins, mottled skin or whatever else you have to hide. The finish is dewy enough to look like real skin, not makeup, and the two shades (light and medium) range from weekend in Santorini sun-dappled to fortnight in Bora-Bora bronze. Lovely stuff, that washes off with ease but will never transfer to your summer skirt. Guerlain Terracotta Flawless Legs Smoothing & Perfecting Lotion, £45, at Debenhams.com
Diego Dalla Palma Spray On Tights Body Foundation, £16
What could be a better substitute for tights than, er, spray on tights?! This mixes tiny silk particles with a foundation pigment for an airbrush-like effect, covering veins and making skintone look pretty darn flawless. The colour deepens a tiny bit after application, but won't go as dark as a self tan, it's rainproof, and just needs soap & water to wash off. Clever stuff!
This Works Perfect Legs Skin Miracle, £37
This silky serum is a real treat to use - it feels and smells amazing, and although the colour looks scarily shimmery in your hands, it's actually subtle on, giving just a wash of glowy colour to hide minor skin niggles. Perfect Legs works on a deeper level too, as it contains arnica and plenty of Vitamin C to help fade bruises and brighten your skin.
Vichy Dermablend Total Body Corrective Foundation, £22.12
Dermablend Foundation is known for seriously high coverage, and this body version is no different. If you're seriously worried about veins, bruises or even a ill-advised tattoo, this will block that baby out come rain, shine, sweat or rubbing, for at least 12 hours. It feels a little thicker than the others, but blends well and comes in 3 shades (you could even mix in a little of your own foundation, for the perfect match).
MAC Studio Face and Body Foundation, £22
An absolute classic when it comes to perfecting skin anywhere on the face and body. The squeezy bottle makes it a breeze to dispense, it blends beautifully, comes in 13 shades and has been an indespensible piece of kit on every beauty photo-shoot since long before the days of airbrushing. What more can we say? Once you've tried it you'll never look back.
Prtty Peaushun, £18.50
Yes, Prtty Peaushun is kind of a silly name, but don't let that put you off - this is a seriously clever cult product from LA, the home of beautiful bodies. Somewhere between a blurring primer and foundation, this firms, covers blemishes with soft-focus light reflecting particles, and contains arnica and green tea extract to fade bruises and soothe irritation. It comes in four tints and smells like zesty grapefruit, which is a bonus!
Charlotte Tilbury Supermodel Body, £45
It's the priciest of the lot, but much like everything we try from Charlotte Tilbury, we love it too much not to include! Supermodel Body is infused with cooling caffeine and menthol, and you apply it through a cooling metal rollerball to breathe life into tired, hot or fluid-retaining legs. The colour is sheer and shimmery so won't cover major imperfections, but for everyone else it'll make your legs look beautiful in a subtle, sexy way.
MAKE UP FOR EVER Face & Body Foundation, £27
Another genius multi-tasker, this buildable foundation was designed to stay put on dancers' limbs, and stay put it does. Smooth it on all over your legs with fingers, or dab on with a beauty blender for concentrated blemish-covering, and you'll get at least a day's worth of coverage with no transfer onto clothes. Oddly for such a long-wearing product, it washes off easily with soap and water. This brand is definitely one to watch.