The Duchess of Cambridge has had enviable lockdown hair - this is how she keeps it looking fresh between salon visits
This is how to maintain your locks in lockdown like Catherine.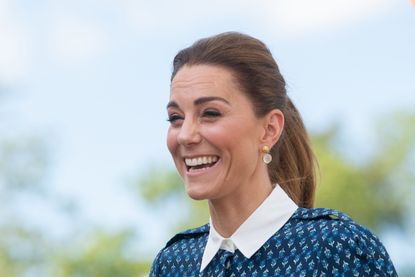 (Image credit: Getty Images)
While most of us have had to make do during lockdown with grown-out roots, straggly split ends and a generally unkempt mane, one person's hair has looked better than ever - the Duchess of Cambridge's.
Even during normal times, Catherine's hair looks better than most - we often find ourselves envious of her thick brunette locks, which appear so effortlessly polished and groomed.
And that hasn't waned during lockdown.
MORE:The royalty-approved underwear tricks Catherine, (opens in new tab)Duchess of Cambridge, relies on
While we've been spending most of our days in loungewear (opens in new tab) with our hair pasted back in an easy bun, the Duchess has been busy on video calls (opens in new tab) to her various charities and organisations, giving the public a look at her lockdown look. And her hair has continued to look as stunning as ever during these past few months - despite Kate having no hairdresser at her disposal as she would normally.
So how has she managed to keep her mane looking so elegant and put-together even during month spent inside, with no professional help?
Michael Van Clarke (opens in new tab), arenowned hairdresser who reopened his Marylebone salons doors to a 3,000 waiting list on 4th July, explained to w&h, "There is much pride when you manage to recreate that glossy, groomed look yourself at home - but getting there takes maintenance, conditioning treatments, styling tools, volume boosting sprays and shampoos, and this is likely to have been what Kate has done whilst at home unable to get to her hairdresser to make her hair look do fabulous, I suspect."
We uncover some of the possible secret's to Catherine's lockdown hair...
Duchess of Cambridge hair tricks during lockdown
1. A side-parting to cover any root regrowth
During a recent video call, the Duchess tried out a different look, by sweeping her hair back into a more exaggerated side-parting - which celebrity hairstylist James Johnson reckons is a great trick for hiding any root regrowth. After all, we've all been having to make do with home highlight kits (opens in new tab) recently, without trips to the salon!
He also explained that it's a great style for people who are less adept at styling their hair too without the help of a professional.
James told the Daily Mail, "Kate is a hair icon globally, she's known for her bouncy hair, but ability-wise, her more textured and bouncier looks are harder to recreate at home. So this side-parted style is perfect for someone who has less hair styling skills. Whilst being soft, and therefore easier to style herself, this hairdo also carries on her sophisticated look, even in lockdown.
"The side-parting helps open up her face, showing off her amazing cheekbones. It also a handy trick for covering solid regrowth lines exposed in the middle."
Catherine has a lovely natural brunette hair colour, but has often displayed her love of highlights in the past, so it seems a side-parting could be a great way to hide any emerging regrowth colour - or even greys, during gaps in salon visits.
2. Half-up, half-down hair styles for the days you haven't washed your hair
Another favourite hairstyle adopted by the Duchess during the coronavirus lockdown is the half-up, half-down look - tying her hair into half-ponytail.
According to James, the Kate Middleton hair style is easy to achieve at home on your own, and can also be the perfect style for those days when you haven't got round to - or don't fancy - washing your hair.
He said, "While in lockdown, Kate's done an amazing job. With the half-up-half-down style she often opts for, and with hairdos like her newest one that can be turned into that easily, you get an extra day out of that look.'
"'Half-up-half-down is quite nice for Zoom calls and you're pushing that style an extra day. People usually wash it when they're having to go into the office but because it's half-up-half-down or in a ponytail you'll getting longevity out of your style, which she seems to be doing and looking great every time."
MORE:Bob hairstyles: 15 inspirational updates on the bob to take to the salon (opens in new tab)
3. Washing hair daily (yes, really!) and ditching intense heat
Michael explained that in order to keep your hair looking fresh like Catherine's during lockdown, it makes sense to actually wash your hair daily, or every day.
He explained, "With any style, washing hair daily or every other day, with quality hair care products will make all the difference. It will not dry hair out like many think - this is a myth, it is actually good to wash your hair daily.
"However more frequent use of hot styling tools will have an impact on condition so try air drying alternately, especially if staying at home - or other 'low-heat styling' looks. Also use the spare time some of us may have at home, to give you hair a deep conditioning hair mask. Apply my 3 More Inches LifeSaver Prewash Treatment (opens in new tab) as often as you can and reclaim better hair that is shinny and bouncy."
4. Ponytails for an easy-to-do, professional look
Catherine has never shyed away from an easy ponytail, and she's made use of it even more so during lockdown - most recently during a visit to the Queen Elizabeth Hospital in King's Lynn, Norfolk.
The Duchess opted for a volumised pony for the trip out, which showed off her thick locks and helps to open up her face.
5. Slick straight hair that's well cared for
If there's one thing that Catherine does perfectly - it's the elegant, slick, straight hair look. And it's one she's often relied on during lockdown.
Achieved simply by a fresh wash, blow-dry (opens in new tab) and straighten, actually, the key to nailing this lockdown favourite look is to ensure you're taking good care of your hair in general.
We're talking not over-washing, regular hair masks, and minimal heat damage.
It's such a simple look to achieve but the answer to making it look as fabulous as the Duchess is ensuring that your mane looks fresh and well maintained in general.
Of course, you could help with this by cutting your own hair at home if you haven't yet been able to bag a hairdressers appointment. Or, ask your partner or a family member to help out. Cutting your hair can help to strengthen it again, and will get rid of straggly split ends.
6. Big waves for a stand-out look
The Duchess of Cambridge has long been known for her cascading curls, and she's replicated her own version of the look on her medium hair (opens in new tab) during lockdown.
Catherine has opted for big, bouncy waves over more subtle curls, making her entire video call look even more impressive!
Curls like these are fairly easy to achieve on your own with some practise, using a curling tong or hair-straighteners. In fact, see below for the Duchess' preferred curling tongs.
If you want to try taking care of your hair in the same way as the Duchess of Cambridge, you could also try some of her favourite hair care products.
So which ones does the Duchess rely on?
Duchess of Cambridge's favourite haircare products:
£5, Amazon After you've styled your locks, set it with one of Kate's favourite products, an Elnett hairspray. Especially useful if you're preparing for a video call! Hairspray is particularly helpful for curled hairstyles, so if you're mimicking Catherine's style add it to your list.
Kerastase Nutritive Bain Oleo Relax Smoothing Shampoo
£25, Amazon To keep your hair looking its best, these nourishing shampoo from one of Catherine's favourite brands (and reportedly one of her favourite products) is a must-buy. Formulated for dry and frizzy hair, it'll help keep your mane looking smooth and without fly-aways.
Richard Ward Cleanse & Condition Shampoo
£6, Waitrose Containing Aloe Vera and Vitamin E, this shampoo by the Duchess of Cambridge's hairdresser Richard Ward is one of her favourites. It deep cleanses your hair in the first step, and moisturises after - without the need for conditioner. A multi-tasking product!
Diva Professional Styling Intelligent Digital Aran Tong
£38, Amazon To help you achieve the Duchess' enviable curls, you might fancy using her preferred curling tongs. Kate's hair stylist Amanda Cook Tucker actually revealed that she used this item on Catherine during a royal visit to Sweden and Norway. And it's much more affordable than you might think! The styling tool is also great for those who want to avoid damage to their hair - the ceramic barrel is infused with argan oil and keratin to achieve a smooth and shiny finish.